Web Design and SEO Blog
by
Mira Brody
in
Content
,
Design
,
Tools & Tips
,
UX
The good and bad of using sound effects on your website.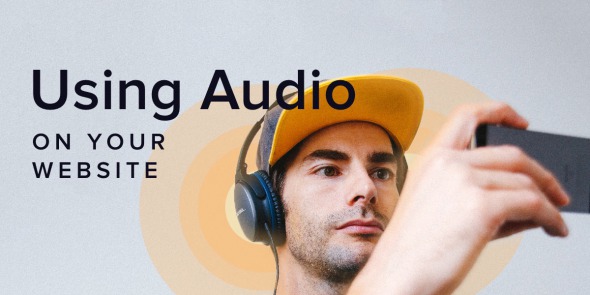 Sound is important — just
listen to how awkward
the movie Everest is without added effects to the dialogue, and how recognizable the "
Inception noise
" has become. Sound effects can add depth to your website as well, but the line between helpful and annoying can be very thin. Our designers have been experimenting with the application of sound to some of our projects to see if it can improve the user experience and we'd like to share some lessons we've learned along the way.
Bad Applications of Sound
We've all been to the website that sent us scrambling to find our computer's mute button. Here are a few examples of when the sue of sound is a negative experience:
Overused
— Although it can be tempting to get carried away, not every button, animation and tap of the screen needs to yield a sound effect. Users will quickly become irritated!
Autoplaying videos
— In fact, noisy videos that play automatically are considered an intrusion by so many people that both Safari and Chrome block autoplay on all videos with sound.
No purpose
— Ask yourself if the sound has a purpose or not. While sometimes fun effects can be appropriate, all applications of design — noise included — should be aiding the customer's journey through your site.
Good Applications of Sound
There are appropriate uses of sound on your website; here are a few examples:
Interactions
— Sound effects can help the user complete whatever it is they are trying to do on your site or web app, often providing reinforcement or additional information to the visual interaction. We recently developed a site that allows store employees to scan product barcodes to update store inventory. There are two sounds we implemented: a "success" sound when an item has been successfully scanned, and an "error" sound, when an incorrect barcode was scanned, or no barcode was found. The error sounds are paired with a helpful message telling the user why something could not be scanned. These sounds are similar to the ones your phone makes when you send a message or email, or take a photo.
Notifications
— Because sound is processed using a different part of the brain than visual content, you can use sound to create awareness of something with minimal interruption of their main task; e.g. when your order was shipped, new messages have been delivered, or a download completed. If notification is a key functionality, the ability of sound to function even when the screen is off or another tab is open can be important.
Optional — Because sound can so easily overwhelm, annoy, or interrupt, provide users with the option to mute any persistent or repeating sounds. In addition, it's not safe to assume that users have their phone, tablet, or computer's sound turned on — so your site or app should be designed to work seamlessly without any audio.
Adds dimension — In addition to being functional, a website's sound can provide entertainment value without being too flashy. Our design team has been playing around with sounds that occur when a contact form is submitted, or information is saved, providing positive confirmation.
Accessibility
— Even better is when you can implement sounds that will help those with accessibility issues. Those browsing the web with poor eyesight, for example, will better be able to access it with sound cues or a page reader, if you choose to provide those tools.
Where to get sound effects
It's a fine line, and one that designers often walk when implementing sounds into a website. Now that you're inspired, here are some resources for free sound sound effects:
freesound.org
http://www.flashkit.com/soundfx/
http://www.audiomicro.com/sound-effects
https://icons8.com/sounds
by
Mira Brody
in
Content
,
Tools & Tips
,
UX
Onboarding is the process a user goes through when they start their journey as a customer to your product or service. An onboarding video in particular can be an effective way of defining a strong relationship right off the bat, solidifying your client's decision. The period right after signup is one of the best windows for people's attention — welcome emails have four times the open rate when compared to any other type of email. When your welcome process includes a custom video for your client, this success increases exponentially.
We've recently started using an onboarding video as a tool for welcoming clients to their completed website project and would like to share a few things we've learned along the way.
Why Onboarding Videos Work
In a study conducted by
Wistia
, an internet video hosting and analytics company, they ran a test comparing two emails — identical, but one added a video as the top piece of content. The email with the video showed a clickthrough rate three times higher than the one with only a paragraph of copy. Here's why:
Emotional connection — Being welcomed by someone from the team allows for an emotional connection, removing the "faceless cooperation" stereotype.

Community — Your client will feel welcomed into your community if they are able to see where and who you are.

Humanizes — Having someone speak directly to them, by name, allows your clients to see the people and personality behind your company.

Digestible — A video clip weaves your story, mission and product and services together into a single, approachable narrative. They don't have to search your site for the information they're looking for because you've laid it all out for them in your video; all they have to do is sit back and watch.

Once you've taken the time to shoot a personalized onboarding video for your new client, you've built a strong foundation for them to feel supported and valued. This reaction can be contagious — they are likely to pass this feeling and experience onto other potential customers with their recommendation of your company, building your word-of-mouth reputation.
Tips for Your Onboarding Video
Now that we've covered the benefits, here are some tips for creating your own client onboarding video:
Under a minute

— A minute-long video is the sweet spot for keeping a viewer's attention.




Greet them by name — Take personalization a step further by editing the beginning of your video so that it greets each client by name or company.



Use a compelling thumbnail

— The screenshot or video still you use before the video begins playing is more important than you think. It may be the difference between a client pressing play or moving on. If you are embedding this video in an email, we recommend using a screenshot or video thumbnail image with a play button and linking that to the page with your video.



Solve problems — Show your client a tool or feature that will help their business right now, and instruct them to interact with it. For example, encourage them to fill out a feedback form!

Use humans — While there are many sources out there for creating animated characters, it is much better to use someone from your office, in person.

Conclusion
When a client has committed to you as a company, it is a great time to reaffirm that decision by creating a personalized onboarding video — it will help spark the realization that they've found the right fit. At JTech, we use our onboarding video to welcome a client to their new website, show them the product we've launched for them, introduce more of our team, and set the stage for a healthy ongoing relationship as business partners.
by
Mira Brody
in
Announcements


Chelsea moved here in 2016 from Kuala Lumpur, Malaysia as a part of the MSU school partnership program. Having lived most of her life in the city, she has enjoyed the quieter pace of life Bozeman has to offer, the friendly populous, and outdoor lifestyle. In her free time, Chelsea is a big film enthusiast and enjoys marathoning movies of all genres.
by
Mira Brody
in
Announcements
,
Design
,
Development
The Pellerin Company was founded by Henri Pellerin and provides counsel to individuals as well as Registered Investment Advisors (RIAs) seeking investment options. Based on the principles of Austrian Economics, this investment firm helps clients on issues ranging from personal finance, stocks, bonds, commodities, life insurance, annuities, gold and silver to general economic insights and strategies.
Our team was tasked with clear representation of the variety of services The Pellerin Company provides — which we executed as a modern, inviting website with a few classic touches. In addition to transparently outlining their strategies and fee schedule, The Pellerin Company also provides a reservoir of resources for those looking to educate themselves including books, articles, videos and interactive calculators to plan debt repayment and retirement. We invite you to check out this new website
here.
by
Mira Brody
in
Design
,
Tools & Tips
,
UX
1. Not Mobile-Friendly
1.6 billion users
shop using their mobile devices worldwide, making it necessary for your ecommerce site to not only 'work,' but to perform
well
on all screen sizes, whether desktop, tablet or phone. If someone on their phone or tablet accesses your online store and find it difficult to use, they are much more likely to leave without making a purchase.
2. Poor Checkout Experience
Once a customer has added an item to their cart and are ready to checkout, you'll want to make sure nothing is in the way of them following through with finalizing their purchase. Some common "sticking points" are:

No guest checkout option. Although you should present the benefits of creating an account with your company to site visitors. In one study, 14% of customers who abandoned their cart reported that it was because registration was required — maybe they were not ready to commit, or just didn't have the time right then to sign up.

Payment and shipping options. If you expect your visitors to spend money with you, you need to present them with options. 28% of online shoppers abandon their cart simply due to lack of shipping price options! Talk to your credit card processor about providing multiple payment types, and include different shipping price points as well as delivery times. If our client doesn't have a flat shipping fee, we often integrate live shipping cost calculators into our clients' sites. This will charge as close to real shipping costs as possible, making it less likely that the end user abandons their cart because they see over-inflated shipping prices.

3. Lack of product information
The products on your ecommerce site should be clearly represented by large images, multiple photo shots, and provide accurate descriptions so that shoppers can make their purchase with confidence. If you have a large number of products for sale, another great feature to consider on your ecommerce site is a product search and filters so they can easily find the items they are looking for.
4. You Appear Untrustworthy
Gaining and keeping paying customers is a relationship built on a foundation of trust, and a lot of this trust is built on how you deal with a potential buyer's common questions.
Point of contact.

Keep the door of communication open with your customers by providing a clear point of contact in case they need to reach you. Whether it be a contact form, customer service number or live chat, your site visitor will appreciate you being transparent and available to them.



Return Policy. Studies show that goods are returned at a much higher rate online than at physical stores — your ecommerce store must be equip to handle these transactions. One such way is providing a policy; 63% of online shoppers check a retailer's returns policy before making a purchase. Provide a link to your store's return policy that is easily accessible in the footer of your website. If you don't yet have a return policy, you can easily find a template online, but remember to always have your lawyer look over the language before putting it on your website.

Checkout process is too complex or requires too much information.

Customers don't like to give personal information away unless they are clear what it is being used for. For example, they understand that in order to make a purchase, they much provide payment, but why do you also need their phone number or email address? Two solutions here: don't require information you don't absolutely need, or be transparent about its use. If you need an email address in oder to send them a transaction receipt, say so!



5. Not Measuring Your Success
If you build it, they won't come. Just because you've launched a shiny new ecommerce site, doesn't mean any of your potential buyers will suddenly find it. Pair with a reputable digital marketing team to properly optimize and advertise your site, and measure your success as times goes on. This will allow you to better reach your target marketing goals and ensure the longevity of your business.
Conclusion
As online shopping overshadows the brick and mortar version, consumers are becoming more aware of what evokes a positive online shopping experience. If you want your ecommerce site to not only attract visitors, but retain regular customers as well, it is important to provide them with an experience of positivity and trust.
by
Mira Brody
in
Industry News
,
Tools & Tips
How our team found purpose and inspiration through the education of others.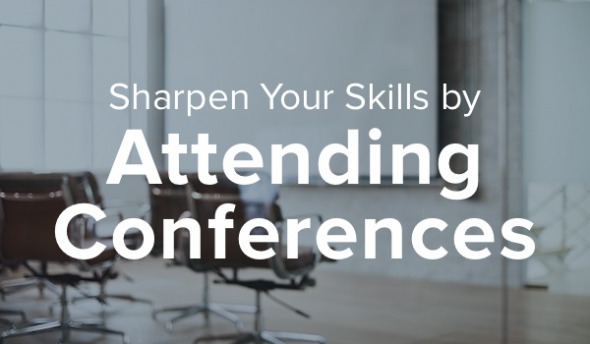 When running a business, it is important to keep looking for ways to improve the future of your company. One such way is to consider attending an industry conference or expo where you can absorb information straight from the mouths of experts in your field. While time consuming, sometimes involving travel and oftentimes pricy, conferences have a multitude of invaluable benefits:
They allow you to gain Gain Knowledge in your industry.
Provide the opportunity to network with your peers and competitors. Talk to them; learn what they do and who they work with.
Conferences often include presentation materials, whether a brochure, new software or book.
Big Sky Big Ideas is a conference in Bozeman, MT that our company's president attended recently. One of the speakers, Tara-Nicholle Nelson, is the author of a book called The Transformational Consumer. The primary concept in her book is that the key to running a successful business is to engage customers by triggering their human desire for growth and transformation. While JTech has always believed in these values, this book has helped us better articulate them to our clients and potential customers. Our team has been working through our own transformation, using this source of education as a driving force to improve our branding and messaging.
We have a lot of great changes coming, all of which were inspired by The Transformational Consumer. From a fresh approach to our blog, to a website redesign including in-house video footage, we are so excited to roll these out to the public.
Invest in Your Company
While keeping up on articles in your industry is a great supplement, conferences provide the unique experience of being present and hands-on with others in your same position. If you are looking for a way to improve the way you do business, consider attending a conference this year!
by
Mira Brody
in
Content
,
SEO
,
Tools & Tips
Use Domain Authority to measure your results.
There are a number of ways to measure the success of your website and other marketing efforts, but Domain Authority (DA) is a great way to take a look at the broader scope of your site's reputation. Domain authority is your website's search engine score — out of 100 — which significantly determines how well you will rank in search engine results. Maintaining a high score will ensure you are in good standing with search engines like Google, making you more visible to those searching for your products and services.
What determines your score?
Although there are many of factors behind what determines your Domain Authority, but it can be boiled down to age of your site, its popularity, quality and size. If you are a brand-new site, you'll start at zero, and as you establish an online presence, that score will grow. Popularity is determined by the keywords in your site's content as well as how many times your domain is linked to by other authoritative sites. And, of course, larger sites with quality content and prestige pull more weight.
How can I check my score?
There are a handful of tools you can use to keep tabs on your Domain Authority. To check on your website's score, type your URL into the following sources:
How can I fix mine?
Domain Authority is difficult to influence directly. The best advice is to continually work on improving your site's overall Search Engine Optimization (SEO), particularly obtaining more links from other sites, and check its performance, such as how fast your website loads.
What is Page Authority?
Page Authority (PA) is also a score ranked out of 100, but instead of measuring the strength of an entire domain, it only measures how a specific page ranks in search engine results. So, while your domain ranks a 50/100, your About Us page may rank a 48/100. This single page score uses a similar blend of metrics as Domain Authority.
Conclusion
Domain Authority has become a viable standard by which to measure the ranking strength of your site, making it an important number to keep an eye on. Your digital marketing strategy should always be working toward improving your score, whether it be monitoring your keywords, linking your site to others, or producing quality content.
by
Mira Brody
in
Development
,
Tools & Tips
,
UX
404
— These occur when a visitor has clicked on a broken link, leading them to a webpage that no longer exists. Google doesn't like 404 pages and will count them against you in search results.
Solution
: Be sure to log in and review your site's
Google Search Console
for broken links and check all of the links on your website every now and then to see that they all function as intended. When you do come across one that leads to a 404, you'll have to fix the URL, or remove it from your site all together.
500
— You'll see this when the web server hosting your website encounters an issue, usually when it is experiencing a high volume of requests.
Solution
: First, try reloading your browser, clearing your browser's cookies, or waiting until web traffic clears. If you find that this error is occurring frequently on your site, check with your website host and consider a new provider with improved service. If you are a JTech customer, that would of course, be us.
403 (Forbidden) & 401 (Unauthorized)
— The link you clicked may be directed toward authorized users only, or has specific permissions, such as an employee portal, or the login attempt has failed.
Solution
: Clear your cache and reload the webpage. If a site visitor without a login experiences this error, ask them to show you the URL they accessed the page from. You can check for misspellings, but also make sure it has an extension (such as .com, .net, .html, etc.). If the link to this login page was accessed from an external source, such as an email, it is possible it was pasted incorrectly. For JTech customers, if you were to ever see this error, contact us.
408
— This is a Request Timeout error, which means the request you sent to the website server (e.g. a request to load a web page) took longer than it was willing to wait. Your connection with the website timed out.
Solution
: If you or your site visitors are frequently experiencing this error, your website host may not be handing the amount of traffic you have. As with all of these more technical errors, the best fix is to consider upgrading to a hosting service that can handle the number of visitors you have on your site. For JTech customers, if you were to ever see this, contact us.
502
— Another sign of a server being unable to handle your site's traffic. We see this error a lot with those who have a commodity hosting service that can't handle website requests in a timely fashion.
Solution
: This error will clear once traffic decreases, but again, a persisting 502 error may require researching a better hosting service for your website needs. For JTech customers, if you were to ever see this, contact us.
We hope this compilation of errors comes in handy when you next see one. Although some are due to things out of your business's control, such as poor internet connection, it is good to know what is going with your website so that you can stay running and available to your customers 24/7.
by
Mira Brody
in
Announcements
,
Design
,
Development
Keep your website up to speed as markets and competitors change.


In order to better reach this influx of potential customers, our team is working on a new, modern Venture West Realty website. Our team is confident that the development of a new map and listings page can make it easier for potential buyers to find properties or explore amenities in the surrounding neighborhoods. Aside from being new and mobile-responsive, the site will also carefully address sellers and buyers as well as emphasize the relationships Venture West builds with their customers, their integrity as people, and their experience in the local real estate market.

After their new site is built, Venture West will be well-positioned to serve those looking to sell or buy homes in the area. It is always important to stay in stride with your industry as it changes, as it will help you better target shifting markets as well as meet your competitors head-on.
by
Mira Brody
in
Content
,
Social Media
,
Tools & Tips
Save time on multiple social media platforms with this free distribution tool.
Social media integration
— Hootsuite supports integration with Twitter, Facebook, Google+, LinkedIn, WordPress blogs, Instagram, YouTube, as well as
app integration
with other networks you may use for work, such as Pinterest, Trello and Constant Contact. To add a network, simply provide Hootsuite with your login credentials for that platform, and you can post to all networks from a single interface.
Schedule & customize posts
— Hootsuite's scheduling tool allows you to post immediately, schedule posts to publish at a specific date or time, or make use of their AutoScheduling tool. AutoSchedule schedules the post for that same day, but will automatically calculate the time slots at which it will reach the most people. You can also customize each post per platform, if you wish.
Measure your success
— Hootsuite will draw analytics data from all your social media sources into one digestible spreadsheet so that you can manage your success without five different browser windows open, trying to compare different graphs and data against each other. Hootsuite allows you to select the social platforms you want to pull data from, and compiles it into reports that you can edit to your needs.
Team collaboration
— With a Hootsuite Business or Enterprise plan, you can add multiple team members, and edit access per user. While some employees may have free range, others may need to get posts approved by a manager before the post goes live. More than one person can manage your company's social media — even from separate offices — and be on the same page.
Conclusion
Hootsuite is a great tool to consider for any business managing more than one social media account. They offer a variety of plans according to your business needs, including a Limited Free Plan, to get you started and a 30-day free trial on any
paid plans
. From scheduling a single post across many platforms, to pulling analytics on your progress, the software compiles a laundry list of tasks into a single, streamlined interface, leaving you with more time to manage other parts of your business.