Web Design and SEO Blog
by
Mira Brody
in
Content
,
Infographic
,
Optimization
,
SEO
,
Tools & Tips
A step-by-step guide for launching a successful campaign.
Content Marketing is the act of promoting your brand by sharing relevant and consistent information that will add value to the lives of your target audiences. The content can be in the form of blog posts, expert articles, social media posts, podcasts, videos, webinars, infographics, ebooks, and much more. The purpose of content marketing is to provide value and drive traffic to your website, in fact, a website with a blog can yield up to
55%
more web traffic than one without a blog. Your content should be geared toward providing useful information and building your business as an authority in your industry. When content marketing is executed well, it will be tailored for your specific audience, will be engaging, and will lead the viewer to take action on your site.
Why Should You Use Content Marketing?
A successful content marketing campaign will establish trust with your business and brand, solidify your reputation and convert leads into paying customers. Incorporating a content marketing campaign into your marketing strategy is a must for any business looking to stay relevant in their market . Maintaining a blog and posting regularly with keyword-rich content will be great for your business and for Search Engine Optimization (SEO), keeping website high in relevant searches. When your content is engaging and useful, it will answer your visitor's questions, establish trust in your company, and ultimately convert them into paying customers.
Different Types of Content
What content works best for web and digital applications? The output and media you choose often depends on the industry and audience you'd like to reach, and there are a ton of options these days for publishing different types of content. Although posting regular blog articles is the most efficient and common form of content generation, here are a few more ideas to get your inspired:
Listicles — easily-digestible lists (or checklists) of helpful information. Some good examples are "Five reasons to start brewing your own beer," or "Ten reasons you should buy local."

Q&A Pages — are keyword rich and save you and your employees time and money by addressing the common questions you're frequently answering on the phone and through email.

Infographics — image-heavy, a great way to display statistics or charts. We've done some successful infographics to illustrate different types of programming methods and URL redirects.

Videos — how-to videos or tutorials are a great way to engage your audience! Videos help to illustrate what your business has to offer in a more impactful way to visual learners, and search engines love them too! If your business produces a product, you can do a how-to video on how to use the product, much like one of our clients, Laundry Loops did.

Podcasts — according to a trend report, 61% of people spend more time listening to Podcasts than they watch TV. Podcasts are good for educating people on a topics that has multiple parts, as they are often released in a series. One of our clients, Silver Screen Insider keeps an updated podcast, which you can listen to here.

Interviews — publish an interview with an industry peer or business partner and post it on your blog! This will form healthy business partnerships and establish you as a trusted industry resource.

Any of these can be easily published on your site or your business's social media accounts to gain viewership and engage your core audience. Another tactic is to use multiple forms of content when covering a single subject for maximum reach. For example, you could do a podcast based on an existing blog article, or condense a particularly successful podcast into a short listicle.
How to Get Started
Once you settle on a content medium based on what will best reach your audience, before you start writing or recording, let's go over some basics of how to get started.
Answer the WHY: Establish your goals and define the purpose for the content marketing.




Answer the WHO: Define your target audiences that you are trying to attract and how your content can bring value to them.




Answer the WHAT: Work out the details of what content you will create and how your branding and identity will be reflected in the content.




Measure the EFFECTIVENESS: Create a measurement plan to track the performance of your content and how it is contributing to your organizational efforts.



Content Marketing Tips
Once you've answered the why, who and what, you'll want to keep these helpful tips in mind:
Quality over quantity. Make sure your content plan consists of quality content. Don't cut corners, and if you have the opportunity to do so, hire a professional copywriter. A copywriter will understand how to formulate an effective narrative for your brand and reach your desired audience.

Incorporate calls to action (CTAs). Your content should call users to a desired action, such as "contact us" or "read more about our services."

Add share buttons. Ensure your users can easily share your content on social media platforms with a share button.

Be their trusted guide, not an annoying salesperson. Don't shamelessly promote your products or services throughout your content. Your calls to action should be organic and not overbearing, available to the reader once they're ready.

Create a content publishing schedule. Set a consistent content publication and distribution schedule and stick to it.

Cross promote content. Promote your content through social media and your other available channels.

Always create content with a specific audience in mind. Create content focused on topics relevant and popular to your target audience. Try to answer the question, is this messaging tailored for the audience I have in mind?

Content Marketing & SEO: a match made in heaven
Since SEO is focused on optimizing content with keywords and getting your content to appear in search results, it is only natural that SEO and content marketing are two efforts that go hand-in-hand. Long-form content in particular (2,000+ words) ranks well in Google and it should be a goal to produce content of this length as a part of your ongoing SEO plan. Although keywords are important to search engines, your content should not be overly keyword-stuffed. Instead, use a keyword strategy to optimize your overall content focusing only on the keywords that you want to rank high for. You'll also want to put effort into acquiring links back to your high-quality content from other sources, an SEO strategy called
link building
.
Developing an Effective Content Marketing Plan
Here's our step-by-step plan for launching your next content marketing campaign.
Define your goals.

What do you hope to achieve through product marketing? Are you trying to drive users to purchase products on your site, sign up for your subscription service or sign up for your monthly newsletter? Increase SEO Rankings? Determining what action you want your user to take will help you make decisions on how best to promote your content.

Establish your brand story.

At this point, you'll want to determine how your organization's branding will be applied to your content marketing. What do you want to communicate about your company? How does your tone and company identity influence your content? How are you different than your competitors? What messages and ideas to you want to communicate to your audiences? Do you have a graphic style that can be utilized? Answering these questions will help to direct what direction your content will take as you execute your strategy.



Define your audience.

Defining your target audiences is crucial to understanding what their needs are so you can best reach them. Your research should result in a customer profile for each one of your target audiences.

Establish content ideas.

Now that you understand your audiences, what content has worked in the past, and how your brand will be applied to your content, you can begin to generate content ideas. This should be based upon your understanding of your target audience interests, previous content success, and an understanding of what content you are missing based off of this information.

Create your new content strategy.

For this stage it is most effective to create a spreadsheet including all of your new content ideas as well as your previous ones. For each idea you can then determine if each topic needs to be developed, combined with another topic, abandoned based on previous performance, or improved if it is a previous topic that showed some merit. You can then prioritize each topic based on suspected interest from your target audiences. Once this is done, you can establish further action items for each topic determining what type of content this topic will take and how it will be developed.

Conduct a content audit.

Uncovering this data will help you to understand what content has been most attractive to your audiences in the past.

Start with your analytics platform (like Google Analytics). Look into the metrics of each of your previous pieces of content including: pageviews, unique pageviews, avg. time on page, entrances, and bounce-rate. If you have some relatively successful content, you may also want to track avg. search traffic per month and backlinks if your analytics platform allows.
Start Content Marketing Today!
Content marketing is one of the most powerful and effective ways you can reach and influence your target markets, which will increase your brand visibility while also improving your SEO standings. Producing regular blog posts, video, podcasts or any other form of content, and sharing them on your social outlets and regularly updating your site's content are all ways you can stay in good standings with Google search ranking and genuinely engage your visitors. We hope you found this guide useful and if you have any questions about how you can be using the power of content to improve your bottom line, give us a call! We'd love to talk about ways your business can get a boost from a solid content strategy.

by
Mira Brody
in
Development
,
Optimization
,
Tools & Tips
Avoid scams and hire the right developer for your business.
Investing in a new website for your business can be both an exciting and challenging decision. A modern site that is technically sound and designed with user experience in mind, is important in order to attract customers, stand out among competition and rank high with search engines. In today's web development industry, there are an overwhelming number of options for you to consider, from one-man operations, to larger full-service agencies. In this article, we will help guide you into choosing the right developer for your business needs, and how to avoid common web developer scams so that your business can benefit from the power of the web to improve your bottom line.

Steps to finding the right developer
The key to choosing the right web developer for your business is to understand and define what goals you are trying to achieve with a new website. We recommend starting with some scratch paper and listing your needs as you go through our guide below.
What do you need your site to accomplish? Are you looking for a website that you use primarily for marketing, or do you need something more advanced that can sell products or services? Make a list of things your business would benefit from, such as an automated employee application, content to explain your services, a contact form, etc… After you have a robust list, order them from most important to least important. For more idea about how you can automate your business, check out our recent business automation blog.

Will you site need to grow in the future? Whether you have short-term or long-term goals, it is important to go with a developer who is able to grow and change your site as your online business becomes more profitable making it easier to cashflow your additions. The ability to make changes on your own is important as well, such as content edits, posting new blog articles or updating metadata. These are done through your site's content management system and the ease at which a CMS is designed really depends on the developer and site platform.

Do you need your site to integrate with third party software such as a Point of Sale (POS) system or accounting programs? This often requires API integration, which takes an advanced developer to handle. Think of all the software you currently use to run your business: a scheduling system, digital calendar, employee timekeeping…these can be integrated into your website with the right developer at your disposal.

Establish how you want your site to look and feel. Branding is an important part of your business and should drive the design of your site. Determine what brand attitude you want to portray, artistic elements such as colors and fonts, and create a list of other sites you find appealing. The more specific you can be with how you want the elements on your site to look, the better final product you will receive. A good developer will be able to properly integrate your brand into your website and collaborate with you or your branding agency to make creative choices throughout the site build. For more information about the importance of logos and branding, check our this blog article we wrote a few months back.

Establish a budget and timeline for your project. How much money do you have to spend on a new site and when do you need it launched by? To achieve these goals, you should always avoid developers that have no stated process. Have them give you a clear timeline of the website build and ensure they are transparent about their production process. Although you may be on a tight budget, remember that your cheapest option might not be your best option for web development. Also keep in mind that professional developers often have a fair amount of work on their schedule, so beginning your developer search and site build in advance is important so you can get into their production queue — we recommend approaching a developer 4-6 months before you need your site to go live.
Once you have determined your needs for your new site, it is time to begin searching for the right developer for you. Depending on where you are located, you may have some local options, but many web development agencies are adept in working remotely with their clients — just be sure they are communicative and transparent. Keep the list you made close by when interviewing developers for your job and don't be afraid to be picky — it's your business in their hands! A professional and experienced firm will assuredly cost more than a small start-up but you'll likely spend less on your project over time when it's built purposefully, and technically sound for you the first time.
A Rise in Web Fraudulence
Have you ever been in the position where you hired a "web developer" to build you a site, then during the build, or even after its launch they become completely unresponsive? We see this all too often. The National Consumers League has received an
increase in complaints
in 2019 from businesses reporting unresponsive developers after a project has been paid for — this is not only bad business practice but can also be a common scam. These business owners report losing anywhere from $2,500-$50,000 — a high price for anyone, but particularly small businesses just getting on their feet. To avoid scams during your search, we've outlined some things to keep in mind.
Tips for your development search:
If it sounds to good to be true, it probably is.




A website with a high ROI is not going to be your cheapest option. You have to spend money to make money.




Check online reviews for that developer and even reach out to request references.




Check their status with the Better Business Bureau.




Ensure they are listed prominently in online business directories.




Good developers (and designers) will want to work with good clients.




Never hire a development company that doesn't utilize a contract.



Make sure your developer has experience with Search Engine Optimization so your site is findable in search engines, you can find more about this topic in this article.

Find your next website developer today!
The right developer should be your partner for success online and work with you to gain an understanding of your business and goals, not only for the current site build but also for the expansion of your site as your business and needs grow. A website is not a fixed cost but a major investment in your business and should be taken seriously. It is a visual representation of your brand and is open for your customers 24/7. Although finding the right web developer can be challenging for those unfamiliar with the industry, it is not an impossible task for the layman. By clearly outlining your needs for your new site, you can effectively find a developer that is the best fit for you. With 20 years of web development under our belts, the team at JTech has experience building custom sites for businesses of any size, in a wide variety of industries. If your business is looking for more information on what makes a developer effective or what it takes to be successful online, we are always available to talk about your needs for a new site.
by
Mira Brody
in
Optimization
,
SEO
,
Tools & Tips
Why Web Analytics Are Important for Your Marketing Strategy
Most businesses spend between
7-8%
of their revenue on marketing and advertising. Since it's likely your business is spending about the same, are you aware of where this valuable expense is going and whether or not is is paying off? It is important to be closely tracking your marketing efforts and how customers are engaging with your brand and website so that you can be sure you are getting a return on investment. In this article we'll explain why your business needs the valuable data that web analytics provides and how you can get started today!
Why Web Analytics are Important for Your Business
Web analytics give your business insight on user behavior, specifically how people engage with your site which allows you to make more informed marketing decisions, With the data that analytics gives you and a solid
SEO
&
PPC
campaign you will convert more leads into paying customers, spread your message and strengthen your brand. Here are some powerful metrics that website analytics provide:
Audience demographics including age, gender and location. This can help you to create content that you know will interest your audience and drive web engagement.




Whether people are engaging with your site's content or not. This will help you to form a more effective content marketing strategy.




Track what channels your traffic are coming from including social media platforms, direct and organic traffic, paid campaigns, and referrals from any other site and get insight into the ROI on specific marketing campaigns.




Information on your total revenue and conversion rates and topic products for ecommerce sites. You can determine what areas along your sales funnel are causing the most users to drop off, giving you an opportunity to improve your site and increase conversions.




The ability to set goals, such as how many people are submitting a contact form, making a purchase, or scheduling an appointment. This allows you to measure the effectiveness of your site for moving your users to action so you can make any necessary changes to improve these behaviors.




Google's search console can allow you to see what keywords your website is ranking for in Google searches. This will allow you to make more informed and strategic SEO decisions.



Start Tracking Today
Paying attention to your data can help you recognize trends and plan for the future, improve your site and drive more sales. Google Analytics is the most popular analytics platform and the one we set up for our clients. If you're ready to get started, feel free to give our Digital Marketing team
a call.
We have over 20 years of experience and would be happy to help you.
by
Mira Brody
in
Google
,
Optimization
,
Social Media
,
Tools & Tips
Benefits to your business and important details to remember when submitting to directories.
If you are a business trying to build online visibility, it is important that you are listed in online directories such as Google My Business (GMB), Facebook, Apple Maps, and other well-known listings. Google's search algorithm takes into account all of the different places your website is listed when determining your search ranking; they're keen on consistency of information throughout your different listings. Submitting to directories should be a part of your digital marketing strategy, as it increases your site visibility for local searches and labels you as reputable online source for your products and services.
The Benefits of Online Directories
A business listing directory is an online list of businesses within a particular niche, location, or category. According to HubSpot, the top 10 online directories are:
Facebook




Apple Maps




Google My Business




LinkedIn Company Directory




Bing




Yelp




Better Business Bureau




Foursquare




MapQuest




HubSpot



What are some benefits? Having your business listed in online directories helps boost you to the top of search results and therefore increases the likelihood of users finding your business. It also strengthens your SEO by creating links back to your site that can help you to progress in rankings. It boots your online reputation — the more places users see your listings, the more you will be portrayed as an authority in your industry leading to users feeling more confident in your brand.
What to Remember When Submitting to Directories
A lot of times, businesses will hire a digital marketing agency to spend the time submitting their information into different directories — they'll know which ones will serve your business best. If you are looking to do the work yourself, here are a few tips to help you get started:
Be accurate — Accuracy across all of your online listings will lead to more trust in your site from Google and conflicting information will confuse users.

Be picky — Be careful about what directories you join. Not all are reputable and directories with low authority may hurt your SEO.

Claim what's yours — Make sure you have claimed your Google My Business profile and are actively using it. GMB profiles are becoming more important as they play a roll in your local search rankings. You can find more on this in our blog article here. Also set up a page for your business on Facebook.

Track progress — Keep track of your directory submissions in a spread sheet. This will make it easier to manage what directories you should be present in and manage your listings. This will also allow you to see what progress you've made.

Remember the details — Two important things to include in your listings are: your business hours, and images. This makes your listings more visually engaging to users.

Encourage feedback — Direct customers to your listings and solicit reviews after you've had a great experience with them. This will help you build credibility with your target audience as well as influence your rankings in local search results.

Cast a Wide Net
Online directories are the modern-day yellow pages — you'll want to make sure you're listed so that people using these sources can find you! If you have questions about submitting to directories or need help doing so, our Digital Marketing team would be happy to help you — just
give us a call
and we'll help point you in the right direction.
by
Mira Brody
in
Design
,
UX
Infinite scrolling is a web design layout that allows a site to continuously load content as a user scrolls through the page, removing the need for a more complex page structure. Some popular examples of this include Reddit, Facebook and many ecommerce sites that have a lot of product to display. Infinite scrolling has seen a rise in popularity due to the experience it provides, but do the benefits come with a compromise? In this article we'll be exploring the pros and cons of infinite scrolling.
What to Consider: motivations and content
Visitor motivation and amount of content are two factors that will help you determine if infinite scrolling would be a good option for you. Are your visitors going to browse for information, or look for something specific? While goal-oriented users will not benefit from infinite scrolling, it works great with discovery interfaces. This is when a user is navigating through a volume of content to find something they like, such as Pinterest, or engaging in a social feed, like Instagram.
Pros
Now that we've determined whether infinite scrolling will fill the needs of your audience and content, let's go over the pros and cons. Infinite scrolling:
Keeps users engaged by removing the page function, so they don't have to keep leaving the page to view more content — continuing to scroll is easier than clicking each time.




Provides a more efficient way of browsing large volumes of content.




Provides an easy and responsive experience for mobile browsers.




Leads users to discover content that they would have otherwise not been looking for.




Ease of use and navigation.



Cons
Like all good things, infinite scrolling isn't for everyone. Here are a few drawbacks:
Makes finding specific content difficult.




Since there is no end to infinite scrolling, users will not have a sense of completion or be able to judge the amount of content present. When implemented incorrectly, this may cause frustration with your site.




Infinite scrolling can impact page load time, particularly if a user is on a poor internet connection. Slower load times can lead to losing users and dropping engagement.




Users cannot bookmark a specific point in the content stream to return to later. If the user leaves the page, they will lose what progress they've made scrolling through the content steam.




Browser scroll bars become irrelevant.




With infinite scrolling, there is no footer. Footers can be a great tool for your website containing navigation points, social links and contact info.



When to use Infinite Scrolling
Infinite scrolling is a great website feature that our team utilizes in many of our website projects. It is particularly useful for long products list on ecommerce sites, blog pages, list of data and other continuous streams of content. It can boost engagement and make the content on your site more user-friendly, when applied correctly. If you want to learn more about infinite scrolling, user experience or ways your site can increase engagement, feel free to
reach out
and we'd be happy to have conversation with you.
by
Mira Brody
in
Announcements
,
Industry News
,
Optimization
,
Tools & Tips
Moz's latest update — what you need to know
Domain Authority is a search metric developed by the company Moz to help businesses understand how well they are ranking on the internet. Domain Authority (DA for short) is a score ranging from 1 to 100, 100 being the best score. DA is used to predict how well a business's site will rank within search engine results pages (SERPs) and is calculated by analyzing linking domains, the number of inbound links to a site, and other factors. It is useful measure over time in comparison to competitors to see how your website stands and how it has improved as your SEO efforts take effect.
Generally we see high ranking sites with a DA of 30 or more, which is typical of a small business website. In this article, we'll talk about Moz's latest update and how you can check and improve your score to increase your chances of being findable by your customers.
The Update 2.0
Starting
March 5, 2019
, Moz implemented Domain Authority 2.0. This update better correlates DA scores with search rankings so you can more accurately measure your sites standing within Google. This makes 2.0 more reliable than ever and will improve your ability to achieve success online.
A few new factors of 2.0 are:
Spam score




Link-quality patterns




Machine learning for Google's algorithms



How to Improve Your Score
If you don't already know your DA score, check it here:
https://moz.com/link-explorer
If you've been monitoring it for a while, you may have noticed a large drop in this score after the update — this is no cause for panic. First check to see if your competitors DAs dropped as significantly as yours. If they did not experience the same drop, then you may have some room for improvement in your SEO — check out this blog article to find out what steps you can take to improve your SEO standing. There are a lot of different factors that effect your Domain Authority score, and at JTech, we have decades of experience helping sites achieve better search rankings online. If you are concerned about how your website is ranking, contact us for a preliminary analysis of how your site can be improved.

by
Mira Brody
in
Google
,
Optimization
,
SEO
,
Tools & Tips
Optimizing Your Business for Voice Search
Between Siri, Google, or one of the other voice search assistants available on your phone, 71% of respondents prefer using voice assist to search for something than typing their query. Somehow, it is more satisfying to speak the words "best hamburger near me" than it is to type. By 2020,
50%
of all searches will be voice searches making optimization essential for businesses to be findable. Voice search and local visibility are becoming closely associated; 46% of voice search users look for a local business daily.
What does this mean for you, a savvy business owner? Your online presence — particularly your website — must be optimized for all types of searching, voice included. In this article, we'll provide some pointers about how to optimize your online business for those searching for your business verbally.
Optimizing for Voice Search
The most significant difference with voice as apposed to regular web searches is that the user will only receive one result, as opposed to a long list through which they can browse. This single result is dependent on what is called a "featured snippet."
To earn a featured snippet, you have to first establish what topic you are trying to rank for. If you're a yoga studio that specializes in hot yoga, make sure your site is ranking highly for keywords related to that topic, such as "bikram yoga" and "hot yoga." Then, you need to have specific content on your site offering information on your targeted topic such as a blog or frequently asked questions page.
When optimizing content, put yourself in the shoes of your searcher and the specific questions they will ask into order to find your business. The closer you can match your content to user intent, the more likely it is that you will achieve a featured snippet. Since voice searchers will phrase their question as though they are talking to another person, make your tone more conversational.
You can also use structured data to help search engines better understand the topic of the content on your site. You can read more about how to use structured data in our blog post
here
. Having this data will help your content appear in featured snippets helping you be more findable through voice search.
Local Search & Voice Search
As smart devices gain more popularity, it makes sense that most people would use voice search while on the go. It's easier to hold own the home button and ask Siri "where's the nearest gas station" than it is to stop and type. The best way to be returned as an answer for these searches is to ensure your business listing is claimed on Google My Business and up to date. For more on how to optimize your Google My Business listing, read our previous blog article
here
.
by
Mira Brody
in
Google
,
Social Media
,
Tools & Tips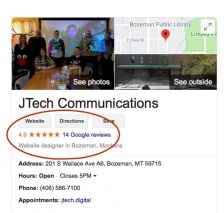 Your business's reputation is one of the most important parts of your brand —
90%
of customers claim their buying decisions are based on online reviews. Online reputation management (ORM), is the act of influencing how online users see your brand, to show customers that you are listening when they give feedback and show that you care and are engaged with your customer base.
Why Reputation Management is Important
Reputation management takes time, effort, and resources but is worth the effort since a negative reputation will directly hurt your business.
88%
of purchasers research products and brands online before making a purchase. When that many of your customers are going online to check on the reputation of your product or services, you'll want to make sure that public feedback is positive. Your online reputation can also effect your rankings with Google. Google has
stated
that its search algorithms take reviews into account and de-rank sites who offer a bad experience to their customers. Customers are also looking for a company that is transparent and honest — a positive online reputation will show your business as an authority in your industry and inspire users to look deeper into your brand. Responding to criticism publicly shows that you care about what your customers think and are open about your brand. One of the goals of reputation management is to not only attract positive reviews to begin with, but also address negative experiences through response and engagement.
Once started, an ORM campaign has no end, its a continuous strategy that builds and maintains your reputation. This can have a serious impact overtime and lead to higher online traffic with more conversions.
Reputation Management Do's & Don'ts
Don't: Ignore customer reviews and comments, even if they are positive.
Don't: Ignore negative PR.
Don't: Produce web content that doesn't provide value.
Don't: Be invisible on social media.
Don't: Create fake reviews.
Don't: Respond to negative reviews defensively.

Do: Respond to negative reviews and online statements. Apologize to users. Respond professionally to negative reviews and look for a way to resolve the issue.
Do: Become well respected online.
Do: Monitor what is being said about you online.
Do: React quickly and professionally to negative reviews publicly. Empathize with the user and offer a solution.
Do: Be present and engaging on social media.
Do: Showcase positive customer reviews and user generated content.
Do: Be in control of your brand image. If something happens at your company, you want to be the one to bring it to the public.
Do: Respond to positive reviews. Acknowledge the user by name, show gratitude, offer to provide additional value if possible.
Do: Customize each one of your responses.

Where Reputation Management Happens
Social Media
When your customers find your brand on Facebook, Instagram or other social media platforms, they are more likely to buy your product or contact you for a service if they see an active page with positive reviews and that is engaged with its users. Post regularly, respond to your social media reviews and engage followers by asking for their input.
Customer Review Sites
Sites like Yelp, Manta, and even TripAdvisor are specifically geared towards helping users voice their experiences with brands and direct other users to the best option. It is important that you have a positive reputation on these platforms to capture new users that may be looking for your product or service. There may also be less known sites or forums specific to your industry that offer user reviews. Be sure you are aware of these and include them in your ORM plan. Claim these pages if you business doesn't not already manage them, update the information, and respond to reviews. For more information about managing Yelp and TripAdvisor, read our previous article on
customer reviews
.
Retailer Sites
Is your product sold on a site like Amazon, Etsy or eBay? Most of these sites offer a customer review section where customers will rate and review a product. Make sure your product has a positive rating or if there are issues, address them. Amazon allows for users to ask questions about a product and have the company answer. This is a great way to show transparency in your brand and have positive engagement with inline users.
Google My Business Profile
Google My Business is one of the most vital social platforms to be aware of when managing your reputation. Your company's Google My Business (GMB) profile is what appears on the right side of a search engine results page when your products and services are being searched for, so it may be the first thing they see! This profile includes user ratings, reviews, and other company information and it plays a direct roll in your standing with Google and where you appear in results — lower-rated businesses will not rank as high as highly-regarded businesses. To learn more about how to optimize your GMB profile, read our previous blog article discussing this topic
here
.
Start Managing Your Reputation Today
Online Reputation Management is crucial for businesses big and small! If you have not yet considered managing the online reputation of your business, you should start by reviewing all of the above-mentioned sites and coming up with a game plan for responding to both positive and negative reviews. Consumers have a lot of options when it comes to where they shop, and they use online reviews to help them make those decisions. They want more transparency from brands and are more willing to engage with brands that are open and honest about their reputation. Positive reputation management can directly affect your sales and digital marketing efforts and lead to more conversions online.

If you need help with your online reputation management —whether you receive a negative review or are trying to get a head start before it happens — let us know how we can help! JTech's digital marketing team is equipped with the experience to help you remain in good light online.
by
Mira Brody
in
Content
,
Design
,
Imagery
,
Tools & Tips
The pros and cons of stock versus custom photography for your website.
Imagery is one of the most important pieces of content on your businesses website. It can supplement is part of the visual representation of your brand, values, and is a clear way to show off your products and services. Your image choices can emote an emotion or feeling within the first few seconds when someone arrives on your site. In fact, websites with imagery get 94% more views than content that has none at all. Imagery with search-friendly metadata will also boost your SEO standing and gives search engines more content to index.
Because so much relies on imagery, it is important to take some time and explore the pros and cons of stock versus custom photography for your business. We've laid out a quick pros and cons list so you can determine the best choice for your company.
Stock Imagery -- Pros
Generally more affordable.




There is a large selection available from different sources.




Stock photography is generally high quality.



Stock Imagery -- Cons
It is harder to communicate your brands voice with stock photography.




You may not be able to find what you need or want.



Custom Imagery -- Pros
Custom photography is original providing a custom experience to the user.




Custom photography is more flexible allowing you to get exactly the images you want.




A pro photographer will account for lighting and staging.




Custom photography allows you to use actual photos of your employees and business, giving a more personal feel to your brands content.




If you need product photography, a pro photographer will be able to deliver high quality unique photos of your products.



Custom Imagery -- Cons
Working with a professional photographer is generally more expensive.




It can take time to get all of the shots you need taken and processed.



If you need help determining what kind of imagery your business would benefit from, give us a call! Our team are experts at content strategy and can help you set up a custom photoshoot, or search for the best stock photography options for you.
by
Mira Brody
in
Announcements
We had the pleasure of designing and building a brand-new website for TLC Services, a septic and excavation company in Bozeman, MT.
We are excited to launch this new site for TLC Services and look forward to the many ways it will serve them well into the future of their already successful business. Check out their
new website
.