Web Design and SEO Blog
by
Mira Brody
in
Announcements
,
Social Media
JTech offers customized social media packages to supplement your businesses's content marketing strategy.
JTech is excited to announce our new social media offerings! Customized to the individual needs of our customers, we have three package levels depending on the volume of posts your business is looking for. Social media is an inexhaustible tool which allows you to reach a wider audience, be more available to your customers for feedback and customer service, and affordably advertise your products and services.
The three social media packages we offer are the Starter, Basic and Standard.
Starter
Includes 2-4 full posts and 2-4 flex posts per month.




Ideal for smaller businesses.




Starting at $200.



Basic
Includes 4-8 full posts and 3-6 flex posts per month.




Ideal for busy small and medium-sized businesses.




Starting at $400.



Standard
Includes 8-15 full posts and 4-8 flex posts per month.




Ideal for large, high-traffic businesses.




Starting at $800.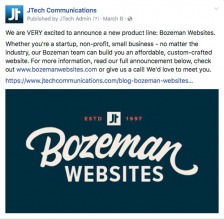 Types of social media posts.
All packages will accommodate the full set of social platforms used by your business. Posts are carefully planned and professionally articulated, closely following a digital marketing plan centered around your business goals.
A full post is approved by the client ahead of time and is usually written to attract a more professional audience in order to sell your product or service. You can see an example of a full post above.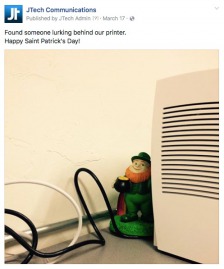 A
flex post
is more casual and on-the-fly. It could be something that happened in the office, a promotion, breaking news or, as shown in our example, related to a fun event like a holiday. Each package includes a handful of flex posts per month.
Ongoing analytics.
We use analytics to monitor all of these social media efforts, revealing how posts are performing in order to best meet the needs of your audience. We do extensive research about what
times and days
are best for your industry, trending topics and hashtags, and target new viewers on a continuous basis.
If you don't have the time required to manage your business's social media accounts, we'd be happy to sit down with you and go over these plans in-depth, devising a long-term plan that will garner results and bolster your digital marketing efforts.
by
Mira Brody
in
Design
,
Development
,
External Publications
We are excited to announce that one of our articles was recently published with
Speckyboy Design Magazine
. The article, "Modern Favicon and Icon Development Techniques and Best Practices," looks at the creation of the favicon and related icons, and the implementation of what we internally call "the Icon Suite." Our process streamlines the creation of these icons, allowing us to rapidly create a great set of icons for our clients' websites.
This Speckyboy article is an excellent resource for web designers and developers, and includes tips about how to implement this design detail to their own projects. Check out the article
here
.
by
Mira Brody
in
Content
,
Imagery
,
Optimization
,
SEO
,
Tools & Tips
All of the content on your website should be properly optimized so that search engines can easily understand who you are and what products and services you offer to customers searching for you. In addition to copy,
these optimization efforts should include any imagery you upload.
Although the image uploader in our content management system, My JTech, does most of the technical work for you, it is important to understand the importance of SEO image file optimization in the case that you are using a more primitive tool. To help you properly optimize your site's images, our digital marketing team has put together a few tips and tricks so that you can achieve the best possible search engine ranking.
File name optimization.
Non-standard image file names can cause some issues, such as confusing the web browser and causing it to try loading your image from a non-existent location. Some best-practice naming rules to remember are:
Use only lower-case letters.




Instead of spaces, use a dash between words.




No numbers, underscores or punctuation.




No characters that are not letters.



Your file names should also be short, comprehendible, and contain at least one keyword. Instead of "FRESH EGGS/YUMMY!!!.jpg," your file name should be formatted as such: "fresh-eggs.jpg" Creating web-friendly file names means these files are search engine-friendly as well.
File size optimization.
For optimal site performance, the image file you upload should be properly sized and passed through an image file optimizer. We recommend
ImageOptim
, as it can often produce 80-90% savings. This takes bloat off of your page load, which not only improves user experience but also your ranking, since Google is known for penalizing sites with poor performance.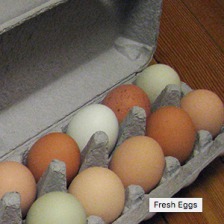 Optimize your image title text.
Title text is a description of the image. Title text is not significant to search engines, and is used as an accessibility tool — when you mouseover an image, a little window should appear that contains the image title text.

Image alt text.
Alt text, however, is recognized by Google for accessibility. To get the most out of your alt text, keep it short — a single sentence will do. Try to organically apply a primary keyword or two, but don't overstuff, as this becomes unhelpful to users and Google will recognize it as spam.

For example, if you run a website promoting your local farm in Wilsall, MT, the descriptive alt text on your image of farm fresh eggs can help give a keyword boost to the page.


Google sitemap.
Finally, you should upload a sitemap to Google search console. A sitemap is an XML document submitted to search engines that allows them to understand the structure of all content on your website — including images. This allows Google to more easily crawl your site and display you in relevant results. Submitting sitemaps is part of the service JTech provides when building or optimizing sites for our clients.
The importance of optimized images.
Any SEO effort to refine your site's content should include image optimization. This will ensure that you are positioned as a relevant result when people search for the products and services you offer — making it easy for potential customers to find you. Image optimization, particularly file names and alt text, serve not just textual search listings, but also Google and Bing's image search. If you're a JTech customer, our content management system handles a lot of this work for you, requiring a user only to have to title each image – this the image title is automatically used as alt text. In a perfect world, all image managers would have this functionality, but it is good information to understand in the case that you find yourself using a less-sophisticated tool. If you have any questions about uploading images to your site or need help with any content optimization,
give us a call!
by
Mira Brody
in
Google
,
SEM
,
SEO
,
Tools & Tips
Although it is important to understand who is visiting your site, how they are getting there and what they are doing, the amount of numbers, charts and behavior flows that represent this data can create information overload. In a recent update, Google Analytics has worked to resolve this issue, presenting a whole new world of integrated digital analytics to help those marketing their business better understand their website traffic and enhance the customer experience. Here is a brief overview of these Analytics tools that may benefit your marketing efforts.
Optimize
Optimize is Google's premiere A/B testing tool and was just recently released for free. Optimize allows you to test different versions of your website in order see which performs better and view these performance metrics directly on your Analytics dashboard. Take advantage of this opportunity to use Optimize for free and see what A/B testing can do for your site!
Academy Courses
Google has long-offered free online courses to help users gain as much insight as possible into the world of Analytics. They've recently added two more courses: Google Analytics for Beginners and Advanced Google Analytics.
Google Analytics for Beginners focuses on fundamentals and is a great resource for those unfamiliar with the interface. It covers: creating an account, setting up filters, and goals, implementing your code, tracking campaigns and creating your custom dashboard.
Advanced Google Analytics goes further in depth about how data is collected and how to set up custom metrics that will best benefit your business. You can
sign up here
for either of these courses.
Data Studio
Data Studio allows users to create customized reports, pulling data from sources such as AdWords, Google Analytics, BigQuery, YouTube, Facebook and many others and display it in a visual and organized way. Data Studio has received some upgrades, making it even easier for you to keep track of your site's performance, including the ability to choose from custom or pre-set canvas sizes, changing the navigation's position. If needed, you can then arrange this data into a presentation for clients or investors.
Audience Center
Google's Audience Center helps advertisers better understand who their target audiences are and when the best time to reach them is. With the ability to integrate with DoubleClick, AdWords and other third party data, Audience Center collects data about your digital advertising efforts so it can be viewed and analyzed in a single place. Although released last year, Audience Center recently left beta and is available for all to use.
Analytics offers a depth of free resources for business owners who are trying to collect data and better understand the user behavior on their website. This can help you not only to better serve your current customers, but find new customers as well. We utilize many of these tools for ourselves and our clients and would be happy to help you better understand the data you are pulling in or set up Analytics for the first time!
by
Mira Brody
in
Social Media
,
Tools & Tips
Guerrilla marketing is a type of marketing that uses unconventional, low-cost methods to draw customers' attention to a product or issue. Since its beginning in the 1980s, this marketing style has translated successfully through digital channels, commonly referred to
digital guerrilla marketing
. Digital guerrilla marketing is perfect for smaller businesses because it requires very little capital investment, draws traffic to your site and garners long-term results. Here are a few examples of digital guerrilla marketing to help inspire your own marketing efforts.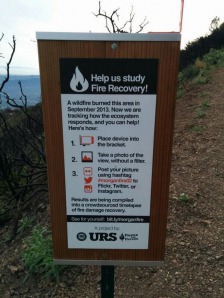 Crowdsourcing Data
After the Morgan and Rim Fire desecrated Northern California in the summer of 2013, the US Forest Service set up placards around scenic pullouts that overlook burn areas, urging passing tourists to place their phone on an indicated ledge, take a photo, and tag it with #morganfire02 or #rimfire01 on social media.
Why it was successful: This crowdsourcing effort continues to track fire recovery today. These placards are a great example of digital guerrilla marketing because they are a) in an area with heavy tourist traffic, and b) allow customers to feel involved.
Takeaway: Use social media to get your customers involved in a campaign. You can learn more about them by what does and doesn't work.

Leveraging Company Values
An example of a company using their values to market themselves is REI's OptOutside campaign, which involved closing their stores on Black Friday and instead encouraging everyone to enjoy the outdoors with friends and family.
Why it was successful: REI saw a
9.3% increase
in store sales and a 23% increase in online sales during their 2015 holiday season, all by closing their stores on the most popular shopping day of the year. The campaign pandered to the values of an existing customer base, reenforcing their decision to spend money with them.
Takeaway: Review your company's values — how can you use them to gain the trust of your loyal customers?
Alter Your Current Branding
As a part of their support for the Bring Back the Bees campaign, General Mills recently removed Buzz, their iconic Honey Nut Cheerios mascot, from cereal boxes and distributed over a billion wildflower seed packets to their customers. This was a tangible way to drive people to their site (in order fill out their contact information) as well as draw extra attention to their brand by changing a major visual part of it.
Why it worked: This made people feel involved in a worthy cause with the incentive of receiving free stuff; due to it's popularity, they surpassed their
100 million seed packet
goal, and by the end of the campaign ended up distributing 1.5 billion instead. It also drew in extra attention much in the same way the RED campaign does, by changing a part of their well-known branding so more people notice it.
Takeaway: Much like General Mills removed a familiar graphic from their cereal box, you can tie your marketing campaign into your branding materials. For example, JTech recently released a
20th Anniversary
edition of our logo to celebrate two decades in business. You can also pass marketing materials out to your customers; you'll be better remembered if a client is walking away with something of yours in their pocket.
Stream a Video
In 2014, the Ice Bucket Challenge went viral, serving as a way for people to raise money and spread awareness for ALS. The "challenge" was to have a bucket of ice water poured over your head, stream it on social media, and nominate others to either do the same within 24 hours, or make a donation to ALS Association.
Why it was successful: One of humanity's many quirks is our need to broadcast our charitable acts, which was fulfilled by this challenge as people's social feeds filled with videos of their friends and family dumping water over themselves. This social media chain reaction brought in over
$115 million
in the first eight weeks of the ALS Ice Bucket Challenge.
Takeaway: Using YouTube, Venmo or
Facebook Live
, a company video is a low-cost way to campaign in an entertaining medium and evoke a reaction from your audience. Even something so short as a live customer testimonial or how-to video is a way to make yourself available to your clients on a more personal level.
Start Your Own Guerrilla Marketing Campaign
Guerrilla marketing should be creative, leave an impression, provoke thought and deliver your company's core message. If you need help brainstorming ideas that will work for you,
give us a call!
Our team is ready to develop a custom, long-term digital marketing plan for your business.
by
Mira Brody
in
Announcements
,
Google
,
Industry News
,
Optimization



JTech is excited to announce our new domain name — jtech.digital!

Over the last year, new industry-specific

top level domains

have gained momentum and securing one has a handful of known benefits, including brand protection and better positioning in search results. We've helped our clients attain specific domains that would benefit their company, including: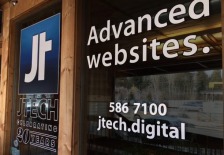 Why do we love it?
Since JTech opened for business in 1997, we've done business under the domain name
jtechcommunications.com
— we didn't get there quite fast enough to register jtech.com
Besides being terribly long, the .com suffix of our traditional web address doesn't convey any useful information about what kind of business we are. Our new name, jtech.digital, helps to solve that issue. Short, sweet, and descriptive of our role as digital visionaries, this name is a perfect candidate for advertisements, our front office window and business cards. The .digital is unusual, memorable, and leaves more of a lasting impression.
Get your new domain name today.
The larger impact of industry-specific top level domains on a businesses's search ranking is still being revealed as they gain popularity, but the time to claim one is now — while the perfect name is still available. If you need help, contact us — we'd be happy to help you find the name that will benefit you most.
by
Mira Brody
in
Google
,
Industry News
,
SEM
From texting friends to ordering pizza — even registered
domain names
— emoji are making their way into our everyday lives. Most recently, Google confirmed that these expressive faces and ideographs will be allowed to appear in Google AdWords when they are "
relevant, useful and fun.
"
Google's relationship with emoji.
Although they briefly allowed emoji in page titles and descriptive snippets in early 2015, for the last two years Google banished the colorful icons from search results. They found that people were overdoing it — including too many emoji in hopes of attracting customers. But as of February, you may once again see a few sprinkled back into your organic and paid results.
Benefits.
There are benefits to allowing emoji to appear in organic and AdWords results. Humans process visual information much faster than text, so an emoji of a maple leaf, a strip of bacon and a doughnut will be processed by a customer faster than the phrase "maple-bacon doughnuts."
These three images also eliminate language barriers. Android apps with emoji in the description are
downloaded 20% more
often than those that don't. In some early results with AdWords, it has
increased clickthrough rate
when compared to non-emoji advertisements.
Bottom line.
Although they are a popular way to grab a visitor's attention, there doesn't appear to be a clear way forward yet. While Google favors some emoji, they reject others (the infamous 💩, for example, did not make the cut). Emoji could help with more specific search queries, and therefore improve your
quality score
, but in order for emoji to be searchable to begin with, they'd have to be entered in the query's metadata, not simply pasted into the title as most advertisers are doing now.
More experimentation is needed to define exactly how emoji in AdWords will fare — or if Google will even continue to allow it. If emoji continue to be allowed, the novelty may wear off. Its effectiveness also depends on your industry — the maple-bacon doughnut example is harmless for a bakery trying to attract the attention of a more visual audience. For a professional industry, it may be best to stick to text for now.
by
Mira Brody
in
Content
,
Design
,
Development
,
Tools & Tips
The contact form on your website is an important, interactive portion of your site, and can be designed to serve existing clients as well as generate new leads. A clunky or inoperable form can annoy, and even turn business away entirely. We have put together a short list of recommendations that your business can use to evaluate your own forms.
Only ask for what you need.
Many contact us forms go overboard with questions, overwhelming the user — take this
FedEx contact form
for example. Not only does asking for personal information threaten their privacy, but just as people will leave a store with long lines, they will abandon your contact form if it asks for too much of their time.
Solutions:
Only ask for the information you need.




Minimize the number of questions or fields being presented at once.




If you do need additional information, break the form down into multiple steps or groupings, as we did on our own

contact form.

Keep form labels visible.
A form label, or placeholder text, tells the user what information you need from them. If this label disappears once the user starts typing, so does their point of reference; they may then be forced to delete their work in order to double check what the placeholder said.
Solutions:
Make sure your labels are visible, always.




A hybrid adaptation of this, as implemented on

Bozeman Websites

, turns the placeholder text into a form label when the user starts entering data (fancy animation is optional).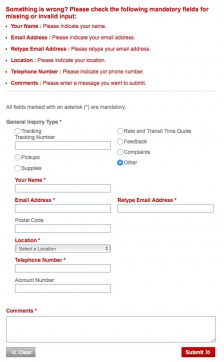 A mistake shouldn't be a setback.
Some information on your contact form might be required. Indicate any required fields with an asterisk or notation. Be sure to preserve your users' progress: do not offer them a "reset" button, and be sure to retain the information they've already entered if they submit a form that needs correction. Nobody likes being forced to start over. The form to the right is a good example of error states causing unnecessary friction — all of the errors are listed at the top, separated from the locations where the errors occurred.
Solutions:
Place error states next to the field they relate to and give specific instructions: "field left blank" vs. "invalid email address."




Scroll the user's webpage to the first error so they can quickly make edits without having to spend time searching for their mistake.



Be generous in accepting input.
Although you may want information formatted a certain way, it is advantageous to avoid overly strict validation. For example, a lot of address fields do not allow special characters, yet some addresses have fractions or punctuation in them, such as "123 1/2 West First Street." Preventing the user from entering their legitimate address is frustrating. Likewise, phone numbers or dates are often stored in very specific formats, but a generous validation model can keep this from being a headache — whether your users input 406-555-5555, 4065555555, or (406) 555-555, the result should be the same.
Solutions:
Give clear instructions. If you need a full, 10-digit phone number, say so instead of creating an error without warning.




Format things like phone numbers, credit card numbers, and social security numbers automatically so the user doesn't have to guess where you want hyphens or parentheses.




Look for opportunities to be less specific when validating. In the case of a phone number, for instance, "exactly 10 digits" may be less useful than "at least 10 digits" — what if your user was attempting to include their country code?



Build Trust Through Good Communication.
Your form design can speak volumes about your intention. Asking for sensitive information can make users nervous about what will happen when they submit the form. How can you prove that your company is worthy of their trust?
Solutions:
When you ask for sensitive information, give an explanation for how it will be used.




Skip the pre-checked checkbox that will enroll them in your newsletter or purchase an add-on product. This is a clearly manipulative

dark pattern.


Do you have a slew of legal language that your users must read and agree to? Combine documents when possible and keep your disclaimers short.



Give positive feedback throughout their experience.
Does your form have multiple stages? If so, show a progress bar indicating their current progress at any moment. Did they enter a strong enough password, or a credit card type that your system could recognize? Show a green checkmark or the appropriate company logo.
When they finish jumping through the hoops you designed for them, say thank you. In addition to being a simple courtesy, a thank you state serves as good UX. Thanking the user informs them that their submission was a success and their information made it to you.
If you feel your website's contact form could use improvement in any of the scenarios we've described,
contact us
. We'd be happy to take a look and offer some suggestions to ensure your site continues to help serve your customers and generate new business.
by
Mira Brody
in
Development
,
Google
,
SEO
,
Tools & Tips
Technical SEO Tips to Improve Search Ranking
The key to attracting more traffic to your site is to maintain a good ranking in search engines through Search Engine Optimization (SEO). SEO is a broad topic and relates to many aspects of your websites however, this article will focus on technical SEO — the optimization not represented in your actual content, but instead in the development of your site. So that your business has the best possible ranking in search results, our digital marketing team has put together a list of technical SEO areas that are fundamentally important to the performance of your site.
Robots.txt file
— The robots.txt file is a text file that controls which parts of your site are indexed by search engines. By excluding particular pages, you not only keep private content from being displayed in search results, but also save bandwidth and reduce the load on your servers. This improved performance has a direct impact on your search ranking — you are penalized by sluggish speeds and other performance issues. You can create a robots.txt file
here
.
A note on privacy and robots.txt: Although all major search engines will follow the instructions written in your robots.txt files, they are not an effective way to protect sensitive information from being accessed — to truly protect private or sensitive information, do not store it unsecured on a public web server.
Sitemaps
— A sitemap is an XML document created and submitted to search engines that allows them to understand the organization of your website as you believe it exists. If the search engine indexes your site and finds differences between the sitemap and what it found, it can report the differences to you, allowing you to find and fix indexing errors that may prevent proper indexing in the search engines.
Interlinking
— Improve you site's crawlability by finding natural ways to link between the pages of your site to ensure all content is connected within a good site structure. For example, creating a link to your site's FAQ page in the content of the Contact Us page, benefitting both your customers and your SEO.
Page Load Time
— Monitor how fast your site is loading, not only for user experience, but for search engine ranking as well. If your site loads slowly, its search ranking may be penalized. You can test your site's speed
here
. If you find that your site loading slowly, work with your web developer to take action.

Optimize your code
— One factor in page load time is the amount of code on each page. Keeping the size of each page's HTML, CSS and JavaScript as small as possible reduces the amount of information that needs to be transmitted, improving this speed. Additionally, each individual file referenced in your site's code becomes another request that has to be made to the web server. You therefore want to keep the number of files involved as low as possible. There are
tools
you can use to optimize and compress your site's code, one being
gzip
, that compresses files by removing whitespace and comments, among other things, in your code. Code optimization is a large subject: further topics include inlining vs. external CSS, images and fonts,
asynchronously loading JavaScript
, reducing the number of server calls, and minification of code.
SEO Friendly URLs
— Short URL's make it easier for spiders to crawl your site. Stick to short, keyword-focused, readable URLs to improve your site ranking.
Search Engine Optimization is not just about keyword research and page content. There are many technical factors unrelated to content that can help or harm your site ranking in search results. Luckily, if your site is suffering because of one of the above technical SEO topics, there are solutions. If you need help, give us a call — our expert marketing team would be happy to assist you.
by
Mira Brody
in
Social Media
,
Tools & Tips
Is your company considering, or currently using Pinterest as a marketing tool? The popular, image-focused application is a traffic-heavy search engine with
150 million
monthly users, with half of those actively using it to make purchases. Users appreciate the ability to quickly flip through photo results for inspiration or casually browse various topics suggested for them. They can then "pin" results, saving them to their own profile into categorized "boards." So, is your business one that could benefit from using Pinterest? Although a powerful marketing tool for many businesses, here are some industries who seem to benefit from it most.
The Food Industry
Humans are visual creatures— and we love looking at pictures of good food. Specifically, though, Pinterest has thrived as a repository for recipes. In fact, "recipe" is the third
most searched-for keyword
on the application. Bakeries, restaurants, grocery stores and other food businesses can take advantage of this by building a Pinterest marketing campaign to attract users. Lindt Chocolate, for example, floods followers with chocolate confections — after all, what's a stronger selling point than a high-res photo of a plate full of brownies?
Travel
Consumers also like to browse images of the world. National Geographic, Southwest Airlines and the Travel Channel are just a few companies taking advantage of this attraction, using images of faraway places to inspire users to reserve a hotel, book a flight or purchase some new outdoor gear.
Do It Yourself
Next to food, "DIY crafts" and "home decor" are some of the most pinned categories on Pinterest. Instead of home makeover and improvement shows, millennials are
using Pinterest
for crafting and homemaking instructions. Lowe's is one company who has really taken this to stride — with over 3 million followers, the home improvement store has boards of easy and attractive craft ideas, such as "bathroom inspirations," "get organized," "welcoming wreaths," and "gardening tips."
Clothing and Fashion
Even though they only make up about
20-30% of its user base
, men are a steadily growing demographic on Pinterest. Male users nearly doubled in 2015 alone and statistics show that "
Men's Fashion
" is one of the top searches in the United States. Brands like Fossil and Esquire have taken advantage of this trend, using Pinterest to attract both men and women with fashion trends. It's not only about fashion, though: other male-dominated boards include Bacon, Baseball, Beer, Chuck Norris and Harley Davidson. Consumers want to continue to stay on top of these trends, and will rely on a social platform with the ability to cater to their interests like Pinterest rather than a one-size-fits-all tool like Google or Facebook.
Helpful Pinterest Facts
The average Pinterest user is under 40.
70-80% of users in the U.S. are women.
Millennials use Pinterest as much as they use Instagram
, whose user-base surpassed 300 million in 2014.
The users are visual.
High-res photography with bright colors is advised.
Pinterest has analytics
so you can track your ROI.
Is is no doubt that Pinterest is a heavily-utilized marketing tool. Because of its balance between being a search engine and social media platform, it is capable of driving the most qualified users for your product straight to your site. Although widely available for use, there are some industries who take to the platform more easily than others. If you need help setting up or managing your Pinterest or other social media accounts, we'd be happy to give you a digital marketing evaluation to determine which will best suit your needs and give you the highest return on investment.