My JTech
Easy for you. Better for business.
Manage your online business from anywhere, at anytime with the click of your mouse or tap of your finger. My JTech is a flexible custom content management system that allows you to change the content on your site, upload and crop images, add or remove database records and manage activity on your website. Spend more time running your business and less time tracking someone else down to do it for you.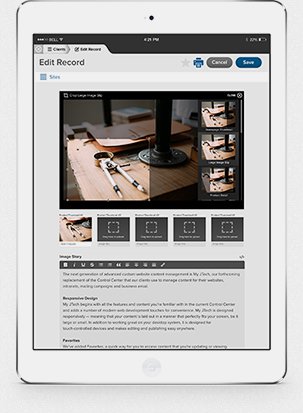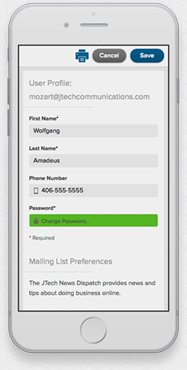 All the features you need at your fingertips.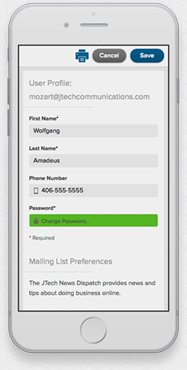 My JTech is feature-rich and ready to serve you. We design your content management system with your business in mind so that it meets all of your needs, providing you with the convenience you've always wanted to effectively manage your website, domains and email marketing campaigns.
Pain-free Content Management
Each page of your website is matched to a page in My JTech that allows you to make changes and updates to the page's content. Each body of copy is equipped with a rich text editor so you can apply different different styles and formatting, insert text links and much more. The images on your site can be swapped out on the go using our image uploader and crop tools. As needed by your digital marketing strategy, you may also edit the metadata keywords for each page to keep a competitive edge.
Collect and Organize Data
Your site has the ability to manage and collect data that is useful to your business. Whether you are managing a substantial product inventory or keeping track of your contacts, My JTech can help organize this data for your use. My JTech allows you to export spreadsheets, email and share information, duplicate records and set statuses to manage your workflow and track user activity on your site.
Communicate With Customers
My JTech includes a mass mailing system so you can reach your customer base instantly at the click of a button — or schedule newsletters periodically as a part of your content marketing strategy. Organize contacts into mailing lists and send beautifully branded newsletters out to your audience whenever you need to reach them.
Room to Grow
We know you'd like to execute your ideas for business growth as soon as they come to you — which is why My JTech includes a change request form. If you are struck by inspiration and want to discuss an addition to your website, simply fill out our change request and we'll get to work on your request. All of your projects and requests are easily managed in My JTech, and the status of each request can be monitored so that you can keep an eye on our progress.
Your Business Profile
All of your company's information relating to your website is kept in a single location, under your Business Profile in My JTech. You can quickly make changes to your address, change site access permissions for your employees, and add new social media accounts.
Take Ownership of Your Domains
Transfer your existing domain(s) and purchase new ones using My JTech's domain management center. All of the domains you own will appear here and auto renew so you never have to worry about losing your valuable online property.
The Easiest Content Management You've Ever Used
Making edits to your site and managing your business's data shouldn't be rocket science. We've designed My JTech with you in mind, creating a single space where you can control every aspect of your online presence. My JTech is designed to work whether you're in your backyard, living room or waiting for your turn on the ski lift — no need to head back to the office. Conveniently create newsletters, update your blog, and change your site's content from anywhere.
Ready to make your life easier? Let's simplify the way you manage your business.