Web Design and SEO Blog
by
Mira Brody
in
Content
,
Google
,
Industry News
Google has
sometimes joked
that their mission statement could be summarized by the phrase, "don't be evil." Internet 'evil' can manifest in a variety of ways, but
studies show
that popup online advertisements are a users' most hated form of advertisement, second only to telemarketers.
For those who agree, Google's latest aim at intrusive interstitials will offer some relief. Starting on January 10th, Google began penalizing websites that use advertising tactics that obscure page content on mobile devices. Google's thinking is that the challenges faced when viewing content on a smaller screen is exacerbated by advertising that blocks a part of their screen. Some examples of advertisements that will be hit by this penalty are:
Any intrusive popup ad that covers part of, or the whole screen.




An interstitial a user has to close before they can access the content behind.




When the page appears similar to a standalone ad, but the original content has been hidden under the fold.
Exceptions include:
Warnings about cookies, or other legal disclaimers.




Dialogs informing users of a paywall.




Banners that take up minimal room and are easily dismissible.



While this may favor users and overall content accessibility, it frustrates the publishers who gain revenue from these advertising strategies. Google Product Manager Doantam Phan, explained on a
webmaster's blog
that while this change is new, it is one of many signals Google uses to rank websites and that a site with compelling, relevant content may still rank well, even with some intrusive interstitials, and it will take up to a year for publishers to start seeing any changes. If anything, the hope is to challenge these publishers to find ways to make revenue without resorting to obnoxious, intrusive advertising and encourage a better experience for the user.
by
Mira Brody
in
Announcements
,
Google
,
Industry News
JTech Communications is proud to announce our 20th year in business! Back in 1997, we opened our doors to customers in Montana and across the country with custom web solutions for their businesses. We've grown a lot since then: our office in Downtown Bozeman hosts a talented team of ten employees, an intern and a cat. Our services have expanded as well: we offer custom web design, website development, digital marketing and SEO, copywriting, and ongoing site maintenance — everything you need to thrive doing business online.
As far as the internet is concerned, we're old as dirt:
Much has changed in the internet world since we started — to give you an idea, we were in business a year before the official launch of google.com. Our first website came in two varieties: Plain HTML and a version animated in Adobe Flash. Since then, Flash has been almost entirely abandoned in wake of the mobile revolution. Today, advanced web apps can manage entire business operations, allowing people to carry out tasks on their computers that were unimaginable 20 years ago. With the passing of the last two decades, we've learned from and adapted to a quickly-changing industry, finding joy in its challenges and the solutions we've developed for our clients.

We'd like to thank all of our clients for your ongoing business and loyalty — we've enjoyed every project you've brought to us and hope to continue working with you for another 20!

by
Mira Brody
in
Social Media
,
Tools & Tips
Everyone likes a conversation starter, right? Unfortunately, allowing readers to leave comments on your blog is sometimes more work than it may initially sound. Whether you directly contribute to or manage a personal or business blog, you'll want to carefully weigh the pros and cons of allowing the public to comment on your writing.
Benefits
Initiates conversation.
Many believe blogs are a two way street, making visitor comments integral to fostering conversation. You can allow the ability for conversation by integrating programs such as Disqus, Jetpack or having guests post through their personal Google+ or Facebook accounts. This provides a venue for readers to provide constructive feedback and has the potential to build a network of industry peers and fans. A good example is on the travel blog,
Goin' Mobyle
. Visitors are encouraged to comment on photos and journal entires and have the ability to reply to each other.
Boosts ranking.
From a digital marketing standpoint, user-generated content can help your search ranking through the opportunity for additional keyword phrases.
Drawbacks
Requires effort.
As you can imagine, not all blog commenters are friendly. In fact, many popular companies have chosen to remove the option all together, such as
Search Engine Journal
,
Vice
,
Popular Science
and
Motherboard
due to its liability. Depending on how your blog is built, you can view and approve comments before they go live, but this is effective only with low-volume traffic. With higher-volume traffic, you can recruit additional administrators from the community to help you monitor comments but this requires a concerted effort — one many companies are unwilling to sacrifice. Even with moderation and other settings in place such as Disqus' filters, nofollow attributes and captchas, comment spam infiltrates and it can ruin your reputation and drain your time.
Attracts internet trolls. The anonymity provided by a lot of commenting platforms attracts internet trolls. Negative comments, even if fictitious, can ruin the community feel of a blog and even sway a reader's mind about your credibility.

Security threat. Spam isn't only a nuisance; it can cause security problems as well. Malware distributors sometimes use comment forums to infect site visitors by inserting malicious links. Most often, the spammed link redirects users to a page telling them their computers are infected by a virus, prompting them to download fake antivirus software.

Alternatives
Social refers. If blog comments seem too risky for your public content, there are alternatives. Refer people to comment on your Twitter, Facebook or other social media page. This removes anonymity, provides accountability and circulates your article onto additional platforms.

Letter to the editor. Letters to the editor encourage something at least moderately well-written, discouraging trolls and petty arguments on your site.

Build a custom blog platform. If you do find value in public comments, you may want to consider building a customized blog that is a native part of your website. It would include features that will help you easily manage it with minimal effort. Those who are allowed to comment, for example, may be paid users, adding another level of accountability or customized moderation settings that provide added security against trolls and spam.

Whether you already have a comment forum or are considering the addition of one and are concerned about the various risks it may pose, we would be happy to review your options and possibly build you something custom to meet your needs.

by
Mira Brody
in
Google
,
Industry News
,
Optimization
,
Social Media
,
Tools & Tips
Ever wondered how busy a store, restaurant or other public place is without having to leave your own home? With Google's latest update, now you can.
Google Places for business has long been the tool that allows you to control which information Google displays when you appear as a search result. This includes address, hours of operation, customer reviews and images. A
recent update
to this feature introduces a couple changes that may help your business attract more customers.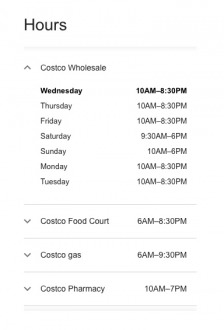 Live Visit Data
In addition to business hours, there is a "popular times" graph showing how busy the store is on average throughout the day. The most notable change to this graph is the "live visit data," or the pulsing red bar, showing approximately how busy a business is at that exact moment in time. Google determines how busy a location is the same way they collect real-time traffic data for Google Maps. Those who have opted-in to storing location data on a Google device or application are
anonymously tracked
and that data is used to provide visitor information to Google Places.
Hours By Department
Another welcome change is the ability to add different hours of operation for multiple departments. This will help our own clients such as
Price Rite Drug
, who have two departments: a pharmacy and a medical equipment store. Because both departments have distinct hours that vary by weekday, they can now communicate to customers specifically when each is open.
These changes provide your customers with the information they need in order to control their ideal shopping experience. Shoppers who prefer to spend time in a calm environment can now choose that time to spend money at your business while avoiding frustrations caused during peak hours.
If you need help changing any of the information on the Google Places account, such as updating your department hours or address, or have any further questions about how these updates can help you, please
give us a call
! We're here to help.
by
Mira Brody
in
Announcements
,
Content
,
Google
,
Industry News
Penguin is a Google search ranking algorithm designed to penalize sites spamming search results to boost their rankings, whether by buying links or getting them though link networks. This fall, Google updated this important algorithm, the first update since 3.0 back in 2014. Here are a couple changes that are important to note:
Real-Time Data
Google is constantly crawling and reindexing web pages, and as it does, all of your site's content is assessed by the Penguin filter. This was done periodically and websites were caught and freed over time — for some, upwards of two years. Penalized sites would only be released after a webmaster had made improvements, when Penguin had re-crawled and refreshed their site.
Penguin is now in real-time, meaning all results are visible as soon as changes are made to a site, typically directly after the next reindex.
Penguin is Granular
In the past, Penguin only reviewed the website as a whole. Now, they crawl each page individually, providing more granular results. Pages with disavow links or that appear spammy will be penalized individually instead of affecting the site as a whole.
What Does This Mean?
These changes are a part of Google's core algorithm, who's purpose is to filter out unfavorable content. Manipulation will be much harder for those spamming Google's search results; this includes companies that rely on slander, fake reviews and other types of dark reputation management will be easier to quickly spot and penalize. A few things you can do to make sure Penguin isn't wrongfully disadvantaging you:
Web content should be unique and well-written. This means as much as you utilize the right keywords, also write everything for a human to read. Your content should vary between pages and never be plagiarized from another site.




Perform your own site crawl. There are a

variety

of

tools

you can use to do this, and all of them will help you understand where you rank with Google, alerting you to any red flags that may hurt your rankings.




Contact a professional digital marketer. Our team can help you identify potential issues and correct content on your site so you remain in good standing with Penguin.



To best position yourself in front of potential customers, search ranking is crucial. If you believe you are being wrongfully penalized by the Penguin update, or are concerned about any changes it may have caused your ranking, we are available to
answer any questions
or concerns you may have.
by
Mira Brody
in
Announcements
,
Content
,
Imagery
We are pleased to announce that JTech is now offering professional, custom photography services to customers in the Bozeman area!
The
images on your website
are powerful, providing the ability to convert visitors to customers and fostering a sense of trust when they do business with you. Outdated or stock photography can lessen the authenticity and personality of your services. Professional photography covers headshots, employee photos, product or a full store photoshoot. We recently provided a longtime customer,
Price Rite Drug
, with high-quality images of their brand-new Pharmacy. These shots included the facility as a whole, employees and imagery of medicine and their convenience items and medical products. They replaced older images and stock photos, greatly enhancing their website while showing off their new space.
If you are interested in updating the photography on your site, brochures, social media pages or other marketing materials, give us a call! We'd be pleased to help you update your content and improve your ability to attract customers.
by
Mira Brody
in
Content
,
Infographic
,
Optimization
,
SEO
,
Tools & Tips
by
Mira Brody
in
Design
,
Industry News
,
Optimization
,
Tools & Tips
Mobile-first. It's a term we've been hearing and a concept Google has been pushing since
Mobilegeddon
back in September 2015 when the search engine started penalizing those without mobile-friendly websites. Now, they've taken it a step further.
With Google's mobile-first index, they will now consider the mobile version of your website as a ranking factor before the desktop version of your site. Indexing your site is Google's way of taking inventory of every page and using what it finds as consideration for your relevancy and positioning in search results. This means before even looking at your desktop site, Google will crawl every corner of your mobile site first.
Here are a few things you need to know about mobile-first index to ensure your business maintains a strong ranking in Google search results —
1.
You should have a responsively-designed website.
If you don't, Google will opt to crawl your desktop only version instead, but it will not help your ranking (as Google favors responsive sites). Also, since internet traffic is predominantly on mobile devices (
51% of it
), your site will not provide an ideal user experience for the majority of those searching for you.
2. If your content varies between device sizes,
reconsider your mobile content.
If for some reason you do have to pare down on a phone or tablet breakpoint, ensure the content you do have is keyword-rich and sufficiently optimized.
3.
Your mobile site needs to perform well.
Speed is a huge factor in user experience and Google knows that — most users will leave a site if a webpage takes more than
2-3 seconds to load
. If your mobile website performs poorly, Google will count that against you — even if it's lightning fast on desktop.
Because mobile-local index is still in "experimentation mode," you probably won't see a huge difference right away. However, in order to best position yourself in front of potential customer, it is important to be proactive in light of this change. Talk to your digital marketer, or give us a call — we'd be happy to help.
by
Mira Brody
in
Announcements
,
Design
,
Development
If traveling is your thing, this is a site you'll want to check out.
Goin' Mobyle
is a travel blog penned by Brian and Louise, with help from their cat Sassy, that documents their road trips across North America. Unlike your ordinary travel blog, Goin' Mobyle is navigated by use of an interactive map that pinpoints their various excursions. Their trips highlight not only routes and stopovers, but offer advice for fellow travelers, explore local flora, fauna and geography.
Both travelers have rich backgrounds: while Brian has a Master's Degree in Creative Writing, an MBA in Engineering and Technology management and experience in the Absaroka/Beartooth National Forest, Louise has a Master's in Library Science and is a botanist, specializing in native plants — skills that shine through in their writing.
This site also includes travel resources, with hotel, book and restaurant reviews, a contact form and integration with Fine Art America featuring Brian's photography prints for purchase. Possible additions for the future include space to display sponsors and a more customized ecommerce store. Between the eloquent dictation and stunning photography, our team had a great time working on this project and are confidant that it is a site that will serve Brian and Louise well as they continue to fill its pages with more and more adventures.
by
Mira Brody
in
Announcements
,
Design
,
Development
JTech has been working with the owners of Silver Screen Insider for nearly 15 years and are excited to announce the launch of their brand-new advanced website. A comprehensive source for movie theater owners and movie lovers alike, Silver Screen Insider provides up-to-date marketing tools, games, a movie database, industry news and a vendor directory.
It was a great experience for our team, working out the intricacies of these various databases so that they could be best utilized by industry members to streamline their business. The movie database includes advanced filters to easily locate both older films and new releases. Features vary by membership level; free users (or "Fans") get the basics and paid "Insiders" gain access to more features geared toward keeping smaller theaters successful in their competitive market. As we know from Jack Nicolson, "All work and no play makes Jack a dull boy," so membership with Silver Screen Insider also includes a game — Box Office Picks — where players guess weekly box office grosses to earn points toward their account and eventually trophies for their member trophy case.
We welcome you to browse the many attractions this website has to offer at
silverscreensinsider.com
and hope you have as much fun exploring it as we did building it!