Web Design and SEO Blog
by
Mira Brody
in
Development
,
Security
WordPress currently accounts for
19%
of the websites out there. With this level of popularity comes great vulnerability, especially because many users rely heavily on plugins for features necessary for running their business and serving their customers. A plugin is an addition outside of the core platform that adds features — such as ecommerce, spam filters or a photo gallery — to a canned template site such as WordPress, Joomla or Drupal. It is important to understand the weaknesses of plugins and the threats they can present to your website and business and explore some possible alternatives so that you can continue to do do business online without being compromised.
The Risk of Plugins
Your site is only as secure as the code used to build it. With over 36,000 WordPress plugins on the market, there are many different strains of code, points of responsibility and potential security breeches. When you install a plugin, you are putting the functionality and security of your site in the hands of a developer you have never met. This disconnected relationship, while a cost-effective way of providing needed functionality, does not bode well for long-term online business for the following reasons:
If the developer vanishes and takes their plugin with them, your site now has lost that functionality.



Plugins are not secure; every plugin used on your site presents another point of vulnerability. 20% of the top 50 most popular WordPress plugins were open to the most common web attacks.

Plugins will compromise performance. Most users expect your site to load in 2 seconds or less, meaning that a slow load time will lose you visitors.


Your search ranking will suffer. Search engines like Google want sites to load quickly and easily to improve user experience, meaning a site weighed down by bloated plugins will slip in rankings.



As you can see, there is a lot at risk associated with relying on plugins to your template system. There are, however, other available solutions out there.
Why a Custom Option is Better
In order to make the best possible investment in your business, choose to pursue a custom built site with a developer you trust. A custom site has a single code base that only one developer has control over so there is no unknown code from a third party. With a custom site, you develop a personal relationship with a developer who has a vested interest in the success of your business and they build the code of your site from the ground up, with your needs in mind.

Although a lot of this news sounds negative, you can be confidant knowing you have a trusted partner available to help you, whether you're ready for a custom site right now, or not. The team here at JTech has over 20 years of code base under us, and we've worked hard to improve and update it on a constant basis. This keeps the sites we build secure, performant and scalable. If you experienced a data breech recently, are sick of the confines of a template system and are ready to build something custom, come talk to us — we build websites at any price point. Additionally, if you are having trouble with your Wordpress site, we have the experience necessary to get all of your plugins working and get your site up and running to eliminate downtime so you can get back to work.
by
Mira Brody
in
Announcements
KP Squared Crane Rental Services benefits from a new website.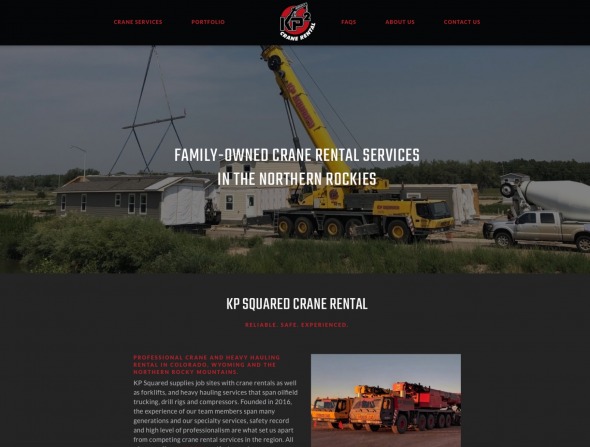 A website allows you to present yourself as a reputable company and ensures you are findable by potential customers. In fact, a 2017 study shows that
54% of consumers
search online for local businesses on a monthly basis — chances are, you won't show up in those search results if you don't have a website.
KP Squared is a family-owned crane rental operation based out of Greeley Colorado. They specialize in providing rentals and operators for cranes, forklifts and other heavy-hauling equipment in the Rocky Mountain region. They needed of a custom website to display their services and market their business to those searching for them online- and we were happy to be their technical partner. We're excited to announce the launch of KP Squared's website! Here are a few notable features that will help them improve their bottom line.
Project Portfolio
— A great way to build credibility and trust is to position yourself as an industry expert and highlight past and current projects in a portfolio page. Their portfolio page also serves as a place to highlight testimonials from some of KP Squared's trusted partnerships with known names in the oil and mining industry.
Answering Customer's Questions
— Frequently Asked Questions (FAQ's) are a great way to show your customers that you are a knowledgeable company and a reputable resource to them. KP Squared is proudly owned and operated by the Perry family, who have been in the crane business for many generations. Although equipped with all the amenities of their larger competitors, KP Squared prefers to be a small operation which allows them to give each of their customers the utmost care and individualized service they're looking for. With their site's FAQ section, they are able to display this credible narrative on their site.
Customer Communication
— In addition to serving customers, a website can go to great lengths to serve your staff as well, allowing them to work more efficiently. A simple way to alleviate extra office work is by collecting data from your customers directly in your website's contact form. KP Squared, for example, needs to know load height, load weight and load distance, as well as accessibility of the area their equipment will be working in. This will help KP Squared staff better understand what cranes are needed for a job without having to spend the extra time to backtrack and ask those questions in a separate transaction.
A custom website has the power to do so much for your business. Your site communicates your brand, displays your products and services, and allows you to be visible to those searching for you and available to contact 24/7. Launching their very first website is an important milestone for KP Squared Crane Rentals, and we are confident it will serve them for years to come. Check out their new site at:
kpcranerentals.com
by
Mira Brody
in
Industry News
,
Security
Tucows WHOIS is now Gated and no longer publicly displays domain contact information.
In response to the
GDPR regulations
implemented back in May 2018, JTech's domain registrar, Tucows, has implemented a new "
gated Whois
" system. Whois is a publicly available system to view domain name, registrant, admin, and technical contact information for registered domains that are visible in the public Whois database. Under the GDPR, personal data may be collected and processed only when there is a legal reason to do so. This means that the public Whois system as it exists today is incompatible with the principles of data privacy that the GDPR affirms.
With the advent of the GDPR and other similar privacy laws, public display of personal data has become problematic. Thus, our registrar Tucows has decided to redact real contact data from the public Whois and instead created the gated tiered Access Directory for parties with legitimate legal interest to access this data, such as law enforcement.
Data Consent Request
Along for the ride with these Whois changes, Tucows has deployed two new consent related processes — an initial consent request and a method to update consent preferences and revoke consent. Initial consent request emails are sent to JTech domain clients for new registrations, contact updates or domain transfers. The consent messages are sent to directly to the domain registrants email address on record and ask for consent to share personal data to these other legal parties. Clients will have access to a data use consent settings page where they can review and change their consent choices on an ongoing basis or revoke consent at any time.
For most domains, it is not required for domain owners to choose their consent preferences and the domain will be registered, but for certain TLD's the registration will not be accepted until the registrant consents to permission to share. For domains active prior to GDPR the consent status is set to yes; consent by default.
Have Any Questions?
The GDPR changed a lot about internet privacy and we understand it can get confusing. If you have any questions about your domains with JTech and Tucows' new consent rules, contact us — we'd be happy to answer any questions.
by
Mira Brody
in
Social Media
,
Tools & Tips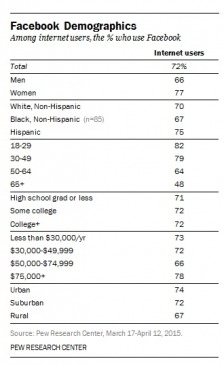 With the popularity of social media spanning all age groups worldwide, utilizing it to engage customers online is easier than ever. Digital advertising on social media is one of the most cost-effective ways for a small business to promote themselves, but what platform is the best option for you to advertise on? In this post we will be exploring the differences between advertising on the two largest social platforms — Facebook and Instagram — so that you have a clear vision for your next social media advertising campaign.


Advertising on Facebook

Facebook has the largest user base, meaning it provides you with the widest audience of any platform.
Facebook has:
2.2 billion active monthly users




1.5 billion active daily users



A significant global reach — 89% of its users are outside of the US

A brand interaction rate of 216%


Strong brand referral — users spend 105.55 seconds visiting sites they were referred to by Facebook.



However, while Facebook boasts a high number of users, it does not carry the engagement that Instagram does. Despite this, Facebook still offers a large demographic and a variety of options when it comes to advertising. Facebook sponsored post advertising allows for 45-minute sponsored videos, and the ability to poll users. You can also create Facebook "stories" for users to watch, which is a great tool for boosting engagement if you are running a community event — 300 million people use the FB story function on a daily basis.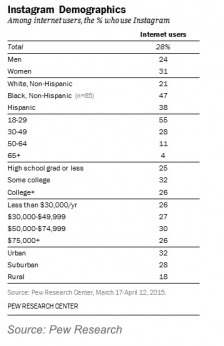 Advertising on Instagram

Engagement is Instagram's strong point — with an Instagram advertisement, you may have a better chance of getting your users to visit your site. Users spend an average of
192 sec
on sites they are referred to from their Instagram feed — more than any another other social platform.
Instagram has:
800 million active monthly users




500 million active daily users.




A significant global outreach, as 80% of users are outside of the US.




A share rate of over 95 million photos and videos daily




High engagement, with 4.2 billion likes a day



Statistics also show that
30%
of Instagram users have bought something they spotted on Instagram. Due to its visual layout, it is a great platform to display products and eye-catching offers either with a picture, video clip or an Instagram "story." You can add captions or a poll on your story which can be a great tool for determining if users like certain products and asking for feedback.

One drawback of Instagram is that you cannot share links with other users unless you are doing so through your bio or a sponsored ad, which eliminates the possibility of casual link sharing. However, with its strong engagement and visual layout, Instagram is a solid choice for advertising sales, events and products to your Instagram-using customers.

Which Platform Should You Advertising On?

Making the choice about which social media platform to advertise with really comes down to your advertising goals. If you are trying to drive new traffic to your site or move customers through your purchasing process, Instagram is the right choice. Users are
90%
more open to interacting with brands on this platform and spend 81% more time on your site upon arriving, giving you the most value out of your advertising budget. If you need to increase site visibility or inform your audience, Facebook is the right choice. With its massive reach and worldwide audience, there is no easier way to raise awareness about your brand. While each platforms has its time and place, if you are limited by budget and need the best response from your efforts, the statistics we discussed suggest that Instagram is the better overall option of the two. With younger users moving from Facebook to Instagram and a higher likelihood of Instagram users purchasing your product, this is the best social platform to place your precious marketing dollars with.
by
Mira Brody
in
Announcements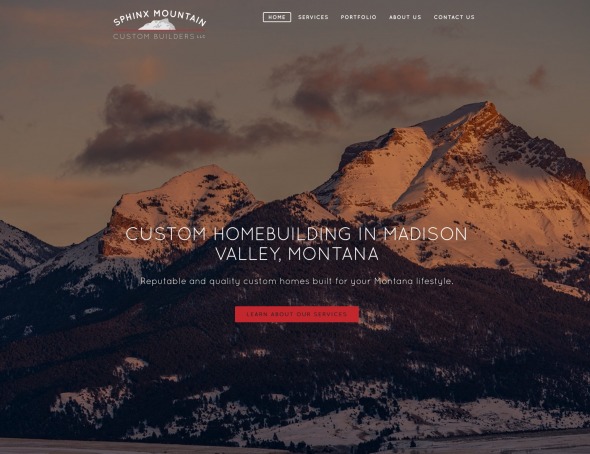 Sphinx Mountain Custom Homebuilders is a family-owned custom homebuilding business in Ennis, MT who specialize in custom homes from start to finish, remodels and additions, custom-crafted furnishings, and timber and log work. For their new site, we wanted to honor the owner's affinity for the Madison Valley and Montana lifestyle, reflected in vibrant imagery of Sphinx Mountain and the site's narrative. We also feature a project portfolio with a "current project" displayed prominently at top, providing lots of opportunity to display their finished work and the process that got them there.
We invite you to take a look at the new site for Sphinx Mountain Outfitting and all of their impressive work at
sphinxmountaincustombuilders.com
.
by
Mira Brody
in
Google
,
Industry News
,
Social Media
,
Tools & Tips
Google My Business is a free listing service through Google that can help bring users searching for your products or services to your website as well as provide insight on how users are interacting with your business listing within Google. After claiming or creating your profile and verifying your business information is correct, GMB will allow your business to show in Google Local Search Results along with Google reviews, your location, a way to contact you, a link to your website, your location in Google Maps as well as any Google Posts you've published. Keeping this listing up to date, checking metrics and making Posts to promote sales and company events on a regular basis will help your business's visibility in search engines and boost your credibility with potential customers. First, let's talk about how to create or claim your Google My Business Account.

Claiming or Creating Your GMB Profile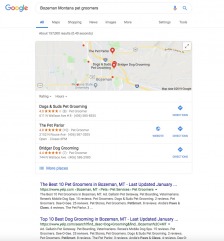 Creating your profile is easy and allows you to get in front of users who may be looking for your product or service. To create your profile, visit
https://business.google.com/create
and fill out your profile. Having a verified GMB has its advantages, the first of which is that you will begin to show up in the Google Local search results. This means that you can appear in the Google local 3 pack as well as within the list of businesses that relate to the user query within Google Maps. This is why it is so important to claim your GMB listing and ensure the info is accurate, as Google will display it to users looking for products and services that you offer.
If you find that there is an existing GMB account for your business, visit
business.google.com/add
and follow the steps to verify that you are the owner of your business and would like to take over managing the existing listing. This will ensure there are no duplicates and that all information about your business is under your control.

Using GMB Posts to Advertise Products & Events

GMB Posts appear in your listing and are an easy way to reach users before they arrive on your site. Post types fall into 4 categories: What's New, Events, Offers, and Products. What's New Posts allow you to make general updates and add call to action buttons like, Call Now, Sign Up, and Learn More. Event Posts let you promote events for your business with all the event details and and call to action buttons. Offers let you promote specific products or services that are on sale. Product Posts allow you to showcase specific products and show their price and details. These categories allow you to target certain groups of customers with different offerings.
Monitoring Metrics & Seeing Results
GMB offers insights into how users are interacting with your listing, such as how many users discovered your listing from searching related terms and how many users viewed or clicked on your latest post. Your Analytics account will also reveal how many people clicked your call to action buttons, viewed more reviews, got directions to your store using Google Maps, and much more.


Claim Your Listing Today

Google My Business is a great free tool that allows you to communicate your products and services to customers. It also contributes to your organic search rankings within Google — your GMB profile accounts for
25%
of your ranking signals to Google, and since Google accounts for
90%
of organic searches worldwide, you can see the importance of maintaining a GMB profile. Start using GMB today to promote products, events, and sales to increase your visibility, and as always, contact us if you have any questions or need help setting up, managing or claiming your listing.
by
Mira Brody
in
Announcements
,
Design
,
Development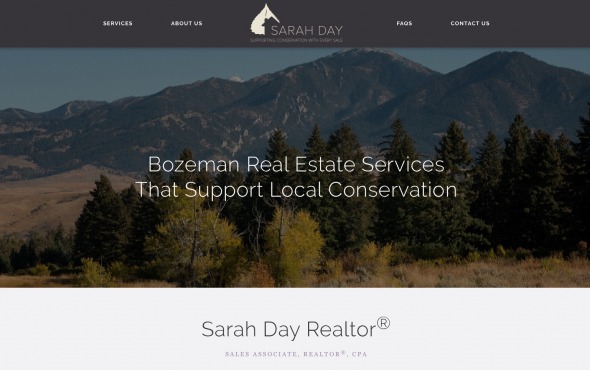 Sarah Day is passionate about helping people sell or buy property in the Gallatin Valley as well as preserving open space in the place she helps people call home. A real estate agent for Berkshire Hathaway in Bozeman, MT, Sarah is a licensed Realtor® and CPA and wanted a website that would communicate her professional skills and her values so she could attract likeminded homebuyers.
The site features custom photography from local photographer Ben Johnson who captured the area's sweeping open spaces, vast mountain ranges, and pristine rivers. We've also devoted a section highlighting Sarah's homage to land conservation with the documentary On the Shoulders of Giants and her work with local non-profits, like the Gallatin Valley Land Trust, to continue the efforts of land conservation in Montana.
We are happy to announce the launch of Sarah's new website and invite you to check it out at
sarahdaybozemanrealestate.com
.
by
Mira Brody
in
Optimization
,
Tools & Tips
How small businesses can use the power of landing pages to convert visitors into customers.
Your business can use a landing page to target and motivate your audience to complete a desired action, such as purchase a product or contact you for your services. Many businesses use landing pages in addition to their website's homepage because they can target specific customers with a precise set of products or services, are effective and produce results that can be easily measured. In this article, we outline how to build a successful landing page for your small business so that you can reach your target market faster and improve your bottom line.
So, what makes an effective landing page? Three things: a targeted purpose, engaging content, and a clear call to action.
Pick Your Purpose
You can potentially increase your online engagement
115%
by building a product-specific landing page instead of relying solely on your business's home page to drive business. If you're a ranch supply store and you're targeting customers looking for baby chicks, you'll use this statistic to your favor by creating a landing page advertising baby chicks for sale. This spring, when your target audience searches "baby chicks for sale," your landing page with this featured product may appear prominently in their results.
Other examples of businesses using landing pages to service a specific audience:
An airport with a high number of Chinese travelers could create a Mandarin-language landing page targeting foreign tourists looking to book flights to Yellowstone National Park (this is exactly what we did for

Bozeman Yellowstone International Airport

).




A Chicago pharmacy that specializes in selling and repairing wheelchairs could have a landing page for wheelchair repair in the Chicago area.




A popular home appliance company like Dyson could create a landing page for their newest product line of cordless hair dryers in order to market their product to those searching online for high-end hair products.



After you choose a product or service you'd like to feature, you'll use copy that is concise, keyword rich and targeted to your desired readers to drive the point home. In the two sections we'll go into detail about exactly how to go about writing your pitch.
Engage Your Audience
In order to captivate your audience, your landing page copy should talk about them, not you. How will your product or service improve their life, and save them money and time? Mailchimp does a great job of communicating their value to customers in their copy by using words like "you" and "your business," instead of talking about themselves.
When you're writing for a landing page, focus on the audience you are targeting and the action you want them to take. The message on your landing page, although tuned for the product, should match the tone and voice of your company so that people know it is you — the business they know and trust.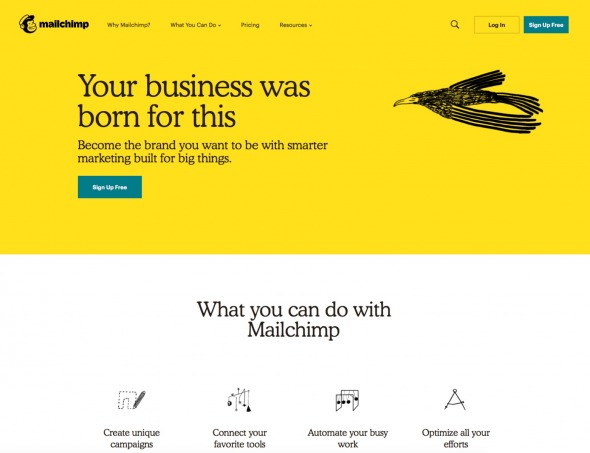 Photo credit: mailchimp.com
By addressing your customers' needs and reinforcing their trust, your landing page copy will set you up for success — all you need to do is pair it with a strong call to action.
Call Them Home
Users typically end up on a landing page because they were looking for a solution to a problem and the product or service that will solve their problem. If you're looking for a side-job, for example, Uber offers a solution. Their landing page targets those looking to earn extra money by signing up to drive for Uber, complete with a qualifying background information and a "sign up now."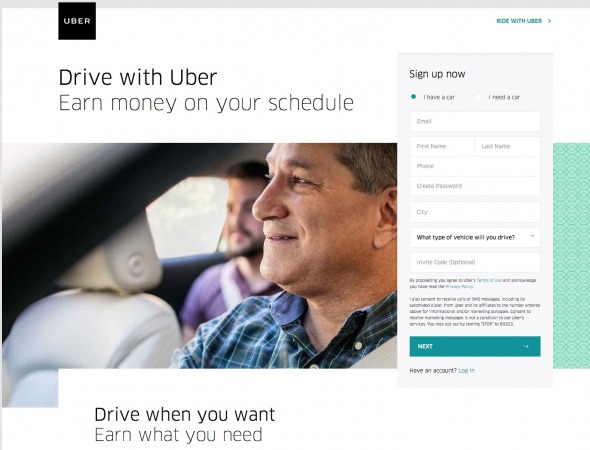 Photo credit: uber.com
Because Uber had earned their audiences' attention with their landing page and convincing page content, they were able to use a strong call to action in order to convert visitors to customers. A call to action tells your readers what you want them to do next — buy a product, learn more about your services, sign up for a newsletter, contact you, etc. Here are a few tips for crafting calls to action that will grab your visitor's attention:
Use action words, such as "buy" "shop" "now."




Evoke emotion to motivate them with enthusiasm. This can be as simple as adding an exclamation point, "Start your trial today!" or providing an image of awaiting paradise with "start planning your dream vacation."




Be transparent — Netflix is clear about their intentions when they assure you that you can "cancel anytime" which instills a sense of trust. Be transparent about your sales pitch and your potential customers won't wonder whether your business has shady intentions.




Design for all sizes. Since over half of consumers are using the internet on a mobile device (tablet or phone), ensure your call to action is prominent on all screen sizes and doesn't find itself buried on smaller screens.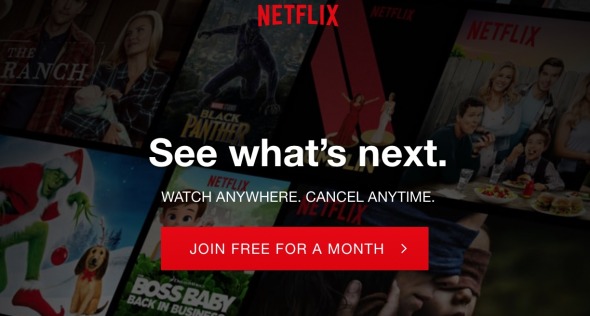 Photo credit: netflix.com
Some particularly engaging calls to actions we've seen recently:
Sign up for free




Start your trial




Let's start a project




Schedule a consultation




Shop sales



All of these calls to actions are clear, concise and implies the beginning of something better for the visitor. Now that you've settled on what you're selling and who you're selling it to, think about what you want your audience to do, and start driving sales.
Track Results
The benefit of standalone landing pages is that their effectiveness is easily trackable — you can see right away if they are working well and tune them to increase conversions. Although using Google Analytics to track metric and user behaviors is a big topic, here are some basic troubleshooting tips to help improve your landing page performance:
Low dwell time
— if people are arriving and immediately leaving your landing page, they are not finding what they need. You may need to tweak keywords to better target your market. Another reason for low dwell time may be poor quality content. You have only a few seconds to captivate your audience, so your copy should be fine-tuned to engage and convert.
Low conversions
— If people are reading your content, but not clicking your call to action, your message may not be clear enough. Try A/B testing with different calls to action and see if you find variations that draw more people in. You may also want to test the page throughly to ensure your links are working properly.
Start Capturing Sales!
A landing page is a standalone web page that attracts a unique target market, with a specific product or service and generates leads from an effective call to action. A successful landing page will contain engaging copy that speaks to the visitor's needs and leads to the action you want them to take — to purchase an item, sign up for a mailing list, contact your business or learn more about your service. By promoting something of value to them, a landing page will convert a higher percentage of your visitors into customers than a home page will. Whether you're thinking of building your first landing page, or your tenth, or improving the ones you have, our digital marketing and content strategists are here to help you get started. If you have any questions about the points discussed in this article, or anything beyond it, get in touch and we'd be happy to help.
by
Mira Brody
in
Announcements
,
Design
,
Development
We are pleased to announce the launch of a new website for Roughstock Mining Services!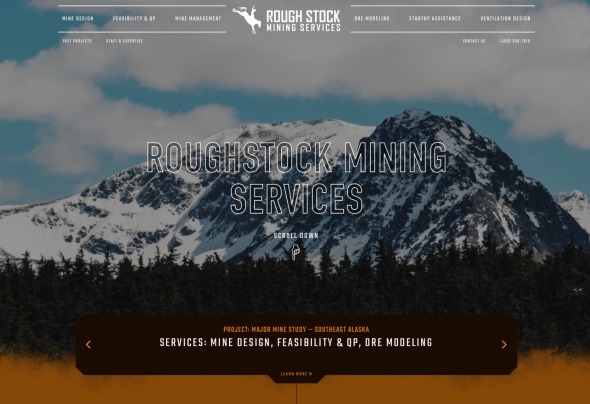 Roughstock Mining is a highly experienced mine consulting company serving the mining industry and has worked on projects all over the world for a variety of minerals of varying size. With their new website, Roughstock will be able to outline these services and their level of expertise to existing and potential clients as well as display a sample of work they have completed. A few features to take note of are:
Details Unique Services
— The new site features Roughstock's expertise in mine management, startup assistance, mine design, ventilation design, feasibility and QP reporting and ore modeling. Each service area is thoroughly outlined with imagery and notable datapoints as well as featured projects. Potential clients can easily search for the services they need and find Roughstock prominently visible in search results.
Past Project Portfolio
— Roughstock has worked on mines across the America's from Alaska to Brazil. The new website highlights the wide variety of mining projects that have been completed and the expertise used in these projects in a portfolio to establish Roughstock's credibility with varying ore bodies in different regions. Each portfolio item includes the location, mine type, service provided, and software used for that project.
Experience & Expertise
— Due to their long history in the mining industry and diverse background of skilled workers, we are featuring Roughstock's experience and expertise with detailed staff bios and an expose of their reputation in the industry. Having been in business since 2012, and with crew members each holding 20-30 years of experience, Roughstock is well positioned to serve those in need of complex mine design and ventilation services, startup assistance and reporting.
This new site will better illustrate everything the company has to offer and allow clients to browse their services and projects. We invite you to browse Roughstock Mining's new website at
roughtstockmining.com
!
by
Mira Brody
in
Security
,
Tools & Tips
Copyrights, patents and trademarks — what are they and how to use them to legally secure your business assets.
There are different options when it comes to legally protecting the property related to your business, depending on what you are trying to protect. Logos, taglines/slogans, and some ideas require their own type of protection and it is important to understand what distinguishes the three main main intellectual property laws for: copyright, patent and trademark.
Copyright: Writings and other creative work
Copyright law provides ownership over the things you create, whether written (books, code, blog posts), visual, musical, or performative. If you are in the publishing or photography industry, or your company has any published writing, you should pay close attention to the rules of copyright. A copyright grants you the following rights, including:
The right to reproduce your photograph or writings,




to prepare derivative work,




to distribute copies,




to perform the work,




and to display the work publicly.
A copyright is obtained automatically when the product is "fixed in a tangible form" without the need for registration or other formalities. This means that the item in question must already exist — you have taken the photograph in question, as opposed to simply planning to take a photo in the future. The only time you need legal documentation of your copyright is if you are distributing your photography and want to dictate how people can use it, such as a Creative Commons license. In the United States, copyright lasts the lifetime of the owner, plus 70 years, and thereafter works enter the public domain and can be used freely.
Patent: Intellectual property
A patent is used to legally protect intellectual property, providing the patent owner with the right to decide how the invention can be used and distributed. A registered patent protects inventions, business names and taglines from being stolen and resold for up to 20 years in the United States.
Unlike a copyright, a patent must be legally obtained. A few requirements are:
Your invention must be carefully documented — diagram every detail, document how it works and, if possible, build a prototype.




It cannot have already been for sale before you apply for a patent.




There can not already be a similar product of the same name on the market.




You must have outlined a business plan for distributing the product.



This documentation then needs to be on file with the US Patent and Trademark Office in order to complete your patent registry. A patent can cost from $900 for a do-it-yourself application to between $5,000 and $10,000 with the help of patent lawyers.

Trademark: Products and services
A trademark is a recognizable sign, design, or expression which uniquely identifies the products or services of a particular source. The first use of trademarks was in 1266 in England under the reign of Henry III, which required all bakers to use a distinctive mark for the bread they sold. Typical things to protect under a trademark are brand names, slogans, and logos.

Registering your brand name, slogan, logo or service is not mandatory and protection can last forever so long as you continue to use the mark consistently. However, federal registration of a trademark with the USPTO has its advantages, including a claim of ownership notice to the public and the exclusive right to use the mark in connection with your business. Registering a trademark can range from $225 to $400 in addition to recurring fees that are around $125/year.

How are you protected?
Properly protecting your business assets is an important part of running a business and keeping it safe from deliberate or accidental plagiarism of your hard work. All three protections covered in this article hold up in a court of law— although we hope it never comes to that, it is always good to cover yourself beforehand.