Web Design and SEO Blog
by
Mira Brody
in
Announcements
,
Design
,
Development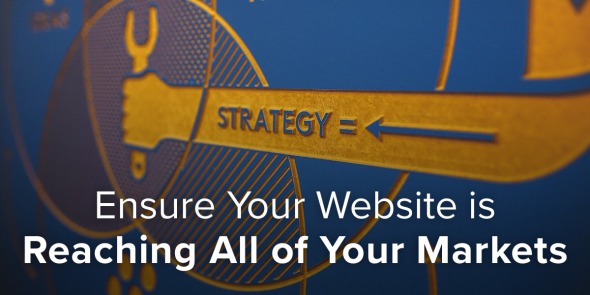 Your website is a storefront, available to customers from all corners of the world, 24 hours a day. It represents your brand when your employees are off their shift, it sells your products even after your physical store has closed for the day and it serves visitors outside of your region. This is why it is important to make sure your website is serving all your primary markets.
Our client, Story Distributing, is a great example. An oil and lubricants distribution company in Bozeman, MT, Story Distributing also owns and operates the Casey's Corner gas station and convenience store regional chain — the friendly public face of their company. Their previous website focused only on their wholesale customers and neglected to serve most of their customers, a fact we kept in mind when tasked with their website overhaul. Aside from an overall facelift, here are some specific features we changed on the new website for Story Distributing.
Branding
The branding for their new homepage now features the widely-recognized Casey's Corner logo, with "by Story Distributing" attributed underneath.
Store Locations
The Store Locations page features an interactive map so travelers can find store and pump locations and commercial transport companies can find cardlock locations. Users can filter by amenities and pan and zoom as needed. Selecting a location will take you to in-depth information about that store.
Promotions
Many of the Casey's Corner stores host promotions. The new site allows for Story Distributing to create a promotion and easily highlight it for specific stores. By highlighting these promotions on their website, Story Distributing is able to increase the visibility of their marketing and share great deals with their customers.
Photography
We did on-site custom photography for Story Distributing to showcase the quality of their locations and level of professionalism. The professional photography features warm, inviting shots from their Big Sky store location, highlighting their authenticity as members of the Montana communities they serve.
Conclusion
Story Distributing's new and improved website is now live! It not only serves the dealers and distributors of their fuel and lubricants, but also the general public who are shopping and pumping gas at their convenience stores. This allows Story Distributing to be available to a wider range of customer — check out their
new site
today!
by
Mira Brody
in
Announcements
,
Content
,
Design
,
Development
,
Optimization
,
SEO
,
Social Media
,
Tools & Tips
Use your website to educate visitors and build trust in your brand.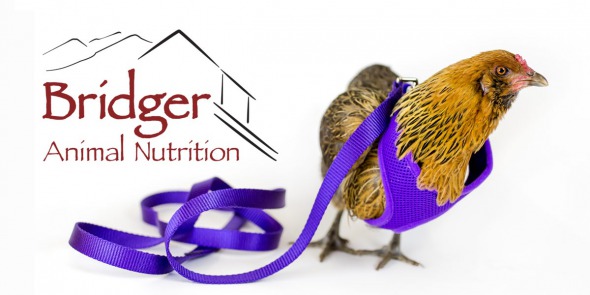 If your website already successfully serves those who are looking to make a purchase or visit your store, a good next step is to funnel your content efforts to a resource section. This can not only build authority in your field, but is viewed favorably by Google, and can help your search rankings. Bridger Animal Nutrition is a pet health and supply store in Bozeman, MT and is leveraging their expertise with the build of their new website. Here are a few ways education-rich content is going to help Bridger Animal Nutrition —

Builds authority.
You may make your money selling products or services, but having authority in your field will solidify that relationship beyond a monetary transaction. Bridger Animal Nutrition hopes to educate their community on proper animal nutrition practices, feeding based on science, not brand, and serve as an overall resource for those looking to properly care for their companion animals and livestock.

Good for search engines.
Their new website will feature a blog, where staff can easily curate and publish helpful articles for their site visitors. Topics can range from animal health to common allergy solutions or featured products. Google views a consistently updated blog favorably, benefitting the site's search ranking and boosting visibility to those looking for their products and services.

Drive visitor traffic.
Bridger Animal Nutrition deliver their blog posts in their periodically distributed newsletter. By collecting a list of loyal readers and placing a "tease" to the full blog post in the email newsletter, traffic can be driven to the main site.

Conclusion.
By serving as both a store and community resource, Bridger Animal Nutrition has not only helped their clients, but also their business. Next time you are looking for ways to get the most out of your website, consider it a place not only to sell your products and services, but also as a platform to communicate with your customers and serve as a trusted resource.

by
Mira Brody
in
Tools & Tips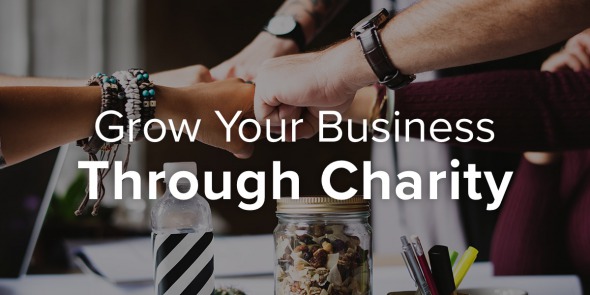 No matter your industry, it is possible to incorporate charitable acts into your business plan. It's easy to be cynical about "charity marketing" in packaging or advertising: "We give back to our community" or prominent logos of well-known non-profits, signifying what exactly? Aren't companies in business to make money? But there are credible ways to approach charitable giving as a company, and a multitude of ways and reasons to donate you and your employees' time to a local non-profit.
Ways to get involved:
Participate at a local event




Sponsor a non-profit event




Become a donor to a non-profit




Volunteer your company's professional skills



How volunteering benefits your business:
Builds a positive image
—
85% of consumers
view a company more positively when they learn they are charitable. Seeing it in action is much more meaningful than hearing about it through marketing.
Network
— Volunteering at an event puts you and your employees out in the field with the potential of meeting not only clients, but also industry peers and other local business owners. Some events will even allow you to pass out swag or business cards.
Generate publicity
— Sponsoring a large community event usually includes the opportunity to have your logo printed on banners, t-shirts, brochures and other event marketing materials. Potential customers who have no previous experience with your company may take notice that you're participating or sponsoring the good work being done.
Professional development
— Along with meeting people and networking, you may learn job skills at charity events, whether it be improving communication, multitasking or something entirely new.
Promote your values
— It's one thing to brag about your values on your website, it's another to practice them in public. Put your money where your mouth is and show your community that you like to give back, not just talk about doing it.
Employee morale & retention
— Donating time and money as a team creates a positive culture and boosts morale in the office, producing more motivated workers who are proud to call themselves your employees!
Tax deductible
— All donations, including money, volunteered time or sponsorship of an event are eligible for a tax deduction.
Conclusion.
There are a multitude of benefits to donating the time of your company to a charitable cause. It often offers the opportunity to market yourself, team build and learn new skills. To learn more about the non-profits in your area that may need help, visit sites such as
volunteermatch.org
, or
createthegood.org
.
by
Mira Brody
in
Google
,
Optimization
,
Social Media
,
Tools & Tips
,
Design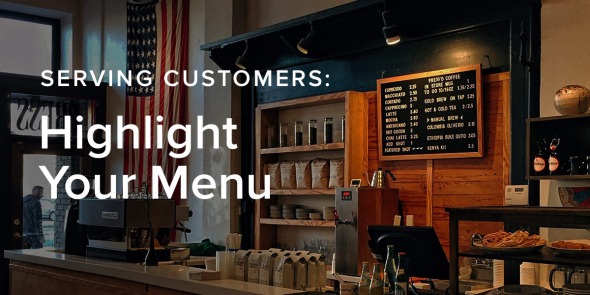 Just as a store would list their products on a website, or a theater's would display what's now showing — if you are in the food industry, it is equally important that you display your food menu for visitors to browse. By clearly displaying your products and their prices, you are benefitting your business and your customers in the following ways:
Providing Convenience — Someone is more likely to come visit you in person if they know there won't be any surprises in advance that you serve something they'll want. Not displaying a menu can deter those customers who may be on a budget or have food allergies.




Establishing value — If someone is looking to spend money at your establishment, providing descriptions and imagery of dishes is a good way to earn their business by presenting its quality.



Utilizing design psychology — There are studies that show certain menu colors will drive more customers into your store, and others that claim removing the dollar sign ($) from your prices will cause people to spend more. Whether or not these claims are true, it is never a bad idea to utilize good design techniques in order to impress potential customers.

As examples, here are a couple clients whose sites we've built menus for:
Outpost Restaurant
— Outpost's menu is particularly useful because their site also has Google Translate embedded. Due to the high volume of out-of-country tourists they get coming through Yellowstone National Park, Outpost employees are able to pull the menu up on their tablet, translate it, and have the customer order with ease. Their menu makes a persuasive visual case to any hungry visitors who are looking for down-home cooking.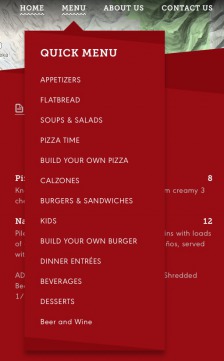 Route 93 Pizza
— A restaurant and bar in Eureka, MT, Route 93 Pizza often changes their menu items, which employees can do easily through our content management system. Their menu includes a drop down for easy navigation and they can mark recent additions as "New!" The menu — and website as a whole — is laid out in a red color scheme that has a
psychological effect
of increasing hunger. Paired with mouthwatering descriptions and spot photography, this menu is likely to make any pizza-lover salivate. Further serving their customers' need for convenience, this website offers the option to download a PDF version of their menu. This allows a customer to print out or save the menu on their device to be accessed with or without internet connection. Although useful as supplement, it is highly discouraged to
only
have a PDF menu as an option on your website.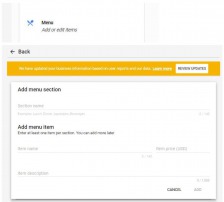 The next step — Displaying your menu in Google's search results.
Once you have a menu built as a native part of your website, Google My Business is able to pull data from that menu to use in the menu displayed in search results. More recently, Google has added a menu editor, providing the ability to edit this menu. You can add menu items, including title, description, and price, as well as appetizers, entrees, and desserts.
To edit your menu, you must be registered as a "Restaurant" in your Google My Business account. If you are, login and toggle to "info." Just as you can edit your hours of operation and contact info, here is where you can make edits to your business's menu.
Conclusion.
If you are in the food industry, having your restaurant's menu available to your customers online can be the difference between someone coming through your doors or bypassing you all together. To avoid frustration, and better serve your customers, the information should also be accurate — from the items available to their price. If you need help adding a menu to your website or to editing the one in your Google My Business account,
let us know
! We'd be happy to help.
by
Mira Brody
in
Development
,
Tools & Tips
,
UX
Use this helpful shipping algorithm to accurately ship your merchandise.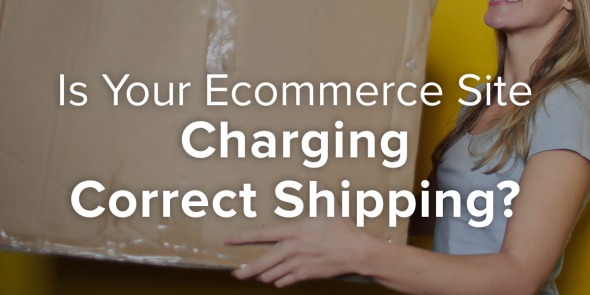 Charging accurate shipping cost is an important factor when running an online store. If costs are calculated too low, you are losing profits, and if they are too high, you may lose customers!
Our team uses a packing algorithm to help solve these issues, most recently implemented on our newest eCommerce site for Shipton's Big R. A ranch supply and hardware store in Montana and Wyoming, Shipton's Big R has a vast inventory of products that customers can order to be shipped to their home. Their employees gather items and prepare them for shipment, including packaging them according to the algorithm's instructions in the employee portal we built.
Here's how the algorithm works:
Available box sizes are put into order, and packed, by volume. So, if your store ships items in 10x10x10 and 20x20x20 boxes, the algorithm will attempt to pack the smaller one first, then move onto the larger one.




All items being shipped are then packed vertically up the side of the box.



The items are then packed side-by-side as long as the item under consideration fits alongside the previous item.

If more than 1 box is needed to accommodate all of the items, then boxes of equal weight will be sued. If an item doesn't fit in the box already being packed a larger box is used.




If the item does not fit into any of the box sizes, the item is shipped individually.



The end goal is to pack multiple items into multiple boxes in the most efficient way so as to reduce the number of boxes needed, simulating how a human would pack the items. The employee portal we developed for Shipton's Big R has pre-defined box sizes and is comparable with different UPS shipping methods. When a customer is placing an order, all of these calculations have been completed by the time they reach the shipping options page, so that they are presented with an accurate shipping cost.
Conclusion.
This helpful algorithm solves two issues for Shipton's Big R: it calculates accurate shipping options so the customer is properly charged for UPS services and provides intelligent guidance to employees on how to efficiently package an order. This ensures they are being compensated for shipping costs, reduces human error, and speeds up shipping operations, making their entire operation more efficient. Learn more about
this algorithm
, or about the other ways you can
improve your ecommerce site
so that it benefits your business — by generating more sales — as well as your customers, by making their experience a positive one.
by
Mira Brody
in
Development
,
Tools & Tips
,
UX
Custom Scheduling System
We built a scheduling system so that
Bozeman Yellowstone International Airport
could book badging appointments — administrative work that was once done by employees. Now, those who need airport badges can simply go to the airport website, and choose a time slot, download necessary paperwork, and an email confirmation is sent after the appointment is booked. The appointments are then synced with the airport staff's Outlook calendar.
User Accounts
User accounts allow users to manage their own data, instead of the work falling on a paid employee in your office. We have user accounts in many of the website's we've built, and common features include:
Password/username reset




Updating/adding payment methods




Manage mailing list subscriptions




Notification settings




Transaction history



And much more! All of this is accessible to the user, instead of them having to call your staff.
Automated Subscriptions
Silver Screen Insider is a client with free and paid tiers of membership for their website — only certain sections of the site are accessible to free members. The site processes all subscriptions automatically, charging monthly membership fees, sending out expiration reminders and notifying users when a payment method has expired.
Payment Processing
We've done a lot of payment processing work for various clients — in fact, we have a business partnership with a local
merchant services provider
who will help you find the most cost-effective way to accept payment for your products and services. In addition to securely accepting all major credit cards and eChecks, your website can send out an email receipt to the customer as well as a notification to the business.
Manage Orders
We recently finished a web app for an ecommerce site that accepts online orders for both in-store pickup and shipment. From the web app, employees can login and manage incoming orders, pick from floor inventory, and prepare them for in-store pickup or for shipment via UPS.
Preparing Shipments
In the same web app mentioned above, some orders are prepared for shipment. To do this, we've integrated with the UPS API and implemented a packing algorithm to help employees properly package items. This algorithm takes the dimensions and weight of the items in an order and suggests which sizes of box and how many are needed to most efficiently ship the order. The system also keeps track of instances where its packing algorithm provided inaccurate suggestions, allowing our client to keep track of which items in their inventory might have bad weight/dimensional data or otherwise prove challenging to ship.
Conclusion
A website isn't just a place to market your business, it's a place to conduct business. As you grow, enhancing your website to do more can not only generate additional revenue by attracting more customers, but also save significant labor costs – all while continuing to serve your clients better.
If you are outgrowing the website you launched in the early stages of your company and feel a custom website or web app could make your operations more efficient, we'd love to talk! We can discuss options so that you can spend less time answering troubleshooting calls and more time growing and innovating.
by
Mira Brody
in
Content
,
Design
,
Development
,
Optimization
,
SEO
,
Tools & Tips
,
UX
So, you just launched a new website, but your Analytics dashboard says your visitation numbers are low. There is a common misconception that when you launch a website, people will suddenly start rushing to to it — we like to tell our clients, "if you build it, they won't come." Ensuring your site is functional and well-designed is half the battle, while implementing a marketing strategy so that customers will find it, is the other.
So, what half are you dealing with? Here are a few development, design and user experience issues you can check off your list to start:
Branded and designed well.
Everything from your logo, to your company slogan and overall messaging is encompassed in the term "branding." It allows your visitors to, at a glance, determine if they are in the right place and sets you apart form your competitors. Nike is a great example — consumers see their symbolic "swoosh" and see the "just do it" and know who they're dealing with.
To learn more about the importance of branding, check out
this article
we did with BrandBoss Creative.
User experience answers questions.
When your website has a good user experience, it meets the needs of both your customers and your company. Providing informative copy, useful imagery and design and functionality that guides a user to make a purchase or contact you for your services are all examples of good UX.
There are lots of
feedback tools
available out there if you are looking for someone test your site.
Accessible on mobile.
Was your website built using responsive design? While five years ago it may have still been a question, for years it has been essential to make sure your site adapts to various screen sizes, whether phone, tablet or desktop. Google will
penalize you
not only for having a site not designed for mobile, but also for one that
performs slowly
, affecting your search visibility.
Use
this tool
to determine how mobile-friendly your site is, and
this one
to test its performance.
But what if I have all those things?
If you are confident that you already provide your site visitors with the above, but are unhappy with the amount of traffic coming — or not coming — to your site, you may have yourself a digital marketing problem. Here are a few improvements you can make on your own:
Check your Domain Authority.
Domain Authority
is your website's search engine score out of 100 and a great way to gauge the success of your content marketing efforts. The higher your score, the more prominently you will be displayed in Google search results.
Check your Domain Authority with
this tool.
Optimize your content.
SEO (Search Engine Optimization) is the effort of driving traffic to your site from search engines, and since
64%
of all web traffic comes from organic search, it is a subject you should become familiar with. To touch on the surface, optimizing your content involves keyword research to learn what prospective site visitors are teaching for, and applying those keywords throughout your site so that Google can understand when your site would be a great search result for someone who's interested.
Content marketing.
Reach out to your customers by producing a weekly, or monthly blog on your site. Fresh content is always looked upon favorably by Google, and you can then use this blog content to send your customers a periodic newsletter. Mailing lists are a great way to keep in touch, build a personable relationship with your clients, and drive them to your site.
Conclusion.
It is just as important to build a website with good aesthetics and functionality as it is to implement a strong digital marketing plan to support it. With both halves of this coin in place, you should attract customers in no time. If you still have questions, or are in need of some fresh digital marketing ideas, don't hesitate to
give us a call!
We have over 20 years of experience helping people do business online.
by
Mira Brody
in
Announcements
,
Design
,
Development
Make your business's first website the foundation for advancement.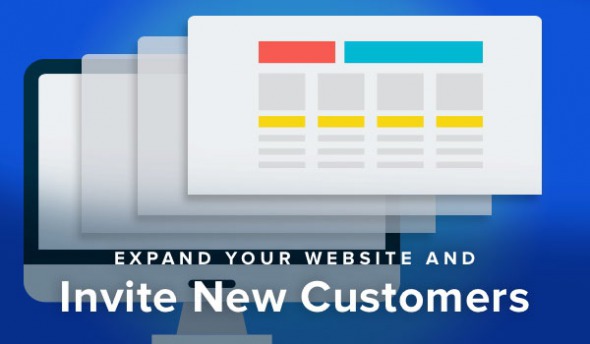 Many new businesses start off with only the resources for a modest site. Having a presence online is not only a great way to market yourself and provide your customers with basic information about you and a point of contact, but also sets the foundation for an advanced site later down the road as you reach higher levels of success and grow as a company.
Just as you have the option of adding onto your existing home when you need more living space, your business may find they can do more by adding on to your website as you grow.
OnSite Energy
is a Bozem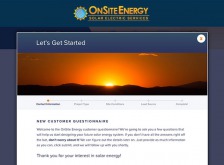 an, MT solar power installation company for whom we built a custom site a couple years back. As their clientele grew and their office got busier, they found that administrative tasks could be automated by integrating a customer onboardingprocess.
This process includes a series of questions and a space for the customer to upload photos of their project site. New customers can then log back into their personal portal and view progress on their project, update information and much more. These are all steps that once took employee resources — now completely automated by adding onto the existing OnSite website.

If you find that your business is limited by a site you have outgrown and are in need of more advanced features, know that it is always a possibility to expand and accommodate your needs — whatever they may be. Whatever stage you are in, your website should be saving you time and money and helping to grow your business.
by
Mira Brody
in
Announcements
,
Design
,
Development
Investing in your website to vastly increase the success of your business.
For retailers, the advantages of a physical location are obvious — it's convenient for your most local customers, you can offer personal service, and crucially for companies like ranch supply store, Shipton's Big R, you can make repairs to the equipment that keeps customers running. Before making plans to expand your physical location further, however, take a good look at your website and its unique advantages:
It never closes for the night.




It keeps running, even when nobody's available to staff it.




It is always available for your customers, whether they are in Big Sky, Havre, or out-of-state.




With eCommerce functionality, it has space to stock unlimited inventory.



Deciding to expand your site to have eCommerce capabilities means you're reaching the ever-growing number of customers who prefer shopping online to in-store. You may have heard that since 2015, more Black Friday shoppers have shopped online than in-store.
Shipton's Big R
is one such company expanding their business using their website — not just by making sales for delivery, but to better serve in-store customers who want to order in advance and pick up in-store. With locations in Billings, MT and Sheridan, WY, including a service and repair shop, Shipton's already has an established physical presence that they're tightly integrating with their website; contests and promotions on the website drive people to engage in the store, while the website increases the convenience and inventory being offered. Their online shopping experience was a true collaboration — they brought a great set of ideas and requirements, then we designed and revised with them to create a solution will put them on par with some of their biggest competitors and allow their products to reach buyers anywhere in the country.
It's all in the details. Key features that make the eCommerce experience great:
Merchandising
– Products can be associated with departments and assigned to filter types so shoppers can easily find the products they're looking for based on any metric such as size, color, brand etc. The site has advanced search functionality with relevancy matching.
Customer Engagement
— Customers are given live feedback on the status of their order, with detailed information as items are pulled off the shelf and added to their order. When it's ready for pickup, has been shipped via UPS, an email goes out to keep them in the loop.
A client portal allows customers to login to do the usual functions but also includes an innovative reorder system. They can easily 'pin' orders that they wish to be able to quickly reorder in the future and can quickly reorder any past order through the portal.
Rapid Ordering
– Registered users can view previous orders with the option of reordering either individual items, or the order in its entirety. This is great for ranchers or other business owners who need to restock feed on an ongoing basis. The ordering again, the site recognizes which items have changed in price or are no longer in stock before adding them to your cart.
Employee Portal
— On the Shipton's Big R website, customers can now either have an item shipped to their home or business, or pick it up at their store of choice. The employee portal allows Shipton's Big R employees to manage these orders, properly pull items from shelves to prepare for shipment or customer pickup. This portal has the ability to communicate with the UPS API for shipping and Zebra printers for label printing.
Integration with POS/IM Software
— The website is tightly integrated with Shipton's point of sale/inventory management software – providing product data, availability for each store, pricing, sales and more. Payments are processed in real time on the website and orders are automatically imported back into their software.
There is tons more to this massive, custom ecommerce addition, which is going to allow Shipton's Big R to reach new customers and provide improved services to their existing ones — milestones every business should ultimately strive for.
by
Mira Brody
in
Development
,
Google
,
Optimization
,
SEO
,
Tools & Tips
,
UX
A new algorithm will rank slow-loading webpages lower in search results.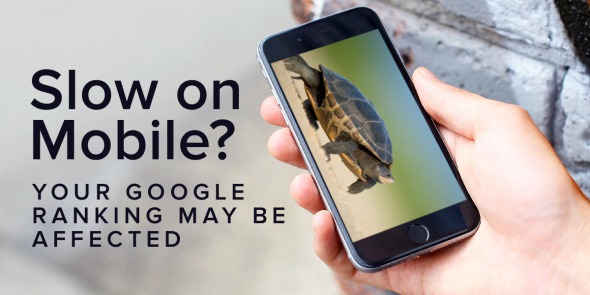 Although overall mobile experience and load speed were already among the many qualifiers Google uses to determine your site's ranking, now they are taking into account the speed of your site when accessed on a mobile device. This means if your site is slow to the point that it provides a poor experience on a tablet or phone, Google will bump you down in ranking.
What determines site speed?
Users want speed. In fact, you'll start losing site visitors if a page takes longer than three seconds to load. First off, make sure your website is in fact, optimized for mobile. This means your website adapts to the size of the screen your visitors are viewing it on. Here are a few things that could be affecting the loading speed of your website:
Images
— Imagery on your site that is not properly processed will bloat load times. Use an image compressing tool to downsize them into a more manageable form. For our customers: the image upload in My JTech will automatically compress any images you upload to ensure good performance.
Active scripts
— This may be something your web developer has to check on, but poorly written scripts that make up your site can decrease your page performance.
Host
— With cheap hosting companies, not only are you on your own with customer service, but their servers are overloaded as well. If you're hosting with a cheap company such as GoDaddy, it may be affecting your site's speed — if you've noticed poor performance, look into your provider and consider upgrading to a better-quality hosting company.
How to test your site's speed.
Google provides a handy tool to test the speed of your website. Type in the URL you wish you test, and it'll provide your score.
https://developers.google.com/speed/pagespeed/insights/
Conclusion
Google's algorithm update that punishes slow-performing mobile sites will take affect in July 2018. This change is purely algorithmic, so there will be no details provided indicating which pages are being affected. To prepare, take the site speed test provided, and if you rank poorly give us a call! Don't let your search ranking suffer due to poor performance.