Web Design and SEO Blog
by
Josh Reynolds
in
Announcements
,
Industry News
Recently the "Heartbleed" OpenSSL security flaw has been in the press.
JTech Communications' servers were not affected by this flaw
. This includes all JTech Communications sites and all of our client sites that are hosted by JTech. We monitor security issues very closely and know how important it is to you.
Thank you for allowing us to serve you.
by
Joshua Reynolds
in
Announcements
,
Development
,
Tools & Tips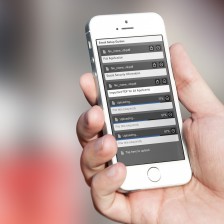 This week we're announcing one of the many improvements in our new custom website management system — My JTech: a new file upload control! Our new advanced file control has a beautiful, simple interface and works great on mobile and desktop devices.
Here are a few of its convenient features:
Upload multiple files concurrently.
Drag-and-drop files from anywhere on your computer.
Progress bars will show you the status of your upload in real time.
Share images and files via email without having to leave My JTech.
File uploading and management is just a small part of My JTech, but we believe that every detail counts in web development. We're designing My JTech to be an indispensable tool for doing business online and can't wait for you to use it.
by
Tyler Miller
in
Announcements
,
Development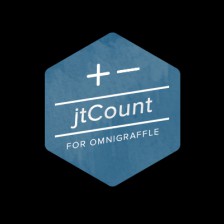 Download: jtCount - An OmniGraffle AppleScript that Counts!
Tested and compatible with OmniGraffle 5 Standard, OmniGraffle 5 Professional, and OmniGraffle 6 Professional for Mac.
As JTech's project manager I am always keeping an eye out for ways to save time and money throughout our production process. We use many tools internally to help us manage our projects, develop client-facing documents, internal documents, and reference material that helps us execute work more efficiently. All of our web development flowcharts and page wireframes are created in OmniGraffle, a program by The Omni Group. Like many pieces of Mac software that utilize Mac OS X's built-in tools, OmniGraffle supports AppleScript, providing a useful way to extend its functionality and capabilities.
Our OmniGraffle flowcharts include many objects that represent items on the project budget, including pages, forms, and various features. As we iterate on the document with our clients, we translate the quantity of each type of budget item into a spreadsheet, which is configured with formulas to automatically calculate the project's cost. The flowchart changes with every iteration, and a manual tally can be laborious. There's always that moment when your coworker counted a different number, after which the counting commences again.
So, I thought to myself, how great would it be if we could just run a script that automatically calculated the quantity of items based on some sort of unique value key? I spent quite a while searching forums and resource websites for an OmniGraffle counting script but was unable to locate one. Thankfully, our VP of Technology was willing to write an AppleScript for me, and jtCount was born. We built the script to be flexible, so that it could grow with our process. After using jtCount internally for a bit, I decided it might be beneficial for others out there with the need to count objects in OmniGraffle.
Here are some of the possible ways jtCount could be used:
Calculate and estimate cost, labor; generate shopping lists in various contexts:
Count trees, shrubs, and other plants in a landscape design
Count outlets, can lights, switches, windows and doors in architectural plans
Count capacitors, resistors, transistors, diodes, relays, etc in electrical schematics
Count atoms, bonds, molecules, etc in chemistry diagrams
Count individual objects, object groups, groups of groups, and on!
The jtCount AppleScript for OmniGraffle iterates recursively!
If you find jtCount useful, please contact me to let me know how you are using it! And if you have any questions, use the same form and I'll do my best to lend a hand. In an effort to make this script useful to as many people as possible, I created a tutorial OmniGraffle file that will help people who are unfamiliar with AppleScript to customize it for their needs. The .graffle file is available for download in this post, with jtCount embedded. Feel free to share it with attribution.
Download: jtCount - An OmniGraffle AppleScript that Counts!
Tested and compatible with OmniGraffle 5 Standard, OmniGraffle 5 Professional, and OmniGraffle 6 Professional for Mac.
by
Joshua Reynolds
in
Announcements
,
Design
,
Development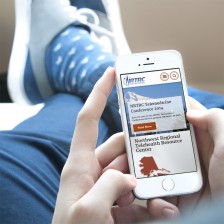 JTech's Montana web development team just completed an advanced website for the Northwest Regional Telehealth Resource Center (NRTRC) in Billings, Montana. NRTRC is an organization supporting Telehealth providers across the northwestern United States — Montana, Alaska, Washington, Oregon, Idaho, Wyoming, Utah and Hawaii. NRTRC's focus is on providing expertise that can help Telehealth networks to develop and flourish, hosting an annual conference as well as providing resources such as webinars, white papers, articles, coaching, and more on their custom-developed website.
The custom site JTech designed for NRTRC is characterized by its clean design, dynamic content and flexible, responsive web design architecture that adapts for a perfect layout on any device. As the NRTRC adds their vast library of resources to their new advanced website, it will become a treasure trove of information for Telehealth providers and individuals interested in seeing how health organizations work together to offer better care for all.
Northwest Telehealth Resource Center: nrtrc.org
by
Joshua Reynolds
in
Announcements
,
Design
,
Development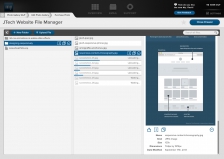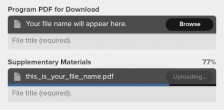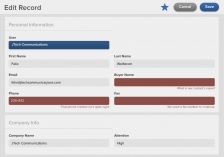 My JTech features a number of enhancements when editing and updating your website. Last month we
discussed the new interface you'll find
when you log into My JTech and how we've made it more intuitive to find and edit content on your site.
This month, we're highlighting the completely rebuilt File Manager, dramatically improved error-checking and additional security enhancements.
File Manager
The File Manager is your tool for managing files contained within your website. In My JTech, we've completely rebuilt it from the ground up. Features include a new, streamlined interface requiring fewer steps to accomplish tasks, support for uploading multiple files at once, drag-and-drop upload support, upload progress-bars, image previews, detailed file information, and more. You're going to love it.
Error-Checking
In My JTech, error reporting is modern and provides a high level of detail. We are now able to validate that data is structurally valid, validate that required fields match and more. All error-checking is now in real time – if you leave a field with invalid data, My JTech notifies you immediately so you don't have to come back to find any errors after saving.
Security
Our dedication to encryption and security has resulted in a few enhancements throughout My JTech. We're using industry best practices to secure My JTech and have streamlined our support for inline encryption. Storing sensitive information? We encrypt it by default, and only show the "plaintext" (human-readable) version when you want to edit or update that information.
We'll have more to share next month, so check back and see what's in store for My JTech and the future of content management. If your and your organization are interested in becoming beta testers, please contact us!
Billings Web Development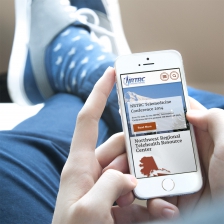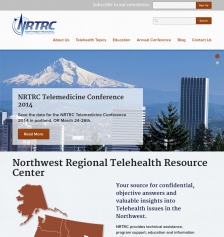 Northwest Regional Telehealth Resource Center (NRTRC)
We just finished a great new website for the Northwest Regional Telehealth Resource Center (NRTRC) of Billings, Montana. NRTRC is an organization that brings Telehealth systems providers together with those with Telehealth needs. Together they offer technical assistance for developing Telehealth networks and programs to serve communities with inadequate medical resources. NRTRC operates throughout the northwestern United States — Montana, Alaska, Washington, Oregon, Idaho, Wyoming and Utah.
The NRTRC's new website is a resource center providing articles, webinars, coaching, toolkits, white papers, and more to help both seasoned and developing Telehealth providers and customers. Additionally, it offers a comprehensive look at their annual conference — both upcoming and past, with photo galleries and archived presentations from the previous year's conference. Their new website is easy to use and employs responsive web design to provide an optimal experience on devices of any size.
Take a look at
NRTRC's website
to see how local healthcare providers are working together to provide access to quality healthcare for all.
nrtrc.org
by
Joshua Reynolds
in
Announcements
,
Design
,
Development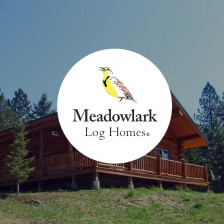 JTech is designing a new advanced website for
Meadowlark Log Homes
, a custom home builder in the Kootenai Valley near Libby, Montana. Meadowlark designs and builds Amish log homes — from smaller cabins to beautiful lodges and chalets. Meadowlark is a second-generation family business, with a deep commitment to safe building practices and meticulous workmanship.
JTech's Montana web development team will be building a state-of-the-art website for Meadowlark Homes to showcase their attention to detail and provide a place for owner stories about their Meadowlark homes. This fully responsive website design is a jumping-off point for those who are considering a hand-built Amish log home: the site will feature a robust contact form to schedule a free consultation with Meadowlark to talk about your dream home.
We look forward to sharing the finished website with you later this year!
by
Joshua Reynolds
in
Announcements
,
Design
,
Development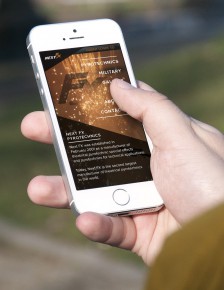 JTech is excited to announce that we're building a new advanced custom website for
Next FX
, one of the world's largest manufacturers of theatrical pyrotechnical special effects. Our website development team is creating a modern make-over with revised artwork throughout, advanced new features, and will use responsive web design so that it will work optimally on desktop and mobile devices alike.
Next FX provides a world-class product for sporting events, musical events, and other industries. They are a long-time Montana-based client and we're excited to be developing a new, modern website that showcases their fantastic pyrotechnic products, provides important safety information, and makes it easy for their wholesale clients to order products and manage their orders right through the site.
Check back in May to see their beautiful new site!
next-fx.com
by
Joshua Reynolds
in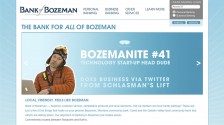 Hot on the heels of
some added functionality for their website
, JTech's advanced web development team implemented a visual refresh of Bank of Bozeman's custom website based on a new marketing campaign showcasing Bozeman's local flavor.
Bank of Bozeman's website is now the blue of a Montana sky, and their homepage profiles the unique Bozemanites you might see around town or in front of you in line at Bank of Bozeman. Bozemanite #41 definitely reminds us of someone we know.
See anyone you recognize?
bankofbozeman.com
by
Joshua Reynolds
in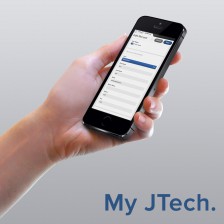 The next generation of advanced custom website content management is
My JTech
, our forthcoming replacement of the
Control Center
that our clients use to manage content for their websites, intranets, mailing campaigns and business email.
Responsive Design
My JTech begins with all the features and content you're familiar with in the current Control Center and adds a number of modern web development touches for convenience. My JTech is designed responsively — meaning that your content is laid out in a manner that perfectly fits your screen, be it large or small. In addition to working great on your desktop system, it is designed for touch-controlled devices and makes editing and publishing easy anywhere.
Favorites
We've added Favorites, a quick way for you to access content that you're updating or viewing frequently. Favorites are shortcuts to pages or database tables that can be added with a single click. Once you've Favorited something, it will appear on your Overview page.
Early Access
Is your business or organization interested in getting your hands on My JTech early? We'd like to share beta access with a few of our clients to get your feedback.
Contact Us
if you're interested.
by
Joshua Reynolds
in
Domain names are now being managed differently, and all website owners should be aware of the change. As of January 2014, domain registrars are now required to verify the email address and names of their registrants — website owners.

To prevent fraud, whenever you register or transfer domains you will be asked via email from your registrar to validate your information. You will also be asked to verify your identity when you update your contact information or if your domain registrar's emails cannot be delivered to your inbox. When any of these things happen, you'll be given 15 days to verify your identity.

If you do not validate your identity within 15 days, your domain will be suspended — meaning your website and email will no longer function. Those seemingly inconsequential emails may prove to be a hassle if ignored.

To ensure that your website and email service are not interrupted, please review your account details with your domain registrar and make any needed updates to your contact information. If JTech manages your domain name, get in touch with us and we'll update your records. We're ready to assist you with the registrar verification process.

If your domain is suspended or has already been suspended because it was not validated, act promptly but don't worry. Once you update and validate your identity it will quickly be restored to normal service. Please contact JTech if you need professional management of your domain name.