Web Design and SEO Blog
by
Joshua Reynolds
in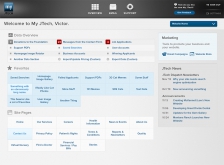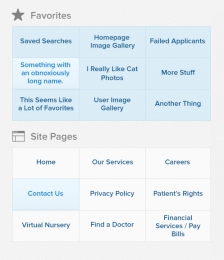 Powerful content management. Simplified.
Become a Beta Tester
Our updated content management system is deep in development and will soon be available for beta testing. We teased some of our progress last summer to give you a taste for the direction we're taking things. If you and your organization are interested in becoming early adopters of JTech's modern update to the Control Center, contact us — we'd like to share beta access with a few of our clients and hear about what's working for you. Not sure yet? Here's a peek at what's in store.
Overview
Let's start by explaining what you'll see when you log into My JTech. Overview is a quick look at everything to do with your website — business input , such as orders and job applications, as well as easy access for you to edit and publish changes to your site. You can already perform these tasks in the Control Center, but we're making your data easier to access than ever before.
Favorites
Favorites makes editing and updating your website easier. Much like bookmarks in a web browser, Favorites is a way for you to choose what shows up on the Overview page, so you can create a custom workspace for your website's content management. When you're editing a page or database, just click the Favorites star in the top right corner of the screen, hit save, and voilá! You've created a convenient shortcut!
Site Pages
The Site Pages area of the Overview changes two fundamental things:
1. We are giving you the ability to change much more of your site's content.
2. We are presenting your website's content in terms of its pages, rather than as database tables.
On new or overhauled sites, users may edit content in My JTech by clicking the appropriate page of their website rather than needing to discern which database table contains the content they wish to edit. We're also adding the ability to change much of the content that is now considered "static". My JTech will give you more control and make your site easier than ever to edit.
Please note that this feature will only be available for new projects or with an upgrade to your site — it will require a comprehensive overhaul to enable it on previously built sites.
Check back in the next Dispatch to learn more about new features in My JTech! If you and your organization are interested in becoming beta testers, please contact us.
Important: Domain Verification
Domain names are now being managed differently, and all website owners should be aware of the change. As of January 2014, domain registrars are now required to verify the email address and names of their registrants — website owners.

To prevent fraud, whenever you register or transfer domains you will be asked via email from your registrar to validate your information. You will also be asked to verify your identity when you update your contact information or if your domain registrar's emails cannot be delivered to your inbox. When any of these things happen, you'll be given 15 days to verify your identity.

If you do not validate your identity within 15 days, your domain will be suspended — meaning your website and email will no longer function. Those seemingly inconsequential emails may prove to be a hassle if ignored.

To ensure that your website and email service are not interrupted, please review your account details with your domain registrar and make any needed updates to your contact information. If JTech manages your domain name, get in touch with us and we'll update your records. We're ready to assist you with the registrar verification process.

If your domain is suspended or has already been suspended because it was not validated, act promptly but don't worry. Once you update and validate your identity it will quickly be restored to normal service. Please contact JTech if you need professional management of your domain name.
Featured Website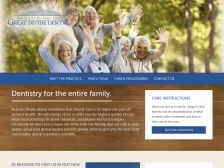 Great Divide Dental
We just released the new website for Helena's Great Divide Dental into the wild. Great Divide Dental provides compassionate tooth and mouth care for the whole family. Their site is clean, warm and inviting — echoing the clean lines and open interiors of their new dental practice.
Whether you use a computer, a tablet, or a mobile phone to access the new website, you can enjoy a great experience. Our web development team planned and built Great Divide's site using cutting edge responsive website design, enabling the layout to seamlessly accommodate any screen size. We invite you to visit their new website!
greatdividedental.com
by
Joshua Reynolds
in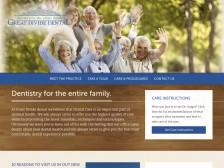 Bozeman's JTech Communications is delighted to announce the release of Great Divide Dental's new advanced website. We're very pleased with the clean, warm, inviting design of their site — a natural continuation of the clean lines and open interiors of Great Divide's Helena, Montana dentistry office.
Great Divide Dental offers dentistry for the whole family — compassionate, comfortable care to improve your well-being. The new site provides a tour of their Helena dental practice, including beautiful photographs, an introduction to the staff, and a look at the various care procedures offered at Great Divide Dental.
Whether you use a computer, a tablet, or a mobile phone to access the new website, you can enjoy an optimal experience. Our Montana web development team planned and built Great Divide's site using cutting edge responsive website design — with a layout that changes to look good on whatever size of screen you're using. We invite you to visit their new website, and consider making an appointment from their website.
Family dentist in Helena: greatdividedental.com
by
Joshua Reynolds
in
Announcements
,
Design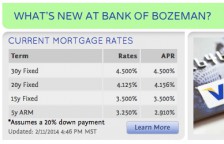 JTech built Bank of Bozeman's website a few years ago, and since then we've collaborated with them on iterative enhancements to its aesthetic and functionality. Bank of Bozeman is a local Bozeman bank with great customer service and a good suite of financial services. In our latest round of custom revisions to their site, we've added a loan payment calculator and navigation palettes to provide faster user access to the detailed specifics of their offerings.
We love working with the Bank of Bozeman and continue to be proud of the results of our ongoing Montana web development collaboration — a fast, useful,
beautiful advanced website.
by
Joshua Reynolds
in
Announcements
JTech's Bozeman-based internet marketing team is beginning a multi-pronged online marketing campaign for
Orbit Plumbing, Heating and Cooling
in Great Falls, Montana. The first phase of our awareness efforts is raising the profile of the Orbit Great Falls Plumbing, Heating and Cooling Inc website with search engine advertising. Future stages will highlight Orbit's customer service and increase awareness of their brand through channels such as Google Local Places.
by
Joshua Reynolds
in
Announcements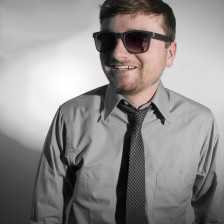 JTech is happy to welcome our 2014 Spring Design Intern, Bozeman-native Tyler Fortune. Currently earning his Bachelor of Arts in Photography at Montana State University, Tyler has a passion for layout, unified aesthetics, and the gestalt principles of design. His expertise extends to marketing, business ethics and video production.
Tyler Fortune will be focusing on human interface design as well as collaborating with our project manager — Tyler Miller. Now that we have two Tylers on board, we're implementing a new policy: interns will be renamed to avoid confusion. Henceforth, Tyler Fortune will be referred to simply as Fortune. As an avid musician, we anticipate that Fortune will kick out the jams when he takes a breather from learning about responsive layouts and extending our clients branding online. Welcome to the team, Fortune!
by
Joshua Reynolds
in
Industry News
,
Optimization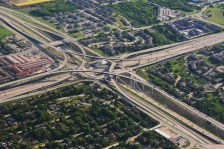 As February starts, public registration is beginning for new generic top-level domain names (gTLDs)
We've written about top level domains in the past — the current offerings include things such as
.com
,
.org
,
.net
and
.gov
. ICANN, the governing body for domain names, recently approved a dramatic expansion to available top-level domain names. The first of these new domain names are becoming available this month.
Already, dozens of new top-level domains are available for pre-reservation: These range from business-oriented domains such as
.contractors
,
.equipment
, and
.app
to the casual realm of
.bike
,
.singles
and
.today
. We at JTech see this as an immense opportunity for our clients to differentiate themselves in an increasingly competitive website field. A carefully-selected domain name can help your site rank well in search results, ward off competitors, or strengthen your company's digital identity. Additionally, keyword-rich domain names can also be used to help your business be found in search engines.
We've crafted a
domain name strategy service
as part of our Montana web development to help you navigate these new waters. If you're interested in improving your company's marketing and
digital strategy
with a memorable or targeted domain, we'll help you to review your marketing goals and craft a plan to acquire and deploy the best domains as they become available.
Whether your company is interested in
bozeman.realestate
,
streetdog.design
,
sink.kitchen
or something entirely different,
email us
or give us a call. We're ready to help you build and execute your domain name strategy.
Featured Website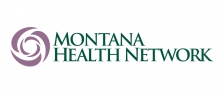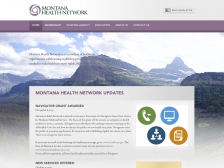 Montana Health Network
JTech's Bozeman Montana website development team just put the final touches on a new website — a place for Montana Health Network to manage their organization online. Montana Health Network is a consortium of health providers working together to solve their common needs — research, shared services, and deeper networks resulting in better, more efficient and cost-effective healthcare for Montana residents.
Their new advanced website provides partial automation for some of Montana Health Network's services — online employment applications for their staffing agency, access to schedules and paychecks, a digital catalog of the courses offered, and a secure members section providing a dashboard for individuals' programs and internal information.
Montana Health Network's new custom site embodies Montana website design — every page is framed by big sky and Montana photography. Typography, navigation, and iconography is defined in a bold, minimalist fashion that makes the site easily accessible and highlights the rich content they have to offer. Take a look at their offering and see how Montana's health organizations are working together to improve your well-being:
montanahealthnetwork.com
by
Joshua Reynolds
in
Announcements
,
Content
,
Development
,
Industry News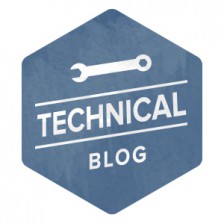 With the most recent update to our website, JTech added a
Technical Blog
, where our Montana web development team members occasionally share their thoughts about the challenges they've faced when creating advanced websites and digital strategies. We're sharing our experiences to start a dialog with other web designers and developers who are tackling similar problems.
The Technical Blog is a place for in-depth, detailed descriptions of the scenarios our Bozeman team has explored — the puzzles and the approach we've taken to solving them. A taste of what the Technical Blog will offer:
The blog will continue to be a place where our team members ruminate on the deeper particulars of their disciplines and the modern web design tools they employ. If you're interested in the nitty-gritty details of cutting edge web development, we invite you to come along for the ride.
https://www.jtechcommunications.com/blog
by
Mike Kostrey
in
SEM
,
SEO
,
Tools & Tips
Introduction: Internet marketer, technical support and more.
I joined JTech in 2001 as technical support for our website customers — addressing their eCommerce, Internet marketing, and domain name needs, to name a few. As JTech's Search Marketing Manager, I am responsible for designing effective digital marketing solutions to help our advanced website clients reach their Internet marketing goals. To help our customers achieve their goals online, I lead JTech's efforts to develop, deploy and monitor custom-designed search optimization, website marketing and online advertising programs. We measure the results achieved, then fine-tune these solutions to design custom applications for the specific marketing needs of our diverse clients.
Addressing a niche.
Over the past few years, JTech — a Bozeman, Montana advanced web development and Internet marketing company started in 1997 — has developed optimized microsites based on keyword-rich domain names for our clients. We have done this on a number of occasions; for the purposes of this article, I will write about our efforts for an airport attracting air travelers to a unique geographic area — Yellowstone National Park.
To address the challenges of extending an already-optimized corporate website to target new niches, we acquired keyword-rich domain names targeting cities, states, or specific vertical product offerings.
We developed microsites for each of these keyword-rich domains using the proprietary JTech Landing Page System. Using this web development framework, we rapidly deployed optimized pages on selected keyword-rich domain names. Because these domains are so highly-targeted, the microsites can in turn be tightly focused, with succinct content that directly addresses the topic derived from the domain keywords and attracts a specific audience.
Creating relevance.
These microsites have become highly visible in major search engines to local searchers and provide another entry path to the main site. This micro-market positioning springs from an appropriate keyword-rich domain name and content highly relevant to the topic. For SEO purposes, we publish valuable content that helps the reader and creates the basis for strong search relevance.
This type of microsite has also been used as a landing page for a search engine advertising campaign. The microsite theme and domain name are tightly correlated to the essence of the related advertising campaign. The URL of the microsite appears within the ad — and when it corresponds to the keywords being searched for, the likelihood of the ad being clicked increases dramatically. This relevance is further enhanced by the text and image content on the microsite: when the search visitor lands on the microsite, they are greeted with content that closely matches their search.
Whether found by organic search or as a landing page for an advertising campaign, our microsites help visitors find relevant content for their search. The content theme of the page is consistent with the domain name's keywords and topic.
Quickly reaching multiple niches.
Consider our case study: Bozeman Yellowstone International Airport — Bozemanairport.com. Focusing on visitors planning to travel to nearby Yellowstone National Park, we deployed a microsite which speaks directly to people looking for air transportation to Yellowstone Park — Yellowstoneairport.com. This site has been optimized specifically for Yellowstone Park visitors, with links to many of the available travel services at the Bozeman Airport and a call-to-action leading to the main Bozeman Airport website.
Our Landing Page System allows quickly building additional new domain name microsites using the same page structure. We even support language localization, which allowed us to create a page using the Chinese Internationalized version of the same Yellowstone Airport domain, featuring Chinese content — 黄石机场.com
The JTech approach to developing microsites paired with keyword-rich domains provides a flexible program to quickly create a highly focused, optimized site that can attain high organic search ranking, or serve as an effective advertising campaign landing page to attract a targeted online audience. We're always looking for new ways to help our customers do business online, and tackling the difficult question of how to be found on the internet is one of our favorite puzzles to solve. Feel free to contact us if you have questions or want help.
by
Joshua Reynolds
in
Announcements
,
Design
,
Development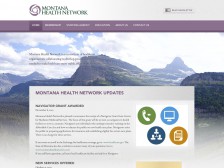 JTech's Bozeman web development team just completed a new website for Montana Health Network. Montana Health Network (MHN) is a collaborative organization of health providers working towards common goals. MHN develops services and products that make healthcare more consistent, efficient and affordable for Montana residents.
Montana Health Network's new advanced website is designed as a gateway to their services: employment applications for their staffing agency, schedules and paychecks, a course catalog, and a secure dashboard for enrolled programs and internal information.
JTech designed the site's aesthetic to be clean and minimal, coupled with a bold navigation style and iconography to create an accessible, open layout that highlights their content. We invite you to peruse the newly developed Montana Health Network website to see how Montana's health organizations are teaming up to improve the well-being of all Montanans.
montanahealthnetwork.com
by
Joshua Reynolds
in
Announcements
,
Design
,
Development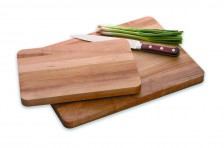 Montana website design company JTech Communications is collaborating with
Skillet Design and Marketing
to create an advanced website for J.K. Adams Co. of Vermont. J.K. Adams Company is a preeminent manufacturer of high-quality wooden cutting boards, entertaining products, rolling pins, and wine racks.
The new J.K. Adams site will provide a comprehensive eCommerce experience, with a complete catalog of J.K. Adams' and complementary products. JTech's Bozeman, Montana custom website development team is bringing the catalog to life with features like AJAX loading to eliminate pagination, live product filtering, on-site product personalization and a seamless purchase process for both retail customers and J.K. Adams' wholesale accounts. Their advanced site will be built using responsive website design for a fast, native experience on devices of any size.
JTech Communications is excited to be collaborating with Skillet Creative — we're looking forward to sharing J.K. Adams' new site with you later this year!