Web Design and SEO Blog
by
Mira Brody
in
Announcements
,
Design
,
Development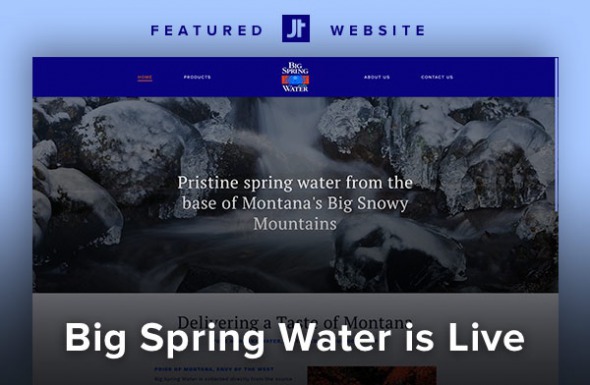 Big Spring Water is a water bottling and distribution company owned by Lehrkinds in Lewistown, MT. They bottle fresh water from the Big Snowy Mountains and distribute it in five gallon jugs and small bottles throughout the state of Montana. They also offer private labeling for special events, home and business delivery and water cooler cleaning and maintenance.
Big Spring Water needed an updated website that would adequately display their various products and educate their customers about their pristine, mineral-infused spring water. The website displays photography of their product and its source in Montana. From the site, customers can place orders and reach the company via a contact form. We invite you to take a look at their
new website here
.
by
Mira Brody
in
Announcements
,
Development
,
Tools & Tips
Many industries deal with reoccurring customers' credit card billing. A few examples are:
Wholesalers who sell products by automatic reorder




Monthly gym membership dues




Amazon Prime's annual fee




Auto-pay through a rental management company




FastTrak pass for paying bridge or road tolls



The accounting work required for reoccurring charges such as those listed can pile up, especially if you have a lot of clients. Luckily automation of repetitive tasks is exactly the type of problem our team at JTech excels at solving! Here are two projects we've worked on recently that deal with reoccurring payment processing.
Silver Screen Insider: membership subscription.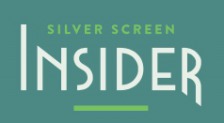 Silver Screen Insider is a robust entertainment database utilized by movie lovers as well as independent movie theater owners. The site is host to marketing materials, movie trailers, a digital publication of the exclusive ShowTime Magazine, games and much more. Sections of this site are available by signing up to be either a free member (a "Fan") or a paid member (an "Insider"). Insider members have the option of being billed monthly or annually. We've streamlined SSI's payment processing by building them an advanced website which processes reoccurring payments automatically. Features include:
Automatic billing reminder emails to members.



Secure retrieval of payment details via integration with a payment gateway.


Automatically charging members when their annual or monthly fee is due.



This site has greatly reduced the manpower and paperwork SSI staff have to process, and will save their business a substantial sum of money.
Domain Management: a feature in My JTech.

We recently added Domain Management to our custom content management system, My JTech. Seamless management of domain names involves auto-renewing domains for clients before they expire. In addition to searching for domain availability, purchasing new domains and transferring existing ones, this new system can:
Save preferred payment methods via payment gateway integration.




Send email reminders for expired cards on file.




Send email reminders for upcoming automatic payments.




Automatically process a payment when it is due.



Aside from our consistent security monitoring, all of this is done with minimal staff involvement, ensuring our clients always have the domains they use to do business online without the stress and risk of remembering when to renew.
Automate your administrative tasks.
If you feel you are wasting administrative power on a task that could be automated,
come talk to us
. We have the technical skill to tackle any business problem, such as automating payments, and are here to save you money and free up time so you can focus on the important stuff — like growing your business and securing your long-term success.
by
Mira Brody
in
Design
,
Industry News
,
Social Media
,
Tools & Tips
,
UX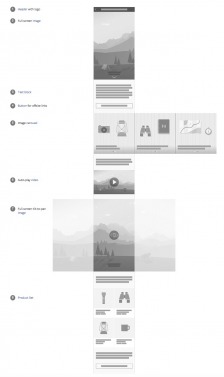 It's no secret that mobile ads are a pain. They are very often intrusive, impossible to exit, auto play music and suck up valuable data. Google, Apple and many other tech companies have been joining the fight against poor advertising, and now Facebook is joining in, changing the way businesses are able to present their products.
What is a Canvas ad?
Canvas ads are an advertisement option by Facebook which allows you to design an ad optimized for user interaction on mobile devices. It presents businesses with the ability to better reach their audience by presenting them with a beautiful user experience. It forces advertisers to really think about what will get their audience interested and hold their attention instead of continually shoving poorly-designed ads in their face.
As you can see from the diagram provided by Facebook, Canvas provides a variety of options, including scrolling, a carousel of cards, panoramic photos, and other engaging animations, all optimized for tablets and phone breakpoints.
Why do they work so well?
Canvas ads have so far been successful. Average view time is up to
31 seconds
and big names such as Lowe's, Coca-Cola and Wendy's have all utilized this new feature. Here are a few reasons why.
Interactive
— These ads are designed as a journey, guiding users through your products using attractive visuals and allowing them to have control over their experience.
Non-intrusive
— These ads appear only after a user clicks on the initial advertisement post on their newsfeed. This keeps them unobtrusive and keeps them in the Facebook application instead of sending them offsite.
Fully-customizable
— Facebook offers a variety of tools so that every ad is unique. Whether a portfolio of images, a panoramic landscape or a video, you can build a journey based on what best represents your business. Everyone loves a good story; it's how we engage users. Instead of relying on a flat billboard ad, Canvas ads allow a business to tell their story — no design, development or marketing experience necessary.
Mobile-friendly
— Canvas ads are specifically optimized for mobile screens and are loaded in the Facebook app, making it
10 times faster
than if it were loaded in a traditional browser and salvaging data use.
Should your business use Canvas?
The good news is that Canvas is adaptable to almost any industry. It will be especially useful for those who with a storyline or attractive imagery of products to display. The real draw here is the dawn of a better world for mobile advertisements, and possibly advertisements as a whole. If you really want to reach your audience, accessing more information about your products and services should not be a negative experience, but should reward the user.
If you are interested in Canvas advertisements but are unsure how to get stated, our
digital marketing team
would be happy to help you decide how to best display your business and reach your audience on Facebook.
by
Mira Brody
in
Google
,
Industry News
For the last month, Google has been collecting data about negative user experiences related to advertisements. According to a survey conducted by Google,
69% of people
who install adblockers do so because of intrusive ads that prevent them from easily accessing content. These come in the form of popups, ads that consist of sound or video that auto-plays, or that obscure a large amount of screen space, particularly on mobile devices.
Based on guidelines set forth by the
Coalition for Better Ads
, Google has been collecting a list of publishers who host non-compliant advertisements on their site and recording videos and screen caps of these unacceptable ad types as evidence. If a site is considered "failing," the publishers are sent an Ad Experience Report, information about the Better Ads Standards and how to stay in compliance. They are also educated on how these issues may be impacting their business.
Although it is unclear yet how publishers will be punished, if at all, according to
Scott Spencer, Product Management Director at Google
, Google's actions are driven by their continued efforts to help publishers maintain a sustainable online business with advertising that is tolerable by its readers.
by
Mira Brody
in
Google
,
Industry News
,
Social Media
,
Tools & Tips
Using Google's bulk management tool makes it easy for businesses managing lots of stores under a single company.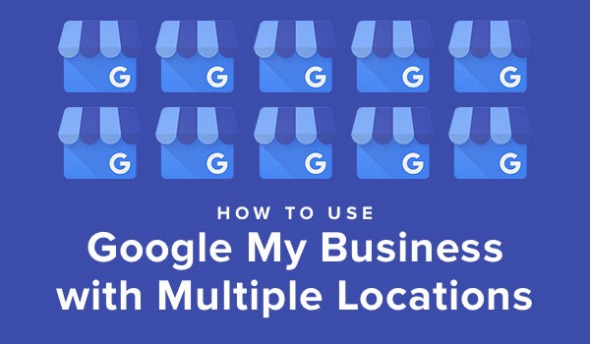 If you're a business with ten or more locations, Google has made it easier for you to manage your stores in Google My Business. By ensuring the information for each of your stores is correct, you are eliminating conflicting or missing data that may wrongfully penalize you in search results or inhibit customers from finding you.
In order to qualify for bulk location management, you must:
Have at least 10 locations




Not be a service business




Not be an agency that manages several clients



If you have not already done so, you can apply for bulk location management
here
. Once approved, Google My Business allows you to bulk-manage all of your locations by uploading a spreadsheet — this is useful for chain companies who have hundreds of locations. The spreadsheet has certain formatting requirements, which can be found
here
. When using the spreadsheet upload feature, after uploading the document, you still need to verify the following information with Google My Business:
Business name




Countries you do business in




All administrative contacts




Contact phone




Email of the person managing the account




Email of any Google representatives you have been working with
Staying Verified
While bulk verification can take up to a week, staying verified afterwards is a task in itself. Make a habit of regularly reviewing your various Google My Business store locations for errors, including removing locations that are no longer in business. If you have more questions about this service,
contact
our digital marketing experts and we can help you be visible on Google — no matter how many locations you manage!
by
Mira Brody
in
Content
,
Optimization
,
Social Media
,
Tools & Tips
"The reality is that today's millennials are tomorrow's leaders; in order for our parks to survive and thrive in a second century, people need to feel connected to them and want to protect them."

— Will Shafroth, National Park Foundation President

For 100 years now, the National Park System has been educating and preserving iconic lands and open spaces "for the benefit and enjoyment of the people." To promote the dawn of their Centennial year, they launched a powerful marketing campaign in early 2015, trying to engage a new generation of people on whose shoulder's the fate of the parks sit. A large part of this campaign has been run on social media; no surprise since these platforms are what drive 87% of modern marketing.

Their marketing team had to navigate a lot of the same issues that other businesses often face: how do you engage a society who spends an increasing amount of time indoors and online from their social newsfeeds? How can social media posts motivate viewers to not only "like" and "share" but to leave their homes and spend money?

Their answer? Find Your Park. This campaign successfully leveraged their Centennial with well-strategized digital marketing efforts. These efforts are then measured by tracking relevance, engagement and support. The 2015 year gathered some serious momentum, marking the busiest year on record for National Parks overall. To learn from their success, let's take a look at a few of their most successful marketing tactics and what insights your digital marketing strategy can gain from what they've accomplished this year:

Bridging the Gap
Sometimes in order to engage more customers, you have to shift the majority of your efforts toward the group you are failing to reach. One of the reasons National Parks have thrived in the last 100 years is the value they have to those generations, a tradition many fear will soon taper; most of the 307 million visitors they saw in 2015 exposed a trend toward older patrons. So, much like the Pacific Railroad's "See America First" campaign, the NPS detected the market they were unsuccessfully reaching and refocused accordingly, targeting younger visitors — millennials.

Programs such as Every Kid in a Park and the help of celebrity and corporate sponsorships grab the interest of new customers and help them understand that these parks are extremely obtainable for the average middle-class family; and it has paid off. Right now, 40% of millennials are familiar with National Parks, an 18% increase since the beginning of the campaign and they brought in 250,000 new supporters, either though volunteerism or donations, in 2015 alone. From Subaru, REI (they developed the National Parks guide app) and Disney to Bill Nye, Laura Bush and Joseph Gordon-Levitt (who contributed to the Find Your Park clothing line) big names helped bring in more than three billion impressions via digital media.

Using a well-known name, or another generation to reach your audience can help engage an entirely new market for your organization, strengthening your digital marketing efforts.

Engagement
Earning followers, shares and likes on social media is one victory, turning those social indicators into profit has always been the other half of the battle. You can use social media to drive business to your storefront in a variety of ways, including family events, special offers, an anniversary celebration — anything that requires participation.

National Park social media marketing teams have been successfully engaging people from their electronic devices in the outdoors through Instameets and other social events all year. Hugely successful, especially during the summer months when the parks are already bursting with tourists, an NPS Instagram account will post a place and time for the next "Instameet," inviting people to come down, participate in an event, such as a hike or educational program, and attendees are encouraged to share their photos on Instagram and Facebook using their highly-visible Centennial-themed hashtags, such as #findyourpark #nps100 and #npscentennial, among others. These events not only get people into parks, but get them participating in the ranger programs and socializing with other visitors, then sharing these experiences on social media.

The National Park Service used August 25th, 2016, their 100th birthday, to set the stage for an array of live events across the country from theater performances, speeches, music and birthday cake. Yellowstone used Facebook's livestream to air their Evening at the Arch concert, an event that sold out in the first 24 hours of initial online ticket sales.

Educational Forum
Part of dominating your market is establishing yourself as an authority figure. Customers want to know that you are credible and reliable and you can use social media to expose that side of your company by utilizing it for not only a venue for customer service but also a forum for discussion.

Along with keeping visitors up-to-date on road closures and weather advisories, Mother Nature is often misunderstood by those who are unfamiliar with it, allowing Facebook, Instagram and other social media platforms to be a place for the NPS to create positive discourse. Here are a few times they took to their keyboards to turn a delicate situation into a learning experience:
As Yellowstone experiences some of its worst fires since 1988, tourists are not only inconvenienced by road closures and poor air quality, but are oftentimes reverting to the attitude that "all fire is bad." The Yellowstone social media department seized this as an opportunity for education.




The annual Bison cull is a good time to provide resources about the controversial role State Government plays in Park management.




Negative tourist behavior leading to discussion topics such as staying on boardwalks and not interfering with wildlife.
Whether you are the National Park Service, a law firm, grocery store, or whoever, it is easy, once you have a reputable following, to use social media to be available and knowledgeable to your customer base and establish credibility.
Lasting Affects: Conclusion
The National Park System's Find Your Park campaign is applicable for years to come and because it involves many generations of participants, will have
lasting results
. Why? Because of the experience visiting these parks have on people and the value it establishes in the NPS. A lot of the success will not only be from the immediate income of souvenir and concession sales, but by the memories people have now made in these parks. If people have a personal connection to a place, they are less likely to turn a blind eye when it is threatened, more likely to revisit, and to introduce it to their friends, family and next generation — a marketing plan that ensures the long-term success of any business.
by
Mira Brody
in
Announcements
,
Industry News
,
Tools & Tips
Our team has been hard art work perfecting a Domain Management system for our clients, and we are excited to announce that it is now live and available to all My JTech users! This new tool allows you to manage your business's domain names in the same place you already manage the rest of your website. It also lowers our cost of domain names and we are happy to pass these savings on to you. Some features include:
Purchasing new domain — Search for and purchase a new domain name to actively use, or prevent others from using.

Checking availability — Get the scoop on a domain you are interested in, including information directly from Whois.

Transfer — Transfer an existing domain from another registrar to JTech, so we can look out for you.

Domain renewal — Domain names will automatically renew until cancelled, so you don't have to worry about losing them. You just need to keep a current credit card on file.

Edit domain — Easily make edits to your domain registrant information.

All this will be easily managed from your My JTech account via the Domains navigation. We have a ton of additional domain information published for you in the My JTech
Support Articles
section of your content management system, and as always, please
contact us
if you have any questions.
by
Mira Brody
in
Announcements
,
Design
,
Development
Mountain Journal is a news source for high-quality content focusing on the politics, economy, wildlife, recreation and community of the Greater Yellowstone Ecosystem. Journalist Todd Wilkinson hopes with this publication to attract social influencers as well as tourists and recreation enthusiasts who are seeking out long-form intellectual pieces of writing.
The site we built for Mountain Journal clearly displays featured articles on a beautiful, custom home page. Articles can be sifted through by readers using the different categories and tags listed at the top, or with the search feature. The site also includes an article detail with an HTML editor that allows images flexibility in where they are placed in an article. We've also included a Support Us page to encourage contributions from readers, and an About Us and Contact Us. We invite you to check out this new site
here
!
by
Mira Brody
in
Announcements
,
Design
,
Development
We are proud to present the new, responsive BZN website.
JTech built the first Bozeman Airport website in 2000/2001, followed by a second generation site in 2007 and is now excited to announce a new, modern, responsive site to serve the flying publicans all who use the airport. BZN is the busiest airport in the state of Montana, servicing locals as well as tourists coming to Yellowstone National Park, Glacier National Park, Grand Teton National Park, Big Sky Resort, Bridger Bowl, Montana State University and the many other attractions in and around Gallatin Valley and Montana. Their new website is updated in both design and functionality, and provides an array of resources to the million travelers that pass through their gates annually. Join us on a tour of some of our favorite features:
Arrivals and Departures Board
— Both the Home and Flights pages feature an arrivals and departures board with realtime flight data. Since the entire site is mobile-optimized, it is easy to access from your phone or tablet, whether you are awaiting the arrival of guests or anticipating a departing flight for yourself. This is especially useful during Montana's unpredictable seasons.
Destination Map
— With advanced technology on our side, we were able to improve the Bozeman Airport flight destination map. As you select the Alaska, Allegiant, American, Delta, Frontier, JetSuite and United airline logos, the map illustrates non-stop routes provided by each carrier. As the airport acquires more routes, these can be easily added dynamically by the airport through our custom content management system, My JTech.
This section also provides visitors with road maps and driving directions to and from the airport. We've provided some preset locations — such as Yellowstone National Park, Big Sky Resort, Bozeman and other local tourist destinations — or you can enter a specific address.
Photo Gallery — Due to its location, Bozeman Yellowstone International Airport boasts sweeping views of snow-capped mountains. The website provides the opportunity to display these landscapes, the building and aviation in their photo gallery. The gallery is categorized by type and has a slideshow feature


Lost and Found — If you're a frequent traveler, you know that once in a while something gets lost. The airport website includes an advanced lost and found form that adapts based on answers so that they can best direct users back to their lost item.

Landing Page — The Bozeman Airport experiences a high volume of Chinese tourists during Yellowstone National Park's peak season. In order to better assist these visitors, we built a landing page system with the home page of the website translated in Chinese.


In addition to serving travelers, the new site has areas for internal use to assist airport operations and those who work there.
Badging Process
— The badge scheduling system allows recently hired employees who need a badge application and training, as well as current employees who need a renewal, to schedule the appointments necessary for security clearance. Airport admin can then view this data in their business Outlook calendar, offloading a ton of work that was previously done by employees.
Employee Application
— The airport can post employment opportunities with fields for a PDF download, a link to an application, job description and requirements. There's also a directory of tenants for job inquiries not under the airport's jurisdiction.
RFPs
— The airport often does business with local contractors and other industries for projects around the airfield grounds. In these cases, Requests for Proposals (RFPs) can be posted on the airport website for businesses to review and respond to.
Inspections
— We revamped an internal system that the Airport uses to generate a report on field inspections.
And much more!
We had a great time working with the people at Bozeman Airport and are so excited to send this new website live for everyone to use. Make sure to take a look at the
new Bozeman Airport website
and discover ways it can make your travel experience easier than ever.
by
Mira Brody
in
Social Media
,
Tools & Tips
Policies and tips for businesses looking to solicit customer reviews.
No matter your industry, customer satisfaction plays a huge role in your success — negative reviews can quickly change a potential customer's mind, while positive feedback can influence someone's decision to give you their business. When collecting reviews from your customers, however, it is important to know the policies set in place so you don't find yourself in trouble. Here are some helpful guidelines as established by the most popular business review sites to be aware of.
Google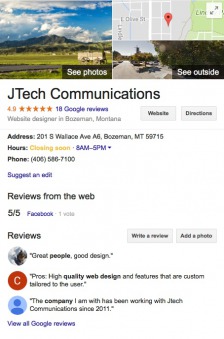 Google My Business is Google's business listing service, which provides information including reviews and star ratings in Google Maps, on their search results page, and on other Google services. Because of their high visibility in Google search results, these reviews are very important for your business and part of your reputation management strategy should focus on acquiring them.
Google's review policy doesn't allow incentivized reviews, meaning you cannot bribe your customers to leave positive remarks about you. They also prohibit advertising, links, phone numbers or contact information or reviews left by employees. Be aware that they do not actively moderate the content of reviews that are submitted or take immediate action if a comment is flagged as 'spam' or 'inappropriate' so you'll want to do your own surveillance on your account.
Yelp
Not only has Yelp established itself as a popular hub for customer reviews, but they also enjoy considerable reach: their reviews are provided when consumers search for a business in Apple Maps or by using Apple's Siri voice assistant. It is possibly because of this that they have the most stringent guidelines. Yelp openly condemns all incentivized and solicited reviews, stating in a
blog post
: "Yelp does not want businesses to ask their customers to write reviews and our recommendation software actively targets reviews that have been solicited."
Yelp does not allow:
Employees of a business or their family or friends to leave reviews




A business to bribe or pressure customers




Copying and pasting an existing review



They uphold these rules with their Consumer Alerts Program, which warns people with a popup over a business's page when reviews come in that look suspicious. Suspicious activity includes:
Multiple reviews coming from the same IP address




Reviews that threaten legal action




Reviews that insinuate that a bribe was offered



Each case is reviewed carefully by Yelp team members and the popup will be removed after 90 days as long as the activity stops. They have even been known to
shame businesses
caught offering incentives and lawsuits and some companies have been caught in
expensive lawsuits
after bribing for positive feedback.
Facebook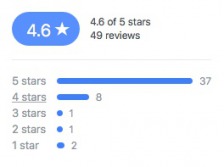 Facebook business pages also feature customer reviews, which are displayed prominently. Facebook does not specify rules for leaving reviews, but they do ask that you follow
Facebook Community Standards
. They do monitor all posted content for threats, abuse and the sharing of personal information other than your own and will turn serious cases over to authorities. You cannot delete a negative review (only the person who posted it can edit or remove a review) but you can respond. Learn more about how to deal with negative feedback in our article
about customer reviews.
What to do next
Reviews left on on social platforms factor into about
10%
of your search ranking, and 90% of consumers say reviews are what determines their buying decisions — making reputation management an important part of your business's marketing strategy. If you need help recovering from bad reviews, want help encouraging more positive ones or are unsure where to start,
give us a call
— we'd be happy to help.