Web Design and SEO Blog
by
Mira Brody
in
Announcements
,
Design
,
Industry News
Three days of design, code and content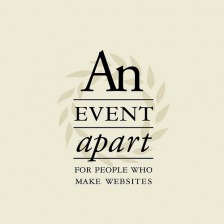 Our fearless leader, along with our designer just spent three days in Seattle, WA attending the
An Event Apart conference
. This event attracts web industry leaders thirsty for the most cutting-edge information on code, web content, usability and design. With over a dozen speakers, topics range from extreme web design, prioritizing tasks, meaningful animation accessibility and performance.
Because of last year's event, we adapted Atomic Design to our process — a way for our designer to break down the elements on a page into more granular pieces — and it has been a great success. We are confident our team members have returned with similar inspirations and will be enlightened about our ever-changing industry.
by
Mira Brody
in
Design
,
External Publications
,
UX
Trust occurs when our physical, emotional and logical responses combine into one confident, positive intuitive feeling. Just as you must feel a sense of confidence when entering a storefront, this feeling rings true online as well, as there are a number of cues that can reaffirm trust, or completely ruin visitors' experiences; a negativity they may permanently relate to your brand.
Learn about how you can gain your website visitors' trust and read the rest of the article we've published on Web Designer Depot
here.
by
Sam McCue
in
Google
,
Industry News
,
Optimization
,
SEM
,
SEO
,
Tools & Tips
Terminator, The Matrix, iRobot, Maximum Overdrive. What do these movies all have in common? An overarching theme that explores the ability of machines to learn. Most of these movies were made in a time where machine learning was so far away, the idea was entertaining and laughable. Leave it up to Google to make it a reality.
If you've heard of RankBrain, you probably know that it is a machine learning technology Google has incorporated into their hummingbird search ranking algorithm. They have stated publicly that it is the third most important signal in their search engine result processes.
How Does RankBrain Work?
RankBrain is a multitude of mathematical software processes that are geared toward learning how people search. The overall goal is to gain more insight into how, why, and what people are searching for. As user searches become more complex, RankBrain allows Googles algorithms to combine search phrases with new meanings, relevance, and context.
In the average day, 15% of search queries are unique — they've never been seen by the engine before. So out of the 91 million total searches they field per day, 13,650,000 are brand-new. No wonder the company is investing so heavily in AI-related technology. In 2014, Google acquired DeepMind, a London-based machine learning startup, for £400 million.
How Does RankBrain Benefit Search?
An overused example from Bloomberg illustrates how RankBrain is helping search:
Query: "What is the title of the consumer at the highest level of a food chain?"
Marketers would be searching for consumers as buyers of goods. Zoologists would be searching for consumers as organisms who eat. When put into a query that asks about the highest level, RankBrain interprets the most scientific context. Google yields Apex Predator as its top result.
This technology was built to evolve as linguistics do. I can only imagine what was returned the first time YOLO was searched, and that is precisely why this technology is needed. People, particularly younger generations, change the way words relate to each other just as often as they change their socks. The real value with machine learning that can change with these trends, learn the way words relate to each other, and infer as to their order.
Machines Can Learn Now, Huh?
RankBrain is truly a leap forward in machine learning, but the concept is not new. It has evolved and grown in new and incredibly technical ways to get to where it is today. Microsoft has had a machine learning system called RankNet since 2005. More recently Microsoft also released a Twitter Bot named Taye, which learned how to act from other users. The whole project was abused by a generation of opportunistic internet trolls and had to be dismantled after the project became inappropriate due to user suggestion. Other notable investors of machine learning include Elon Musk, Facebook, IMB, and Shell.
How Can you Position Your Site to be Ranked by the Brain?
This algorithm has not, that we know of, changed much on the SEO front. The one factor that could be enhanced by this ranking signal is the creation original content. If you are lucky enough to coin a phrase and RankBrain is fed this information and recognizes you as the source, you may very well be cataloged as an authoritative source on the topic. That would mean wonders for ranking whichever page your content is on.
How Long Until RankBrain Takes Over the World?
The machine learning often gets confused with artificial intelligence. Artificial intelligence implies that the machine is sentient, with no limits to its decision making and thought processes. Machine learning can be a specific set of learning protocols, relating to specific tasks. It is much more precise to search results in this application and RankBrain does not have the capability to make advanced decisions beyond search phrases. At least for now.
by
Sam McCue
in
Tools & Tips
A gTLD, or generic top level domain, is the suffix at the end of a web site — .com, .net, .org, etc. Nowadays, you can ditch the old standbys and register your site under anything from your.bank to this.film, depending on the category your business operates under and what is currently available.
Here are some things to consider when choosing your dream domain to help make sure you have the right fit — from both an SEO and UX standpoint.
Demand
In this day and age, the competitive demand for a quality .com name can be one of the most strategic parts of starting an online business. The more popular your industry, the more likely your ideal .com has been taken, forcing you to settle for a .us, .biz, .info, or any of the other less-desirable choices. These new gTLDs are emerging as a new opportunity to grab great domain names for your sites.
Relevance
New gTLDs are giving businesses the opportunity to exist within defined internet categories, and as time goes on, this method of organization will increase the usability of the internet. The relevance of route93.pizza vs. route93pizza.com will not only provide users with context for the pizza place they are looking for, but also a clean and understandable URL.
Availability
Another desirable aspect of gTLDs is their availability. You might not have the option of every .com you want, but new gTLDs are a huge opportunity waiting to be explored. Because of the impressive amount of categories, the number of combinations for your.business has greatly increased. In fact, the amount of available gTLDs hit the 1,000 mark in 2015 and more have been released every month since.
SEO? Yes and no.
There is an argument that new gTLDs are organizing the internet. But how will search engines decipher this system of categorization by domain? Last summer Google's webmaster trends analyst, John Muller, made the statement that one top level domain will not actually be favored over the another. The only TLDs that will receive special treatment are those geographically oriented, such as .asia or .germany, for searches in the areas they pertain to
(1)
.
In 2012 Google's Matt Cutts, head of web spam, posted on his Google+ account that "Google has a lot of experience in returning relevant web pages, regardless of the top-level domain (TLD). Google will attempt to rank new TLDs appropriately, but I don't expect a new TLD to get any kind of initial preference over .com, and I wouldn't bet on that happening in the long-term either. If you want to register an entirely new TLD for other reasons, that's your choice, but you shouldn't register a TLD in the mistaken belief that you'll get some sort of boost in search engine rankings
(2)
."
There is a distinction, however, between favoritism and relevance — relevance being the search engine's overall goal. Regardless of preferential treatment, the benefit of having keywords in the structure of your URL will undoubtedly return more relevant searches, making it easier for you to position your brand as aptly as possible. Some gTLDs are restricted by their industry. For example, .film is only available to members of the MPAA, and to register a .bank you have to provide detailed information proving you operate a bank. Some, like .pizza and .restaurant, have no restrictions, but there would be little to no benefit for an auto repair shop to operate within a .pizza domain.
The adoption curve
So why hasn't the whole world hopped on the bandwagon yet? In some parts, they have. China seems to have surpassed the early adoption stage and embraced the mindset that gTLDs will make the internet an easier place to navigate. 86% of people polled in China, when asked if gTLDs are a good idea, responded that they are
(3)
. The U.S. is moving a bit slower on the adoption curve, mostly because of our dependance on more traditional domains. The average user needs to be weaned off of the assumption that every website is required to end in .com for the movement to take hold.
There are so many benefits to gTLDs that once they enter the mainstream there will be a mad grab for the best new URLs. iCANN (The Internet Corporation for Assigned Names and Numbers) knows the value of these domains, and is releasing new ones on a yearly basis. It is safe to say we have entered an age where .anything is possible.
by
Sam McCue
in
Google
,
Optimization
,
SEM
,
SEO
,
Tools & Tips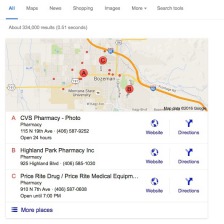 Optimizing your website locally can give your business a very strong showing in the search engine results pages (SERPs). That prominent search engine results section right below the paid advertisements, and right above the organic listings is very valuable real estate. Making sure you are not only included in these results, but also shown as a top result can be tricky, but success begins with covering your bases. Here are a few tips to remember that may give you that much-needed edge against competitors:
Your Address is the Key
Search engines need to verify your location address before they can put you on the map. Google does this by either calling the associated phone number and having you enter a code, or by sending you a post card with a code and giving you a timeframe to complete the instructions on it. Once you've done this for all of your locations, Google can, with confidence, place you on the map for relevant local searches. The process and options for Bing are quite similar, so be prepared to do it twice.

Keywords, Keywords, Keywords
Local qualifiers in your meta, as well as the copy on your page will rank you higher in universal results. A great place to start is to keep an eye on your competition. Your city and state should be in your page title tags and headers. Search engines not only use these to determine who you are, but often where. It wouldn't hurt to throw it into the alt text (image description) for any location-based imagery you decide to use on your site either.

Get Reviewed
Rankings from customers are so blatantly visible in the SERPs, that it is increasingly important to ask for reviews from trusted clientele. If you can boost your reviews above ten, your credibility will increase in the engine's eyes. This is critical for Yelp pages too, which present structured data in search results such as how many stars your business has, your hours, etc.

Leave No Field Unfilled
Don't be in such a rush when you set up your local profile that you neglect certain fields. Make sure the address, phone number, hours of operation, and contact email portions are well taken care of. The more information you give, the better, so consider and evaluate these fields accordingly before you dismiss them as irrelevant. Make sure all of your business data is correct so it is properly presented to the major directories and data aggregators.

Develop your Google+
If you don't already have a Google+ for your business, you are missing the opportunity to strengthen your brand within that search engine. This ties in directly with your reviews and your business page. Make sure you claim it, and stay active on it. Posting fresh, updated content to your Google+ page will show the search engine that you are still a relevant and active business.

All of these tips working in harmony will help give your business that boost it needs to show up in local listings and make sure you are most visible to customers.
by
Mira Brody
in
Announcements
,
Design
,
Development
We have been carefully planning a web development project for Silver Screen Insider, a business that helps supplement the marketing efforts of small, independent movie theater owners. This new website will serve theater owners, advertisers and the general public interested in the entertainment industry by providing a subscription-based membership.

The new SSI website, much like the old, will continue to provide industry-related articles as well as a comments section to initiate discussion, an industry calendar and a up-to-date film database — everything theater owners need to stay ahead of the curve when it comes to the entertainment industry. It will also focus on the re-branding of their company since it changed ownership in 2015.

We've been working with the owners and operators of SSI for nearly two decades and are pleased to work alongside them on this new online venture.
by
Mira Brody
in
Announcements
,
Design
,
Development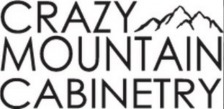 We are starting on a new web development project for Crazy Mountain Cabinetry, a full-service kitchen and bath cabinet outfitter located in Livingston, MT. They provide a variety of home improvement services including conceptualizing, designing, ordering hardware and finding reputable installers. The results are a high-quality product customized for your design and spacial needs.
Their new website will not only attract their desired customers, but also provide an array of resources for those looking for a remodel. A robust portfolio of past work will center around a strong sense of locality, displaying the unique and customized approach they apply to every home improvement project.
We are thrilled to be able to build an online home for Crazy Mountain Cabinetry that will accentuate the quality services they have to offer.
by
Mira Brody
in
Announcements
,
Development
There are a lot of reasons to invest in solar power — you may be be looking for an investment that benefits the environment or interested in going completely "off the grid." Whatever your reason, OnSite Energy, a solar electric service business situated in Bozeman, MT, is quickly securing their reputation as the Solar Power Experts of the Northern Rockies. We are excited to be a part of their growth by building them a new website.

OnSite provides evaluation, technical design and installation of solar panels as well as maintenance services all over Western Montana, reaching into Wyoming and Idaho as well as Red Lodge, Lewistown and Billings. Their new site will focus on reaching those clients as well as spreading the philosophy that "we are solar;" the belief that solar is a sensible choice for everyone. The community aspect of solar energy will be emphasized through personal images of job sites and group photos of finished commercial and residential projects. The site will also focus on providing resources and education to its visitors as well as a way to get in contact with the owners.
by
Mira Brody
in
Announcements
,
Design
,
Development
We recently completed a website for a business partner,
REM Solutions
. REM is a single point of contact for business owners who need assistance with their merchant account. This includes credit and debit card processing, gateway integration, mitigating risk and fraud protection; everything you need to ensure your company is safe and successful long-term.
The new website is a
single-page scrolling site
which carefully outlines all of REM's various services as well as a contact form. Because of their close partnerships, we included rotating images to display all of their affiliates and a login for existing customers.
by
Mira Brody
in
Tools & Tips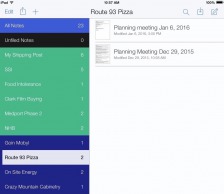 Doodle while you work.
If you're anything like me, you've probably spent a lot of your job hours sitting in meetings. Luckily, our conference room is pretty lively; it seems everyday we're meeting a new client, another new interesting business, designing a new website project. So why do each of these businesses have to be so blandly represented via ballpoint pen and lined paper?
Notability
is an application available in the App Store for iOS and Mac that allows you access to an array of tools that make taking notes a bit more…colorful.
Each "note" can be organized into a subject and color coded. I arrange and color my subjects according to the particular company we are meeting with that day, then add a new note for each individual meeting. During note taking, here are a few of Notability's tools I find most helpful —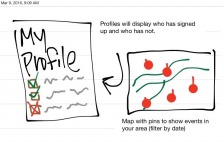 Typing: An old standby. You have six font styles and a handful of size choices, colors and the ability to either type directly onto the blank page or insert a separate text box (say, under a photo or off to the side so it stands out).

Highlighting: With 16 colors to choose from, I find it helpful to go over my notes afterwards and use the highlight tool to pick out keywords or phrases that may help me later.

Drawing: The fun part; you can doodle! A huge part of planning a website is envisioning what it may look like. With the drawing tool, you can doodle your ideas as the meeting is taking place, using arrows and boxes to connect and group your scattered thoughts into a cohesive inspiration.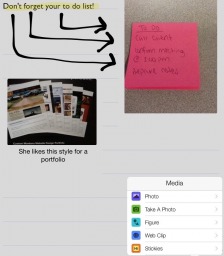 Cut, paste and erase: We all make mistakes, so an eraser is sometimes needed. There is also a "cut" tool, that allows you to outline one of your arrows you drew earlier and easily flip or move it.

Photos and sound: During client meetings, we sometimes sketch ideas on the office whiteboard. Notability allows you to snap a photo of those sketches and drop them into your current note to refer back to later, even after that whiteboard has long been wiped clean. You can also record in the application and when played back, the recorded meeting will show you where in your notes the conversation took place.

Notability is very useful for those who need to add a little more pizzazz to their conference note-taking. It helps increase concentration for those of us who are visual or kinesthetic learners due to its various color and organization capabilities and increased productivity for everyone else.