Web Design and SEO Blog
by
Mira Brody
in
Announcements
,
Design
,
Development
Story Distributing and Transportation
is the oldest petroleum distributor deeply rooted in the community of Bozeman, MT. They provide specialty gasoline and lubricants and distribute to dealers around the region as well as own and operate the Casey's Corner gas stations and convenience stores in Bozeman, Gallatin Gateway, Livingston and Billings.
The new, custom website we are planning for Story Distributing will serve their various markets — from dealers to the traveling consumer needing gas and convenience items. A map will display each of their locations and list the amenities available as well as store-specific specials and highlight their Plenti rewards program. Dealers will be able to access the site to request fuel delivery and fill out a CFN application. We are excited to get to work on a new website with such a distinguished company.
by
Mira Brody
in
Announcements
,
Design
,
Development
Doctor Clean is a specialty residential cleaning company who services Gallatin Valley, Paradise Valley and surrounding areas of Montana. Their expertise is in carpet, upholstery and window cleaning in large residential homes with other specialty jobs catered to customer needs — from trophy and log pillar cleaning to oriental rug shampooing and light fixture and chandelier dusting. Doctor Clean is a family-run business and employees are trained annually in the latest technology and techniques in the industry.
Our designers had a lot of fun illustrating a custom logo for Doctor Clean. Their new website showcases sweeping imagery of their work, customer testimonials, a breakdown of their many services and a customer portfolio. We had a great time working with Doctor Clean and invite you to check out their new site
here
!
by
Mira Brody
in
Announcements
,
Design
,
Development
Liberty Portal is a new website for those looking to learn about the Personal Liberty Movement, providing resources and serving as a news aggregator for people interested in liberty, the non-aggression principle and the free market. Liberty Portal curates videos, podcasts, articles, events and books geared toward educating visitors about liberty, anarcho-capitalism and other free-market minded philosophies.
Giving visual form to personal liberty, we crafted a bold visual identity for the website to honor and reinforce the divergent thinking being presented — while thoughtfully organizing and making accessible the diversity of resources on tap. To make it easier for those in the trenches fighting for personal liberty, we integrated a PayPal donation page to encourage contributions to the movement.
We were excited to complete this new project and welcome you to check it out at
libertyportal.com
.
by
Mira Brody
in
Content
,
Tools & Tips
"The best moments in reading are when you come across something – a thought, a feeling, a way of looking at things – which you had thought special and particular to you. Now here it is, set down by someone else, a person you have never met, someone even who is long dead. And it is as if a hand has come out and taken yours."
—Alan Bennett
Whether notating a document for research or meeting with a client, note-taking is a skill that can greatly improve your performance in the workplace. It is a medium that drives communication, helps with memory retention and fosters the skills needed for successful relationships with clients and coworkers alike. It is possibly so effective because notations are so deeply ingrained in our nature as humans; the reason we have personal documentation of history, scientific discoveries, tales of pain, survival and sketched maps of previously undiscovered masses of land. Without diligent note-taking, we wouldn't know that:
Galileo Gallini discovered Jupiter's fourth moon on January 13, 1610.




William Clark of the Lewis and Clark expedition at 2PM watched a buffalo cross the Bighorn River on August 1, 1806.




At Oliver Wendell Holmes Elementary School in 1908, a 9-year-old Ernest Hemingway confessed his intentions to be a writer and traveler.




Stanley Kubrick scribbled at least 15 different variations in a notebook before settling on the movie title, Dr. Strangelove or: How I Learned to Stop Worrying and Love the Bomb.
Careful route documentation in three men's travel notebooks are the reason the very city this article was written in — Bozeman, Montana — became a major thoroughfare during the gold rush and therefore today an established city. Although your job may not comprise of mapping treacherous trails through hostile Indian Territories in the 1800's, this timeless communication tool has been archiving human connection since we could document it and has proved to be a crucial tool applicable to any task.
Note taking tips and how they improve workflows.
For a journalist, note-taking isn't just a useful skill — it is the lifeblood of your story. When you're reporting on a council meeting, you have access to resources to help you traverse the murky waters of local city government, such as:
A stapled meeting agenda of bulleted items, hearing titles and ordinance numbers.




A broadcast video stream posted online to go over later that night.




A digital tape recorder to start/pause/bookmark wherever necessary.



Though useful, these resources fail to capture what a keen note-taker can — the expression on the speaker's face; the ferocity of the weather outside; the way a presenter's hands shake at the podium or the sweat beading on their forehead; the tension that pierces the long silences between a controversial hearing's public comments.
Effectively taking notes is not a skill limited to the profession of writing, though. We
lose 40%
of the information we read or hear within the first 24 hours. Whether in a lecture, meeting or interviewing a client, the action of physically documenting events as they are happening helps this memory loss as well as the communication and organization in your busy schedule. Here are a few note taking tips to help you utilize your time in meetings to the highest potential.
Headings
— Start every meeting by noting the date, project and names of those involved in the meeting. This provides context later, when you're hustling to find an idea mentioned at a staff meeting on the afternoon of April 5, 2016.
Focus on details
— Forcing your mind to zero in on details is what really helps the conceptual aspect of note-taking.
Psychologists found
that when we are only listening to a lecture, our brain records all information equally. However, when we are taking notes, our mind can more easily grasp at concrete details and store them off, helping us to retain those points.
Notate linearly
— Making notes that are linear will help your memory contract a timeline of events. Once a note triggers a memory, you can work down the timeline to find the information you were trying to recall, even at a much later date.
Review
—
Studies show
that when we learn new information, we remember it best immediately after we have learned it, so review, prioritize and fill any gaps in your notes after writing them!
Turn off spellcheck
— When you're taking notes in real-time, there's no need to write everything perfectly. In fact, writing verbatim is less helpful for recollection later on. We call this the "transcription zombie syndrome;" you're so focused on getting every word, your mind is no longer processing the information.
Symbols
— Some note-takers have their own set of shorthand and symbols to help them write faster if they are using a pen and paper. Either way, symbols, highlighters or different colored pens can help you speed your writing process and quickly group or color-code single notes into connecting topics.
Active listening
— One resounding benefit to note taking is that it forces you to be an active listener and participator. This adds value to yourself, your work and the speaker's time. If you were to meet with a client for the first time, or interview a subject for an article, you will both appear and be more engaged with the subject by taking notes than if you simply sat and watched them. This kinesthetic way of listening shows not only that you care, but it enhances that one-on-one human relationship between a speaker and listener.
The benefits of paper.
Handwriting allows for more cognitive processing of information, forcing the writer to focus on important details, translate the information to their own words and avoid word-for-word transcription. In fact, students who take handwritten notes
generally outperform
those who type their notes on a digital device, leading professors to encourage spiral-bound notebooks over their technological alternatives.
With pen and paper, you can break outside of the standard characters of writing programs with the ability to circle, highlight, scribble and connect ideas without the added distraction of having to alter settings and press buttons. Thoughts are abstract and therefore difficult to fit into a digital program, no matter how flexible it is.
The benefits of software.
Although researchers tend to favor handwriting, digital note taking offers some unique benefits, such as organization and collaboration with other medias.
Notability
is an iOS application that allows the note taker to type, draw, highlight, copy, paste and move objects, record and insert photos all in a single document. Notes can be organized into folders and easily retrieved, proving that technology is making an effort to meet the creative ends of our minds. Digitization makes it easier to share notes either on a projector for a presentation, or through email.
Other helpful applications are
EverNote
,
SilverNote
and
OneNote
. There are also some useful settings on Microsoft Word, one of which will black everything behind a document out, limiting your urge to open another program to distract yourself.
Conclusion
The lifeblood of most business transactions is good communication. Between clients, between employees, business to business communication — all of it ensures success and efficiency. However you choose to do so, whether with pen and composition book or iPad and stylus, documenting ideas — along with feeding our inherent need for posterity — helps us to avoid miscommunications and mistakes while being involved and respectful to those we are listening to.

by
Mira Brody
in
Announcements
,
Google
,
Industry News
Google announced its plans to release an ad filter for Chrome next year. Although it may sound counterintuitive for a company who makes most of its revenue from advertising to block ads, Google has a solid plan.
Specifics have not been released by Google yet, but Senior Vice President of Google, Sridhar Ramaswamy, states that their goal is to support websites and users by making online ads less annoying to "maintain a sustainable web for everyone." It will work on both mobile and desktop and follow what the Coalition for Better Ads refer to as "Better Ads Standards." It is important to note here that Google is a primary member of the Coalition for Better Ads — and that this will most certainly give Google an unprecedented amount of power over advertisers and publishers.
What are "Better Ads Standards"?
The Better Ads Standards are based off of data gathered from over 25,000 users tested on both desktop and mobile interfaces. Ads that did not make the cut for a "good" experience were:
Ads with sound




Popup ads




Ads that cover content with a countdown




Large, sticky ads




Flashing, animated ads




Auto-playing videos




Full-screen scrollovers



The ads that Google Chrome's new ad blocker actually blocks will be based off of these standards — annoying or intrusive advertisements, like videos that autoplay with sound or interstitials that take up the entire screen. But there are drawbacks to building an ad blocker into Chrome: most notably, the amount of power it gives Google.
Why we should be skeptical.
No matter your opinion of ad blockers, there are a few red flags to take note of with Google's newest business venture:
Chrome's Browser Share — Chrome currently holds 54% of desktop and mobile browser share, meaning this new ad blocker will, by default, be enabled for a significant majority of internet users.

Google's relationship with ad blockers — Google has already been paying off ad blockers to keep its own ads visible, offering companies 30% of their advertisement revenue.


Google's relationship with other advertisers — by positioning themselves as the gatekeepers of what constitutes acceptable advertising, Google is giving themselves (as the world's largest advertising company) what might constitute an unfair advantage over their competition.




Google's relationship with publishers — With this new ad blocker, Google is including an option for visitors to pay websites that they're blocking ads on, through a program it's calling Funding Choices. Publishers will have to enable support for this feature individually and it would guarantee them a revenue stream, either through charging consumers for an ad-free experience, or from the ads themselves.



After the launch of their ad blocker for Chrome, Google will have not only have control of the online advertising market, but the online ad blocking market as well — they will unashamedly determine not only what we see, but also what we don't see in the name of an improved experience.
by
Mira Brody
in
Content
,
Tools & Tips
Not every business has a slogan, but if you're one that does, you'll understand that they are a huge part of your branding and overall marketing strategy. A good slogan will engage customers and promote a company, while a poorly-executed one can destroy credibility.
The Good
Although there is no concrete formula, here are a few qualities that have built successful slogans in the past.
Memorability
— To be effective, a company slogan needs to be memorable. A classic is the "Got Milk?" campaign by the California Milk Processor Board, made famous by the 1993 "
Who Shot Alexander Hamilton?
" commercial. To this day, the phrase "Got ___?" is used as homage to that original campaign.
Show your company's mission
— A slogan should exemplify the company's mission, what they believe in and what they can provide their consumers. This rings true with Disneyland's motto: "The happiest place on earth."
Why you're better
— Some successful slogans simply communicate to their customers why they should prefer their brand over competition. Kellogg's Tony the Tiger asserts why you should eat Frosted Flakes with his catchphrase, "They're G-r-r-r-eat!" while the Las Vegas tourism department entices visitors with "What happens here, stays here."
Remember your product
— Too many bad slogans are disconnected from the item they are selling. In 1992 the National Livestock and Meat Board launched "Beef. It's what's for dinner," a slogan that clearly states the product being marketed and continues to resonate in Robert Mitchum's voice.
Brevity
— You'll notice none of the examples above are more than five words. Although there is no official rule, shorter is better: try keeping it under 8 words.
The Bad
Just as a good slogan can boost your brand and remain relevant for decades, a bad one can ruin your brand. Here are a few things a slogan should not be —
Too vague
— Using indefinite pronouns such as "better," or "the best," is unhelpful to customers and will make your brand sound too vague. A failed Mercedes slogan which read, "
The best or nothing
," left people confused as did a similar campaign by ADIDAS' — "Impossible is nothing."
What's in it for them?
— Your consumers will want to know what the benefits of your product are. Tagline such as Delta Airlines' "We'll get you there," and Ford's "Drive one" fell on deaf ears simply because there was nothing in it for the customer.
Dishonesty
— Campbell's Soup tried the slogan "Soup is good food" back in 1980, only to get a slap on the wrist by the FDA due to their products' high sodium content. They reacted by switching back to "Mmm! Mmm! Good!"
Don't fix what isn't broken
— Maxwell Coffee changed "Good to the last drop," their slogan since 1915, to "Better beans make better coffee." Customers weren't keen on the change and Maxwell eventually switched back. The same thing happened to Burger King when they swapped their infamous "Have it your way" with "Be your way."
The Ugly
Sometimes, slogans are memorable, but not great…these can fall under what we call the "ugly" category. A few examples:
"What can brown do for you?" — UPS' unintentional bathroom humor.
"The more you play with it, the harder it gets." — Who new SEGA was so NSFW?
"I shoot people and pets." — Ill-phrased photography company.
"Why not enjoy the go?" — Charmin. At least their product belongs in the bathroom.
"Lovin' beats hatin'." — The read-headed stepchild of MacDonalds' original "I'm lovin' it."
Conclusion
Your business's tagline or slogan should be a short, memorable phrase you use regularly for advertising and branding. Taglines have been proven an effective means at drawing attention to the benefits of your product and services. If you feel your slogan — or any aspect of your branding — is outdated, not working for you, or are in need of establishing a new one all together,
give us a call
! Our team would love to help your business utilize the power of effective and professional branding.
by
Mira Brody
in
Announcements
,
Tools & Tips
Are you struggling to manage your WordPress website and can't seem to get ahold of the developer or design firm that helped you launch it? JTech is happy to announce that we are now offering help to businesses with existing WordPress websites.
Having a broken or hacked site is frustrating and detrimental to your business. It lowers the credibility of your brand and can hinder sales and customer conversations. For example, here are just a few common issues we see on a daily basis:
If you have a broken contact form, no one will be able to reach you.




If your site is not designed for mobile, you are invisible to over

50%

of all internet browsers.




If the content on your site is not properly optimized, you will not appear in search results.



If your site is bloated and slow, your customers will leave before it even loads.

How We Help
If you feel your business is being held back by your WordPress site, here are a few ways our team can help you get back on track so you can make the most of your investment:
Hosting
— JTech will host your site on our own servers. A good hosting provider not only improves the performance of your website, but also utilizes best practices to keep backups, patch known vulnerabilities, and passively monitor your site to keep your business and your customers safe.
Broken Links
— Too many broken links on a site can cause your search ranking to suffer! We run tests that identify any broken links on your site and subsequently fix or remove them so they don't damage your site to keep your ranking in search results.
Functionality
— Our development team can thoroughly test your site, ensuring no critical feature is broken. This includes all forms and submissions, and a design that is usable for all devices. If anything is found, we'd be happy to fix it for you so that your customers are provided with the best possible user experience when working with your business.
Content and Optimization
— Because JTech has both digital marketing and copywriting departments, the content on your WordPress site is in the best possible hands. Our marketing team will conduct a thorough SEO review backed by keyword and competitor research to best position you in search results, driving traffic to your site. We can also review and copyedit your existing site copy so that it is readable and useful to your customers and indexable by Google and other search engines.
Ongoing Management
— We understand managing a website can be a time-consuming technical project that not everyone has time for. JTech would be pleased to set up ongoing support for your WordPress site, updating content as you need it, launching advertisement campaigns — anything necessary to help you succeed.
Conclusion
JTech is always looking for new ways to help clients do business online. If your business wants help with your WordPress site — or another template-driven system such as Joomla or Drupal —
give us a call.
by
Mira Brody
in
Optimization
,
Tools & Tips
While some businesses produce goods to sell directly to consumers, others — JTech being one of them — build products for use by other businesses. This business to business (B2B) relationship requires a special approach to digital marketing and because it relates to our own experience, we thought we'd share a few of our own insights with you.
Content Marketing
— Writing for your industry peers is different then writing directly to the consumer. A few ways you can direct your content marketing strategy to attract businesses is through a blog or newsletter. JTech manages our own
Web Design and SEO Blog
, but we also send out a monthly digest of our posts so the businesses on our mailing list can easily peruse the articles we've written by headline.
When writing, we consider the how our posts can answer questions or create value for the reader. One of our more popular resources is the documentation for a tool we created to work with the flowchart application OmniGraffle —
jtCount
. These articles are not only helpful to business owners, but also build authority among our industry peers.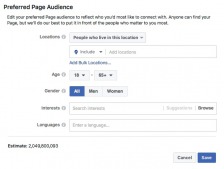 Social Media
— Your business is likely already using social media, but there are a few simple tweaks that can make your approach more effective for business-to-business communication. You can start by making sure all of your pages are
verified
and customizing the audience settings. For example, with a Facebook business page, you can specify who you are targeting under Preferred Page Audience. Much as we do with our blog, JTech uses Facebook to target industry peers by publishing tools and tips that we think may be helpful to them. Curate content — such as a blog or newsletter as mentioned above — and use your social platform to easily distribute it.
A couple other social platforms you may consider for reaching decision makers in your industry are LinkedIn and Google+. LinkedIn aims content at businesses and business owners, pushing popular articles to their newsfeed based on industry type, and Google+ has Communities, where you can connect with other businesses and post content and discussion topics within a common community interest. If you are interested in more on this topic, here are a few,
easy-to-implement thoughts
on how to best use social media to your advantage.
Site Optimization
— Optimizing your site for other business owners requires research on what products and services you can provide and optimizing your site for keywords that will fit your target businesses. Keyword research then informs the site's architecture and workflow, allowing you to guide your business clients to the most relevant parts of your site — often utilizing
landing pages
to focus your message.
Landing Pages
— When you have a clear sense of what your business customers are searching for, a focused landing page with specific content written to solve their problem can be the perfect way to attract those businesses. JTech's digital strategy utilizes landing pages based on both region and service. Our regional landing page campaigns include businesses in Butte, Billings, and Jackson Hole, while our service-focused landing pages target those searching for web design, web development and SEO.
Analytics
— Carefully monitor your website's Analytics to determine where your traffic is coming from and what content they are most interested in. You can then adjust your marketing strategy to work to these insights and launch ad campaigns that target those businesses that find your site useful. If you want to unlock the power of
Analytics
check out our guide to Analytics' capabilities and a more detailed breakdown of the
five Analytics you should be watching
.
Conclusion
The focus of marketing to other businesses is about positioning your company within your industry to be found by businesses seeking your services. You can do this by catering your digital marketing strategy toward your industry peers through content marketing, social media and many other channels — consistently presenting the way you can help other businesses achieve their goals. Through our business to business relationships, our team builds solutions through the creation of websites and web apps so that our business clients can better serve their customers. If you are in need of a custom solution for your business or would like to revisit your digital strategy to ensure you are targeting the correct market, give
JTech a call
.
by
Mira Brody
in
Announcements
,
Design
,
Development
,
Tools & Tips
If you're a user of My JTech, our custom content management system, we just added several helpful support articles, accessible under the Support navigation item after you log in. These articles will assist you in managing your website by walking you through the various tools My JTech has to offer.
Here are the new and revised support articles you'll find in My JTech:
The Basics of Website Management
Overview & Introduction to My JTech




Organizing Your Favorites




The Database List View




Feedback & Support



Editing a Page or Record
Editing Text




File Attachment Tool




Metadata




The Image Editor



Using the Mass Mailing System
Address Book




Setting Up a Mailing List




Sending Newsletters



We encourage you to read through these informative articles — you may not only understand My JTech better, but also learn something new!
by
Mira Brody
in
Announcements
,
Design
,
Development
To help prepare the
Gallatin Valley YMCA
in Bozeman for their transition into a brand-new campus, we've implemented a few changes to their existing website. Leading up to their grand opening, the YMCA has been hard at work trying to reach the fundraising goal for their Capital Campaign.
With these website additions, donors can now purchase one of the following: Name a Place, Buy a Brick, Buy a Tree, Park a Bike or Display a Work of Art. Descriptions of each can be found on their
Capital Campaign
page and they can be purchased directly on the
Give
page. Once you select an item, you can enter your engraving of choice on the gifts that include an engraved plaque.
We are always happy to work with the Gallatin Valley YMCA and are excited for the grand opening of their new facility!