Web Design and SEO Blog
by
Mira Brody
in
Announcements
,
Industry News
,
Security
An article on security, by our partners at Wolfguard IT

2-factor authentication is when a website or software you use to store private information utilizes an extra level of security in addition to a traditional password. These are crucial to protecting your bank accounts, social media and email from potential data hacks. Learn about the importance of using 2-factor authentication in this helpful blog article by Wolfguard IT.
Why 2-Factor Authentication is Important
.
by
Mira Brody
in
Announcements
,
Google
,
Industry News
,
Optimization
,
SEO
,
Tools & Tips
…And how you can prepare your site.
For a couple years now, Google Search has been displaying "featured snippets" above results. Featured snippets are meant to provide a user with information from the top search result so they can quickly get the answer to their question and assess the credibility of the source before navigating to the site. Google's newest form of search result snippets take the form of Q&A, FAQ and How To — here is a brief overview of each before they officially debut.
Q&A
Q&A snippets will be shown when Google detects that a reputable site has questions and answers in its content. After the preview of the answer, Google will provide a "read more" link to drive users to the source.
FAQ
FAQs will be presented as questions with expandable answers, very similar to how common questions are displayed currently in search results.
How To
How Tos will be a condensed set of instructions, similar to how recipes are currently displayed, with a "read more" link to the website.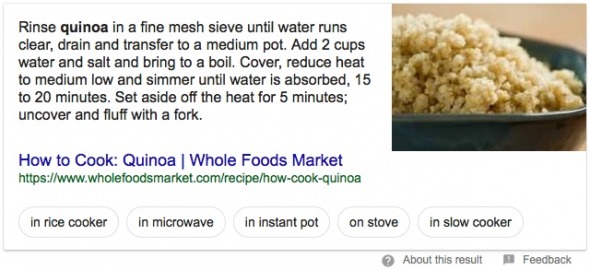 Prepare Your Website
In order to best position yourself to be featured in these snippets and visible to your customers, you can update your website's code to used structured data — schema — that will help Google easily understand the purpose and content of your website. While Google hasn't formalized these features, a standardized schema for these data types exists and is documented on
schema.org
. To increase the likelihood of content on your site being served as a featured snippet, you could start structuring the data on your site now.
by
Mira Brody
in
Announcements
JTech is excited to participate in Bowl For Kids' Sake to benefit Big Brothers Big Sisters of Gallatin Valley!
JPEG Legs
, JTech is working to raise $600 for Big Brothers Big Sisters so they can continue to support children, families and volunteers in building long-lasting relationships in our community. We have until October 5th to achieve our fundraising goal and we need your help!
Just head over to our
fundraising page
and part with some of your hoarded doubloons to support us and this worthy cause!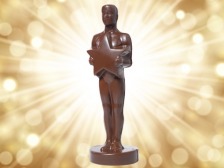 Any amount is greatly appreciated and a sound investment in a child's lifelong learning. To celebrate reaching our fundraising goal, the JPEG Legs will head down to the Bozeman Bowl with our fellow participating businesses and dominate the alley. The team member who has raised the most money will receive this prestigious chocolate Fundraising Award.
by
Mira Brody
in
Google
,
Industry News
,
Optimization
,
SEO
,
Tools & Tips

While "Google My Business" may feel like a mouthful, it is rather simple to set up, and hugely beneficial to the visibility of your business in Google search results. A Google My Business listing allows customers to view a helpful business "card" with your business information directly in their results when they search for your products and services in Google Search and Google Maps. This information includes: photos, ratings and reviews, address and phone number, hours, website address, Q&A, popular times and suggested businesses nearby.
Why this benefits your business.
Google may have created a card for your business already, in which case you will need to claim it. If you haven't reviewed this data for accuracy, you should, as maintaining your Google My Business listing offers a multitude of digital marketing benefits to you, at no extra cost.
1. Front-row visibility
The internet allows access to — some would argue — too much information. This creates "information overload" where consumers are faced with so many choices that they are unsure which to filter out. Your Google My Business listing can help those overwhelmed with search results make a decision to visit or contact your business first.
2. More accurate insights
Google Analytics draws insight data from your Google My Business listing to learn more about how your visitors find you. With this data, you can tweak your keyword strategy or ad campaigns to target customers more effectively.
3. Google posts
Google Posts are a way to display promotions or announcements that will show up in your Google My Business card. Google Posts allow for a video or image, a heading, a short description to draw viewers in, and a call to action.
4. Reputation
Since customer reviews drive nearly
90% of customer buying decisions
, displaying these positive reviews whenever possible should be a priority. Your business reviews from Facebook, Google, Yelp and other websites that collect customer feedback, will appear on your Google My Business card, motivating customers to consider you as a reputable company.
Manage Your Google My Business Account Today!
Managing your Google My Business listing is easy, improves your search visibility and makes it easier for your customers to find out who you are directly from search results. Visit
https://www.google.com/business/
to create a new Google My Business listing or to claim an existing listing, and as always,
contact us
if you need help.
by
Mira Brody
in
Announcements
,
Content
,
Design
,
Development
When bootstrapping a new business — even on a modest budget — never underestimate the value of your online presence. We're working with Nordic Team Solutions, a new business based out of Bozeman and founded by Olympian Andy Newell, to establish an online presence. He offers coaching, team training and other athletic resources for Nordic and Cross-Country ski teams aiming for Olympic qualification. Here are some benefits Andy will garner from having a custom, professional website as a foundation for his new business.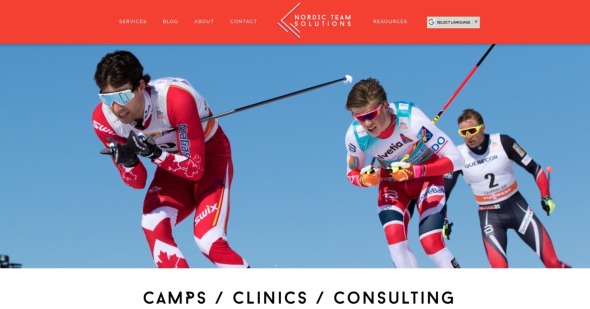 Availability
— A website allows your business to be open and available 24 hours a day, seven days a week. Your customers won't have to plan their lives around storefront business hours to learn about you or sign up for your services.
Point of Contact
— A website provides a way for clients to contact you through the channel you want them to. Whether by phone, email, contact form or even online chat service, you can provide customer service from anywhere.
Competition
— Chances are, your competition has a website. Armed with a goal-oriented digital marketing plan, you can use yours to build search ranking with targeted keywords and and meet them head-on. The higher you business appears in search results and the better you promote your products and services, the more likely it is potential customers will choose you over competitors.
Credibility
— In addition to selling his ski coaching services, Andy is using his website to publish content for his site visitors. His blog will build credibility and convert visitors into paying subscribers for access to his more in-depth gated content, setting him apart as a leader in his industry.
Business Scaleability
— From this first version of Nordic Team Solutions' new website, they will have the ability to add on features and grow as needed. One possible addition would be to add a fully-automated subscription service, complete with payment processing and a mailing system that generated customer notifications when needed. Another addition down the line would be an automatic mass mailing system that would send his customers a digest of new blogs posts every week or month to keep them informed.
We are excited to be a part of Nordic Team Solutions' new venture, and invite you to check out the new site
here
. If you are a new business owner and are looking to start off on the right foot,
talk to us
about how a new and affordable advanced website can guarantee your online success.
by
Mira Brody
in
Announcements
,
Design
,
Development
,
UX
American Paintball Park is just one of many clients who have improved the user experience of their site with a new site overhaul.
American Paintball Park in Livermore, CA is devoted to providing customers with safe and competitive paintball fun. Our team here at JTech recently had the pleasure of giving their website a much-needed facelift. This overhaul updates the content and design and improves the user experience and in particular, provided the opportunity to make improvements to their online reservation system.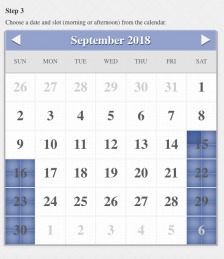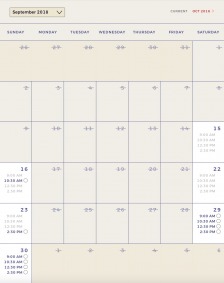 Adding the Details
In the previous design of the booking system for American Paintball, time slots were represented as unlabeled "boxes," with the times listed further down on the page, detached from the booking calendar. We improved this experience by clearly listing the reservation times inside the calendar itself so that customers can select their desired time with no confusion.
The time slots shown change according to which reservation package is selected, and a summary of what you are booking is displayed at the bottom of the page throughout the process.
Mobile Responsive
The site is now accessible on any type of device regardless of screen size, so customers can book a party on their tablet or phone as well as their computer. Accordingly, the calendar and reservation form is designed to cleanly collapse to fit within the screen. These vital transactions are no longer hindered by old technology and are now easily accessible and navigable by everyone.
Check out American Paintball Park's new site today!
Contact Us For Help!
If you suspect your aging website is an obstacle to your business goals, you would benefit from a user experience evaluation or a complete overhaul. Give our experts
a call
! We'd be happy to help you locate your customer "sticking points" and ways to improve your bottom line, just as we did for American Paintball Park.
by
Mira Brody
in
Announcements
,
Tools & Tips
We are excited to launch employee onboarding and management in My JTech!
From My JTech, you can invite a teammate. They will be sent an invitation providing a link that allows them to create an account.
2. Manage All Teammates
After logging into My JTech, under Custom Tools, open your Manage Team drawer. From here, you can see all of the teammates who have access to your site through My JTech, invite new teammates, and remove teammates using the button in the top-right of their box.
3. Fine-tune Teammate Access
After a teammate has accepted your invitation, you can manage their permissions by tapping the Manage Access link at the bottom of that teammate's box.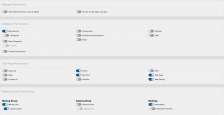 For a thorough walk-through of how to use this new system, please refer
to our helpful Support article titled "Onboard and Manage Your Team."
We are confident this addition will provide you with the tools to better manage those you wish to administrate your website. If you have any questions or need assistance, don't hesitate to
contact us
.
by
Mira Brody & Wolfguard IT
in

Although it may seem like everyone is certified to work on your computer, it is important to weigh the risks of hiring a reputable IT company versus a student with some computer skills. Our partners at Wolfguard IT provide expert advice on this topic and much more in a recent blog post, "Should You Let an Amateur Loose on Your Network?"
Read more
here
!
by
Mira Brody
in
Google
,
Optimization
,
SEO
,
Tools & Tips
Tips on how the design of your website can supplement your digital marketing strategy and improve key metrics.
With any online business, it is important to carefully measure and track your marketing analytics. Sometimes, improving your marketing strategy can start with your web design. Here are a few key performance metrics that can be improved with web design to keep you moving ahead.
Visitors
You should always keep an eye on your visitor analytics; where they are coming from, how they are interacting with your site and whether they are new to your site or returning.
Optimize for
new traffic
by organically applying keywords in your content.
The Gem Gallery
is a great example of this — by designing their navigation around their services, we were able to incorporate top keywords, such as "Yogo Sapphire" "Montana Sapphire" and "Engagement Rings" into the core of their site.
These keywords attract visitors using search engines to find jewelers who sell Yogo and Montana sapphires and set The Gem Gallery high in search results — above even Wikipedia.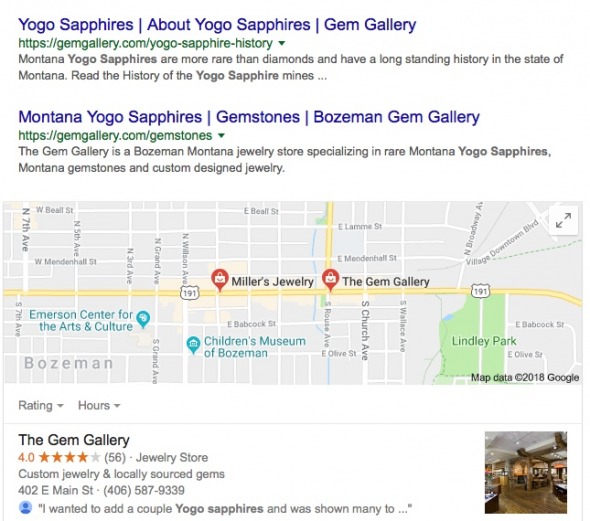 In addition to driving new traffic to your site, you'll want to continue taking good care of your
return visitors
.
Silver Screen Insider
does a good job of this — this entertainment industry database and marketing service puts effort into constantly changing the content on their homepage, with movie trailers, news articles and box office results. This keeps things fresh for their loyal customer base and maintains their good search ranking, as Google favors a consistent stream of original content.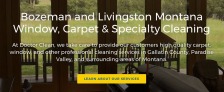 Conversions
Where do you want to see conversions on your site? Do you want people to complete a purchase, fill out a contact form or read about your services? You can drive your site visitors to meet all of these conversion goals, and many more, through the language and placement of your calls to action. On the site of
Dr. Clean
, for example, after a brief introduction of the professional cleaning business, we placed a call to action that will invite the visitor down the page to a more extensive exploration of their services. From the services section of the page, our goal is then to drive people to their contact form to complete a contact action. In this way, the design of the website helps the flow of traffic to the desired end result.
Exit Rates
Identify where people are leaving your website — then evaluate those pages and the path taken to the exit carefully. First, determine whether it is a page you want people to leave from, such as a purchase confirmation or contact thank you state. A few common examples of why someone would leave a page unexpectedly could be: broken links, an ineffective call to action, or page load time. If all of these are looking good, try adding a call-to-action — you could refer them to your blog or contact form to eliminate any dead ends and keep them engaged on the site.
Conclusion
Although design and digital marketing may seem like separate departments, you will get the most out of your website if they work together as a team. An effective website will always be designed around what you want your visitors to do and make their experience a good one, therefore keeping them on the site and encouraging them to become a returning customer. If you feel like your marketing statistics may be failing due to poor web design,
give us a call
— we'd be happy to evaluate and provide solutions for you and your customers' pain points.
by
Mira Brody
in
Google
,
Industry News
,
Security
,
Tools & Tips
In response to the new
GDPR requirements
as set forth by the European Union, Google has placed the responsibility for data retention policies in the hands of publishers. Google sent an
email
to Analytics customers last month informing them of this change and to update their desired settings by May 25th — the date the GDPR took effect. At first glance, it may seen charitable that Google would allow publishers more power over their visitor's security. However, this simply places the responsibility of GDPR-mandated data storage changes into the hands of you or your agency representative — rather than Google taking on the responsibility themselves.
Here's what you need to know:
This Data Retention controls determine how long website user data from views, sessions, users, pageviews and events is held on Google servers. Google Analytics will automatically delete user and event data that is older than the retention period you select.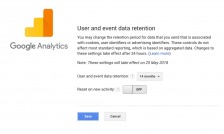 To change retention duration, log into your Analytics account as an administrator and navigate to "tracking info." Under the heading "User and event data retention" there's a dropdown list where you can choose how long you'd like to store your visitor's aggregate data: 14 months, 26 months, 38 months, 50 months or "do not automatically expire." If you do not change you settings, it will default to 26 months.
Conclusion
The intention of GDPR is that you should only be storing user data that you're actively using to run your business — and in the eyes of the European Union, storing data for all eternity simply for reporting purposes is no longer a good enough reason. Even if Google is creating flexible tools to take some heat off themselves, it is reducing the risk of publishers breaking the new rules that GDPR has put into place. The duration you set is really up to you and your businesses needs, however it is always important to stay informed of these changes in Analytics and the motivations behind them.
We recommend logging into your own Analytics account and reviewing your settings to ensure they are to your liking. If you are a Digital Marketing client of JTech and have any questions about this Google update, let us know and we'd be happy to take a look at your Analytics account and adjust the settings for you.