Web Design and SEO Blog
by
Mira Brody
in
Announcements
,
Design
,
Development
Route 93 Pizza Mill is a new eatery opening in Eureka, Montana looking to serve a wide variety of clientele and promote their business with a brand new website. Eureka is a small town in the northwest region of the state and Route 93 is a main artery for tourist traffic to and from the Canadian border. The new pizza restaurant will look to serve a wide menu including pizzas, pastas entrees, burgers, salads, deserts as well as wine and beer. They especially want to provide a late-night option for locals looking for a family-friendly place to watch sports or those simply passing through town for a bite to eat.

Our teams's primary focus for this web development project will be to give Route 93 Pizza an advantage over their competitors by establishing a distinctive online space for their new business. It will feature location and contact information as well as access to their menu and thoroughly represent the expected atmosphere and service to attract the full range of their target market.

We are excited to play a pivotal role in establishing an online authority for their region as well as drool over their menu and daydream of pizza as we work on this new website.
by
Mira Brody
in
Social Media
,
Tools & Tips
Another Super Bowl has come and gone, and whether you watched for the game, the commercials, Halftime Show or the Puppy Bowl, you are a consumer of primetime marketing for businesses all over the country. Just as these corporations scramble to buy a commercial slot during the Super Bowl, you too should be scrambling to market your business on social media when the most people will be watching.
Social media is an effective tool for your business to not only drive more traffic to your website, but also a place to build customer relations and represent your brand. Because platforms like Facebook and Instagram are casual mediums, users more more receptive to personalized, conversational posts, even if they are motivated by business.
We've done some research to determine your primetime for posting on some of the most popular social media platforms.
Facebook
Weekdays vs. Weekends — While visitors to Facebook spike on Thursday and Friday, engagement is at its peak (a 17% increase) on weekends.

Timing — Call it an after lunch productivity lull, but post shares are highest at 1:00PM while clicks are highest at 3:00PM.
Instagram
Images are consumable — Instagram delivers engagement to brands in the form of clicks, likes, comments and shares 58 times more per follower than Facebook and 120 times more than Twitter.

Case of the Mondays — People seem to be on Instagram mostly on Mondays from 3-4:00PM.
LinkedIn
Workplace referrals — LinkedIn is responsible for 64% of all social referrals to cooperate websites.

Timing — The most LinkedIn engagement is on weekdays, namely Tuesdays, between 10-11:00AM.
Pinterest
Pinning is winning — Although 71% of Pinterest users are female, most of these gals (29%) are using the site once a week, while 17% visit every single day, presenting a huge window for those using it as a platform to market products.

Late-night Pinning — The most engagement is observed on Saturday between 2 and 4:00PM and again from 8:00PM to 1:00AM.
Don't miss out on your primetime audience! Think of theatre — your performance can be incredible, but if you start an hour after your audience has already left, no one will be there to enjoy it.
by
Mira Brody
in
Tools & Tips
Who are my customers?
What challenges are they facing?
What tasks do they want to complete on my website?
Why are they leaving my site?
What can I do to convert them into regular buyers?
These are common questions that business owners ask; after all, who doesn't want to know how to draw in more customers? All of them, and many more, can be answered through the implementation of company-specific buyer personas.
Personas are fictional characters created to represent the various demographics that might use a site, brand, or product. They are a common tool in marketing to attract the right customers, locate potential gaps in your strategy; places where you may lose buyers, because running a business isn't only about solving your own issues, but those of your customers as well.
When I build personas for JTech's clients, I carefully consider the goals, desires and limitations of the people they are looking to serve. The team as a whole then applies these personas to the copy, design, development and testing of the site. We've found that by testing the site as a user with specific needs and concerns as opposed to dummy data, we reveal areas of refinement to improve the user experience.
Aside from foundational details such as name, gender, age, job title and family details, here are some more specific qualities I consider when creating these characters for a new site:
Primary goals for visiting

How can we make sure these goals are met?

What can we do to ensure they are a repeat customer?

What are their personal values?

What are their objections and how can we navigate them?

How else can we create a positive user experience for this persona?
Building personas for your brand is a great way to add a human element to your services; we are developing sites for humans, after all.
by
Mira Brody
in
Industry News
,
Tools & Tips
Most of us are familiar with the jolt of turning your phone on in the middle of the night. That piercing ray of light, destroying your pupils and any chance of quickly falling back to sleep. There are even studies that show that most lighting with an abundance of blue tones (like the one emitting from your screen) can inhibit the production of melatonin and increase alerting effects; bad news for those with high anxiety, sensitive eyes or who already have trouble falling asleep.
Night Shift, a technology being integrated into iOS's forthcoming software update, will allow you to control the temperature settings on your mobile device. Essentially, the color temperature of your phone, tablet or computer screen automatically adjusts to match the position of the sun in your location. In the daytime, your screen will be its bright, normal self as it competes with the sun. As the day progresses and the sun begins to set, blue tones will be replaced with those of redder hues to match the natural, fading light, similar to candlelight, fireplaces or that "mood" lighting intimate restaurants often employ. By eliminating the blue hues, the light your screen emits is more natural, easing some of those sleepless nights.
If you're an early adopter, Night Shift is available in public beta and will be released officially in the iOS 9.3 update — your eyes will thank you.
by
Mira Brody
in
Announcements
,
Design
,
Development
Best on Board helps leaders in healthcare more effectively govern on behalf of the communities they serve through communication, education and certification programs. Their courses focus on strengthening current and prospective trustees of the healthcare system to deepen their understanding of board responsibilities and can be taken in person or online.
Best on Board was acquired by one of our clients,
Montana Health Network
, and our designers and developers will take this opportunity to reestablish their brand by building them a new website using responsive web design. While their new website will initially be narrowly-focused, providing a menu of their courses, description of Best on Board's role in their communities and a contact form for support and inquiries, in the future they intend to rebuild an entire application to raise it to modern standards.
We are excited to be working with MHN again as a part of their new venture!
by
Mira Brody
in
Announcements
,
Design
,
Development
Our team is working on a new site — REM Solutions. REM Solutions offers a multitude of support to small and medium businesses, specializing in payment processing, operations management and fraud protection. Although many merchants offer the ability to process credit and debit cards as payment for their services, it is often a confusing territory with little to no customer service involved. REM offers friendly services with comprehensive support and demystifying analysis of the most cost-effective options for your business.

We are designing a site that provides a simple breakdown of the services REM provides complete with a contact form for potential customers. We are excited to get started on this new project and present an outstanding resource to the local community.
by
Mira Brody
in
Content
,
Imagery
,
Tools & Tips
If you aren't sure, don't make the mistake of waiting until you get a cease and desist letter in the mail. Although imagery is a crucial aspect of your site, if you didn't create the photo yourself, chances are you'll have to seek permission from the copyright owner.
Pulling images off of Google or other search engines can be a gamble due to the use of software by copyright companies to track their property — it just isn't worth the risk. Here are some safe ways to make sure you are image sourcing without risking your credibility or income:
Create the image yourself. Either by honing your own photoshop or photography skills or hiring an expert for your job.

Contact the artist. Many artists and image resources are fine with you purchasing their work, but will ask for a fee, a copyright agreement or a proper attribution.

Utilize public domain. There are a ton of sources that provide images for free because their owners have deliberately released them for public use. (Unsplash, Pixabay, PicJumbo and PublicDomainPictures, to name a few).
Images are a huge part of your organization's initial presentation to visitors, but infringing a copyright can warrant some serious consequences, making it well worth the time and money to
acquire yours legally.
by
Mira Brody
in
Tools & Tips
Location, location, location. We've so often been told that when it comes to running a successful business, location is key. So what happens when your business conducts a lot of its work online? Although there are an abundance of mapping applications available to those looking to embed interactive directions to their online interface, Google Maps remains the stedfast choice due to its precision and familiarity.
How to add Google Map directions to your site without it looking like the bland page of a Craigslist post, though? Enter:
Snazzy Maps.

Snazzy Maps allows you to:
Customize coloring and texture to your personalized Google Maps

Create and display custom labels

Easily embed them in your site using a Javascript API

Use these maps on your site for free, due to a Creative Commons License

The conviction your visitors have when navigating your website is not only dependent on them finding what they need, such as directions to your storefront, but is also improved by a flawless design experience. Our developers use Snazzy Maps in order to match the unique branding of our customers' sites, much like we did for
Price Rite Drug
, displayed above. We are able to apply the hex codes of the purple and green into Price Rite's design interface to the responsive map on their Contact Us page to allow for a more cohesive look throughout their site.
Customizing the map on your site is a useful design pattern to better serve those using your website, will add convenience and solidify your branding, leading to increased user interaction and trust in your organization.
by
Mira Brody
in
Announcements
,
Content
In the past, we've supplemented our website with technical and business-related articles as well as weekly announcements. To start off the new year, we've adapted a few changes to this publication process:

Flexible, consumable content. We have a lot of experience in the technical world and we want to share what we believe will benefit your business in the most consumable way possible. Browse between marketing and SEO tips, industry happenings, company announcements and other articles discussing web design and development.

Locate what you need or browse what you want. We're rebuilding our news page to include categories and a search filter, ensuring you can find specific articles or simply browse a subject you are most interested in. Also in the works is a "related content" display, which will show suggestions based on the tags your are using.

We hope these changes will be beneficial to you and your success as we continue to build custom solutions and knowledge-share to help you thrive online.
by
Mira Brody
in
Announcements
,
Design
,
Development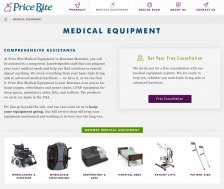 JTech is proud to launch a new website for a local Bozeman pharmacy and medical equipment supplier, Price Rite Drug and Medical Equipment. Price Rite has been in business since 1972 in Montana and not only fulfills pharmaceutical needs, but also specializes in finding the medical equipment that will better your daily mobility. Randy and his knowledgable staff along with XSENSOR pressure mapping technology will help you find a custom and comfortable equipment fit and are available for equipment servicing and repairs as well.
Price Rite's new site is optimized for mobile devices with updated branding and an interactive medical equipment page that allows customers to browse equipment by category and read about their catalog of products. There is also the option to request a consultation, order a prescription refill and keep up on Price Rite's helpful health blog.
It was a pleasure working with Price Rite once again since their initial website build and we invite you to view their new site
here.