Web Design and SEO Blog
by
Mira Brody
in
Announcements
,
Design
,
Development
Local Bozeman, MT painting contractor gets a new website.
Bennett Painting
is a professional contractor, and has been painting interior, exterior and commercial properties in the Bozeman community for over 30 years. The Bennett team believes in honest work, exceptional customer service and that a fresh coat of paint can be a fresh start for your home or business.
The Bennett Painting website was designed and developed as part of our
Bozeman Websites
product line. First custom-designed by our designers, our development team had a lot of fun bringing this website to life, ensuring a pleasant experience for all of Bennett's current and potential customers. This site includes a section describing different painting services, complete with a service detail where before and after photography is displayed. These services can be edited and additional ones added by the Bennett staff through our content management system, My JTech. Also included in this single-page scrolling website is a contact form so that inquiring customers can easily get in touch.
We had a great time building this website and are confidant it will serve Bennett Painting for many years to come!
by
Mira Brody
in
Industry News
While Google is off building new ways to make more money out of the personal data they collect from their users, Apple — a direct competitor in certain areas — is seeking out methods to further protect their customers from being tracked online. WebKit, the framework behind the Safari Browser, is launching a feature called Intelligent Tracking Prevention which works to limit cookies and other ways websites track their visitors. This feature protects Safari's users as well as improving their experience online — trackers can expose personal browsing activity and bloat the time it takes to load a page.
What This Means For Safari Users
Popular websites you visit every day utilize something called cross-tracking and third party cookies. This means if you're shopping on macys.com, then switch to amazon.com, your browser will have stored third party cookies that allow Amazon to know exactly what you were looking for at Macy's, impacting the products and prices you see. Airlines take similar actions when users are comparing prices for fares — tracking your destinations, dates traveling and sites visited will then alter the fare prices the longer you search.
Although it sounds innocent enough, websites are constantly collecting data about your online habits and then sharing it with other companies. Safari's Intelligent Tracking Prevention protects you somewhat from this unwarranted invasion.
How it Works
This new feature collects information from page loads and user interactions and stores it in a silo for each privately-controlled domain name. When you visit a site, WebKit classifies whether that domain name tracks users, and keeps track of how recently you interacted with that domain. Information is then purged on a set timeline:
Within 24 hours of visiting a website (for instance Facebook), cookies from that site can be used on another site. This allows you to do things like post comments using your Facebook profile on a third-party website.




After 24 hours have passed since you visited a website, its cookies become unavailable for use on other websites. In our Facebook example, this means Facebook would not be able to continue tracking your activity around the web — and that you wouldn't be pre-authenticated to use your Facebook credentials for the third-party website's comments. Because its cookies were still being stored (in a secure "silo"), Facebook's website would still remember your credentials when you you visited facebook.com.




After 30 days, if you have not visited a website, any cookies being stored by that site are then purged entirely.



Over time, this ensures that the only cookies tracking your behavior are from the sites you use most, whereas everything else is automatically dumped without you having to worry about it.
You Should Value Your Privacy
Apple is aware that websites need on-device storage such as cookies in order to provide the optimal user experience — their goal is to strike a healthy balance between this reality and your privacy. For more information, check out WebKit's
official article
announcing this Intelligent Tracking Prevention feature.
by
Mira Brody
in
Google
,
Industry News
Project Owl is an undertaking by Google to reduce the amount of misinformation and hate speech online. Google stated on their blog, "The most high profile of these issues is the phenomenon of 'fake news,' where content on the web has contributed to the spread of blatantly misleading, low quality, offensive or downright false information." The internet is an easy channel by which to distribute misinformation, and Google has taken on the role of trying to filter it out.
Although currently only
0.25%
of Google's daily search queries yield results that fit their definition of "fake news," they recently faced backlash over a slew of controversial search results, including
conflicting answers
to scientifically established facts and top results that deny the Holocaust. From algorithm updates to user feedback, here is an overview of the ways Project Owl is helping boost the authenticity of their search results.
User Feedback
— The biggest change from Project Owl is the ability to leave search result feedback using the "Report inappropriate predictions" link in Autocomplete or the "Feedback" link under Search Snippets.
An example of the report link under Autocomplete…
…And a feedback link under a Search Snippet.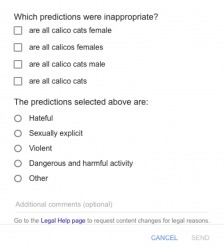 These feedback links open a questionnaire, asking for more information. Google plans to use this feedback to improve their search algorithm.
Search Ranking
— Project Owl underlines efforts to ensure trusted sources and authoritative content with higher search ranking appear in top results. Evaluators — real people behind the scenes who work with Google — are tasked with gathering data about the quality of results. Updated Search Quality Rater Guidelines provide details of what low-quality webpages look like so that these raters can flag them appropriately. Examples of low-quality content would include: misleading information, offensive results, hoaxes and unsupported conspiracy theories. These updates will solve problem search results like the
Holocaust denial
scandal back in December in which a white supremacist site was used as a reputable source.
Transparency
— Lastly, Google is publishing their content policy
publicly
so that users understand exactly how Autocomplete, Search Snippets and other search features operate. They also released the article "How Search Works" to provide users with in-depth information about what happens behind the scenes of every search query.
What the means for marketers.
For those on the content marketing side of these algorithm updates, site authority will be your most powerful tool. Produce high-quality content and share it on other reputable websites, focusing on authoritative inbound and outbound links. Also, it is good to note that with the new user feedback tool, Google will only remove rich snippets in response to a large amount of negative feedback, so as long as your content is generally regarded highly, you will not be punished for a handful of negative reports.
Of the
40,000
searches they receive every second, only a small sliver provide problematic results. Because of this, Project Owl is a more concentrated effort toward Google's overall mission statement, which is "to organize the world's information and make it universally accessible and useful." While we should always hold a certain level of skepticism when browsing the internet for factual data, it is important to know that Google is attempting to do some of the work for us — and giving us tools to improve the experience for ourselves and others.
by
Mira Brody
in
Announcements
,
Design
,
Development
Four Corners Pawn is a pawn shop in Four Corners, Montana. They serve the Gallatin Canyon and Bozeman area with professional, efficient and secure pawn services — whether you need fast cash, a loan or are shopping around for products, owner Shawn Hanson, with his 20 years in the industry, and the rest of his team are happy to serve you.
Four Corners Pawn was recently purchased by new owners and needed a new website that represented their rebranding. Their marketing goals include drawing in more customers from Bozeman as well as serving as a pawn loan resource for those not only in need, but also those wanting cash for home improvement and personal vacations. Our team built for them a new website that will not only reach these audiences and list new products available in the store, but also includes an advanced contact form. The contact form adapts to the user's needs, whether they have a question, are requesting a quote or reporting a stolen item. Check out their
new website
today!
by
Mira Brody
in
Announcements
JTech will be closed on the Fourth of July so we can enjoy food and fun with our family and friends. Our office will reopen on Wednesday, July 5th!

We hope all of you have a fun and safe Fourth!

by
Mira Brody
in
Announcements
Managing your website is about to get a bit easier! We are excited to announce the upcoming addition of domain management to My JTech. Features to look forward to:
Purchasing new domain — Search for and purchase a new domain name to round out your business.

Checking availability — Get the scoop on a domain you are interested in, including information directly from whois.

Transfer — Transfer an existing domain from another registrant to JTech, so we can look out for you.

Domain renewal — Domain names will automatically renew until cancelled, so you don't have to worry about losing them.

Edit domain — Easily make edits to your domain registrant information.

All this will be easily managed from your My JTech account. Keep your eyes open for an email announcing the official launch summer with additional information!
by
Mira Brody
in
Design
,
Development

Our team is currently underway on an advanced eCommerce shopping platform for one of our longtime clients. We are super excited to be working on this project and wanted to show off a few of its features.

Customer Portal — Customers will be able to login to their account, and save their settings for rapid checkout as well as choose a favorite store at which they shop. They can build a wishlist or add items to their cart, reorder previous transactions, purchase and pay with store gift cards and use coupon codes.

In-Store Pickup Support — Not only can they have items shipped to their doorstep, but customers will also be able to schedule an in-store pickup and be notified when their order is ready. This benefits those in rural areas who rarely travel to town.

Store Intranet — In addition, our client will be able to use this eCommerce system to manage their inventory, view statistics, manage their shipping operations and easily process all types of payments.

All of these features will be built into the company's existing website so that it is a cohesive user experience. This makes for an easy transition as longtime customers will not have to adapt to a new interface.

Your website has the potential to not only serve as a marketing tool to grow sales, but to also automate everyday administrative tasks, serve your existing customers and save you money in the long run by streamlining the way you do business. If your business is looking for something by which to more easily sell your products and services online, don't hesitate to contact us. We would love to take you on as our next project!

by
Mira Brody
in
Announcements
,
Imagery
,
Tools & Tips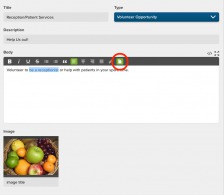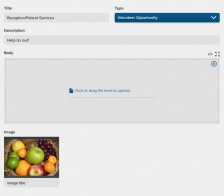 We are excited to announce the launch of a helpful new feature in My JTech! Our new file linking tool allows you to easily embed files in your website. This tool is great for linking to PDFs, reports, maps and any other resource you want your site visitors to download. It can help you easily provide supporting information on your site.
How to use the My JTech file linking tool:
1. You can create links to files using My JTech in any of the area fields with a toolbar. Select the text you wish to use as a link to the file. If no text is selected, the file will be attached where your cursor was positioned and the text of the link will appear as the file name.
2. After your text is highlighted, click the file icon — the rightmost icon of the text area's grey toolbar. Clicking the icon temporarily replaces your text input with a file upload area. You can either click the link to upload a file with the standard file picker dialog, or you can simply drag and drop your file directly into the file upload area.

3. When you're done creating or editing the record, just click 'save' or 'create' and that's it! Visit your website to see the new link to your file. In the image above, you can see the resulting file link on Estes Park's website.

This great new tool is available for you to use right now. If you have any trouble or questions, there is a useful
help article
located in the support area of My JTech, or
contact us
and we'd be happy to walk you through the steps.
by
Mira Brody
in
Optimization
,
SEO
,
Tools & Tips
Keywords are the words and phrases in your website content that make it easy for search engines to refer your products and services to the customers who are searching for them. They are strategically woven in your site's content and metadata so that when people use those words in search engines such as Google or Bing, you will be visible as a result. In order to apply the keywords that will garner you the most relevant traffic, proper research must be conducted. Our experts have put together a list of common keyword research mistakes to help you stay on track and keep your business's site working at its best for you.
Mistake #1: Using Only Top Keywords
The problem with using a few, broad words is that everyone else is using them as well, so there's nothing setting you apart from others in your industry. These tactics are often practiced by solicitors claiming to be able to get you "highest ranking and top keywords for you today!" Companies making such claims will often use shady tactics that disregard the needs of your site visitors in favor of juicing the site with keywords and breaking the SEO guidelines of major search engines in order to achieve high rankings. These tactics can harm you in many ways that we won't go into, but you'll want to work within the 'rules' established by the search engines.
Think outside the box: each of your webpages should be optimized for specific terms in addition to the major ones. For example, an airport website should obviously contain "airport," and "transportation" but terms specific to that airport's services such as "Yellowstone flights," "National Park attractions," and specific airlines like "Delta," and "United." For more information on this careful balance between different types of keywords, check out our infographic on the
Long Tail Theory
.
Mistake #2: Plural vs. Singular Terms
It is a common mistake to use the incorrect tense when applying keywords. While most businesses are thinking in terms of their products ("our wedding cakes"), customers are actually thinking in terms of themselves and their own needs ("a wedding cake"). Although Google is good at determining these relations, it will serve you well to provide the correct term — whether it be plural or singular — to begin with.

Think like your customer. How are they searching for you? Are they looking for "cheap rental homes" or a "cheap rental house"? Choosing the correct number of products or services can boost your search ranking. Even if it is only by a little, it can be the difference between making or losing a sale.

Mistake #3: Forgetting Geographical Terms
This one is particularly important for those with a regional or local radius. Just as you don't want to show in the search results for a town where you don't do business, you'll want to rank highly in the area you do serve. For example, "Montana web design," "Bozeman web design," and "web design" will all garner different results, drawing in different audiences.

Make a list of the major areas you serve and leverage those terms as valuable keywords. Including your address and location coordinates in your metadata is important for Google as well.

Mistake #4: Ignoring Your Competitors
Nelson Mandela said: "If you want to make peace with your enemy, you have to work with your enemy." This holds true in digital marketing as well; always research what your competitors are doing so that you can stay ahead of them.

A major part of the digital marketing evaluations we conduct for our clients involve competitor analysis. We check for keywords they are using, their search ranking, and discover opportunities to land keywords they are not utilizing to gain momentum.


Mistake #5: Cruise Control
A stale set of keywords may lead your search ranking to dwindle from sight. Your business's market is constantly changing waters, and conducting regular digital strategy evaluations will help you stay afloat. These reviews will help you identify poorly-performing keywords, find new keywords to add and plan ahead for any changes you foresee happening to your business.
Contact JTech if you need help with these evaluations — our skilled digital marketing team would be happy to help make sure your website is fully-services and continually working for you.
Conclusion
In order for your customers to find you, search engines need to properly index your website. Using the proper keywords will drive the most relevant traffic to your site, ensuring your visitors are converted into paying customers. Carefully evaluate and prioritize which keywords could be targeted as most profitable to your business, but keep in mind the common mistakes listed above to ensure you are not wasting any time in your marketing efforts. And, as always,
contact us
if you need any help.
by
Mira Brody
in
Design
,
Industry News
,
Tools & Tips
When major industries consolidate and buy each other out, they aren't only buying a product or the ingredients in it — they're paying for the brand's value. Building brand recognition in your industry takes years and a single slip-up can leave customers with a negative memory of your name.
JTech has paired with local creative Jordan Lacenski, owner of
BrandBoss Creative
, to bring you the very best branding expertise. We interviewed her about how your business can achieve the very best brand recognition so you can stand out amongst your competitors.
JTech: Why is branding important for your business?
Jordan: Your brand is your identity. It's who you are, what you do, how you do it, and WHY. Consumers are inundated with advertising every day, from the labels on their favorite wine to a $5 million dollar Super Bowl commercial.

Strong branding should be memorable, it should create trust and communicate your value. A strong brand attracts and inspires the right employees, and most importantly, a strong brand draws in new customers. Once you create a brand that clearly communicates who you are, what you stand for, you have to be consistent. You have to create rules, guidelines for your digital presence, your print collateral, your copy, your staff, your customer service. Each time you design and print a brochure, or even your business cards, you should come back to your brand foundation.


JTech: How does the establishment of a logo fit into branding?
Jordan:
Logo design should come after an in-depth exploration process. Yes, that's right, you should have homework. A deep dive into who you are, even if you think you already know, should take place before one pixel touches the page. We recommend a creative brief workshop or session. Look at your current state and how you are perceived, and explore the following points:
Is your mission current and applicable?




Look into your history, culture, and goals for the future:




How do you compare to your competitors?



Once you collect all of this data, refine it and move to the fun part — creating. Your logo is one of the single most important steps to your brand, so do it right the first time. The logo is just a start, the tagline, mission statement, voice and tone also communicate your brand and your values. These should all work together. Look at logos you like, look at those you don't. Define what you like and don't like about them and why. This is a great way to narrow down your taste and to train yourself to communicate the important details to whoever is doing the designing.
JTech: Do you encourage clients to allow you to build a logo from scratch, or will you work with an existing one, if they have it?
Jordan: It all depends on the client. We do everything custom, but if the initial logo has strong bones and is true to the client's goals and ideals for their identity, we will oftentimes rework it. We find that people come to us after they had a logo designed by a friend of family member, or off of one of those template websites. When they go to embroider it on hats, or brand packaging, they realize it's all wrong. We design emotive, functional logos. Our packages include all of the files necessary to brand everything you do with your logo. Versions including full color, all white, all black, and horizontal or stacked if necessary, are all included in our final deliverable.

JTech: When building a brand vs. a logo, are they separate processes, or do you see them as a single entity?
Jordan: Your logo should be an expression of your brand. The homework always comes first. Your logo will inspire designers you work with in the future to create consistent collateral. Before we deliver a logo, we ask if the client is interested in a brand kit, which includes a tagline, mission statement, fonts that complement the text in the logo, and the hex codes for their primary and secondary brand colors. These pieces all work together for a clear, consistent message.


JTech: What does your creative process look like?
Jordan:
We typically meet with the client and have them tell us their story. Some questions we find helpful to ask are:
Why did you start your business?




What's special about it?




What are you passionate about?




Who is your target market?



We then walk through a creative brief process and give them an in-depth questionnaire where we get a better idea of exact adjectives they want their logo to communicate, what they want their business to stand for. We deliver 3-5 initial logo options, each communicating what we believe to be a strong representation for the business and we talk these over with the client to see their reactions to each. We think about what the logo's intended use will be, where will it be printed? Then we refine and deliver a second round of options. We repeat. Then we refine again. With the third proof of options, we hope to be extremely close. If one is chosen, we package it up and deliver.
JTech: When you're working with a new business, what elements do you take into account?
Jordan:
New businesses are typically focused on their service, their product, and they are coming to us because they don't thrive in marketing and we are often helping guide these individuals through the process. We educate them on the importance of creating a brand in the right order, so their largest investments, such as their website, are consistent with their intended story. We consult, we advise, we pull examples, and we look at the entire brand as a whole before we begin discussing a logo.
Thank you for your time, Jordan — we appreciate the depth of expertise that you and your team at BrandBoss offer us as partners.
Conclusion
Establishing a brand and logo for your new business, or a new approach to an existing business, is a process we start early on — before building your new website. The website is then driven by this branding and works to communicate that throughout so you are memorable to your customers and authoritative in your industry. We encourage you to
contact us
or
BrandBoss
directly if you are interested in working on your company's branding.