Web Design and SEO Blog
by
Joshua Reynolds
in
Announcements
At the beginning of February, JTech was pleased to launch the Gem Gallery's new nationwide awareness campaign. Featuring Montana-made and the highest quality Yogo Sapphire jewelry, the marketing effort introduces the Gem Gallery's beautiful wares to a wider audience. The campaign targets prospective clients in Montana and around the country using targeted search keywords.


by
Joshua Reynolds
in
Announcements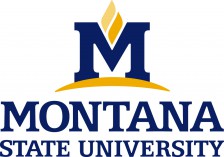 With JTech's expanding line of Internet Marketing services, we've started a marketing internship program with MSU and we're thrilled to welcome David Johanessen to the team during his final semester at Montana State. David will be assisting Mike with our search marketing efforts and absorbing as much information as possible this Winter and Spring. Welcome David!
by
Joshua Reynolds
in
Optimization
,
SEM
,
SEO
,
Tools & Tips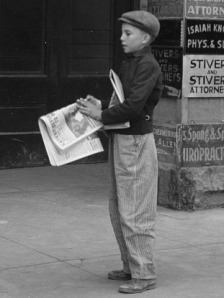 This month's marketing corner is concerned with an important subject: generating press and top-of-mind awareness for your company and its products or services. As business owners and managers, we want people to spend time talking about our businesses — newspaper articles, blog posts, and conversations over coffee with friends. But unless something really exciting happens, it can be difficult to get the conversation started.
We want to help you build that conversation-starter. Crafting and launching a press-release allows you to generate publicity from a broader array of sources than would be available in coverage from traditional sources such as newspapers, television and radio. A professionally-written news release published online can be automatically picked up by news services, blogs, and will generate inbound links to improve your website's ranking in search results.
For only $500 we write, optimize and blast your press release to thousands of news outlets and private sites who carry related news across the web. And, if you want greater impact, we'll send them every quarter for only $425 each. Contact us today and we'll get you started.
Nistler Home Building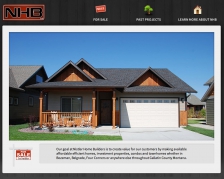 Whether you are looking for a single family home, condo, townhome or investment properties, Nistler Home Builders provides quality and value with integrity. Their new website provides clean and effective communication for home shoppers and subcontractors.
Tour the neighborhood at:
www.nhbmt.biz
by
Joshua Reynolds
in
Announcements
,
Tools & Tips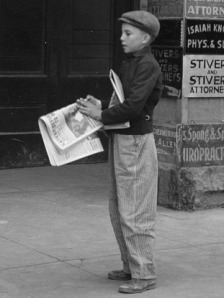 We're please to launch this news and announcements addition to the jtechcommunications.com website! Check back weekly for brief and, hopefully, useful updates.
by
Joshua Reynolds
in
Tools & Tips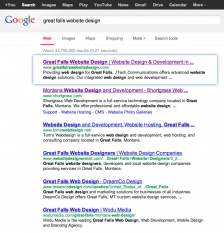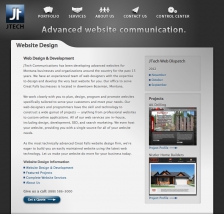 We know that you want people to find your website. Not just any people — people who are looking for your products or services and who want to be your customer. We spend a lot of time devising techniques to help the right people find your website.
In May we
introduced landing pages
— destination pages built to be found by people searching for a specific topic and to convert that traffic into business. Landing Pages can be built one-by-one by hand — or you can take advantage of JTech's new Landing Page System.
JTech's Landing Page System is designed to make it easy to create and maintain landing pages. You can do this on your own if you have the know-how, or use our comprehensive search marketing services and we'll do it for you. JTech can configure a spectrum of optimized landing pages that will drastically increase your website's visibility and ease of being found. You are probably targeting a specific demographic — perhaps by age or marital status, perhaps by their location — and we'll build landing pages to match these criteria. We've employed this approach for our own business and have been very pleased by the results.
We market JTech regionally in cities and towns where we do not have offices. Using the Landing Page System, we built several landing pages targeting these communities; for example: a Google search for "Great Falls website design" yields
our Great Falls landing page
as its top result. Mission accomplished.
If you'd like to learn more about how landing pages or our Landing Page System can be put to work to attract clients to your website, shoot us an email or call us and we'll be glad to help.
Mountain Arts Pottery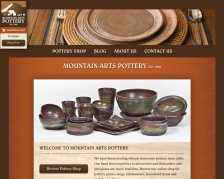 JTech's latest website is for Mountain Arts Pottery, a pottery shop in a charming log cabin on the outskirts of Bozeman. Dave and Jennie Lockie founded Mountain Arts in 1980, and have been making beautiful, hand-thrown stoneware pottery ever since.
We rebuilt their website to more prominently feature their pottery with a robust, beautiful shopping cart. The website brings forward the earthy charms of their pottery shop and makes it easy to peruse their gallery. Or for hearty good cheer, go down and visit their shop today. The coffee and cinnamon rolls served at their Coffee Pot Bakery Café can't be beat.
We invite you to take a look at their beautiful new website:
www.mtartspottery.com
by
Joshua Reynolds
in
Tools & Tips
Marketing Corner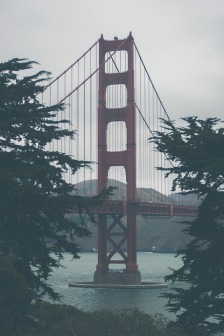 New Top-Level Domains
Earlier this year ICANN, the organization that regulates domain names, dramatically changed their rules to allow the creation of new top-level domain names beyond the handful we can use today. Top-level domains are the letters that come after the period in your domain name; for instance .COM, .ORG, .NET and .TV.
Beginning next year, potentially hundreds of new TLDs will be made available such as .TECH, .FILM, .BANK, .LAW, .COMPANY, and .FORSALE.
Click here
for a partial list of proposed new domain names.
This major change means that new top-level domains will become available for commercial registration in 2013 and will offer an alternative to existing top-level domains. A new domain that fits your business well could substantially enhance your online brand and make your business easier to find.
We thought up a few examples that could work well for some of our clients to give you an idea of how you might use these new domains: bozeman.bank for the Bank of Bozeman, leadership.montana for Leadership Montana, or clark.film for Clark Film Buying. In addition to improving your primary brand, the new top-level domains can be used with landing sites to improve your natural search rankings. Karst Stage, for instance, might be able to register yellowstone.bus as a targeted landing page with great SEO potential for tours of Yellowstone National Park.
The first round of top-level domains are still being approved, but they will be varied and plentiful — enough to provide a large degree of customization. If you're interested in harnessing these new domains, contact JTech soon so we can help you plan a strategy and assist by purchasing the domains you desire as they become available.
by
Joshua Reynolds
in
Tools & Tips


You want to do more than respond. And you already are: You're emailing your customers and sending them flyers in the mail — perhaps you're calling them on the phone and otherwise advertising to them. We created the JTech Mailing System to make it easier for you to build top-of-mind awareness in your customers through ongoing education and informative customer service.

MASS MAILINGS
Our mailing system scales effectively for businesses of any size. Let's break down what it offers:

Consumer email programs are designed for one-to-one communications, or perhaps between a small group of friends and family. Our system is designed for businesses to organize (multiple) large address books of clients, business partners, donors — and to send email blasts to any or all of them, as often as you want. Each message is individually addressed to its recipient.

DESIGNED TO FIT YOUR BRAND
Mailings sent from the mailing system are an extension of your brand. We custom-design the layout to guarantee your customers will receive beautiful, visual messages rather than a generic wall of text or a clumsy template.

The mailing system supports both public and private mailing lists. Public lists can be integrated into your website so that any interested parties can sign up on their own. You might maintain a private list for members only to announce special deals or upcoming events.

EASE OF USE
Planning an event? Write your message now and use our mailing system to schedule the mailing. The mailing editor is baked into the Control Center, where you're able to dynamically craft the message with images and articles. No need for any fiddly formatting — we do all that work behind the scenes.

Past issues of the JTech Dispatch have discussed newsletters as a way to increase your website's interactivity. The mailing system is our solution, which we love and use ourselves to send these newsletters. Get in touch with us today and we'll design your custom mailer.
Profound Knowledge Resources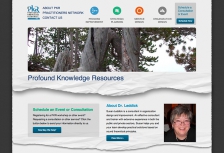 Profound Knowledge Resources is an organization design consulting firm helmed by Dr. Susan Leddick. PKR works with organizations of disparate size in diverse sectors to improve their strategy and execution while respecting their unique situation.
We just finished putting the finishing touches on PKR's new website, which is a study in clean simplicity. The website is concerned with tearing up our existing notions to make room for something new. Stop by and take a look.
www.pkrnet.com
by
Joshua Reynolds
in
Infographic
,
Tools & Tips
In all likelihood, you've seen them around. A modern marriage of statistics and illustration, infographics are an attractive way to present information. In addition to looking good, the visual cues present in infographics catch attention and help to process the information being presented.
Why does this matter to you?
On occasion, we have been known to design infographics. Why would you want one? A beautiful infographic is a quick way to get attention, and often results in links back to your website for better rankings in search results.
To give you a taste, we designed a simple infographic as a followup to last month's issue of the Dispatch. Consider this a reminder to take a look at our
mobile refit kit.
Announcing Heart of Bozeman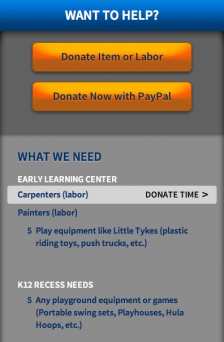 This month we set aside some of our design and production time to build a special website. Heart of Bozeman is a website designed to coordinate relief and assistance to those in need.
We were spurred to action by the arson at Heritage Christian School, which burned down much of the gym and auditorium. We heard the news, wondered how we could help, and realized that our team could rapidly assemble a website to help facilitate Heritage Christian's classes getting all the supplies they need.
We envision this site being used not just for Heritage Christian's recovery, but for future relief and recovery efforts in the Gallatin Valley. Have a look at the website — perhaps you have something the school still needs.
www.heartofbozeman.org
Price Rite Drug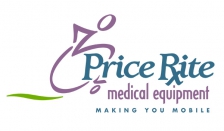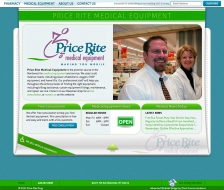 Price Rite Drug is Bozeman's family-owned pharmacy and has been serving the local community for 40 years. We rebuilt their website from scratch to make it easier to navigate and easier for the nice folks at Price Rite to update themselves with the latest news and products.
Next time you need medical equipment or something from the pharmacy, pay them a visit at N 7th & Tamarack in Bozeman. In the meantime, visit their website.
www.priceritedrug.com
by
Joshua Reynolds
in
Design
,
Industry News
,
UX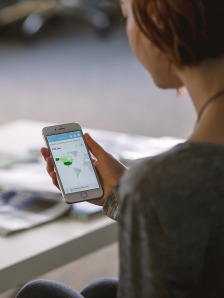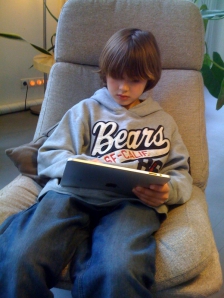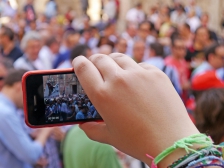 This month we're taking a break from our usual format to talk about the mobile web. We'll explore who's using it and how you can tap into that market with your website.
Who's using mobile?
The web is transforming. Take a look around next time you're at a restaurant or waiting in line to watch a movie. In all likelihood, you'll see at least a few people poking and swiping their smartphones — checking the weather, talking with friends, and browsing the web. Maybe you're doing so yourself. With the advent of easy to use smartphones, web use on mobile devices has surged.
Smartphone users are diverse. More than 50% of smartphone users are 35 or older, and they're equally men and women. How big a market are we talking about? In late 2011, sales of smartphones eclipsed those of laptop and desktop computers. For now, the market is only getting bigger, and mobile web browsing is on pace to catch up with traditional computer web browsing by 2015.
Pocket-Friendly Changes
What's the best way to capitalize on all these mobile web users? At JTech, we've developed a toolbox of ways to enhance your existing site for mobile without starting from scratch — The Mobile Refit Kit.
The changes range from simple to more comprehensive. Perhaps the most basic is reviewing "tap" functionality on your website; you'll want phone numbers to be tap-to-call, while fax numbers never should be. Other changes make the website a more friendly experience for mobile users: Adding advanced interactivity such as swiping through slideshows, or encouraging people to save their website as an app.
For the best mobile experience, we can create a complete version of your website designed just for mobile devices. In practice, this means a streamlined interface that makes it easier to find information and take action on a small screen.
Not Just Your Website
As well as upgrading your website, you may want to consider a mobile experience beyond your website: For instance, using social media to provide incentives for your customers to interact. How does this work? One example is Yelp check-ins for your business. Customer engagement is increased as Yelp's built-in system rewards them for frequent visits. Social media is a great channel for enhanced communication and special offers that can encourage your customers to think of you when they're on the go.
These enhancements are just the tip of the iceberg, but they're all available to you. Ask us about the Mobile Refit Kit; we're standing by, ready to help.
Featured Project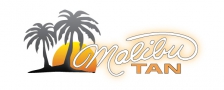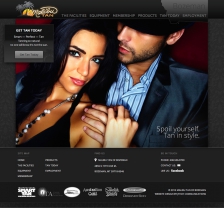 Malibu Tan
Malibu Tan of Bozeman commissioned us to develop a website with all the luxury of their state-of-the-art facility in the Gallatin Shopping Center on North 19th. We built them a smooth and spacious website with the same cleanliness and subtle golden glow you'll find when you visit their tanning studio.
Have a look at their website, then take a trip down to their studio. No appointment necessary.
www.malibutanmontana.com
by
Joshua Reynolds
in
Social Media
,
Tools & Tips

Interactivity Series #4: Social Media
The last few years have been a constant buzz about social media. Facebook and Twitter are names that everyone knows, and there are many others with their own twist on the same set of ideas. You already know about social media, though — many of you have asked us to incorporate Twitter or Facebook into your website. Let's look a bit closer at the whole phenomenon.
The success of social media has made it a popular for businesses. But wait! A Facebook page and a button on your website won't guarantee success. We've seen a lot of companies set up Facebook and Twitter accounts because they've heard it's what you have to do. Is that true for your company?
Having a Facebook or Twitter account that your company never uses is worse than not having an account at all. The echoing emptiness of your Facebook page will send the resounding message that nothing is going on with your company. If you're going to get social, do it right!
Find a social media platform that your customers are using. No idea where to start? Mashable provides a quick look at
who's using what
. Consider your message: if you're business-to-business, offer advice and trends. Do you sell to consumers? Send regular dispatches about what's new. A personal touch and frequent interaction is essential. The goal is for people to want to think about and look at your offerings, so be sure you are driving people from social media to your website rather than the other way around. Excited and ready? JTech can help you take advantage of social media today.
Featured Website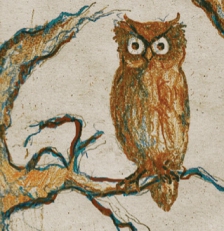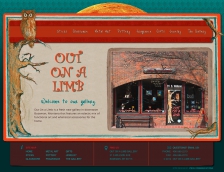 Out on a Limb Gallery
This month we're featuring Bozeman's newest art gallery: Out on a Limb. Out on a Limb Gallery is in downtown Bozeman and curates a playful assortment of functional and decorative art.
The site we built for Out on a Limb shines a spotlight on the same whimsical, handcrafted aesthetic that permeates their gallery. Do you have a taste for fresh and funky home art? Take a stroll through their website.
www.outonalimbgallery.com