Business Automation
Save Money With Automation
Our websites help you run your business better. Business automation allows you to focus on your goals, increase sales, and improve your bottom line.
Eliminate tedious workflows and repetitive tasks so you can spend your time in more valuable ways.
Stop wasting time. Automate your business today.
All Businesses Benefit From Automation
Read about how business automation saved this client time and resources.
Streamline Customer Onboarding—A Case Study
Spend more time on your business and less time on administrative duties.
You can use business automation tools to reduce time spent on customer quotes, employee onboarding, project tracking and more. Gather time card data online and have it flow into QuickBooks. Automate recurring payments by clients and automatically mark invoices as paid. Save time and money and serve your clients better by automating your business.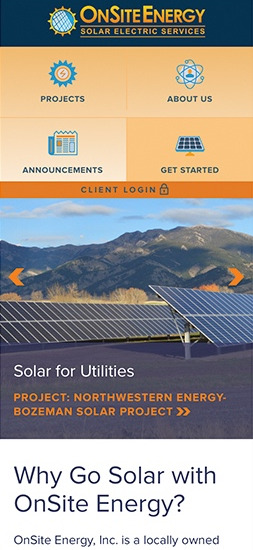 The New Project Questionnaire that JTech helped us add to our site has really helped to smooth out the early steps of the sales process; it is user friendly, more convenient for our customers and has improved our administrative efficiency.

Communications Director
Problem
Gathering the information necessary you need to generate quotes via phone and email is labor-intensive. You could be wasting valuable staff time communicating back-and-forth with prospective clients.
Case Study
OnSite Energy is a solar design and installation company based in Southwest Montana that manufactures and installs solar panels for residential and commercial properties. We built OnSite custom software that automatically quotes and onboards new clients into their project workflows—saving them time and money.
Solution
Build an information collecting questionnaire for pertinent information about solar projects (energy usage, roof type, shade in the area, photos of the site, and files—if necessary).




Build an automation that sends new or unique client accounts to OnSite staff to review.




Build an automation that sends files to the client after OnSite submits the project documentation through their account.




Thoroughly test the automation from start to finish—ensuring smooth information transfers.
Outcome
OnSite Energy and you—if you would like—can now quickly gather the information necessary to quote prospects for a new install.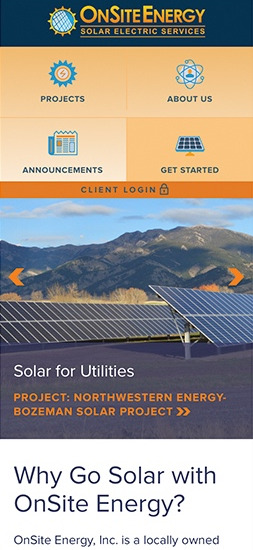 Business Automation FAQs
Q: What is business automation?
A: Custom software can replace tedious or frequently repeated manual tasks, saving your organization time and money.
Read Full FAQ
Q: How do I know if I need automation?
A: An organization can benefit from business automation if it is spending a lot of time answering phones, manually moving data or making appointments...
Read Full FAQ
Q: When does business automation produce ROI?
A: Depending on the task, business automation can produce a full return on investment in less than a year.
Read Full FAQ
Q: What are good examples of automation?
A: Replacing paperwork-heavy tasks for customer onboarding, accounting software integration, inventory management.
Read Full FAQ
Invest in Innovation
The power of business automation lies in its ability to reduce your operating costs in foundational ways. Your business should be able to run seamlessly and dispense data 24/7—worldwide.

Don't limit yourself with logistics—talk with us about automating your business.
Automate Your Business Today