Client Portfolio
Our clients are the reason we love our work.
We love to discover new ways to design, develop and improve every time we work with a new customer like you. Many of the Bozeman and Montana websites in our portfolio belong to clients we've partnered with for many years. We are honored to act as their guide in the improvement of their presence and operations online.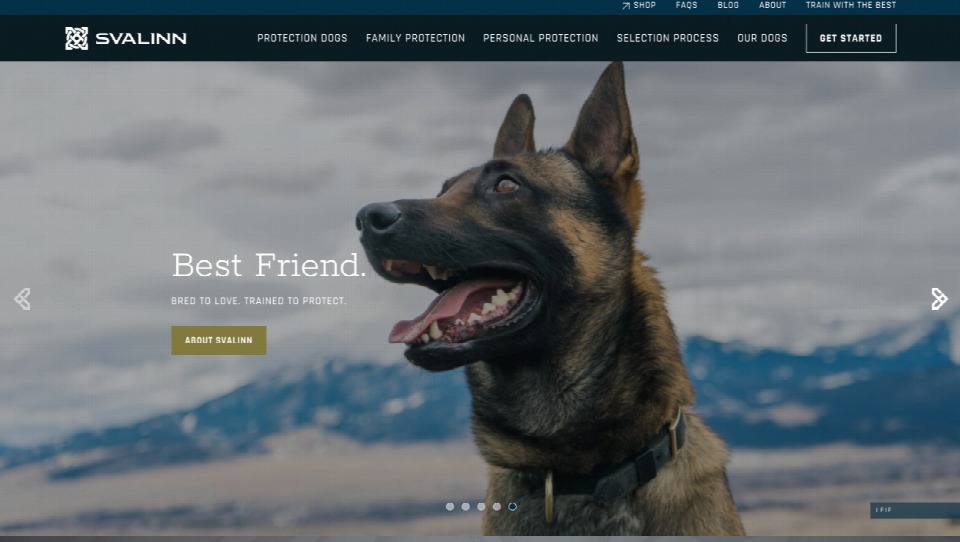 Svalinn
Svalinn Protection Dogs
Svalinn offers protection dogs for family and personal protection. They are bred to love, and trained to protect. They have an amazing selection of German, Dutch, and Belgian shepherds that are up for any task by your side. The selection process is easy and efficient, and customer satisfaction is guaranteed.
Featured Clients
Please browse the work we've done for our featured clients, sorted by the type of work they wanted us to do.
Montana Health Network
Montana Health Network is here to benefit healthcare institutions so they can provide better care to their communities. They serve by providing information and services to help stabilize businesses from their many years of experience. Check out their operations, credentialing, and provider education today.
McNally Plumbing
McNally Plumbing is the premiere plumbing service in Bozeman, Montana. They provide an array of plumbing services ranging from appliance installation, pipe rerouting, and leak repairs. They provide exceptional work and outstanding customer service.
Southwestern Montana Insurance Center
Southwestern Montana Insurance Center is the perfect place to ensure that that you have the right insurance for all your needs. For any individuals, nonprofits, and small or large businesses, they provide any coverage that will fit.
Health in Motion
Health in Motion specializes in a variety of integrative treatments that work in combination to tackle aches and pains that stem from a range of causes. They have a top priority in treating the entire body, not just one specific area of pain. Their amazing team of therapists put their patients first.
Hyalite Country Care
Hyalite Country Care's top priority is making every experience personal for every individual. They are a fully licensed senior care provider with over 10 years of experience in the field. For their residents they provide nutritious meals, exercise, and transportation. Hyalite Country Care is the perfect fit for any senior care needs.
Palmer Bit Company
Palmer Bit Company fabricates a multitude of custom-built carbide insert drag bits and hole-openers. They are number one for any bit repairs and restoration. They offer a complete line of tools by carrying bits from other manufacturers as well.
Silver Screen Insider
Silver Screen Insiders is the most trustworthy source for movie distribution information. They provide accurate information directly from sources like industry vendors. They are a comprehensive movie database to provide movie lovers and theater managers with what they need the most. Silver Screen is family owned and operated here in Bozeman, Montana.
Karon Custom Built
Karon Custom Built provides full-service passive home building and remodeling. They pride themselves on their energy-efficient homes, and comprehensive approach to create an amazing space for any of their clients. They take their time from start to finish on any project to produce the most amazing results possible.
Eagle Tire
Eagle Tire & Auto Repair Center is your hometown tire store and auto repair shop, providing professional and friendly service for all your vehicle needs.
Their customers are important to them, and they are here to serve their needs while keeping their best interests in mind. From tires services to engine diagnostics, Eagle Tire has got you covered.
Svalinn
Svalinn offers protection dogs for family and personal protection. They are bred to love, and trained to protect. They have an amazing selection of German, Dutch, and Belgian shepherds that are up for any task by your side. The selection process is easy and efficient, and customer satisfaction is guaranteed.
Gallatin County Fairgrounds
The Gallatin County Fairgrounds is home to a number of private, public, and athletic events. Also home to the Big Sky Country State Fair, they pride themselves on building a stronger community and bringing individuals together to learn and have fun. Check out how to host an event, or look at events to attend on their brand new website!
TowHaul
TowHaul Founder Frank Smith had the vision to manufacture the most reliable, efficient and adaptable off-road equipment in the mining industry. He was driven to create tough and versatile products that enhance equipment functionality in towing and hauling.
Outpost Restaurant
Outpost Restaurant is a family-friendly restaurant, offering home-cooked comfort food to all its patrons. Located in southwest Montana, it's a great place to visit for a warm and delicious meal after exploring the areas many natural wonders.
Club Wellness Evolutions
Recognizing the unique opportunity within private clubs to create a comprehensive wellness lifestyle for its members, Club Wellness Evolutions assists private clubs seeking to introduce or progress their existing wellness operations.
Kinship Connections of Wyoming
Kinship Connections of Wyoming is a much-needed service that provides a support system for caregivers — namely grandparents and extended family — who have been charged with raising a young child in need.
Big Sky Ebike Tours
Big Sky Ebike Tours allows people to explore majestic Yellowstone National Park, filled with breathtaking views and boundless adventure, all from the seat of an electric bicycle. Their guided tours provide added depth and appreciation for all the Park has to offer.
Fringe Benefit Resources
Fringe Benefit Resources believes in providing superior service and benefits for their clients by delivering sustainable employee benefit solutions, providing education to employees about their benefit resources and serving business clients with professionalism, integrity and respect.
Montana Log Restoration
Montana Log Restoration provides customers and their log homes with the best service, high-quality products and expertise that is essential in taking proper care of a log home and ensure its longevity. With over two decades of experience, they provide expert knowledge and guidance, guaranteeing the absolute best result.
Treasure State Hearing
Treasure State Hearing has operated in Bozeman for over 10 years, providing customers with professional and compassionate hearing services. They have been helping people hear better so they can regain their independence, and they believe it is important to develop an on-going and caring relationship with their patients.
Filmlites of Montana
Filmlites Montana showcases its expertise, scalability and unique film services with a new, modern website. Whether it's equipment rentals, special event lighting and production capabilities, visitors can learn more about Filmlites offerings and easily contact them to book services.
Design My Sign Today
Design My Sign Today is a new online business that provides its customers with the tools needed to design, order and install custom signage. JTech worked with entrepreneur Lisa Owens to bring her business idea to reality by developing a new brand, creating a beautiful custom website with an online shopping cart and driving traffic through digital marketing services.
Score Chaser
Score Chaser is the easiest, most powerful and most technically advanced solution for Sporting Clays competitors and clubs. It allows users to preview upcoming tournaments, setup and register for events, and participate in shoots across the country.
Wheeler Center
The Burton K. Wheeler Center for Public Policy in Bozeman, MT, promotes the discussion, analysis and eventual resolution of critical issues facing Montana and the region. The Center holds conferences, sponsors research and lectures, and publishes reports for those seeking solutions.
Resonon
Resonon provides complete hyperspectral imaging systems as well as custom hardware and software solutions for their hyperspectral cameras. Their cameras are compact, cost effective and provide excellent performance. Since 2002, Resonon has been an expert in hyperspecral imaging serving clients located all over the world from their headquarters in Bozeman, Montana.
Peak Property
Peak Property, a Bozeman based Property Management company provides housing to tenants, maximizes value for home owners, and assist investors in purchasing new properties. For over 24 years they've partnered with Montana State University offering incoming Freshman and their parents education on the Bozeman rental market.
Onsite Energy
OnSite Energy is a solar power contractor based out of Bozeman, Montana, specializing in solar electric (photovoltaic) project development, design, and installation. They have extensive industry knowledge and expertise, with a goal to empower community members through the use of clean renewable energy.
Gem Gallery
The Gem Gallery is a custom jewelry store, located in downtown Bozeman. They have been creating custom jewelry in gold, platinum, palladium and silver since 1994. From the beginning, they've boasted to have one of the largest selections of Yogo Sapphires around and are the owners of the Vortex Yogo Mine in Montana.

Sarah Day Bozeman Real Estate
Sarah Day is a Bozeman based real estate agent who donates 10% of her commissions to local organizations working in land conservation. She views this as a way to leverage the economic success of the valley to protect its open space.
Sphinx Mountain Outfitters
Sphinx Mountain Outfitters is the most experienced hunting and fishing outfitter in the region, providing a true guided wilderness experience for Montana residents and visitors for the past 25 years. Their guided excursions include bow and rifle hunting, horseback riding, backcountry and river trips.


Sphinx Mountain Custom Builders
Sphinx Mountain Custom Builders has been building unique homes and building one of a kind home furnishings since 2005. Their goal is to deliver top notch customer service and the highest quality craftsmanship on every new home and remodel construction project, making the homeowner's dreams come true.

Shipton's Big R
Shipton's Big R is family owned chain of managed retail, farm and ranch stores located in Montana and Wyoming. They provide services such as bulk propane, hunting and fishing licenses, special orders, and advice on animal care.

Scrolls of Legacy
Scrolls of Legacy offers a place for families to connect and record their history in a digital vault through an online subscription service. Subscribers can preserve their family memories and documents to continue their narrative in a safe place in order to share with future generations and loved ones.

Nordic Team Solutions
Nordic Team Solutions offers an online platform for professional consulting services to the nordic training community of student and professional athletes. Professional nordic skier and Olympian, Andy Newell and his team provide professional planning, strength, mental training and team building online and in-person to athletes all over the world.
Let's work together.
Partner with us to build a complete online presence that includes SEO, accessible design, mobile optimization, and a custom in-house CMS for your Montana website. Reach out for a free consultation and start your partnership with us today. We would love to speak with you.