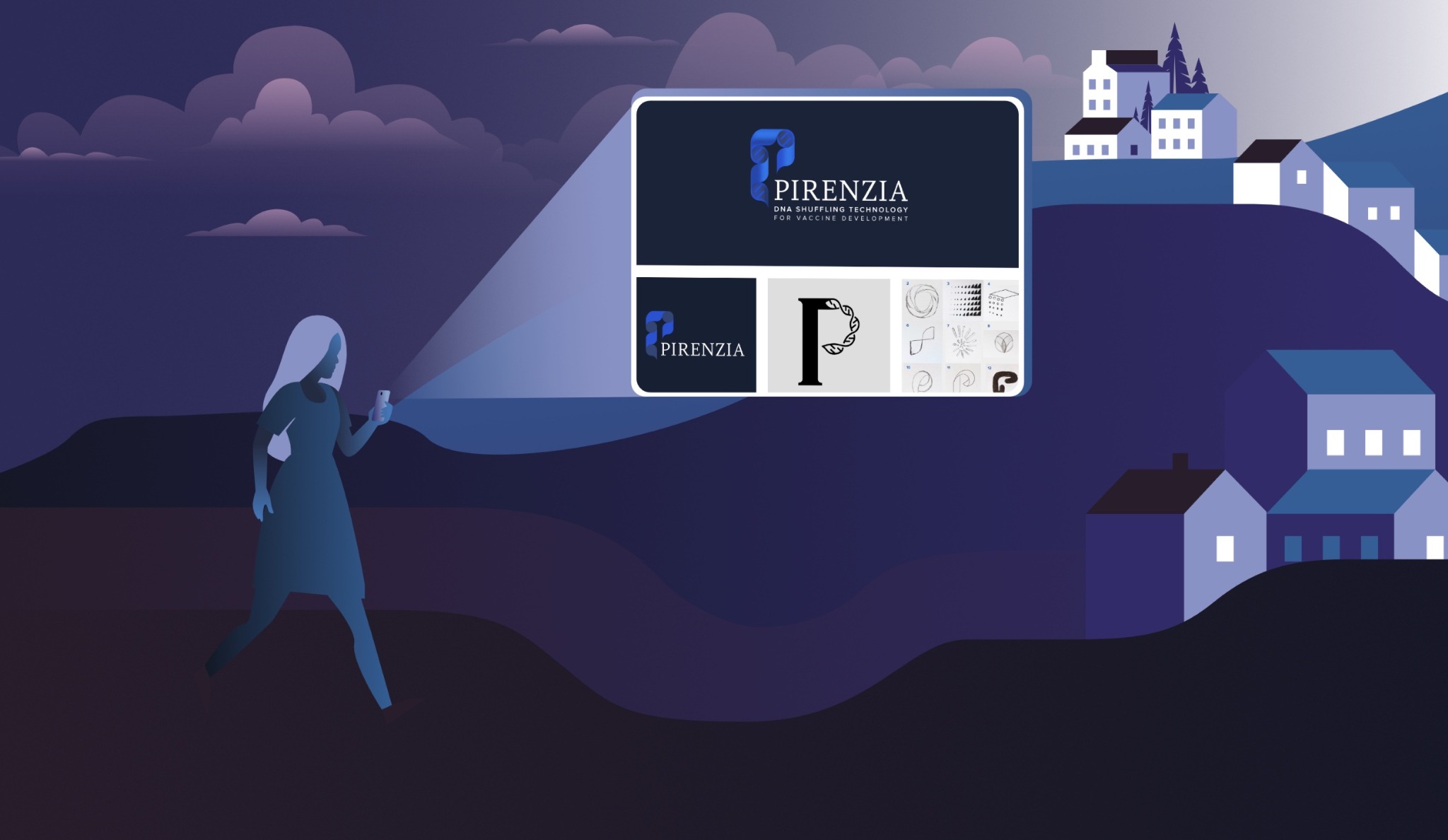 6 Modern Logo Ideas to Inspire Your Redesign
Every business is unique, and brands deserve a modern logo that exemplifies the 'X-Factor' behind their success.
So, why is logo design important?
A logo tells the story of your business in seconds by condensing the elements that make up your brand into a single, memorable visual.
Capturing your particular brand of lightning in a bottle is a delicate process, so we can't give you much exacting advice in a post as short as this. Still, we can give you six examples of modern logos to stoke your creativity.
These examples from the branding branch of our web design agency showcase diverse companies—from medical companies to outfitting and guiding.
1. Pirenzia: A Modern Logo for Vaccination Innovations
Pirenzia's Logo Evolution
The branding for Pirenzia uses the visual heritage of pharmaceutical companies to position them in their market as a modern company built on trusted technology. Pirenzia's logo combines familiar ingredients — a ribbon, DNA helix structure, and geometric shapes — into a memorable mark.
Pirenzia's branding speaks to the nature of the their vaccines while maintaining the brand's approachability.
We struck a balance between geometric abstraction and literalist clues about Pirenzia's specialty in DNA shuffling. This contrast helps Pirenzia stake their claim in the medical community.
2. Green Thumb Garden Supply: Nature Loving Logo Design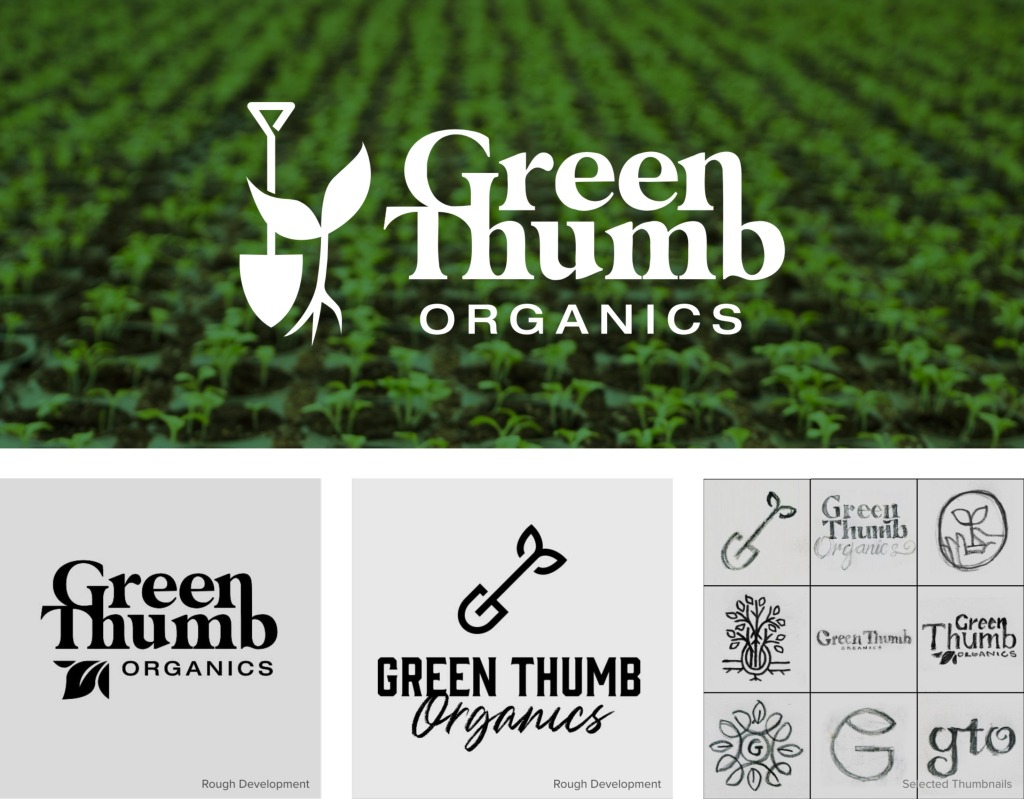 Green Thumb Organics Logo Evolution
Our branding for
Green Thumb Garden Supply
evokes the nearly primal relationship between the gardener and their garden.
This connection is represented everywhere within the logo. The 90 degree angles of the shovel blade's back and point flow together in a series of organic curves. The new growth overlaying the shovel combines a flowing form and sharp, piercing points. The text is a more rounded version of a traditionally hard-edged serif typeface.
This contrast results in a logo that's unique and distinctly connected.
3. Design My Sign Today: A Modern Approach to 3D Design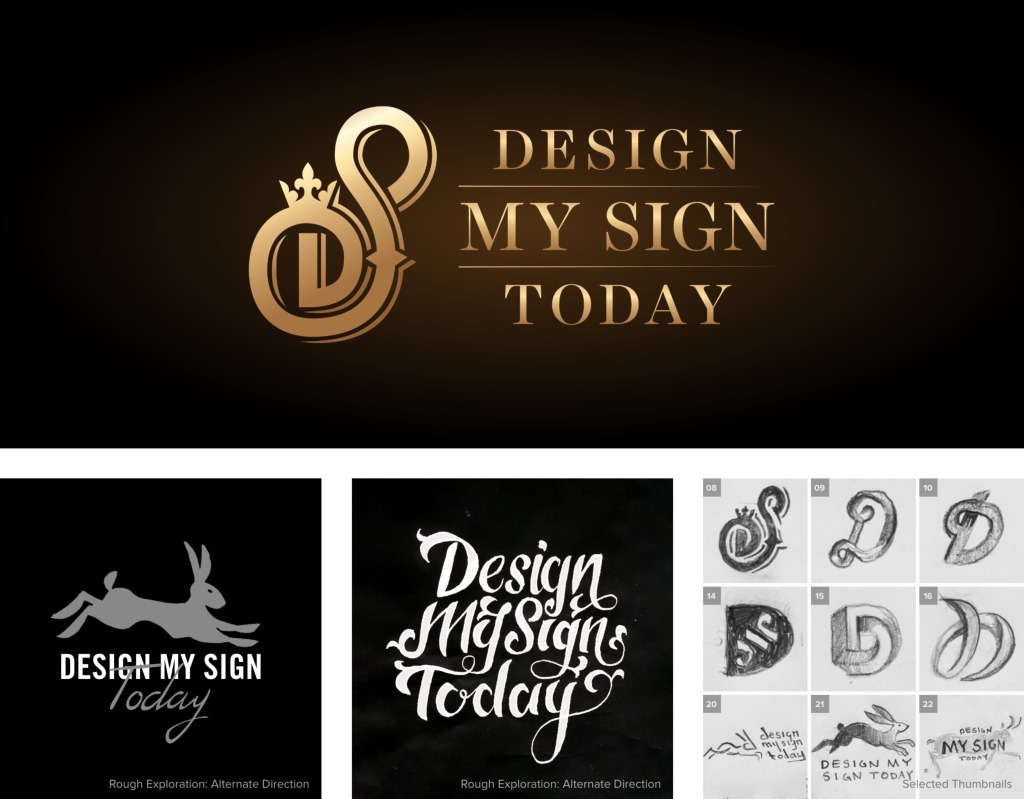 Design My Sign Today Logo Evolution
Design My Sign Today
offers customers premium signage — from illuminated messages to metal products that last a lifetime. Design My Sign's branding conveys both the product's superiority and the physicality of a cast metal sign.
We leaned on iconography from medieval coats-of-arms to achieve a more timeless & regal visual. The final logo mixes a gilded 'D' with a modern, metallic, 3D style. These design choices convey a message of timeless construction when executed with a subtle, modern twist.
Design My Sign Today approaches history clad in gilded metal, much like knights of old.
4. McKennett Forsberg Voll: A Legal Logo With a Minimalist Touch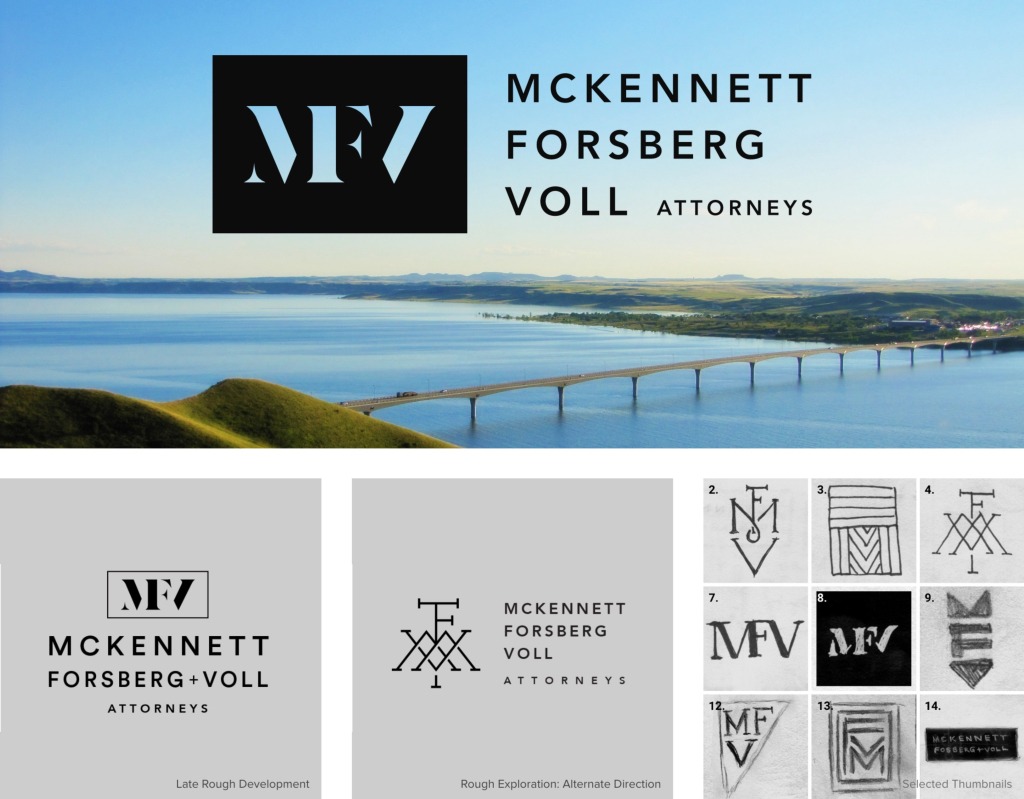 Design My Sign Today Logo Evolution
When branding
McKennett Forsberg Voll
, we looked to their legacy in the Williston community as McKennett Law.
We carried McKennett's brand equity forward by updating their single monogrammed 'M' to a cutting-edge mark. Our update deconstructs the M into an abstract, modern, and powerful partnership of three. Each letter helps to create another within the cutouts of their logo.
This inter-logo dynamic mirrors the partnership—each member supporting the other. The large black border also lends this modern, blocky logo something close to a physical weight. The bold patterning alludes to the quality and reliability of McKennett Forsberg Voll's work.
5. Sphinx Mountain Outfitters: A Modern Logo With a Hint of Tradition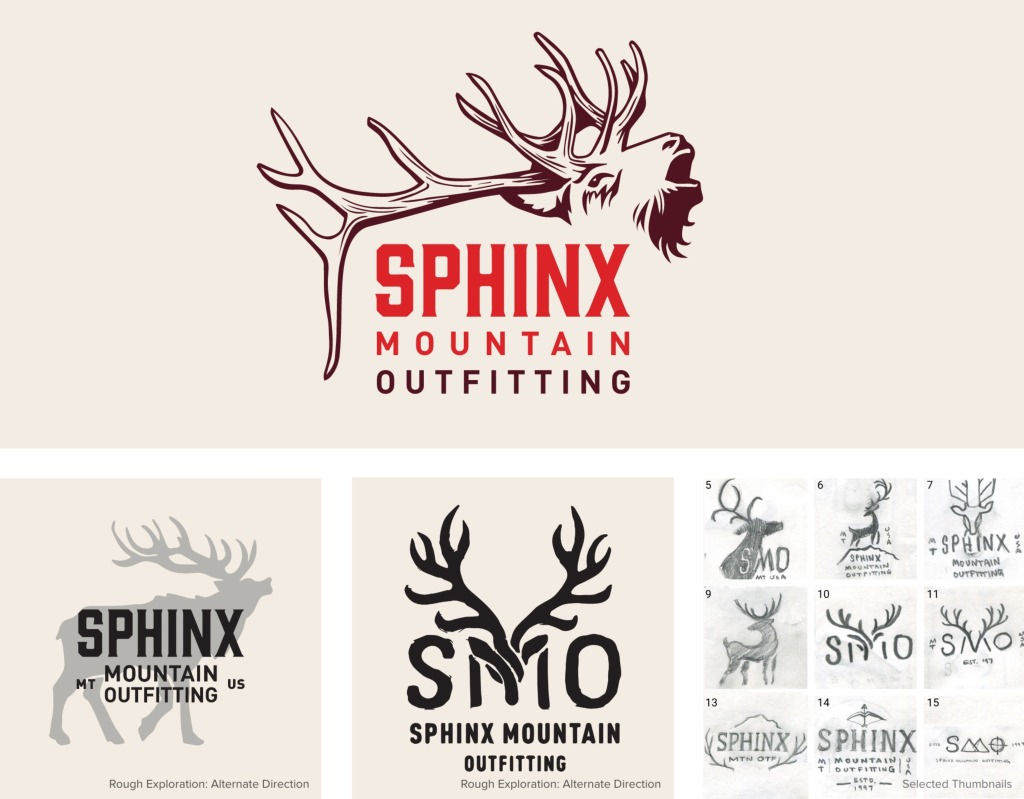 Sphinx Mountain Outfitters Logo Evolution
Sphinx Mountain Outfitters
needed a brand with the wildness of the backcountry. We created this simplified illustration of a bugling bull elk to capture that spirit. The bull elk speaks to both the hunter and the casual adventurer, conveying a sense of adventure that many desire.
It was important for the design to look great when printed on apparel. So, we added bold, stamp-like typography beneath our elk. This bold design will show up on all types of clothing.
For Sphinx Mountain Outfitters, printing is very important. Branding and merchandise are a large part of their strategy. We spent our time making sure that the linework was bold enough to stand out on cloth and thin enough to
resize legibly
throughout Sphinx Mountain's website.
6. Scrolls of Legacy: Modern Design With a Fantastical Twist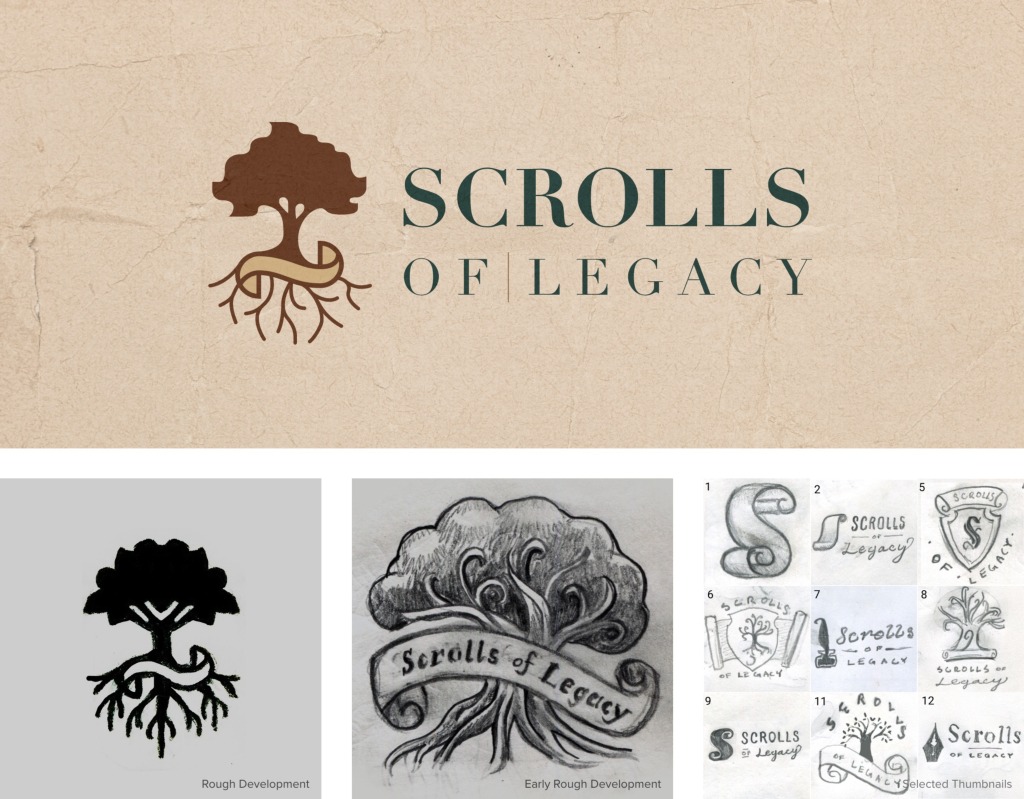 Scrolls of Legacy Logo Evolution
Scrolls of Legacy
approached us with a unique vision: a living legacy of heirlooms to share with future generations and a shared story told by a family as it grows. Their branding centers a scroll — the story — in the growing and ancient heart of a tree.
Scrolls of Legacy's logo works as a gorgeous visual metaphor for the family stories that root us in a time and place—preparing us to grow families of our own.
Inspired By Our Modern Logo Designs?
Are you inspired to continue designing your logo now that we've given you a short peek into our thought process? Which logo inspired you the most?
Either way, remember, these logos are great because they encapsulate each brand's mission and core services. So, ask yourself, does your logo tell the right story about your brand?
We're also happy to help you design a logo for you!
Reach out
for a modern logo today.