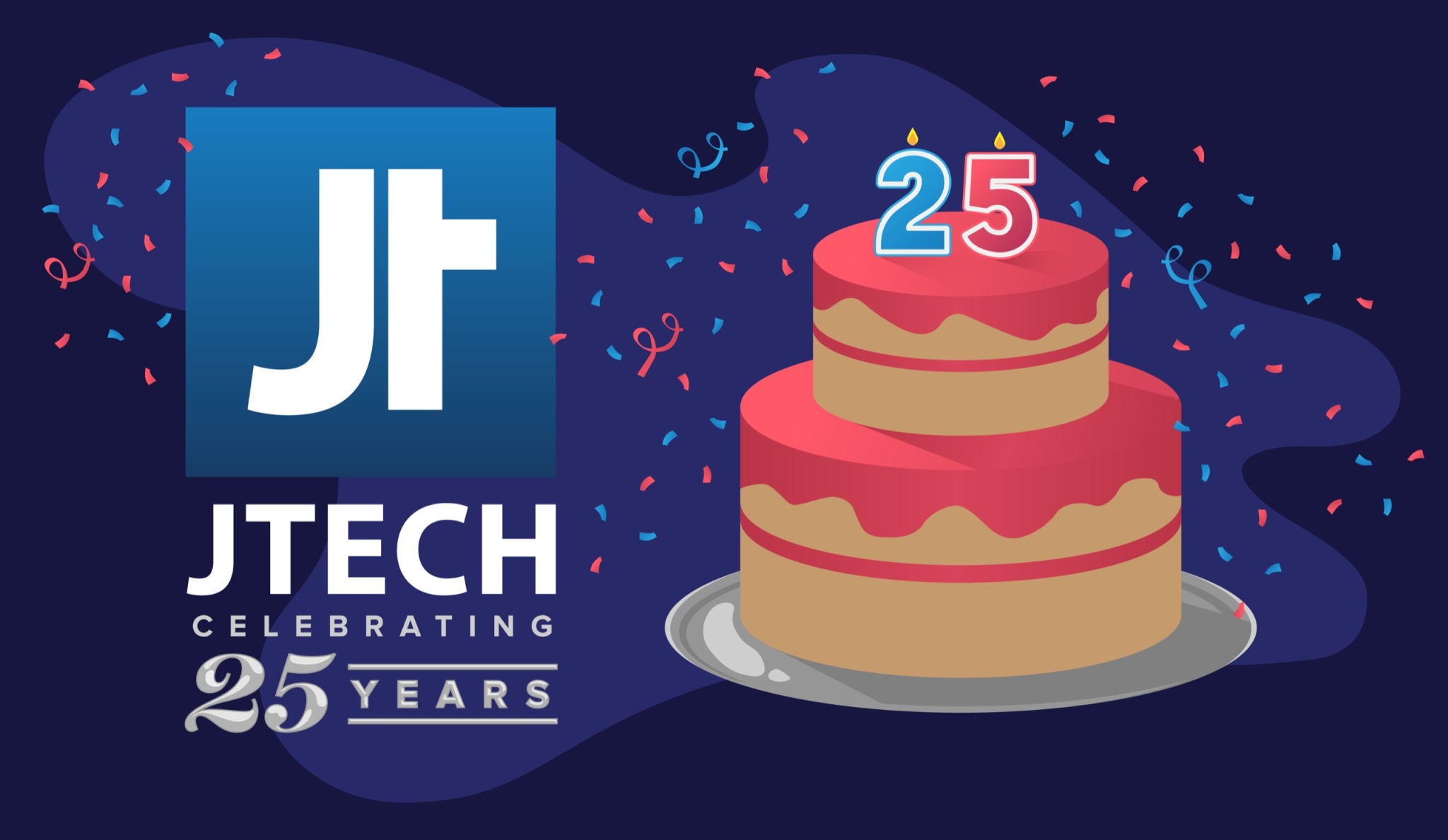 JTech Communications Turns 25
JTech Communications has grown with Bozeman. We've seen our town turn from dirt roads to a bustling hub of commerce and community. Back in the late 1990s, the Gallatin Valley had a population in the mid 20 thousands,
now it has over 54,000
. Bozeman's population has doubled in the last 25 years!
Over that same amount of time, JTech has grown from a handful of employees to 15. We've seen the Bozeman Yellowstone International Airport through the construction of its air traffic control tower and Bozeman through its first true growth spurt in the 90s.
The advances in technology and marketing standards over the last 25 years are, to put it succinctly, staggering. What's more, we couldn't be happier to have worked through the years with you as our clients. In many cases we can now count our clients as friends and partners in business!
Our team has several exciting announcements for you to celebrate the dawning of our quarter-century.
The JTech Team Hopes You'll Celebrate With Us
First and foremost, JTech wants to spread the love during our 25th year in business — we are offering
25% off new marketing and design services purchased in the month of July.
Have you been waiting to pull the trigger on an SEO plan for your website? To update an older logo?
You can read more about our 25% off deal in the official announcement blog we'll be publishing very soon—keep your eyes peeled for that email!
Reflecting on 25 Years in Web Design
We've been in the business of internet services, web design, and marketing since the dawn of the internet. Our team—yes, even the team members who wouldn't work here until a decade or two later—were tinkering with all manner of tech back when the web was so new that, while our clients knew they needed a website, they couldn't say why.
Other future employees were fending off phone calls for 20 glorious minutes on AOL, learning to solder, or crafting lawn mowing advertisements with Microsoft paint.
We couldn't imagine doing a single thing differently. We love working in the technology and marketing space, and we're ecstatic that we get to practice our passions with you every single day.
Let's pause and reflect on how JTech and Bozeman have grown along with technology.






Welcome to the Internet
The internet dawns in a world ruled by cassettes and car phones. The Dotcom bubble bursts. Bozeman is a relatively small town attracting big attention. Costco and Target move in on 19th, and the Gallatin Vally Land Trust (GVLT) announces Burke Park, their first conservation effort. JTech spends our first years in the Gallatin Valley Seed Building.
JTech and Netflix are founded in 1997!
Other Notable Events
The Haufbrau House finally gives up trying to stop people from carving their initials into tables
JTech expands to occupy a second space in the Gallatin Valley Seed Building
19th is paved, zoned, and extended past the highway
Peets' Hill becomes a Bozeman icon.
The interstate speed limit changes from 'Reasonable & Prudent' to 75 mph
MSU accidentally dyes the Gallatin red for 4 days
Google and Yahoo thrive
Wifi is created
The Bozeman Yellowstone International Airport hires JTech to build them website
Napster launches—millions who wouldn't steal a car download All-Star by Smash Mouth
JTech launches an alternate flash version of our website
Two Ph.D. students launch Google
Microsoft releases Windows 95
Yahoo incorporates and Amazon, Craigslist, and eBay go live
CERN Introduces the World Wide Web to the public
The iPod launches and everyone with a song in their heart now has one in their pocket
The Western Cafe celebrates 47 years of business






The Early 2000's
Welcome to the turn of the century! By now, YouTube has launched, the first cat video has gone viral, and a MySpace user sets their page's theme music to Evanescence for the first time.
JTech turns 10!
Other Notable Events
Twitter breaks out of its shell with a fresh take on social media
JTech redesigns our website to look like a grimoire — adding a high fantasy twist to the web
Seniors release 4 pigs labeled 1, 2, 3, and 5 in Bozeman High
Bozeman's stockyards close
Open containers of alcohol in cars becomes illegal
The iPhone launches
A new age of MMORPGs blesses the world as broadband becomes more popular
The Bozeman National Guard Armory is saved from demolition
The Western Cafe remains unchanged






The Mid 2000's
JTech turns 15, Netflix starts streaming, and the world decides not to end. Facebook and SnapChat launch (everyone is relieved to finally have texts that delete themselves). Tragically, KO's closes and Bozeman citizens are forced to stop riding the train "Choo Choo", and make their Jello shots at home.
In these last five years the internet, and Bozeman, have truly begun to resemble what we know today. Both are now growing faster than many people could have imagined.
Other Notable Events
The Bozeman Airport becomes 'international' and accepts its first flight from Canada
The Bozeman International Airport works with JTech to upgrade their website for the first time
JTech simplifies our logo to a bold 'JT' monogram
A MySpace user changes their page's theme song to 'Airplanes' by B.o.B. for the last time
Bing launches—no one knows why
The Western Cafe remains unchanged.







The Mid 2010's
The mid 2010s treated JTech and Bozeman well. MSU begins a nine year victory streak in Brawl of the Wild, JTech refreshes our brand with a more modern design, and launches My JTech to replace our old CMS, The Control Center—making managing your website even easier.
JTech turns 20!
Other Notable Events
The first (and second) Starbucks open
The Stockyard Cafe closes, reopens, and then closes for good
Bozeman is the fastest growing micropolitan area from 2016-2017
JTech Launches our image editor in My JTech
Twitter Kills Vine
TikTok Launches
JTech goes jtech.digital with a brand new URL!
Instagram overtakes Twitter in popularity—proving that the future is visual
JTech upgrades our client servers
Mobile responsiveness becomes an important factor for SEO
The Western Cafe remains unchanged






The Last Five Years
Over the last five years, we've seen tremendous growth, positive change, and the ramifications of a global pandemic. We're proud to say that JTech and Bozeman's other businesses are all stronger after weathering Covid-19. Bozeman's downtown has seen a resurgence of repairs to historic buildings like the Rialto and the Ellen theater. New neon lights up the streets at night with a soft glow.
Oh, and JTech turns 25!
Other Notable Events
HEEBs moves to a gorgeous new location and becomes Town and Country
The 'Barmuda Triangle' becomes the 'Barmuda No-angle' as The Scoop closes for good
JTech redesigns our website in a flat, modern style
Google + shuts down—no-one notices
5G revolutionizes communication
Bozeman comes together during Covid-19
GVLT finishes main street to the mountains
TikTok buys musical.ly. Fans of Vine lose their minds with excitement
The Zebra closes and reopens without live music — Bozeman's crusty underbelly weeps
The Kimpton Armory Hotel opens and the Baxter is no longer the tallest building in town
The Western Cafe remains unchanged
JTech's Logo Design Evolution
One of the JTech Team's favorite ways to look back on JTech through the years is to see how far our brand identity and design language have changed over time. Our logo has always had a strong, stamp like quality. However, as phones rose in popularity and the years passed, we realized the need to move
away from skeuomorphism
and toward a design that works better in the digital world.
By simplifying and refining our design to a bold monogram Felix Wolfstrom, our lead designer, was able to create an 'iconic' mark that resized more easily without compromising on the great parts of our original logo's design.
Here's To The Next 25!
Looking back, it's incredible how the world has changed. Bozeman and Montana at large are growing quickly. More rural locations than ever finally have access to high-speed (even fiber optic) internet.
We're honored to be riding the internet's tsunami-sized wave alongside everyone we've worked with through the years and we're excited to see where technology, and this community, takes us next.
Thank you for looking back with us! Let's take on the next 25 years together.