Don't Hire a Logo Design Agency (Until You Read This)
Hiring a logo design agency is a great first step toward a rock-solid brand identity.
A strong brand identity use a memorable logo, bold graphic design and intuitive UX supported by descriptive, branded copy. This combination of copy and graphic design builds an experience not easy to forget.
Haven't defined your brand identity or brand strategy? We recommend hiring a logo design agency like ours to get the ball rolling.
So, what should you look for in the right logo design agency for your business?
Hire a Logo Design Agency With a Proven Track Record
We don't recommend gambling on your business. A designer with a proven track record is almost always better than a random designer you hired for $5 on Fiverr.
So, how do you know that a logo design agency has enough experience to deliver a memorable logo? Always look for the following two things when you're vetting a new graphic design agency:
A proven logo design firm is the better bet, and we always recommend taking the best bet you can find.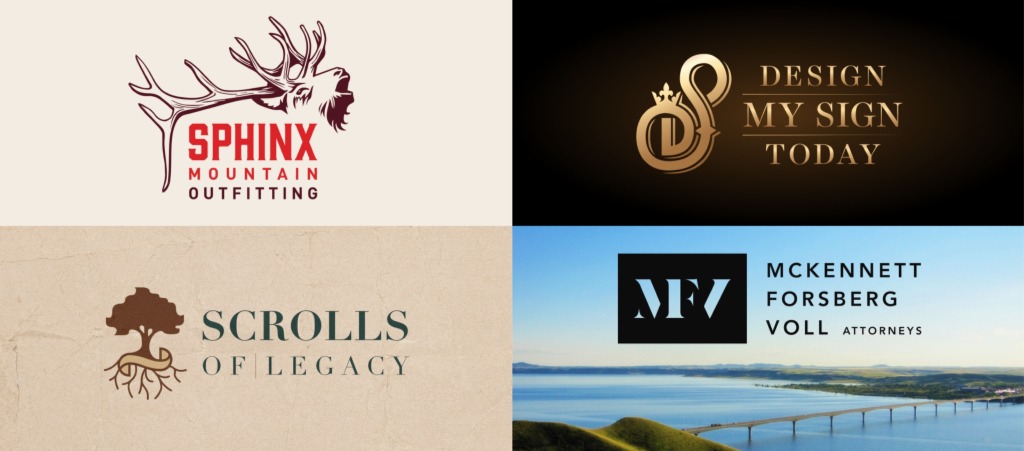 We've Worked With Many Businesses Through the Years. These Are Some of our Favorite Designs.
Hire a Transparent Design Agency
Transparency in the design process starts with three things.
An in-depth discovery interview to understand your brand from the inside out
Open lines of communication throughout the design process
An invitation to influence or collaborate during each step of the design process
Watch your chosen logo design agency's initial communication. Open, honest, regular communication is a great way to tell if your logo designer will take care of you.
You can be confident you've hired the right design agency if they check all the boxes we've listed above.
Hire a Designer Who Understands How to Use Logos In the Real World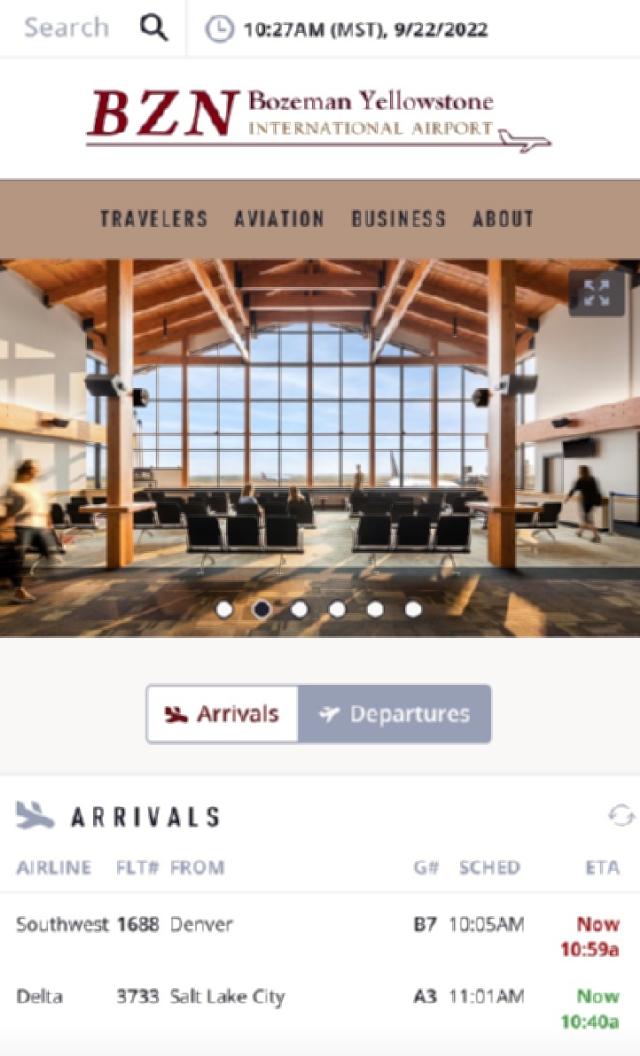 The BZN Airports Logo Resizes Easily Between Mobile and Large Billboard Formats
Your logo design shows the core of your business to potential customers. So, create a logo that's usable anywhere.
Your logo needs to look good on all mediums. That means business cards, flyers, signs, billboards, and on screens of all sizes. If your logo ins't clear at very small or very large sizes, then it won't be effective.
A good logo is a clear representation of your business in at least one application. A great logo is a clear representation of your business no matter what. We recommend using a logo design agency that works in user interface (UI) and user experience (UX) design for this reason.
An experienced logo designer will make every variation for you and for your website design team by default.
Hire a Local Logo Design Agency
Always tap local talent first.
A local design agency lives in the community your business is attempting to reach. So, local agencies understand
your target audience
. Better yet, you can arrange in-person meetings with a local design agency and you can get in touch quicker.
Most of the time, local design agencies have an office that's only a short walk away.
A local branch ensures a better connection and logo—even if some designers are remote.
Hire a Design Agency That Helps the Rest of Your Branding Process
Hiring a logo design agency is the tip of the branding iceberg. You'll need to work with an array of professionals to create a memorable brand. So, look for the following professionals to help you launch.
Brand strategists
UX designers
Web designers
Digital marketers
Copywriters
An established logo designer will likely have professional recommendations for each. In some cases, your agency will even have staff for each role already.
In fact, our custom logo design and marketing team is full-service. We can help you tackle each aspect of your brand development. This means that we ensure you have a complete, marketable visual brand from the moment you launch.
Regardless, the more help your logo design agency can give you after their design work is complete, the better. Launch your brand today—reach out to
our logo design and marketing team
.