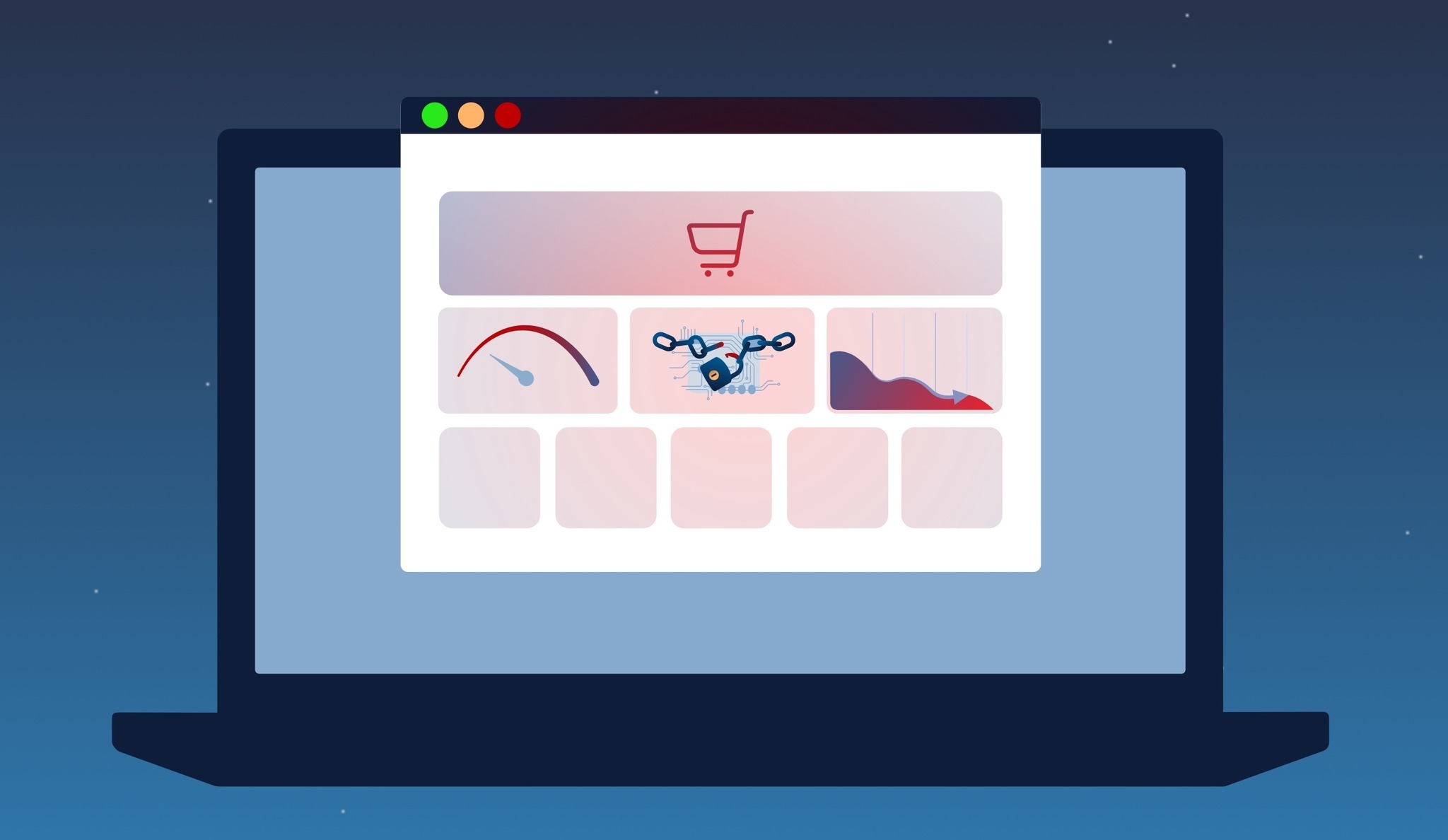 8 Cons of Template CMS Powered Website Design for Your SEO
Managing and ranking on the search engine results page is challenging. Ranking in search is even harder if you're using template content management system (CMS) powered website design. Why? Template CMS powered websites are flawed in ways that are incompatible with Google's search engine algorithm.
We've gathered the 8 primary reasons why template website design will harm your SEO performance below.
1. Slow Page Load Speed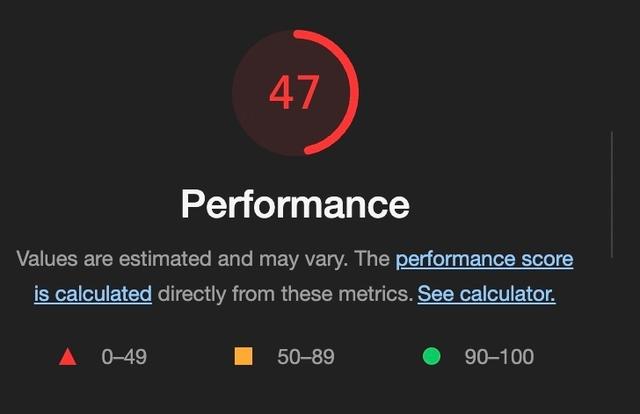 47 indicates a very low page load speed
Google cares about the experience that users have on your site. So, page load speed has a massive affect on a website's ability to rank well on the search engine results page. According to Google,
53% of users
leave if a website takes more than 3 seconds to load. In other words, Google will deprioritize any site that doesn't load fast.
Google has invested significant amounts into ensuring that top ranking pages are more performant than their competitors. In fact, it's one of the few metrics Google's team makes accessible to everyone.
Even the best optimization strategies will be hamstrung if the optimized website isn't built for modern search algorithms. Template CMS powered sites often go years without a significant update to their base code and rely on unoptimized plugins. In other words, template websites will rank low in one of the most important SEO best practices.
2. Non-Accessible Design
Accessible web design, like page load speed, is one of the primary factors in effective search engine optimization. It's also illegal for businesses on the web to use a website that's not accessible. You can read more about the legal requirements in our
accessibility blog post
.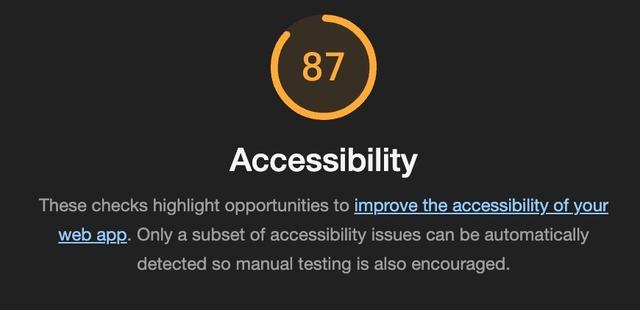 87 indicates an accessibility rank from Google that calls out several, prominent elements that are not considered accessible
Accessible web design is at its best when your website is custom-built. The only solution for accessible website design on a template CMS powered website is often a third-party plugin. Unfortunately, without a web developer's intervention, all third-party accessibility solutions fail.
There are too many variables for a single solution to address every website's shortcomings. If your business relies on a template CMS powered website, there's a high chance it needs work to become compliant or to perform on the search engine results page.
On a custom site, developers have easier access to your website's code, and they have a better understanding of how your code works—making accessibility much more attainable.
3. Technical SEO Execution
Technical SEO is a broad term that encompasses SEO efforts outside on or off-page optimization. Technical SEO can include:
Fixing broken links and redirects
Optimizing and submitting your sitemap to Google
Improving page load speed
Improving accessibility
Creating mobile friendly breakpoints
Implementing alt text and meta-data properly
Proper website schema markup and structured data implementation
Bug fixes
The list goes on. Using a template CMS powered website builder often introduces technical SEO roadblocks that never needed to exist in the first place. Effective technical SEO is only possible with professional help or in-depth knowledge of web development.
4. Template CMS Powered Websites Often Under-Perform on Mobile
Mobile responsiveness and performance have been a central ranking factor in Google's algorithm since '
mobilegeddon
' in 2015. If your site has poor mobile performance, it will struggle to rank—period.
Template CMS powered websites often under perform on mobile. This has always been the case. In recent years, mobile responsive layouts have evolved from an afterthought to something half-passable. Still, glaring flaws remain, including slow page load speeds and UX design that will not work on newer devices.
When you find a broken layout element on mobile element, there's often little hope that anyone will (or can) fix it. The only option for many template CMS powered sites is to use a workaround, learn to code, or live with a broken website at mobile breakpoints.
In short, there is no way to escape a compromise in mobile performance with a template website.
Custom website design solves all these issues. Custom web design includes hand-tuned responsive layouts, fast mobile speeds, and local support.
5. SEO Features Are Often Pay-to-Play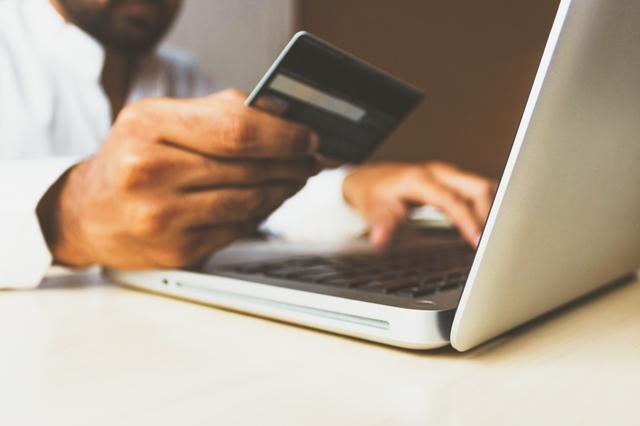 A Business Owner Paying for Yoast Premium
A wealth of SEO tools are available to businesses who've built websites using template site builders. Unfortunately, most tools and plugins cost money for any features that surpass the bare minimum. Paying for yet another subscription chips away at any savings business owners might find by using a template CMS powered website builder.
Subscribing to an SEO tool also places any work you do in a precarious position. In the future, if you decide to change your SEO tools, essential information and optimizations will likely disappear.
Yoast SEO is a great example of this. Yoast is one of the most popular SEO plugins for template CMS powered websites, and the basic version is free. A free subscription will only allow users access to the most basic features, like editing a site's meta descriptions and titles.
Users must cross a paywall to use necessary SEO features, including 301 redirects—a fundamental aspect of technical SEO. 301 redirects also place businesses in a precarious situation when they change SEO tools—any redirects are likely to break during migration.
6. Out of Date SEO Features
Template CMS powered websites rely on the end user (you) to update and maintain their SEO tools and features.
So, even if you pay for a premium subscription, business owners risk bugs and glitches following updates to their SEO plugins. This leads to many websites running out-of-date plugins that depress performance and become security risks.
7. Template CMS Powered Websites Are Worse for the Buying Journey
Customer Who Doesn't Know Where to Go
Template CMS powered websites are generalist designs made to appeal to a large market. Unfortunately, that leads to designs that converts fewer customers when applied to a specific niche. That often means a decrease in dwell time—the time a user spends engaging with a specific page.
Template sites also have technical problems that decrease dwell time. Those factors include low page load speeds, confusing mobile layouts, and inaccessible design. Google loves high dwell times when its algorithm
evaluates a website
. So, any factors that decrease dwell times are bad for your SEO.
8. Google Associates Aspects of Template CMS Powered Website Design With Spam
In 2018, Google launched
SpamBrain
, an AI that relies on deep learning to identify spammy websites with criteria that mirrors SEO best practices.
SpamBrain learns by gathering and analyzing as many spammy websites as it can. Over the last four years, that algorithm has become precise. Now, many factors commonly associated with template CMS powered websites play into how SpamBrain determines the spam score of your website.
In short, SpamBrain attempts to tell if the effort you've put into making the best website for users is genuine. Many spammers, link farms, and affiliate sites rely on templates and scraped or thin content to churn out websites. SpamBrain's continued analysis of template CMS powered websites further reinforces their downsides.
Template CMS Powered Vs. Custom CMS Websites
Template CMS powered websites are billed as an easy-to-use, low-cost alternative to hiring a custom website design firm. As such, they're made with a quantity over quality mindset.
In JTech's experience, website templates are costly to maintain, offer generalist designs, are difficult to edit, and require inefficient plugins to offer any form of solution. This means that website templates break fast and underperform in critical SEO metrics. One of the biggest inspirations for our refresh package are the customers who've asked us to help them ditch their existing template CMS powered sites. In fact, our prices are comparable to other firms that use website template builders to spin up client sites.
Custom websites need less upkeep, are often cheaper, and more reliable in the long run. We build custom websites with a philosophy of completeness. That means a modern codebase, a curated content management system (CMS) for ease of editing, tuned breakpoints, and zero plugins. They also perform better when search engine optimized (SEO).
Work With JTech's Website Design Professionals to Create a Custom Website
JTech Communications has partnered with businesses in and around the Gallatin Valley and Southwestern Montana for 25 years. We regularly help companies to move to a custom solution after an experience with template CMS powered website builders like WordPress, Wix, and SquareSpace.
If your business relies on an out of date, broken template website, and a distant support team—reach out! We would love to talk about moving your business from a template website solution to a custom solution.
If you prefer your current site, we're also happy to help. Our SEO team will optimize your website to perform as well as a template site can in Google's current algorithm.