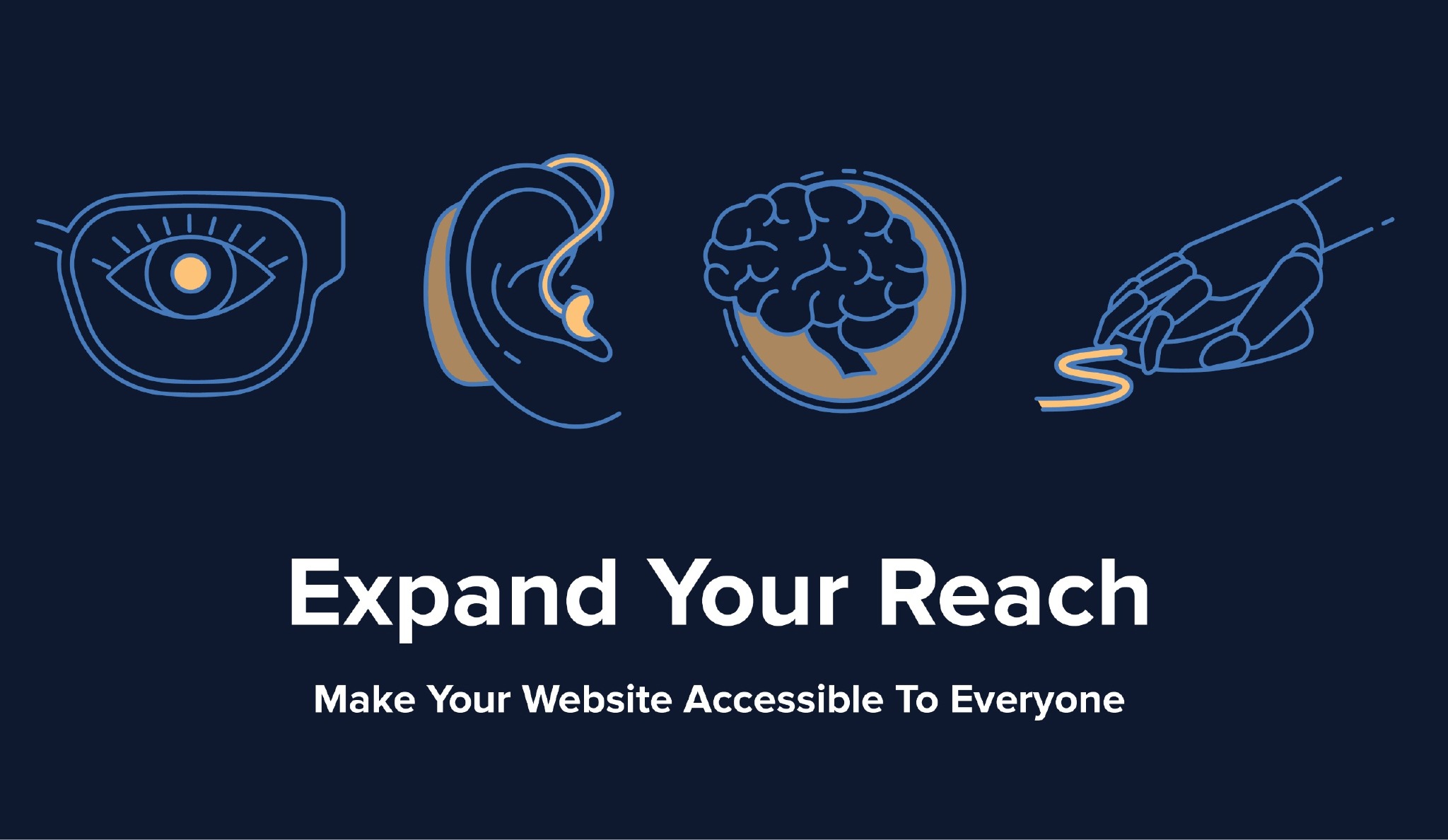 Why Should You Make Your Site Accessible?
In short, an accessible website can increase your search visibility and will help all of your customers and website visitors navigate through your site without hiccups. That's a huge benefit that you really don't want to be passing up on.
Not to mention… it's required by law.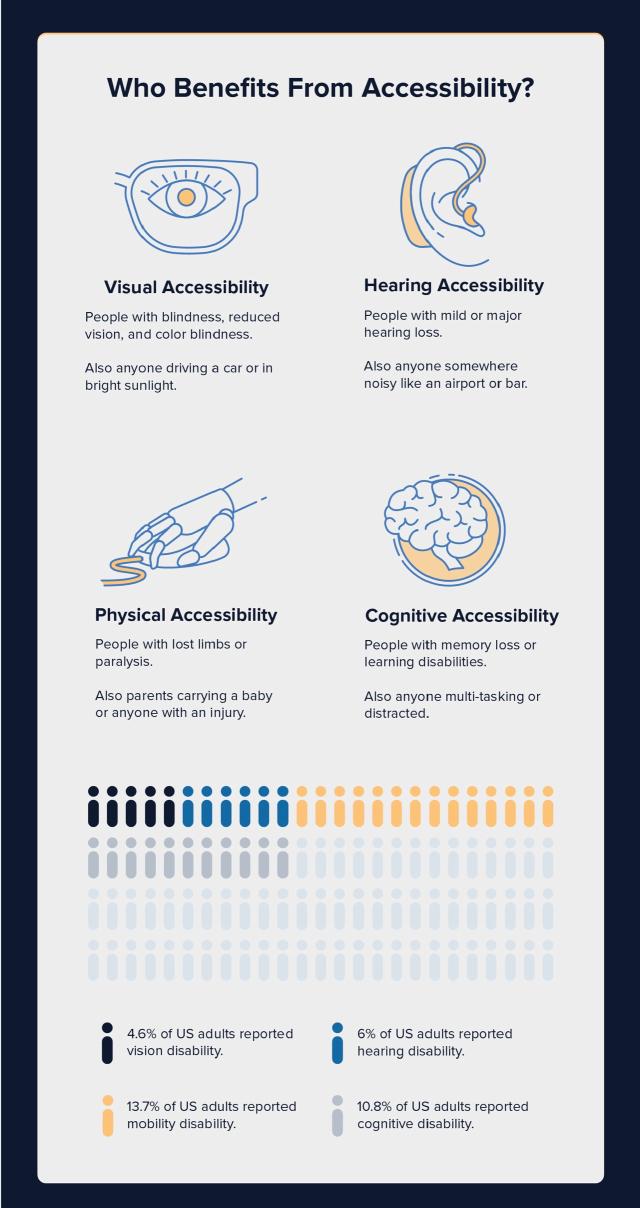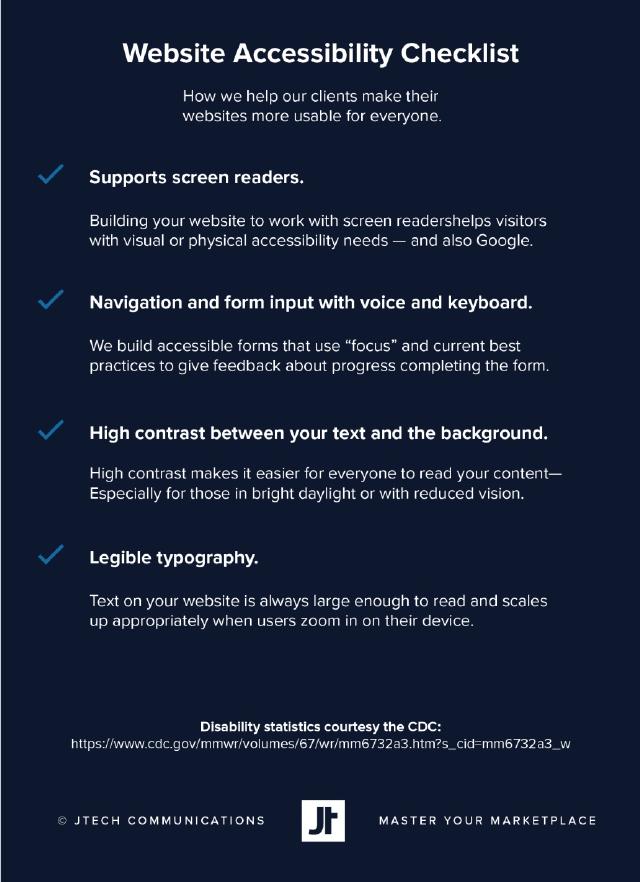 Wait, An Accessible Site Is Required by Law?
YES. Your website must be accessible per
Title II
of the ADA.
However, while commercial websites must be ADA compliant, no legislation defines what this means—specifically. So, the
Web Content Accessibility Guidelines
(WCAG) were created to guide web developers. If your site follows WCAG guidelines, the current legal consensus is that your site is 'accessible.'
So, we're here to help you learn what you need to meet that standard. (We're also here to give you an SEO boost—Google loves to see accessible features.)
So, What Is an Accessible Website Really?



Like we stated above, the ADA doesn't specifically define what an accessible website should look like. However, the WCAG does a wonderful job. They break Accessibility into three categories.
Ironically, there's a ton of legalese in the WCAG's definition that's still pretty inaccessible, so we've put together a basic definition to get you started on making improvements to your site. The JTech definition is the following:
"An accessible website is a site that everyone can use easily regardless of their capabilities."
There's much more to it, but this definition will do well enough for an intro. For specific examples, read on or look at the infographic we've put together.
Why Should You Make Your Site Accessible?
If you've already read the infographic, you know that 61.4 million people are missing out on what you have to offer.
The internet has dramatically changed the way that customers interact with your business. Your customers can now discover you, reach out, and order online—and many do. (This is even more true for people with mobility-specific impairments.)
We love the amount of opportunity that the internet has created in the world. Still, it's also true that the demographics defined, in part, by disabilities have been consistently left out of design decisions since the internet's inception.
We want to help you develop your site to meet a standard that includes easy access to people with disabilities.
So, how can we help? Well, we've put together an infographic, an easy-to-follow checklist, and an accessibility site audit that you can leverage to see if your site is up to snuff.
Your Accessibility Checklist
Even if you know your site needs help to become accessible, it's hard to know where to start. Check on these aspects; they're all good places to review when making sure your site is accessible.
Is your website useable by screen readers?

Can people with physical impairments navigate your forms?

Are the colors and fonts on your site designed for visual Impairments?

Are the elements on your site large enough to be understood on desktop or mobile?
For more in-depth information, be sure to read the infographic in this post.
Book an Accessibility Audit for Your Website
We care about keeping your site up to date and in line with the most recent Google updates and the industry's best practices in up-to-date code. So, we're offering an accessibility-focused site audit.
We'll take a look through your site, measure against our checklist and the ADA's best practices, and offer easy-to-digest solutions that you can start acting on right away (or we can rapidly implement them for you).