10 Factors to Consider When Building an eCommerce Website in 2023
One thing has become clear in our time working with Montana business owners. Most businesses can benefit from an online store in the new digital marketplace—no matter the industry.
Our website design team has built eCommerce websites for large businesses like
Shipton's Big R
or
Financial Education, Inc
. We've also worked with smaller eCommerce brands like
Montana Yellowstone Tours
.
No matter how big or small, our team can help you create the perfect digital marketplace for your customers.
What Are the Benefits of an eCommerce Website?
eCommerce is crucial for many businesses. In 2018, we wrote about the importance of an eCommerce site. Back then, we cited an increasing demand for online options from customers—even from small businesses.
Customer demand skyrocketed again in 2020 during the Covid-19 pandemic. Demand for good online shopping sites has continued to grow into 2023.
7 in 10 Americans Are Online Shoppers
According to Tidio, around
7 in 10 Americans
are online shoppers. Additionally, the Pew Research Center found that customers in different age groups shop on different devices. In fact, as many as
9 out of 10 Americans
ages 30 to 49 use mobile devices to shop.
So, what makes a good eCommerce website? Our eCommerce team has identified 10 key traits. eCommerce websites should:
Be easy-to-use




Be Easy-to-browse




Include a well-thought-out payment processing system




Be scalable




Include easy-to-access policies




Track customer behavior




Have strong branding




Use high-quality images




Display customer reviews




Perform responsively



A fully-featured eCommerce website built on cutting-edge technology is a powerful tool. So, without any more fanfare, here are the 10 things to consider when building an eCommerce website.
1. Is Your Website Easy to Use?
The best eCommerce websites are easy for future customers to use—starting with your website's layout and performance. A fast-loading website that provides a simple, logical path to your products and services is more likely to lead to sales.
Think With Google states that
bounce rates increase by 32%
when the site load time increases from 1 to 3 seconds. Additionally, the more pages your website has, the less likely customers will be unable to find what they need.
So, a good eCommerce website is two things. Fast enough to get customers onto the website and engaging enough to keep them there.
2. Are Your Products Easy to Browse?
eCommerce businesses with a large inventory of products face a unique challenge. How can they ensure that everyone can find the products they want while browsing their eCommerce site?
Good product pages that list many products tend to include filters! Filters allow future customers to sort and organize your stock in a way that's best for them — an easy customer journey is a good customer journey. You can see a strong customer journey in action on a website we built for
Miller's Jewelry
.
Miller's Jewelry has a substantial inventory and our website design team built a visual filter system that allows customers to sort by metal, stone type, etc. We designed top navigation that highlighted each of Miller's product categories and added branded visual intrigue to their website.
Now Miller's Jewelry's customers can get the product they want in the shortest amount of time.
Even small businesses can help customers with a filtering system. Customers always appreciate a feature that makes their lives easier.
3. Is Your Payment Processing Efficient?
Payment processing is one of the most important aspects of your website to sort out early.
Payment processing systems are intricate, and they have a direct effect on your bottom line.
Choosing a provider without understanding how payment processing works can put your business in a bad place. We recommend going to a local firm like
REM Solutions
—one of our partners in business. Local firms, like REM Solutions, understand the options Montana businesses have. They also understand the best ways to save you money in the process.
A good payment system gives businesses an efficient way to collect money and customers an easy checkout process.
4. Can Your eCommerce Tools Grow With You?
Your business will grow. It's important that your eCommerce website grows with you.
For most people, a flexible eCommerce website means two things.
There Were More Than 5.9 Million Google Searches Every Minute in 2023
Flexible product editing tools and a filtering system for customers to browse with. Flexible products include many ways to add variations and descriptions. Flexible products allow your business to change its merchandising strategy on the fly, while filters make browsing easier as you stock more products.
Still, every business is unique. So, look at your business plan to understand what you need to grow. That information will let you make better decisions about the tools built for your eCommerce website.
Your business will also often grow in unexpected directions. So, investing in flexible eCommerce tools also means having a team of web development professionals on your side. Our website design team will be more than happy to tweak your eCommerce site as needed.
5. Are Your Policies Correct and Easy to Access?
eCommerce policies are essential to safe business operations. Depending on your business, you will likely need several of the following:
A Terms of Service




A Privacy Policy




Returns and Exchanges Policy




Shipping Policy




A Tax Policy



At the least, every business that collects personal information needs a privacy policy. Depending on your product, location, etc., you can build out the rest.
Your policies also need to be easy to access. That often means links to the policies that appear during checkout or in the footer. Every business requires unique legal considerations best handled by a professional. We recommend asking your lawyer for help creating a set of policies that protects you and your customers.
Easy-to-access policy pages are necessary to do business online in a responsible way.
6. Are You Tracking Customer Behavior?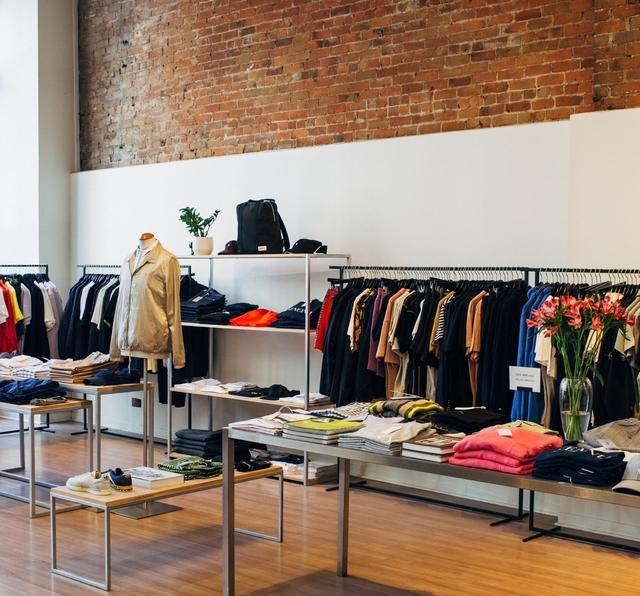 In Person Browsing
One of the most important resources for any business is information. Gathering customer information is easy if you have a brick-and-mortar business. You see how customers browse, what they buy right away, what they save up for, etc.
Websites require special tools like Google Analytics to collect similar browsing data. If you're not tracking customer behavior on your website, you're likely missing out on valuable information.
7. How Well Is Your Website Branded?
How often have you visited a store because you liked their sign? Chose a book because the cover looked interesting?
Good branding is powerful.
We recommend creating a brand that represents your business with bold strokes. Choose colors and a logo that accent your message. Use words that declare your mission with confidence.
Good branding brings customers back. You can read more about branding decisions in our
logo design blog
.
8. Are You Using High-Quality Images?
eCommerce websites rely on imagery to sell products.

High-quality images make an impression on customers and on Google. When a customer browses your site, they will try to picture the product you sell in their life. The better your image, the easier that process is, and the more likely they are to buy.

Google's search algorithm also loves good images. Google wants to rank websites they view as 'useful' to future customers. Part of being useful, at least in Google's eyes, is providing high-quality, well-optimized content for users to consume.
9. Are You Displaying Customer Reviews?
60% of customers are more likely to buy from a business with a large number of reviews. More reviews make a business
appear more trustworthy
.
Making the reviews of your business easily accessible is a powerful way to gain the trust of your customers.
Google released several updates in mid-2022 that encouraged websites to include detailed reviews. Like your customers, Google seems to view reviews as helpful information.
10. Is Your Website ACTUALLY Responsive?
In 2015, Google announced that websites that weren't mobile-friendly
would rank lower
. Because of this, most sites support mobile devices on a very basic level.
Unfortunately, poorly built sites by non-technical developers and certain template website builders have done a poor job. Many eCommerce website templates have fallen victim to shoddy responsive code. It's not uncommon for hastily constructed eCommerce sites to break or resize badly on mobile devices.
Mobile websites also tend to struggle with load speeds. According to Think With Google, the average mobile load speed is
15.3 seconds
. That's a failing time for
Google's Core Web Vitals
.
In these and many other ways, sites and site builders advertised as 'mobile responsive' often fall short.
The eCommerce landscape continues moving toward a mobile future. If your web store isn't set up to be responsive by modern standards, you'll fall behind.
We Can Help You Sell Online
Our website design team has over 25 years of experience working in an evolving market. We've designed eCommerce sites for tour companies, jewelry stores, box stores, webinar providers, etc.
Our experience in eCommerce means we can develop a website tailored to your online store's exact needs. We even have a package designed
with eCommerce companies in mind
.
If you want to start selling products online, please use
our schedule consultation form
. Our eCommerce website design team would love to talk about your project.