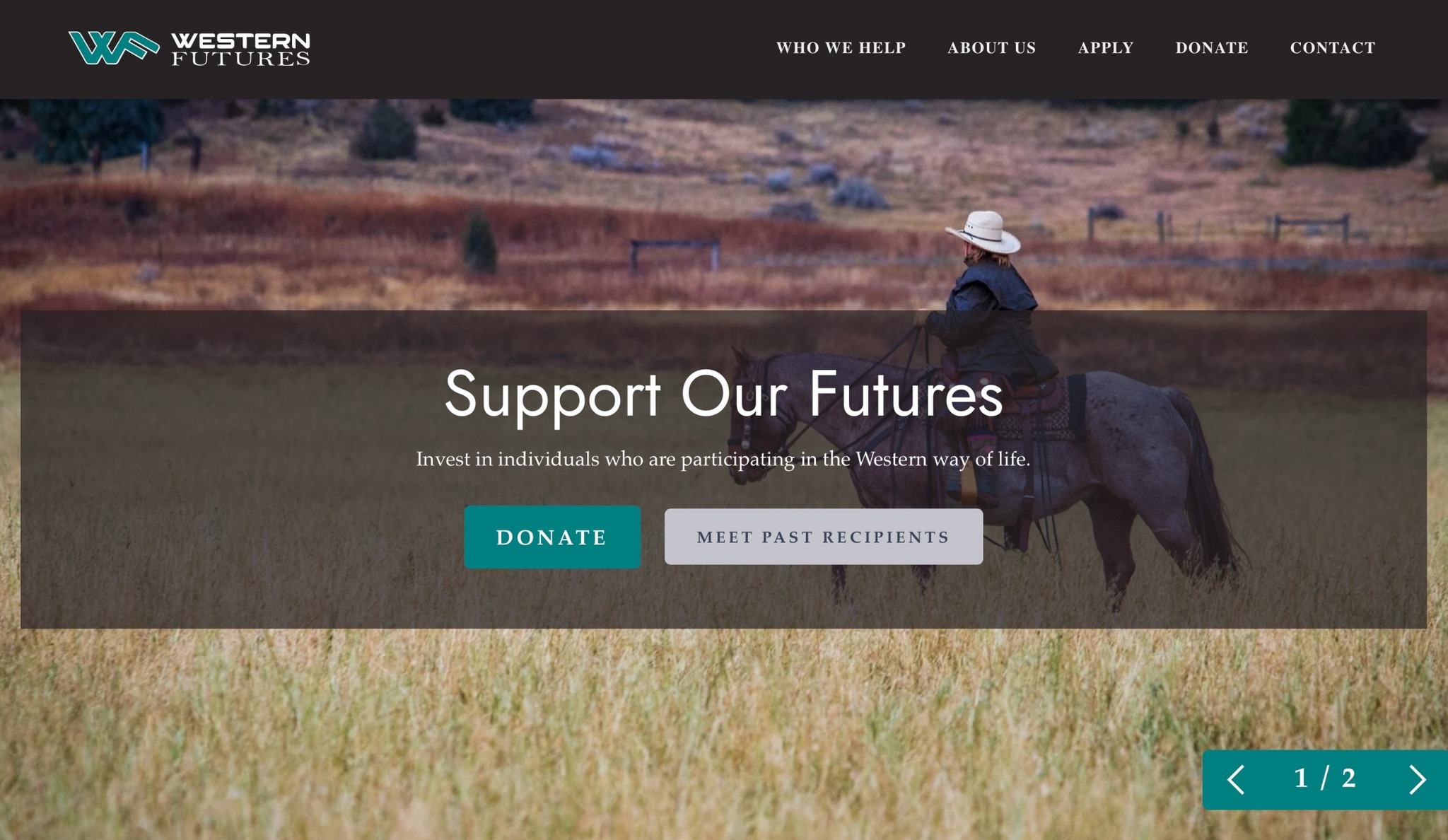 Western Futures Launches New Non-Profit Web Design to Find Grant Recipients and Attract Donors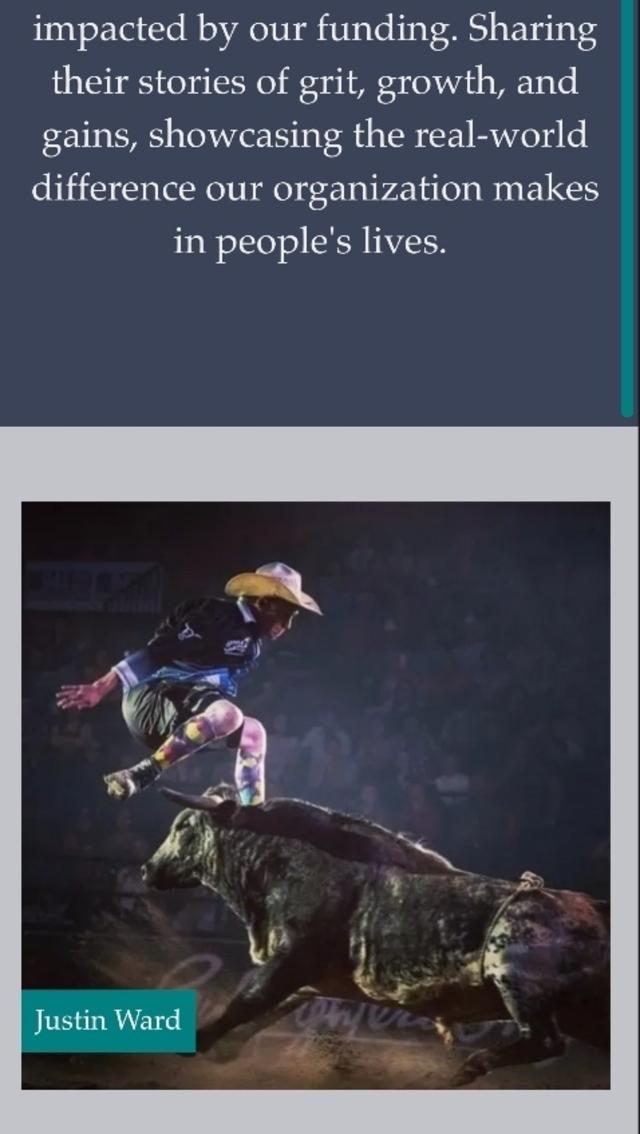 The Western Futures Gallery Showcases Their Grant Recipients
Our web design team helped Western Futures, a non-profit supporting American Western culture, launch a fundraising and grant application website.
Western Futures
provides funding to support the next generation as they pursue their passions. In the past, their grants have supported:
Rodeo application fees
Riding replacements
Ranching equipment
Western art & music
Farrier school costs
Western Futures has already helped the Western United States — including Montana and the Dakotas. They needed a tool that would help them help their organization evolve and grow.
Building a Non-Profit Website That Converts
Western Futures needed to overcome several key hurdles to build an effective website. Their new website needed to:
Clearly define their mission
Lower the barrier to funding by allowing recipients to apply online
Present the impact their team has had on the 'Futures' they fund in an effective way
Make a compelling case to investors
Our team worked to create a website that addressed each need in a visual, dynamic, and concise website.
Crafting A Clear Non-Profit Message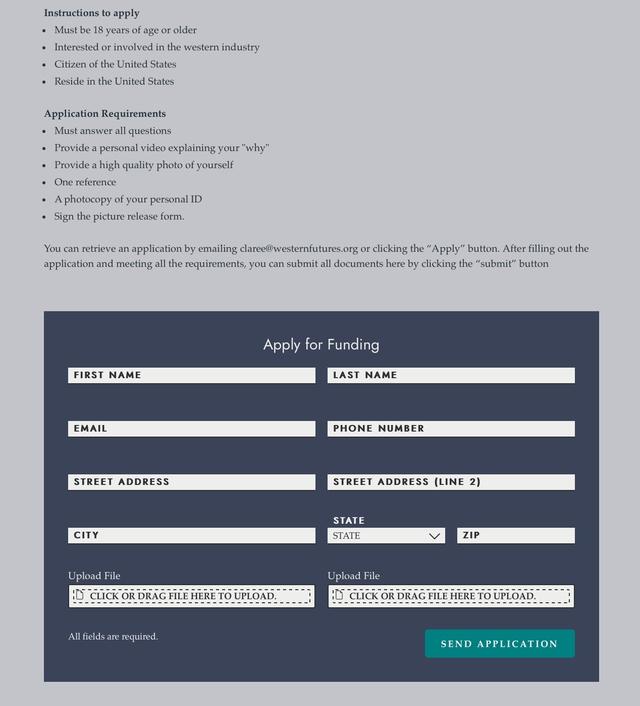 Western Futures Needed to Create an Easy Application for Grant Recipients. We Created an Application for That Would Do Exactly That.
Western Futures came to our website design team with a specific request. Their website needed to be as
clear as possible
. The clarity in their presentation sets them apart from most other non-profit websites.
A clear and concise website was the best way to reach their key audience. American Western culture often focuses on reaching the point as fast as possible.
Displaying that motivation on their website helps Western Futures connect with investors and grant recipients alike.
Our website copy and UX team created a website design that balances imagery and text in a way that shows instead of tells. Their new website design primes Western Futures to connect with their key audiences at first glance.
Reaching the Right Audience
One of the key challenges Western Futures faced was finding a balance in messaging. They needed to appeal to both investors and applicants.
We solved this puzzle by working with Western Futures to define the key tasks their site needed to do. Our team and theirs settled on the following:
Their site needed to accept grant applications




Their site needed to feature grant recipients




Their site needed to display donation/membership information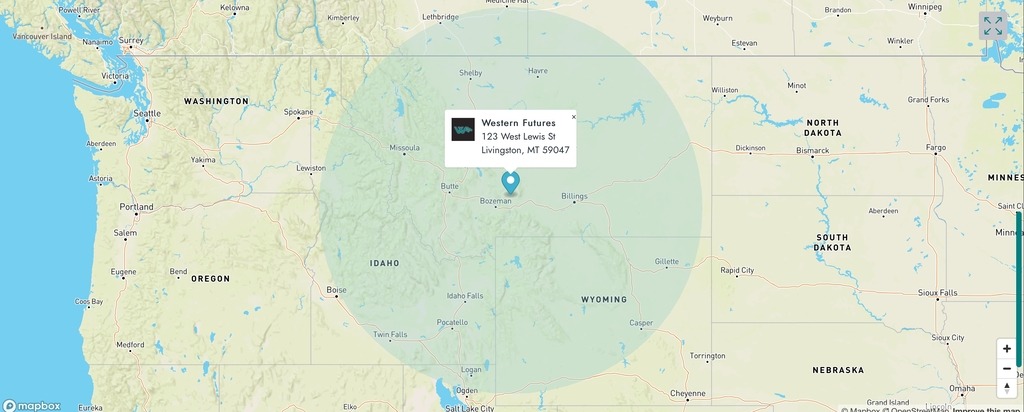 The Western Futures Website Also Includes a Service Area Map That Clearly Shows Who Their Grants Can Help.
We used this hierarchy to structure the information throughout their website. The final site structure inspires grant recipients to apply while showing investors exactly who they support.
Our non-profit website design team was thrilled to help Western Futures launch a website that helps them run their organization more effectively. We're excited to continue working with them as they grow. If you would like our help mastering your marketplace,
schedule a consultation
!