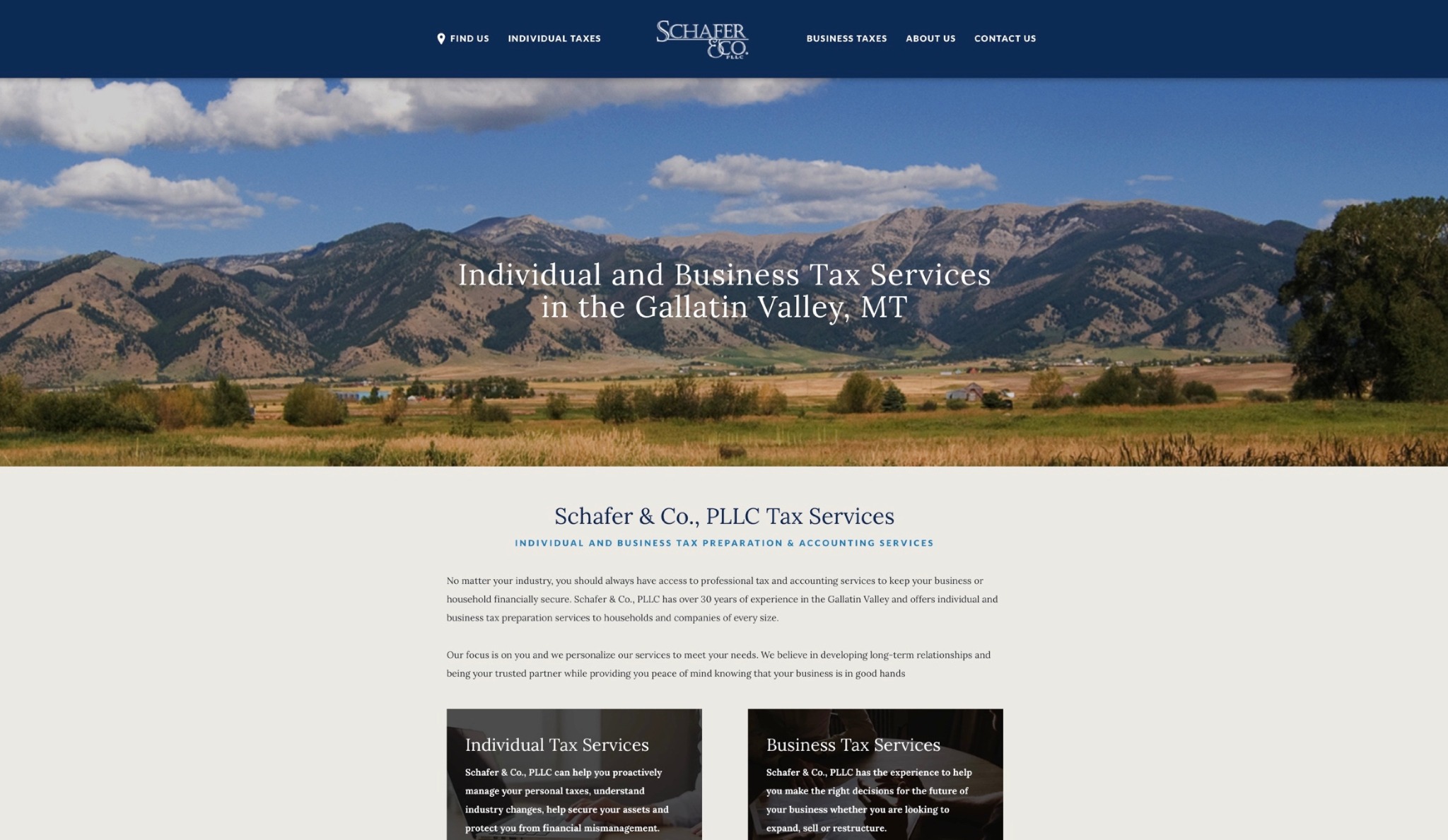 Schafer & Co Accounts for Growth With Web Design
Schafer & Co—an accounting firm in Bozeman, MT—came to us for a site that reflected their professional credibility during the hiring process. We created the
Schafer & Co.
team a website that would help potential employees understand the Schafer & Co. brand and company culture before working there.
To that end, Schafer & Co's website needed to check several boxes. Their website needed to:
Balance visual appeal and functionality
Convey a strong sense of professionalism
Balancing Visual Appeal and Functionality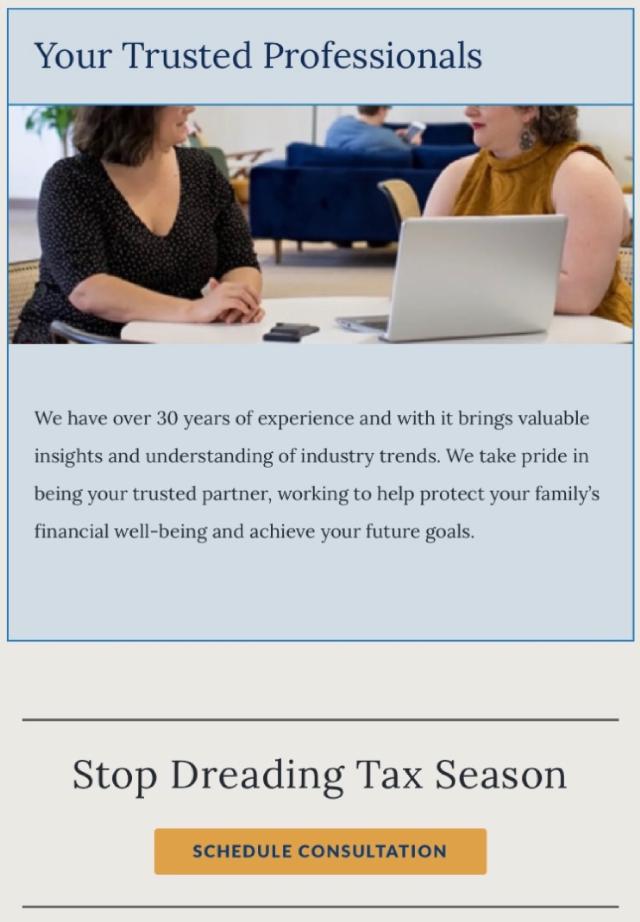 Schafer & Co., PLLC's New Individual Tax Services Page
UX designers always need to balance two concepts, form and function. Most of the time, usability and beauty are
one and the same
. However—in this case—we needed to move past Schafer & Co's functional needs to give them more of an 'it' factor.
After testing different designs, we built Schafer & Co a gorgeous website with a full-page banner, top navigation that resizes on scroll and a calming color palette. Together, our website design created a site that turns heads and gets the job Schafer & Co needed to do, done.
We also optimized Schafer & Co's website for load time—an often overlooked facet of ux design. If
clients leave before your site loads
, no user focused decisions you've made matter in the slightest.
Conveying a Sense of Professionalism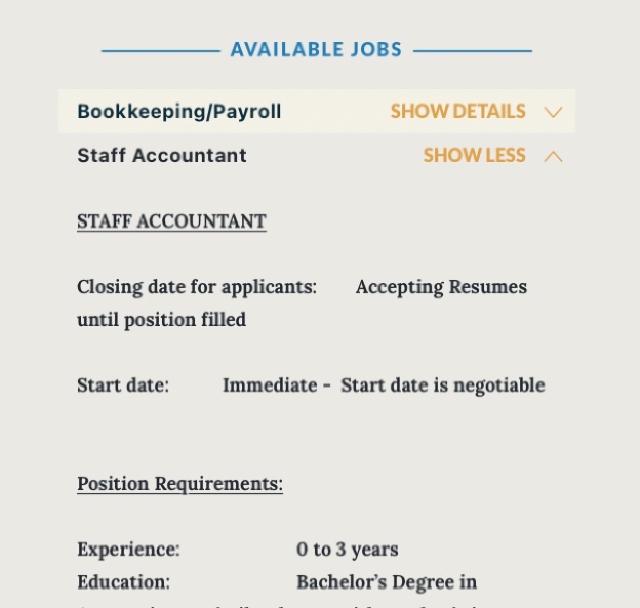 Schafer & Co., PLLC.'s New Job Board
To Schafer & Co., an appeal to professionalism was a core component of their request.
Clients, partners and employees all respect a firm that is open and honest. So, we cut Schafer & Co.'s proverbial Gordian knot and took aim at an open and fluff free content strategy. When we were writing for them, we got straight to the point.
The design solution we settled on also emphasized our copywriting with elements that mirrored the bold and straightforward tone we had settled on.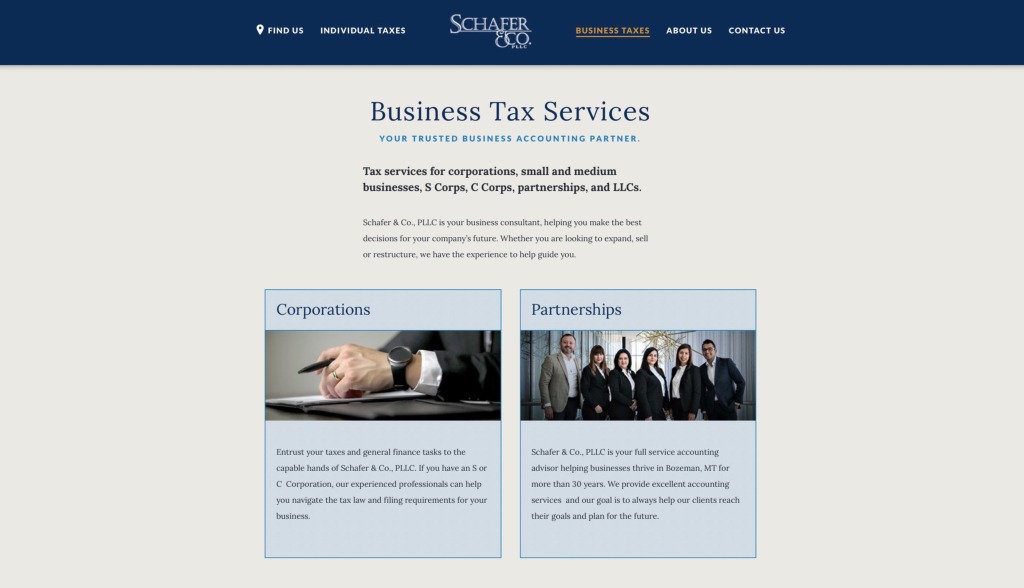 Schafer & Co., PLLC.'s Business Services Page
Schafer & Co Can Count On Their New Design
We love what we were able to accomplish for Schafer & Co—their visual design and on-page copy is elegant and direct, and we believe it will serve them well far into the future.
If you're looking to
hire a web design agency
for your accounting firm, reach out! We're excited to meet another lifelong client.