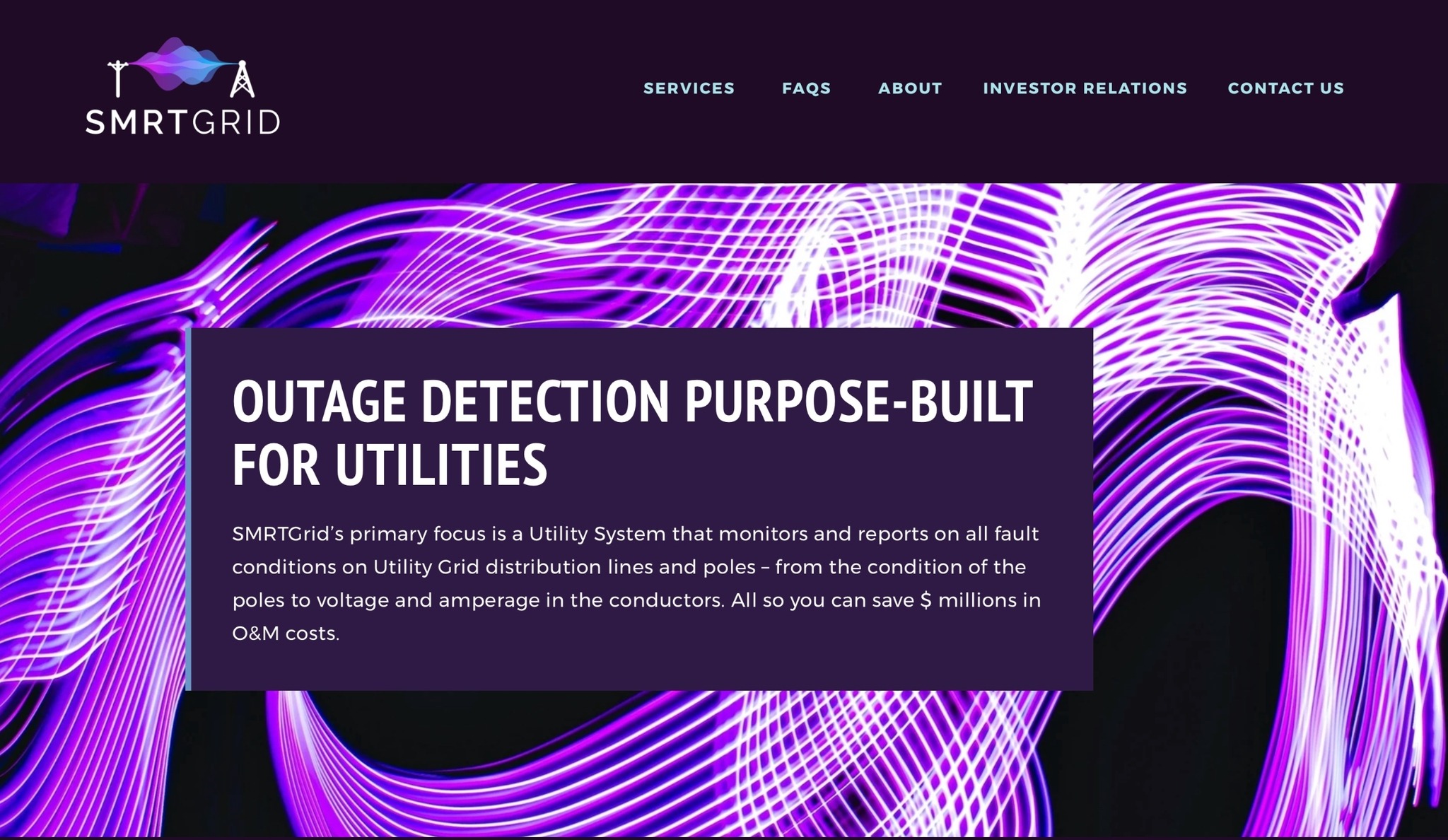 SMRTGrid Uses the IoT to Create a More Reliable Power Grid
We recently
helped SMRTGrid
, a new company that uses the Internet of Things (IoT) to improve the reliability of power grids, launch a new website. SMRTGrid's team has already proven a dramatic decrease in incidents in their testing. Now they wanted our help creating a website that could market their smart grid tech to customers and investors.
We helped SMRTGrid explain how their products function, and we helped them craft a site section designed to persuade investors.
Explaining How SMRTGrid Uses the IoT to Create a Smart Grid System
One of SMRTGrid's primary challenges was depicting their sensor in a way that felt concrete to potential customers. IoT devices transmit data over the internet. The type of data they transmit — and the impact that data has — is what defines them. SMRTGrid needed to make the use cases of their devices abundantly clear to gain traction.

We added purpose-built tools to display real-world endorsements, large image sections for product photography, and a FAQs section. SMRTGrid has since received a website filled with technical details, use cases, hard data, and social proof.

We're proud to say that SMRTGrid has filled out its new site with a level of detail that's hard to deny.

Investors love to see exactly what SMRTGrid excels in—proving effectiveness through concrete data. SMRTGrid had conducted extensive testing with a major utility company before approaching JTech about a website. Their website needed to display that data attractively and accessibly.

SMRTGrid's need for investor buy-in lead directly to a site section titled '

Investor Relations

.'

The Investor Relations section of their site uses custom graphics and styling to display high-impact statistics attractively.

Like its namesake, Smart Grid Systems, SMRTGrid is creating a smarter power grid that detects faults, requests maintenance, etc., without the need for in-person checks.

SMRTGrid has passed the IP 67 certification process and earned certifications from Verizon and the FCC. SMRTGrid is also actively developing a large selection of sensor types. Their sensors will soon detect chemical drift and wildfires or monitor weather and oil storage tanks.

We're excited to see where SMRTGrid goes in the future.

Please reach out

if you would like to talk with us about developing a similar website! We would love to talk with you about the best ways to grow your business online.