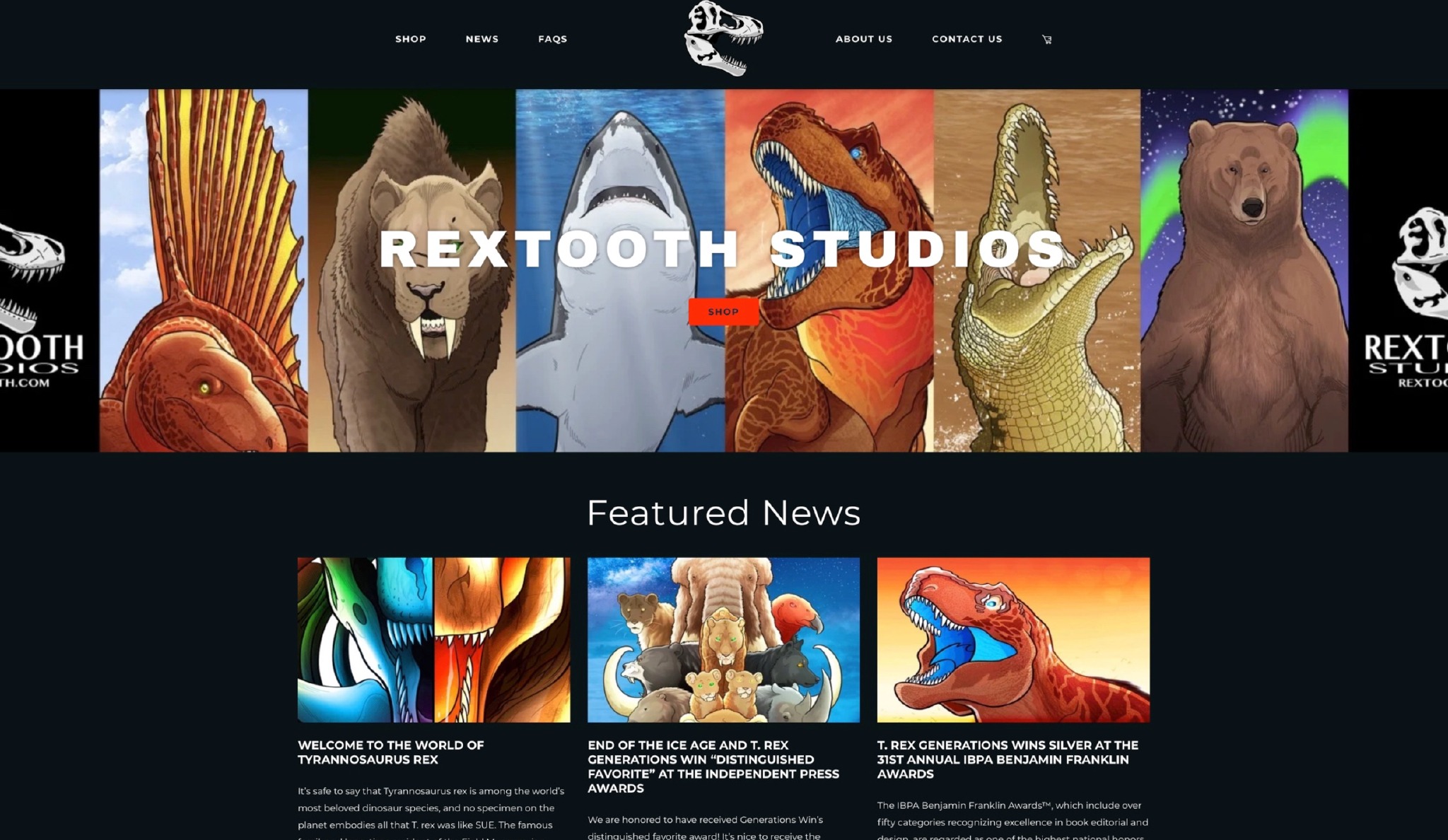 Rextooth Studios Roars to Life with Launch of New Website
Rextooth Studios produces jaw dropping illustrated books and merchandise with a focus on dinosaurs, nature, and science. It was founded by
author, illustrator, and creative director,
Ted Rechlin
who wanted to share his passion for natural history and science education. He has always loved to draw pictures and tell stories and got his professional start drawing for DC Comics at the age of 19. He has been working as a freelance author/illustrator for 15 years, contributing his work to several museums, zoos, and publishing companies, including DC Comics, Skyhorse Publishing, and Dover Publications.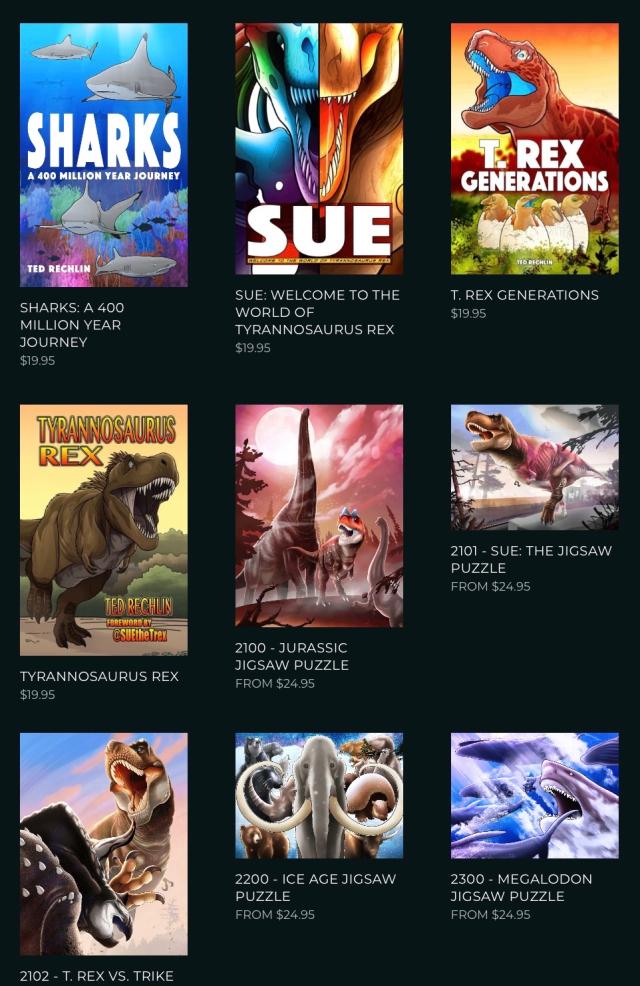 Rextooth Studio's eCommerce Product Feed
Recently, Ted opened Rextooth Studios, an online retailer for Ted Rechlin's dinosaur-themed illustrations, comics, and books.
Rextooth had a previous website that displayed their illustrations and offered an e-commerce solution to purchase books and merchandise. However, the site had become outdated and slow, so Ted reached out to JTech Communications to create a new, custom website.
We began with our strategic planning process—discussing goals, branding, and current and future digital needs. JTech's digital marketing team performed an analysis of his industry, competitors, and the search keywords that would most benefit his new site. We then created a detailed wireframe that presented the website structure, specific site pages, database tables, and functionality.

From there, JTech designed and presented the Rextooth Studio's team with a website mock-up, so they could see the navigation structure, layout, branding, imagery, and copy. Once approved, our web development team built the Rextooth site on JTech's custom development framework that ensures performance, stability, security, and search engine optimization (SEO).
The result? A modern and highly performant website for Rextooth Studios that presents amazing illustrations and merchandise in a highly visual way—perfect for their product lines. Visitors can easily view the Studio's work,
shop online
, read the latest Rextooth news, and contact them for more information. From books and prints to posters and puzzles, all of Rextooth's high-quality work can be seen and purchased online.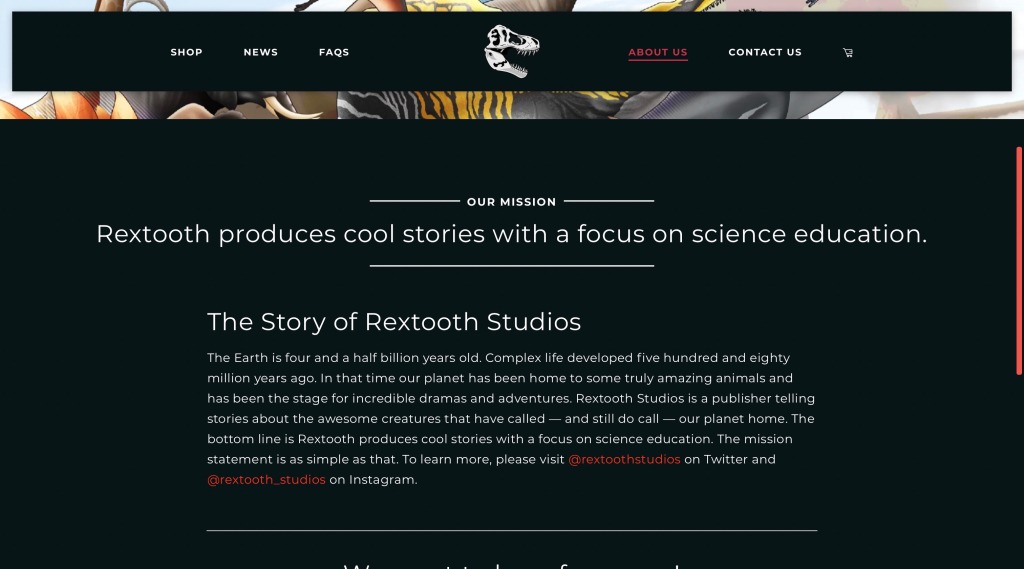 Rextooth Studio's About Us Page
Rextooth Studios had this to say about their new site and our service:
"JTech was extremely agile and responsive to our needs and requests throughout this entire process. We really needed a wholesale website that would serve the needs of our customers nationwide and we were unable to achieve this with an out of the box web design solution. We are very pleased with our new website and would recommend JTech for anyone seeking to expand their website offerings."
JTech was thrilled to work with Ted and team on the Rextooth Studios site and help create a digital presence that will promote their business, both now and in the future.
Looking for a custom website?
Reach out to us
for a free consultation today.