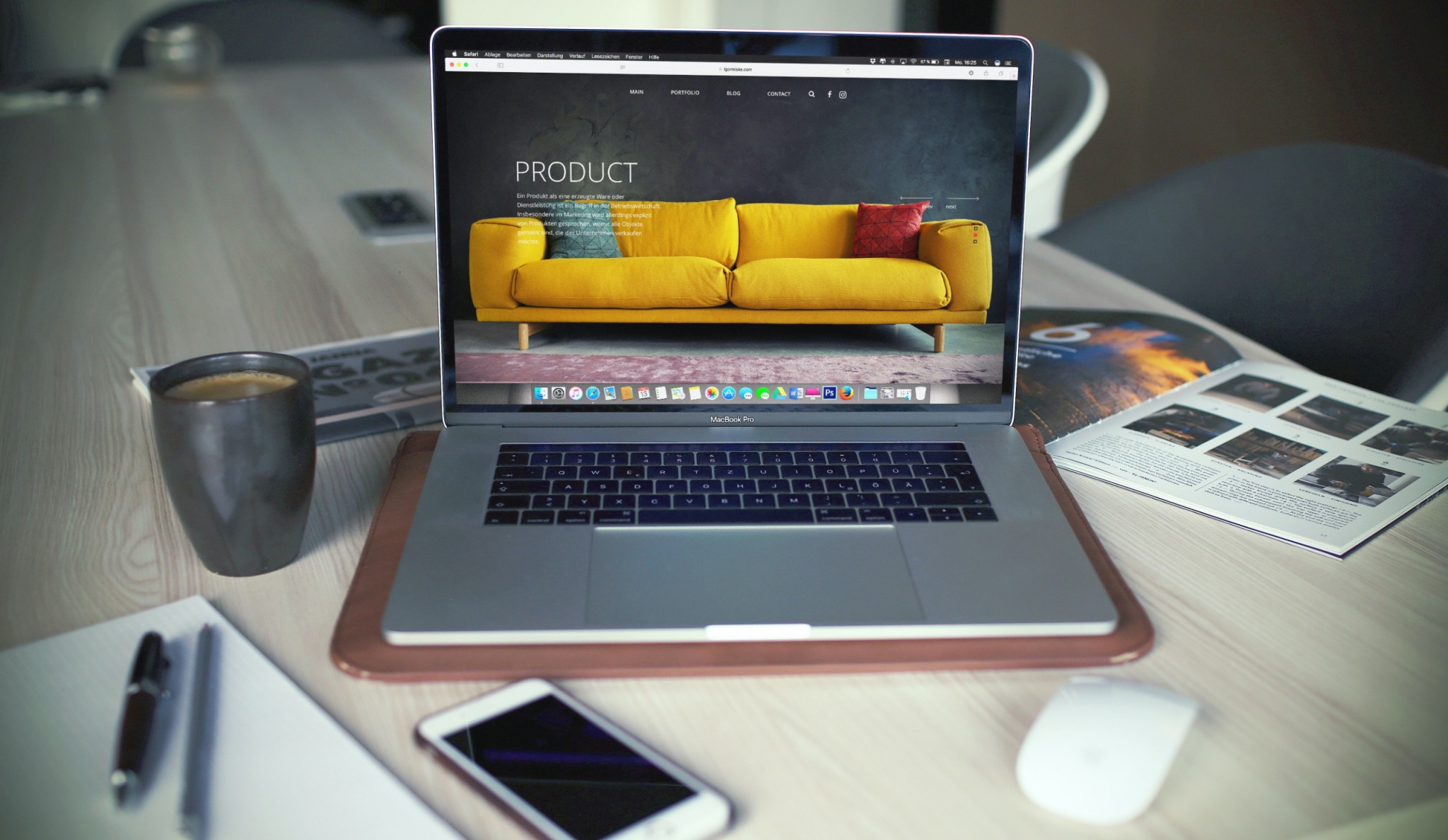 E-commerce Website Strategies for Today
Today many businesses have been forced to rethink how they operate. Moving beyond brick and mortar establishments, organizations are opening their virtual doors to the world.
It is now more important than ever for businesses to sell online. A full featured attractive e-commerce website built upon cutting-edge technology and security is now the necessary foundation for an online business to adjust to consumer demands. The ability to completely customize your e-commerce store website gives your business the power to be flexible and adjust to a rapidly changing marketplace.
Why You Need an E-commerce Website
An online store or service can help you be there with what your customers are searching for at anytime. With more potential online customers looking for product and service offerings to meet their needs it has become more important than ever to sell and fulfill online.
According to Statista, an estimated 1.8 billion people purchased goods online in 2018. In the same year, global e-commerce sales amounted to $2.8 trillion. Projections show that global e-commerce sales are forecast to grow up to $4.8 trillion by 2021.
E-commerce is strongly supported by economic and social trends both now and for how future consumers will shop and look to fill their needs. Online shopping can compliment or replace the need for physical stores as e-commerce platforms can give business the chance to better reach and serve customers that cannot visit their physical stores.
What are the benefits of e-commerce:
Provides dynamic options and marketing benefits to business owners to acquire and retain their customers.
Creates a channel to expand sales.
An online store greatly improves your customer experience.
Helps to reduce business costs by digitizing your information.
Helps improve the brand image of the company.
Helps the organization to provide better customer service - 24x7 from any location.
Increases competition and provides better pricing discounts to customers.
Simplifies business processes to make them faster and more efficient.
Builds credibility and your brand identity.
Allows you to make informed marketing decisions based off of online user data & site analytics.
Retail customer's demands and expectations of online shopping are growing every day and businesses that can effectively meet these have an opportunity to gain additional business. To meet those demands businesses will need to have a flexible e-commerce strategy and an effective shopping and delivery system to meet customer expectations.
What Should You Have in an E-commerce Website
You can choose to start with a standard out of the box online store solution where your business, branding and marketing efforts must fit into a pre-built template system. Or, if your goals & needs don't fit into the standard canned options you can choose a customizable e-commerce web development solution that will grow with your business over time.
A custom e-commerce solution is more expertly tailored to unique business needs and requirements. Since 1997, JTech has supported businesses with fully custom e-commerce web development such as
Shipton's Big R
and
Gem Gallery
. Our sophisticated secure checkout system is included in all of our e-commerce solutions, ranging from robust POS systems with advanced inventory integration to fast-start custom-predesigned layouts with speed in mind to quickly launch your store.
When you are planning to develop an e-commerce website, here are key features you should look for to have present in a site:
User friendly web design for a satisfying customer experience
Mobile friendly and optimized site
Content management robust capabilities
Promotion and discount code tools
Easy to use checkout process that is smooth and fast
Reporting tools
Integrated blog or articles section
High quality product images
Customer reviews and testimonials
Search optimized code and site architecture
Ongoing digital marketing programs for success
It's vital to work with a proven e-commerce web development partner to do it right. To build a flexible and effective system to be competitive, make sure your e-commerce system includes the following capabilities:
Responsive web design to drive sales across all devices
Fast simple checkout, payment gateway integration and credit card processing
Full e-commerce functionality based on a secure platform
Custom content management that is easy to use and non-technical
ERP, CRM, POS, payment gateway and multiple 3rd party integrations
Product and data imports
SEO friendly development
Full digital marketing capabilities and customized SEO strategies
Why a custom e-commerce site may be the best option for your business.
You have specialized customizable business needs that don't fit a canned solution
Need integration with other systems and back-end software
You have security concerns and need PCI DSS requirements via a custom built platform not available from standardized store providers
Build unique features for your shoppers
Have outgrown your out-of-the box pre-built e-commerce solution
Connect your inventory or vendors systems
Ability to scale your store along with the growth of your business
You have specialized marketing efforts that need to be supported by an adaptable site
The flow and functionality of a custom e-commerce website development process is not restricted or dictated by pre-designed packages. With this core benefit, you have custom control of appearance, personalization and shopping features to better retain customers.
With a custom site, you can change and configure your website anyway that you want to have a flexible e-commerce system that allows you to adjust and take advantage of growth opportunities.
Why an E-commerce Website Needs Digital Marketing and SEO
Operating an e-commerce website in a highly competitive online shopping landscape requires powerful Digital Marketing and SEO strategies to compete effectively to grow online sales, satisfy customer needs and build your market share. Digital marketing can plan and implement multi-faceted online marketing programs that are custom designed for your business marketing goals.
SEO services
can help e-commerce stores to be findable, relevant and drive significant organic traffic to your store.
A solid custom digital marketing plan from our experienced
digital marketing team
compliments your e-commerce website development. A full digital marketing service will look at all of the options to promote your store including:
SEO
Social Media
PPC Advertising
Reputation Management
Email Marketing
Content Marketing
SEO for e-commerce has unique elements and JTech brings deep experience to provide the services needed for success. Why SEO is important for e-commerce:
SEO is the standard to make your store more visible - you may not be found without it when people search for your products.
You need traffic to your store to make sales and SEO is designed to bring qualified traffic that is searching for your products.
Search is a key element to the modern consumer buying decision journey.
SEO is relatively cheap to bring customers to your online door.
With greater visibility from SEO tactics, leading the pack in search engine results builds trust and credibility.
SEO is a powerful means to attract high-quality product content relevant traffic to your e-commerce website.
E-commerce SEO is focused on core product keywords ranging from broad product categories to specific product models & types. Optimized product detail must be specific to model, features and sizes. Each potential customer is at a different point in their purchase journey so the keyword research must identify keywords that match search intent and the appropriate level of e-commerce purchase intent.
Keyword research is foremost to make each product page is highly relevant to the product keywords for high level search visibility. Once the highest priority keywords have been identified, then the full SEO suite of e-commerce optimization is initiated and a performance management system is set in place to monitor future success.
An effective e-commerce SEO campaign includes the following elements:
On-page optimization for e-commerce
Technical SEO for e-commerce
Structured data for e-commerce websites
Link building
Reputation management
Competitor research
Site architecture
Site structure
Navigation and internal linking
Site usability
Start Your E-commerce Website Today
A flexible e-commerce strategy and custom designed solution offers many benefits to today's business owners. Having a partner with deep experience and design knowledge can assure your business that your e-commerce system has all the elements for success included to meet the expectations of your customers. At JTech, we can help your business to thrive in e-commerce, give us a call 406-586-7100 or
request a consultation
.