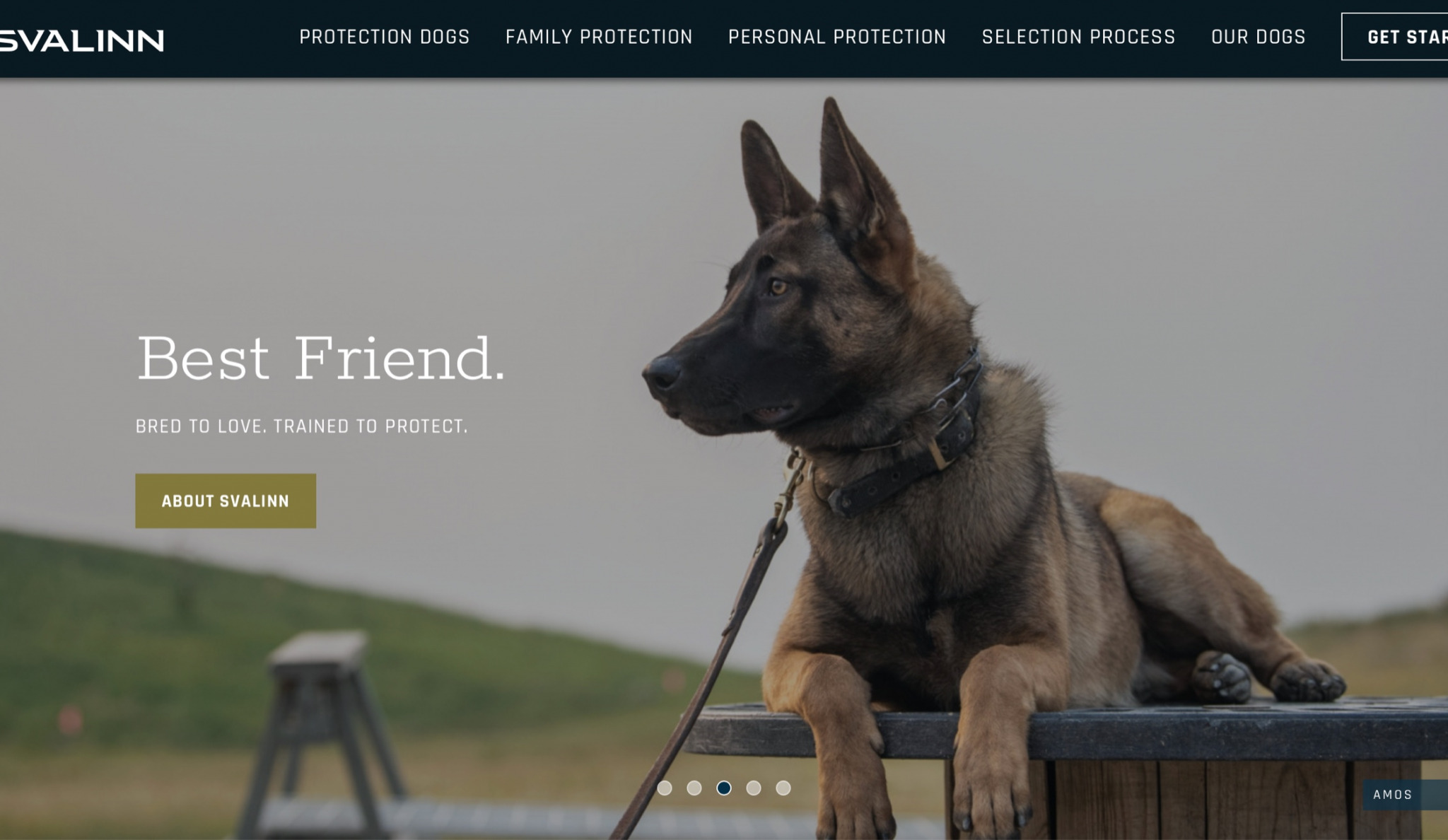 Svalinn Launches New Website That Promotes Their Loving Protection Dogs and Services
What if your family dog was also trained for protection, highly vigilant, and followed all your commands? That is what
Svalinn
provides for all their clients. They breed, raise, and train world-class personal and family protection dogs. They focus on developing loving and faithful companion dogs that are instant protectors and are exceptional deterrents to any potential threats.
Over the years Svallin developed a strong visual brand through their social media channels, but owner Kim Greene saw a need for a visually stronger website and one that would be more performant and, flexible, with an eye-catching design. We began with our strategic planning process, meeting with their team to discuss their goals, branding, and digital needs. JTech's digital marketing team performed an analysis of their industry, competitors, and the search keywords that would most benefit the new site and set them up for success for the searches they want to be found for when their site launches.
JTech's design and content team presented a site mock-up that showcased Svalinn's protection dogs, brand, services, history, and superior customer service. The navigation was streamlined to reduce the number of menus, making key pages easier to find. Svalinn's branding — logo, color palette, and tone — were woven throughout the site to create a cohesive and consistent look.
We were very excited to have access to Svalinn's beautiful and rich photography, ranging from their facilities and property to their dogs and action shots. After reviewing and selecting images, we incorporated them on every site page to create a visually engaging experience. And since visitors want to know what dogs are available, we created a photo carousel of Svalinn's current dogs with their specific details such as name, breed, weight, height, and litter.
JTech's designers developed graphical representations of Svalinn's different processes, such as their K9 Selection Process and Post-Selection K9 Process, giving visitors an understanding of what to expect from purchase through ownership. A graphical representation was also designed to show the different dog breeds that make-up the special Svalinn breed, helping visitors better understand their unique characteristics.
"JTech was extremely responsive to our needs and helped guide us when we weren't sure where exactly we were venturing with different ideas.
We liked our original site and routinely got a lot of praise on it. However, we knew we needed a refresh and weren't sure how to balance the positive feedback of the previous site with creating a new site altogether. JTech did an excellent job of researching our industry and identifying needs that weren't being filled. The site that they created is the perfect mix of the positive attributes of our old site while guiding customers to the proper answers to their questions. There is a level of patterned flow and actionable steps for prospective customers to make that our previous site lacked.
Working with the team at JTech was nothing but professional and realistic, both of which we appreciated. They were honest about what was possible, what would take longer than expected, and what some core needs were. They always answered our questions with understanding, no matter how technologically illiterate they may have been on our end. The patience they expressed was greatly appreciated." - Svalinn
We thoroughly enjoyed working with the Svalinn team to develop a custom website that is highly-performant, beautiful, and rich in information. Like a Svalinn protection dog, our custom websites are superior in quality and tailored to each customer. If you are ready to take your website to the next level,
reach out to us
for a free consultation today.