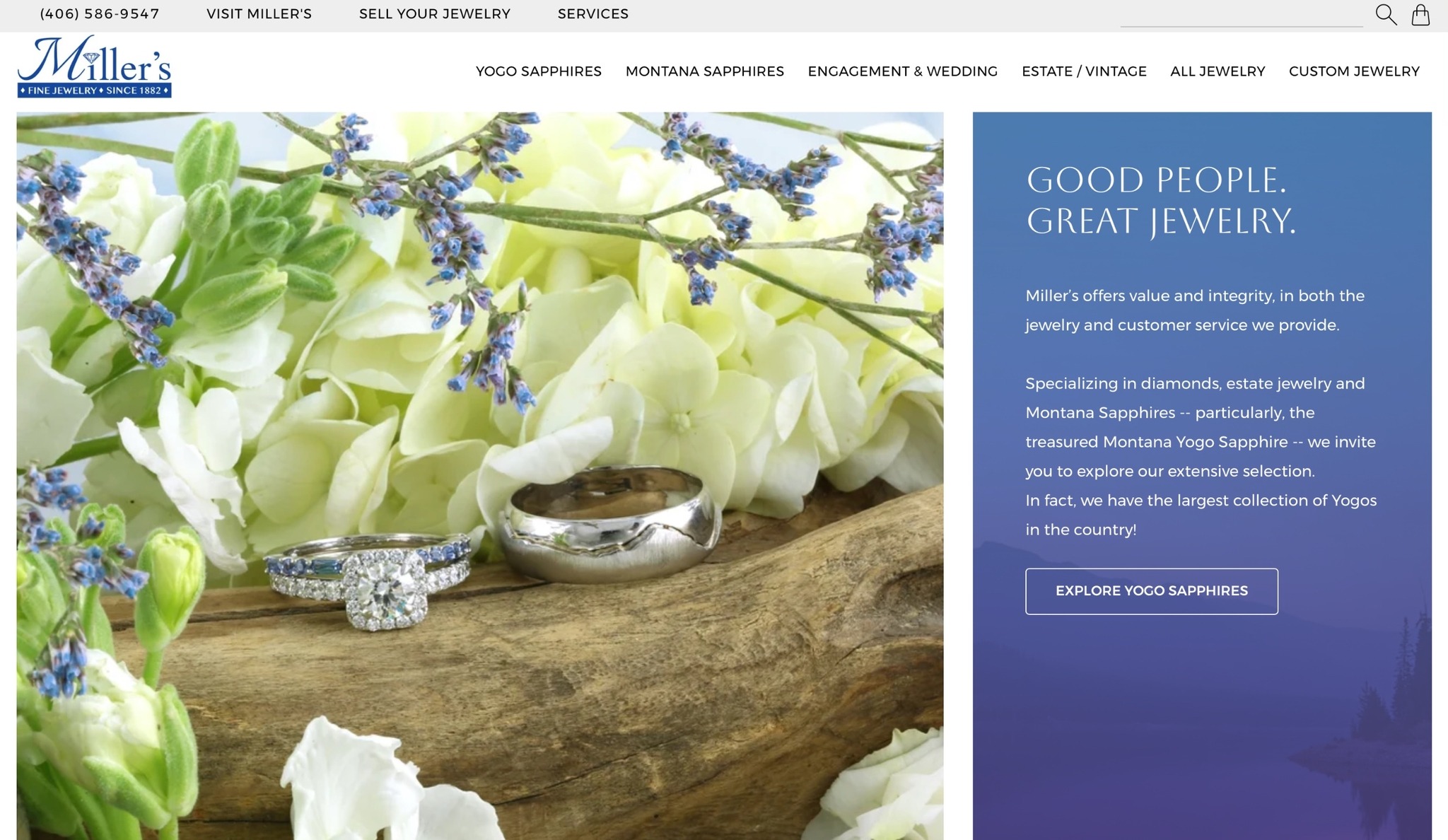 Miller's Jewelry Launches New Jewelry Store Website
Miller's Jewelry is a Bozeman staple. They've been in business for over 140 years! They were taken over by Jennifer & Cec (the last owner's son) in 2019. Now, they've replaced their WordPress website with a custom website design from our team of website design professionals.
As they grew, Miller's has stuck by their philosophy of service. Their new owners will carry forward the Miller's tradition—'Good people. Great Jewelry.'
Miller's team offers value and honesty in both their jewelry and service.
Customers can now find jewelry, request work, and connect easier. Their website refresh includes updates to design, site browsing, and site editing tools.
Updating Miller's Visual Website Design

Miller's old website served them well for years. Still, their design needed updating for a modern audience.
The JTech team designed a website using the following guidelines.
The Miller's site wanted to use minimal colors, stylized accents, and bold imagery. Our team drew from other high-end jewelry sites that use similar brand guides. Tiffany & Co is a great example of the type of site we were inspired by.
Like their design inspirations, Millers prefers to use images and a minimal layout—allowing products to shine.
Miller's now uses their site to show off products and their ties to the Bozeman community. We love the images on their website. They meshed gorgeous product photos with images that show off their day-to-day.
Improving Merchandising and Ease of Editing
Before working with JTech, Miller's had a WordPress site that relied on an aging eCommerce plugin. Their old plugin limited their ability to advertise new products or sales. The old site had also begun to break on a regular basis.
Miller's new product pages have featured item sections and product filters. All products now also use custom tools to manage or edit items. Now, their team can make edits without worry. Finally, their new product filters make looking for the right piece a joy.
Check out Miller's new product page layout on their website here.
If you want a jewelry website like Miller's, reach out! The JTech team is excited to work with you.