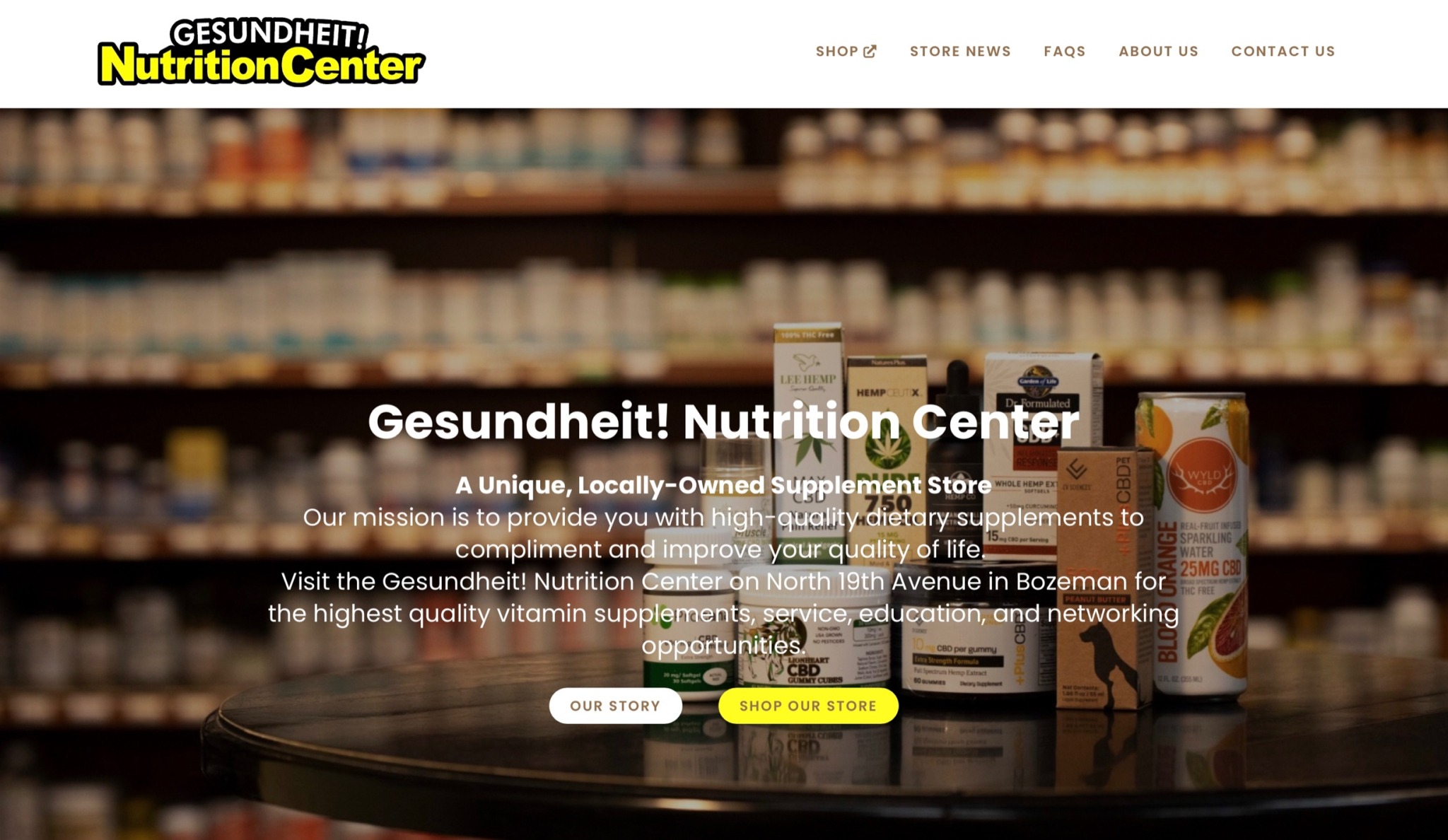 The Gesundheit! Nutrition Center Launches a Nourishing New Site
Owned by Jacobus J. Hollewijn,
The Gesundheit! Nutrition Center
has served the Gallatin Valley with high-quality dietary supplements since April 2007. Over their years in business, Gesundheit! has grown a tremendous amount. Now, in 2021, they employ a large, diverse, and passionate team ready to answer any of your questions.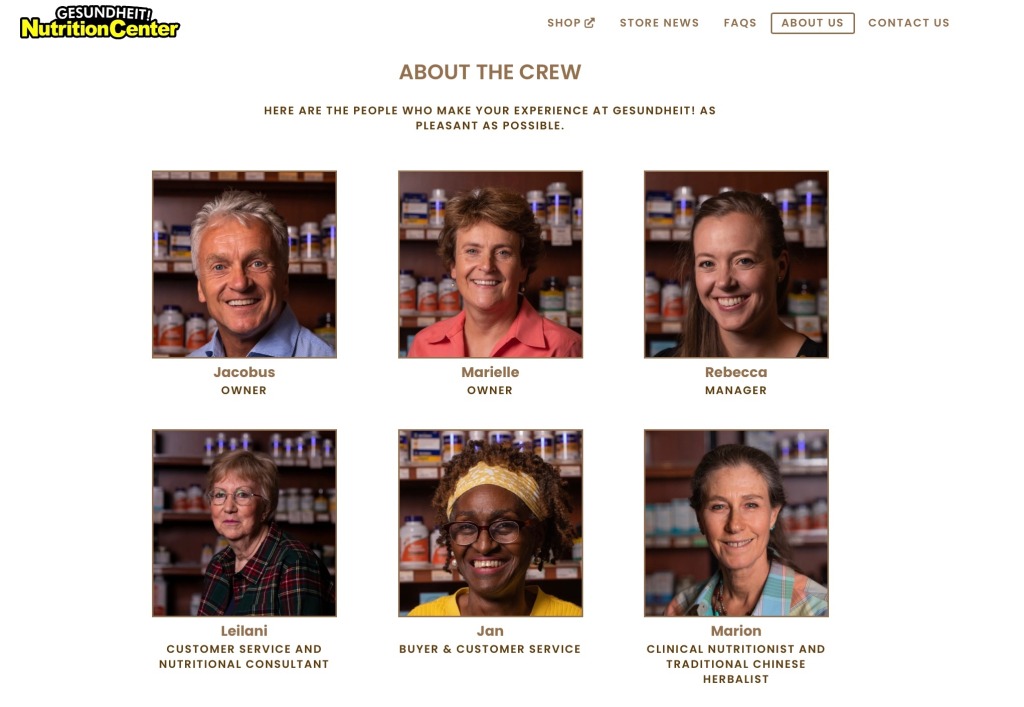 The Gesundheit! Nutrition Center's Staff Page
Head down to Gesundheit!'s location on 19th street in Bozeman, MT, and shop their extensive stock of supplements. You can also ask Gesundheit!'s team to order or find your preferred supplement if they don't currently have it stocked. If you don't feel like shopping in person, you can
shop their online store
to have all your favorite dietary products shipped straight to your door.
Gesundheit! needed a site that they could use to present their store, information, and their history to their customers in a welcoming and beautiful way. JTech was thrilled to learn that the Gesundheit! team had selected us to build their new site.
The Web Design Process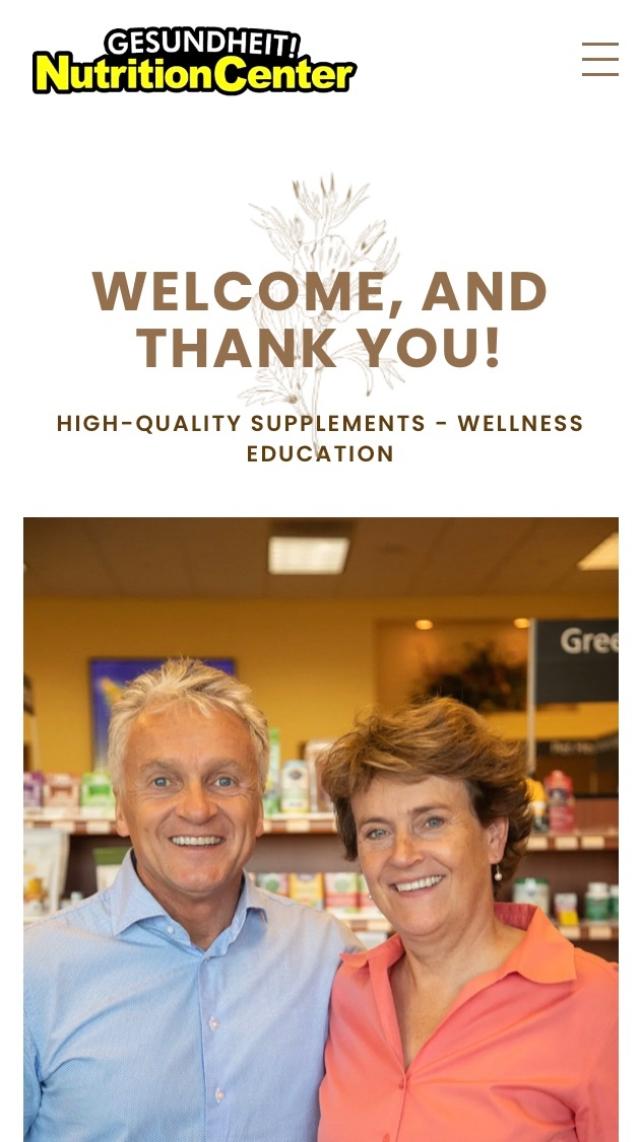 Our Web Design for The Gesundheit! Nutrition Center Included Delicate Decorations Throughout the Site Page Sections
JTech started Gesundheit!'s web design process with marketing research and conversations about design and branding. After spending some time on their site design, JTech presented a
scrolling site concept
to the Gesundheit! team that incorporated everything we had talked about during our discovery sessions.
Their final scrolling site simplifies their customer's journey and optimizes the mobile experience—perfect for a modern customer base.
On-Going Digital Marketing
JTech will continue to boost Gesundheit!'s website traffic with 3 months of ongoing SEO optimization and digital marketing. JTech's managed marketing services will help maximize the benefit that the Gesundheit! team sees from their investment, and we're excited to see their business reach new heights!
Working with The Gesundheit! Nutrition Center in Bozeman has been a rewarding and exciting process. JTech couldn't be more excited that Jacobus and his team have decided to partner with us to create an online presence that will serve them well into the future.