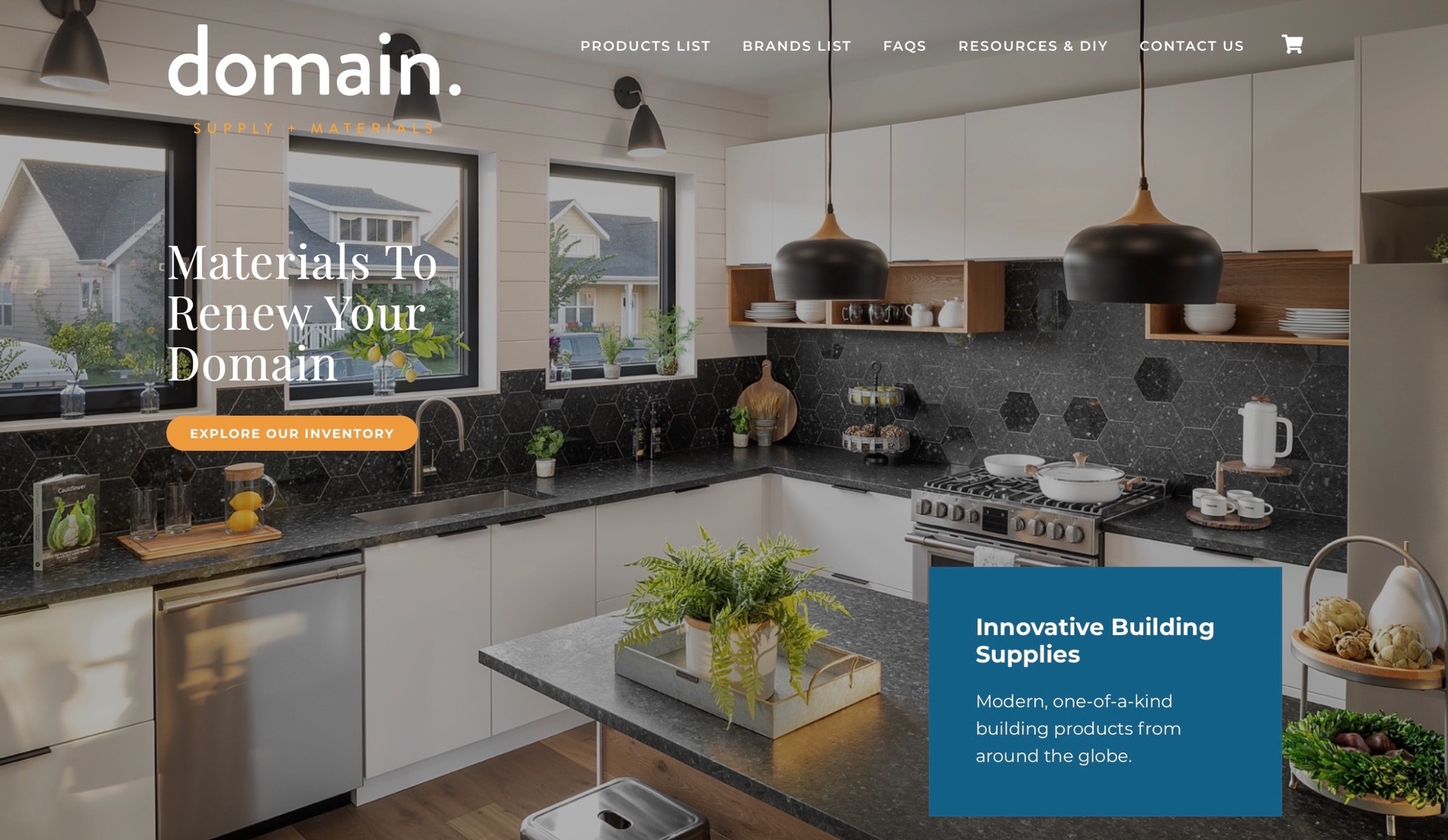 Domain Home Supply Opens Building Material Supply Website Shop
CP Supply, a building materials supplier, recently asked our website design team to build a website for
Domain Home Supply
—their consumer brand.
Domain Supply is the sole supplier of premium building materials in Montana's market. To mention a few, they work with brands like Azuvi Ceramic Tile and Siparila Nordic Whitewood. To see Domain Supply's full brands list or to shop brand-specific products, visit their brand page.
When CP Supply first approached our team with the Domain Home Supply concept, they had very specific needs. The Domain Supply online retail store needed to appeal to homeowners. Their shop website also needed to make online purchasing simple and fun.
Creating a Welcoming eCommerce Website
Domain Supply needed to overcome a unique design challenge. Their website's design needed to present premium building supplies in a way that was welcoming to consumers.
JTech created Domain Supply's ideal website in three distinct ways. We combined intuitive design, a calming color palette, and modern design elements to create an elegant website design.
INTUITIVE DESIGN
The first navigation item on the new Domain Home Supply website takes users to the online store page. This puts any product a homeowner could want in front of them right away.
Our team architected Domain Supply's website based on their market research to create an optimized navigation layout. The information on their site naturally progresses through available products, brands, FAQs, DIY guides, and a contact page.
A COLOR PALETTE INSPIRED BY NATURE
Domain Home Supply's online store uses a natural color palette. Their color palette and branding combine the naturalistic hues of a Nordic color palette with vivid colors drawn from Montana's wild landscapes.
Their colors also evoke a mid-century modern feel. For many, mid-century modern is a style already associated with DIY. So, their color palette further strengthened their brand.
MODERN DESIGN ELEMENTS
Domain Home Supply's website uses hard angles on primary design elements and softer edges on secondary ones. Combining geometric shapes with organic forms like this is common in many modern designs.
Their design also creates a visual variety that feels comfortable and complete. In short, Domain Supply's modern website design feels like—for lack of a better word—home.
To create a building materials website store like Domain Home Supply,
fill out our consultation form
! We'll get in touch to uncover exactly what your business needs to do more business online.