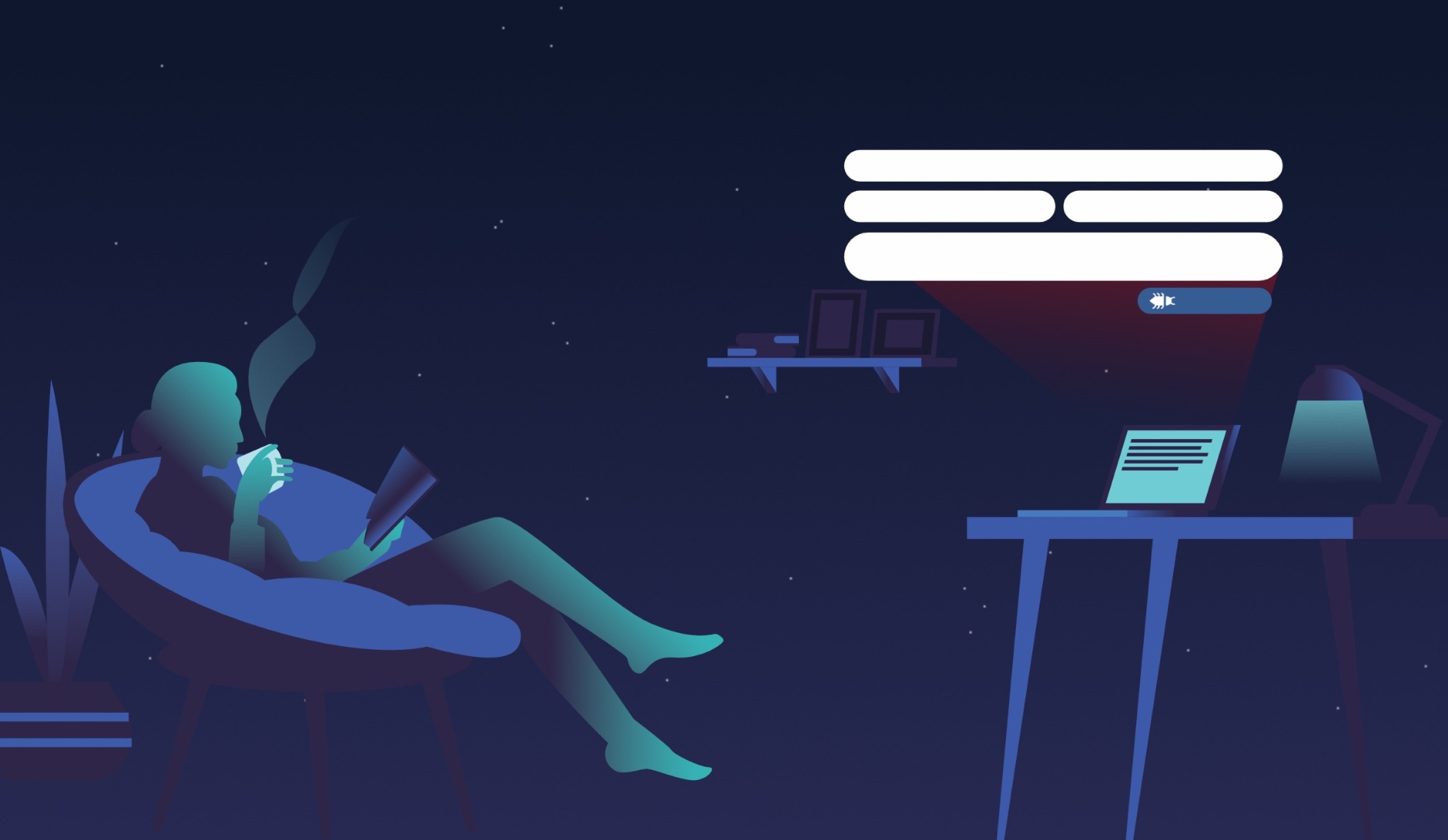 JTech Launches New Bug Reporter to Improve Website Support
Up until now, the best way to get in contact for website support with JTech's staff was over the phone, email, or with a work order. These methods of communication cover most situations—just not all. On the off chance that your site glitches and you need support, you need immediate help.
You need a bug reporter—so we made you one!
What is a Bug Reporter?
A bug reporter is a tool dedicated to generating bug reports that developers can use to reproduce and fix a glitch on your site.
Bug reporters should be easy to find and easy to use. With that in mind, we've integrated our bug reporter into your My JTech CMS and formatted it as a form for ease of use. We've also made the bug reporting steps in the form as straightforward as possible. This way, the new bug reporter is always easy to find and familiar to use if you stumble onto a bug!
So, What Do We Consider a Bug?
A bug is the result of code working in an unexpected or unintended way. Typically, a bug will glitch elements on your site or change the appearance of your web design in ways that don't appear correct.
We do everything in our power to make sure that every site is bug-free. However, one or two bugs with convoluted trigger conditions may slip by us during testing.
For example, if you click the 'back' button in your browser halfway through filling out the email submission field of a footer form and the form stops responding, you might have found a bug!
If you can reproduce the glitch reliably, then congratulations—you've definitely found a bug and you get to use the bug reporter!
Getting to the Bug Reporter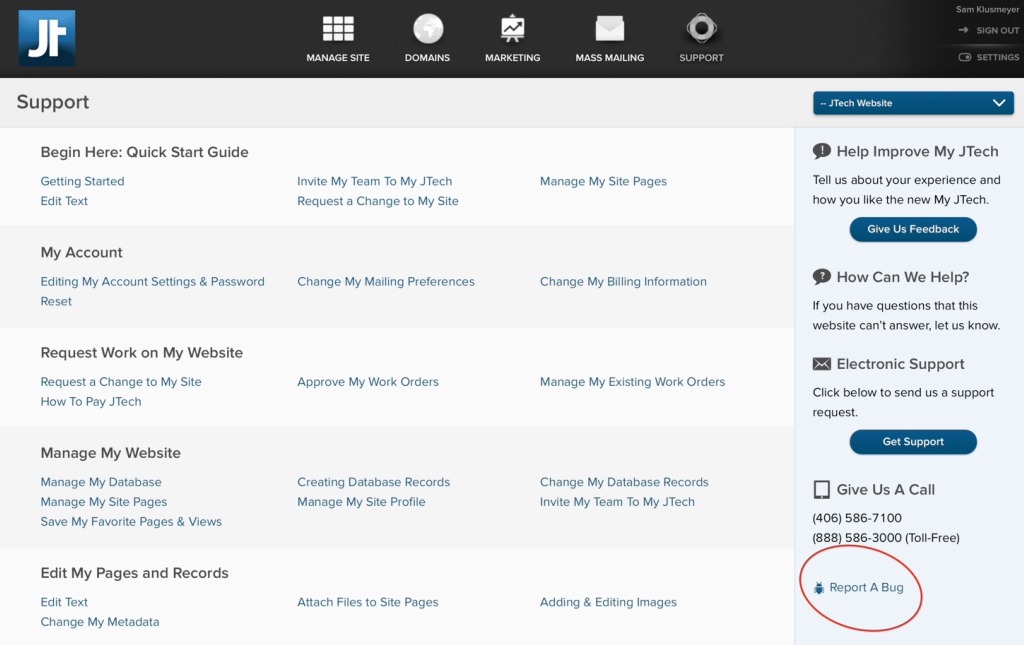 You can find bug reporter on the bottom right-hand side of the
My JTech
dashboard or the bottom right of the 'Support' page.
To open the bug reporter, click on the small bug icon. The Bug Reporting Slip will open, and you're good to start reporting!
Information to Include on Your Bug Report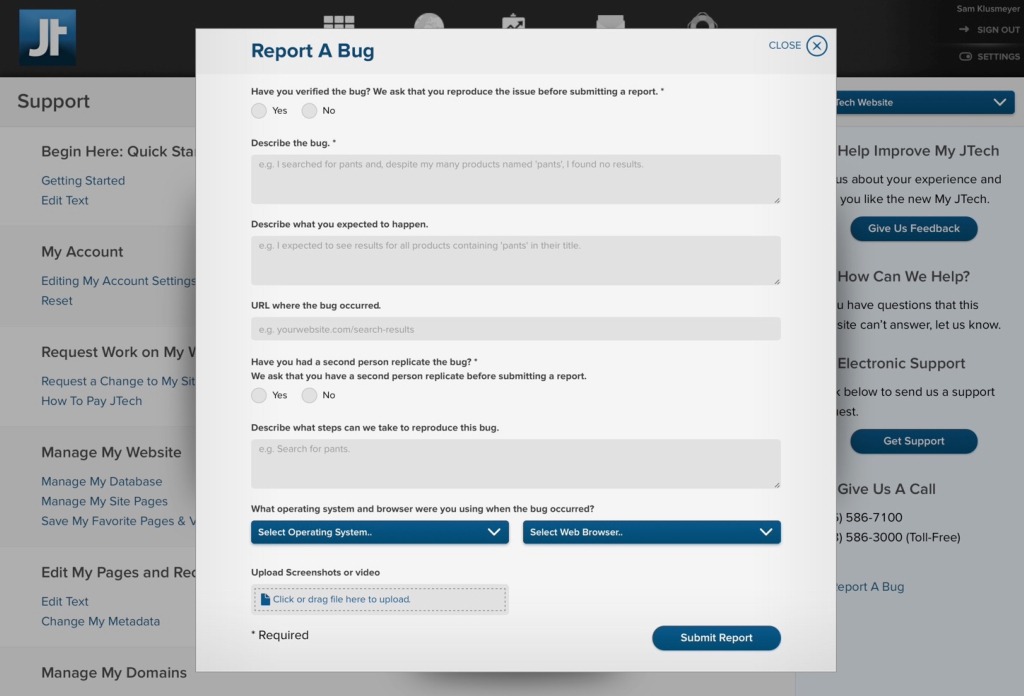 Once you've clicked into the bug reporter, you'll find yourself looking at a the form we've put together.

Our bug reporter is a detailed form, so you never have to worry about guessing the information you need to include. We've put a lot of thought into exactly what we need, so if you fill out the bug reporter slip as entirely as possible, then you'll be good to go!
The bug reporting slip will ask you to:
Verify that the bug is reproducible.
Describe the bug—the more data you can provide on the bug you've found, the better.
Describe what you expected to happen—again, the more information, the better!
Provide the URL the bug occurred on. You can just copy and paste the URL from your browser!
Ask someone else to reproduce the bug. Trying to reproduce a bug on a different computer or in a separate browsing window can tell us a lot about the glitch you're witnessing.
Describe the exact steps you took to trigger the bug—we need to reproduce the glitch to fix it.
Tell us the operating system and browser you used to identify the bug.
Attach screenshots or a video of the bug happening in real-time—if possible!
Once you hit 'submit report,' the form will send your bug report to our development team!
When Will Your Bug be Fixed?
Unfortunately, an exact time frame is hard to estimate. Rest easy, though. We'll be diagnosing and fixing your problem as soon as possible after you've sent your report!
Once our website support team has found, reproduced, and fixed your bug, we'll notify you!

Want us to walk you through submitting a bug report?
Reach out
!