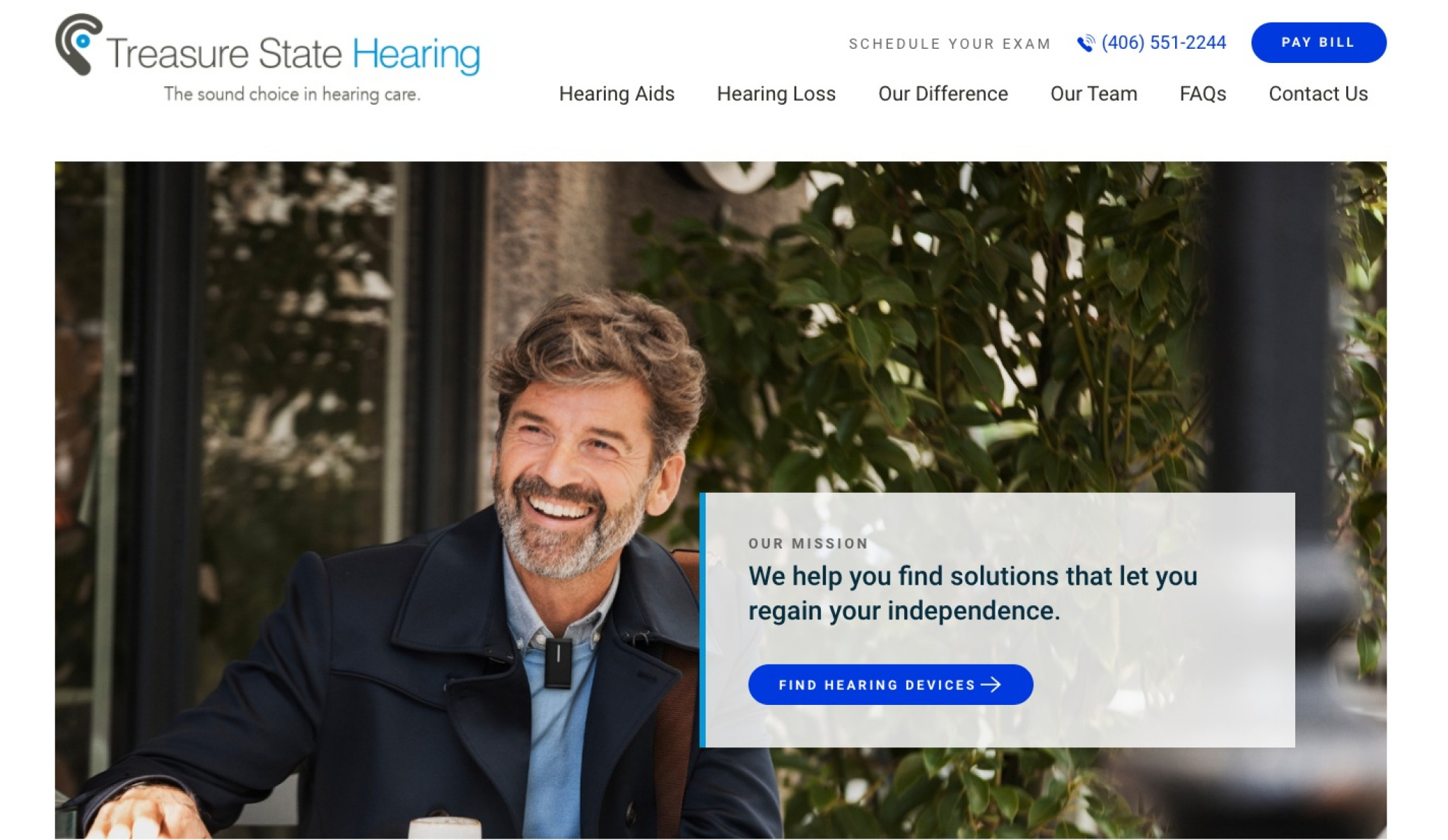 Treasure State Hearing Refreshes Website to Help Patients
We built a site for
Treasure State Hearing
that embodies their mission of caring service. Their old template website had become unwieldy and difficult to manage. During their website refresh, our website design team worked to modernize their layout.
Treasure State Hearing is a hearing aid company that has served the Gallatin Valley for 10+ years. We worked to create a site that honored their legacy.
So, o
ur team developed a layout that made the most important details easiest to find. We uncovered several key pieces of information, including:
Our design team placed each piece of information in their top navigation. Now, hearing aid clients can find what they need easier than ever before.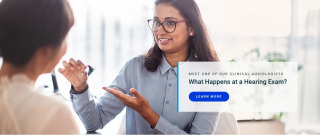 The Treasure State Hearing Exam
Next, our digital marketing team identified core keywords and competitors for their market. Our team then used this data to optimize the site's copy and metadata. This optimization helped improve rankings in search engine results.
Our website development team used our framework to build the Treasure State Hearing site. Our framework is a bank of custom code we've optimized for performance. The sites we build with it have excellent technical SEO performance.
Our framework also gives the development team plenty of flexibility. They use it to create any web design element our clients need—without plugins. This means an improved website experience, faster load times and more secure code.
Finally, our web design team built client testimonials into their refreshed website. Treasure State Hearing brings a compassionate and professional approach to hearing loss. So, they had many excellent customer accounts to use.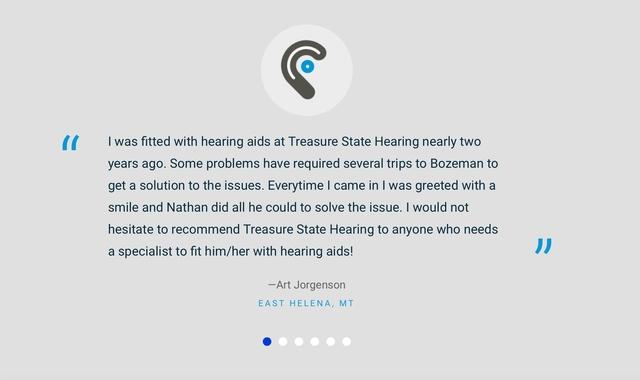 One of Treasure State Hearing's Testimonials
Testimonials are incredible at building trust, and these testimonials make it clear that Treasure State Hearing is second to none. Read their patient's first-hand accounts of their wonderful treatments. We're sure you'll agree.
Our website refresh team had a wonderful time working with Treasure State Hearing. We're even more excited to learn that our design work will help their patients make progress even easier than before.
A website refresh like this one may be exactly what your business needs. Contact us to
discuss your refresh
today! We can help you achieve your online business goals.