Southwestern Montana Insurance Center Launches New Website
If you are a business owner, you need an insurance partner who can provide you with the best products and solutions that protect your business and cover your employees. That is what
Southwestern Montana Insurance Center
(SWMTIC) does for its clients. They have devoted over 35 years to superior service, insurance products, and benefits while acting as a bridge between employees and employee benefits. They offer cost-effective solutions and work to find the best insurance products for businesses.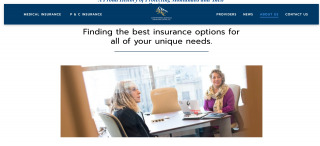 SWMTIC's previous site had become outdated, and it was starting to show its age, so they contacted JTech Communications to develop a new website that would best serve their business. We began with our strategic planning process, meeting with SMWTIC's team to discuss their goals, branding, and digital needs. JTech's digital marketing team performed an analysis of their industry, competitors, and the search keywords that would most benefit the new site. We then created a detailed wireframe that presented the website structure, specific site pages, database tables, and functionality.
The new site has several enhancements such as improved menu navigation that highlights the most important services for their current and prospective clients. In addition, we brought their branding to the forefront and made sure it was consistent throughout the site, giving it a professional and polished feel. While the previous site had small text, the new site has larger fonts and eye-catching imagery, so everything is easier to read and more inviting. The homepage features a "Latest News" section that provides helpful industry information and tips, and it has a visual carousel that displays SWMTIC's premier insurance providers.
Other pages of the new site include Medical Insurance, P&C Insurance, Providers, News, About Us, and Contact Us. Each one presents detailed information that helps visitors learn more about SWMTIC, their offerings and exceptional customer service, and calls-to-action to schedule a consultation.
SWMTIC has a beautiful new and highly performant website that will serve them now and into the future. It allows them to grow as their business grows, and it will help educate people about their product offerings and their dedication to their clients. If you are ready for a new website or a refresh of your current site, contact us today for a
free consultation
.