Southwestern Montana Insurance Center Refreshes Insurance Agency Website
Our website design team recently refreshed the Southwest Montana Insurance Center's (SWMTIC) website.
The
Southwestern Montana Insurance Center
(SWMTIC) serves its customers with dedication. They've provided cost-effective insurance coverage to their Montana customers for 35 years. Many Bozeman business owners trust them to care for their employees and assets.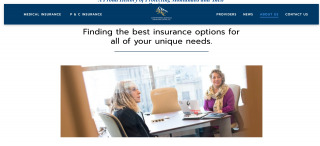 Their old insurance website design had become outdated. So, our design team began by meeting with SWMTIC to find out their exact website refresh goals. Their website refresh strategy included marketing, branding, and information architecture.
Afterward, our digital marketing team performed an industry analysis on keywords and competitors with insurance agency websites.
Next, our marketing and design teams presented both a market report and a wireframe. After revisions, we arrived at a comprehensive insurance website design and detailed marketing report.
The final website design includes a streamlined structure and evolved brand strategy. We re-worked their old site design in several key ways:
We moved their most important services to the front
We worked with their branding to create more polished, consistent visuals
We increase readability by fine-tuning font sizes
We added a 'helpful tips' section to their homepage—increasing the value they offer
We added inviting images throughout the site
We added a carousel of SWMTIC's premier insurance providers
We added key insurance website pages, including Medical, P&C, and Provider information
We added three new core pages, including News, About Us, and Contact Us
SWMTICs new website design is beautiful and helpful. It will serve them now and into the future.
Our development and marketing teams will also be there for SWMTIC as they grow. Our design team will add to and alter their website as they grow—helping them best serve Montana. If you are looking to refresh your website, contact us today for a
free consultation
.