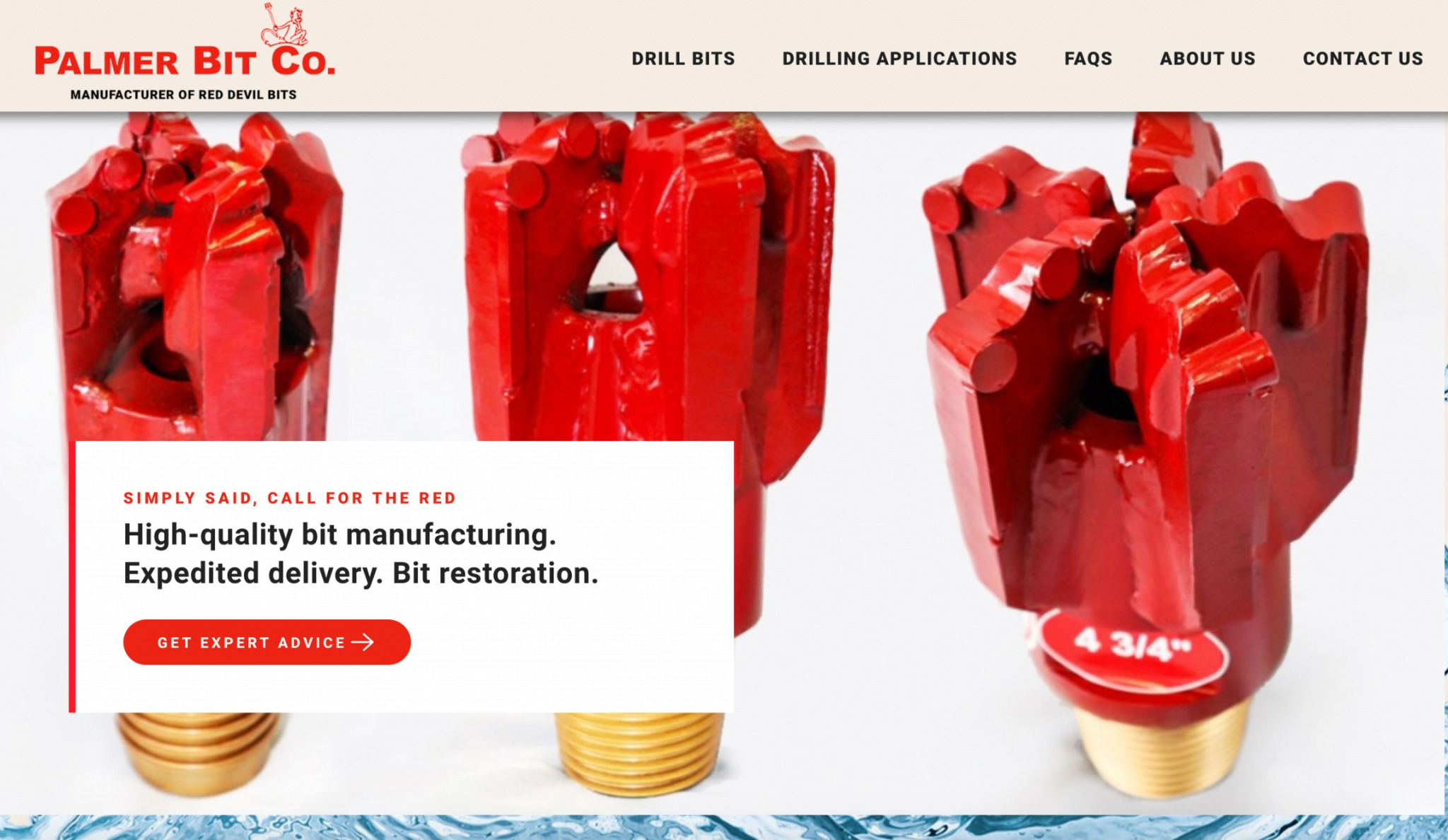 Palmer Bit Company Launches New Website
Palmer Bit Co.
offers high-quality drilling bits and expedited delivery from their large inventory and quick manufacturing ability. They manufacture best-in-class Diamond Devil PDCs and Red Devil bits and can get customers the bits they need to stay productive in the field.
When their current site needed an overhaul, they engaged JTech to create a new website that is modern and clearly presents their products and expertise. We began by understanding their business needs and discussing the features necessary to help them succeed online. We produced a wireframe that mapped the site's functionality and then created artwork that shows the new design and layout. From these efforts, the final result was a new site that is intuitive and clean, with large imagery, product search functionality, and calls-to-action for service.
We also brought several important features to the forefront of their site. We highlighted customer case studies and testimonials on the homepage so visitors can learn about Palmer Bit Co's best-in-class service. Because customers need fast service when a drill bit goes down on a job site, we emphasized Palmer Bit Co's one-day repair guarantee and their 24-hour phone support.
Users want to quickly find the right drill bit for the job so JTech implemented a powerful filtering and search system. It allows users to view specific bits by category type, and the search feature will display accurate results based on the user's keywords. Clicking on a product opens a detail page that displays a drill bit's specifications, sizing options, and the earth materials it can handle, taking the guesswork out of selecting the perfect bit. The new Drilling Applications page highlights the diverse environments and types of jobs where their drill bits can operate. These include Geo Exchange Drilling, Water Well Drilling, Seismic and Mining Drilling, Horizontal Directional Drilling, and Oil Field Drilling — truly a comprehensive offering.
Educating customers is very important to Palmer Bit Co. To that end, a FAQs page was included that helps answer common questions about drilling, their services, and what sets them apart from the competition. More information about their competitive advantage, mission, and history is also provided on the new About Us page. Finally, their Contact Us page helps clients reach out for information via a form or phone call, allowing Palmer Bit Co. to quickly assist them.
We love building sites for all industries and leveraging technology that helps business owners help their customers. If you need a new custom website or a refresh of your current site, we would love to hear from you.
Schedule a free consultation
with us today.