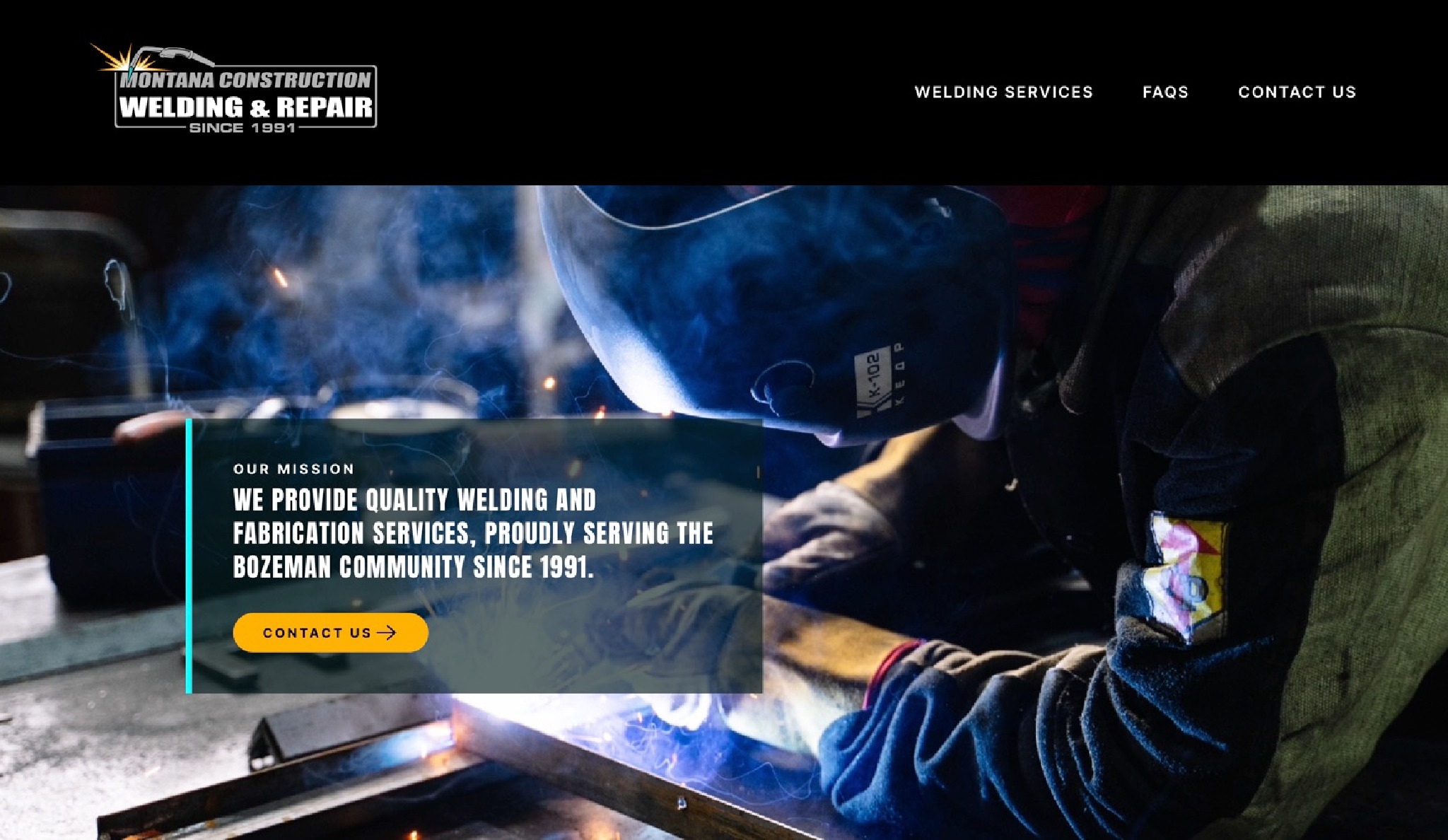 Site Launch Announcement: Montana Construction Welding and Repair
Montana Construction Welding & Repair provides a full range of welding services for residential and commercial projects. They dedicate themselves too precise, safe, reliable, and transparent repairs that exceed expectations.
Tony Harris, the owner, also states that they can repair or create something for any job's size. No matter the size of the job, Montana Construction Welding & Repair has you covered. 

If you would like to know more, you can learn more about the work MCWR specializes in doing on the
Services section of their site
.
Our goals for the Montana Construction Welding & Repair's website were:
To display their message clearly and concisely
To help customers find them on the internet
To build them a site that would stand the test of time
Designing a Site That Was Clear and to The Point
When we were thinking about Montana Construction Welding & Repair's new site, we understood that their primary customers wouldn't have much time to spend on the site. They would need the information they were looking for almost as soon as they arrived on the home page.
With that in mind, we placed a CTA that stated MCWR's mission. We also added some information about their long history above the "contact" button.

This placement should allow any visitor to reach out immediately if MCWR's offerings line up with what they're looking for.
Creating a Site That Customers Can Find
MCWR needed a location on the internet that would truly drive sales. That means they needed a robust services page and an FAQ. 

An optimized FAQ and services page are essential for showing your expertise to prospective clients. They also provide a logical place to weave in important keywords that help with local search through SEO optimization. 

Creating a Site That Would Stand the Test of Time
We created a site that used simple, clean elements, clear CTAs, and bright colors that we know will never let Tony down. 

We built this site with the newest best practices, including custom breakpoints and accessibility-focused features. Our work should ensure that MCWR's site will continue functioning far into the future.
We were excited to work with a business like
Montana Construction Welding & Repair
. If you're looking for a local Montana welding company, check them out!
If you're looking for a modern, well-designed website
get in touch
!