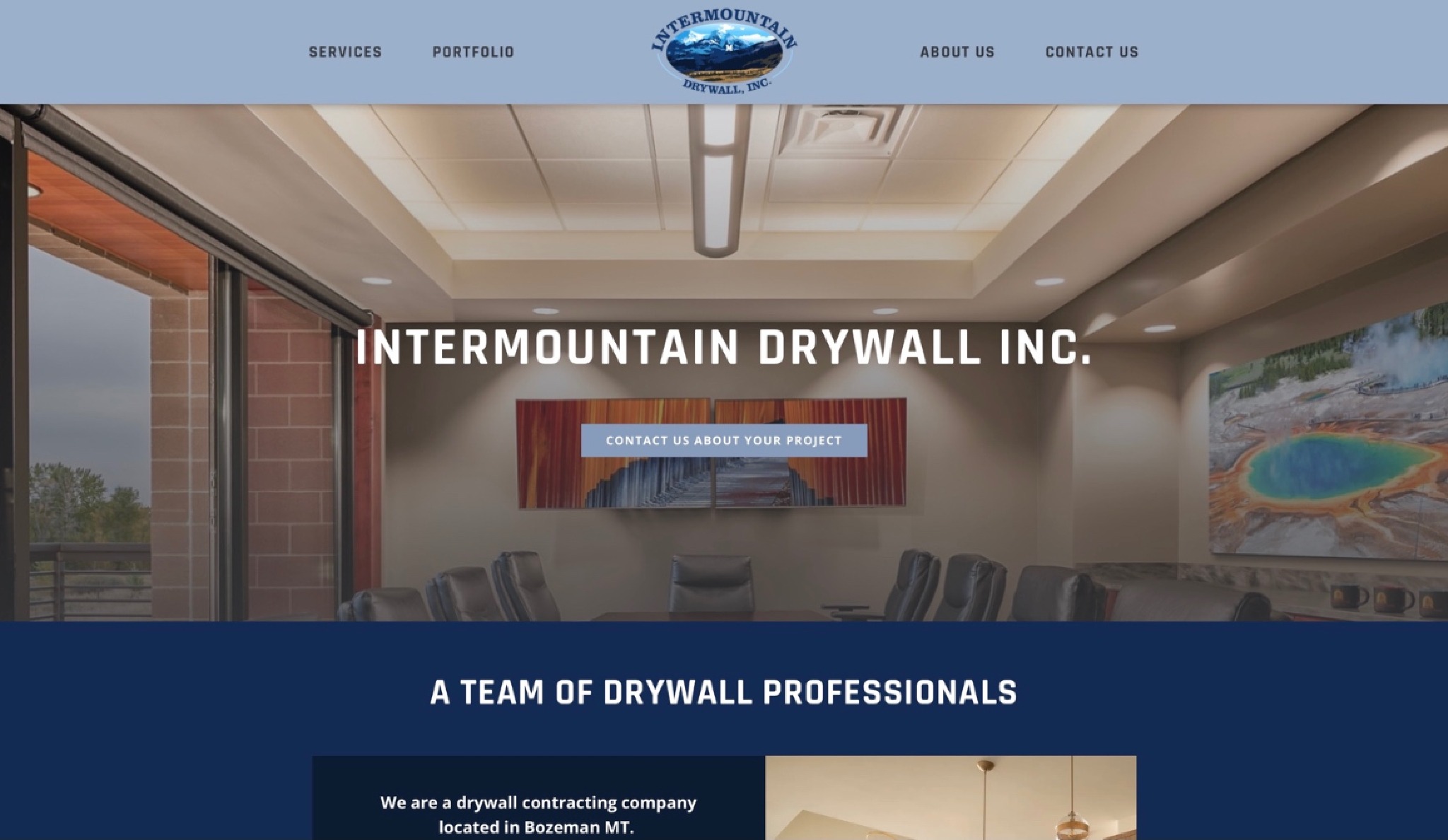 Intermountain Drywall Inc. Builds for the Future
Intermountain Drywall Inc. is a drywall installation company that works on residential and commercial projects. Their business has been growing, and they needed a way to showcase the fantastic work they've done in Montana and beyond. Notable clients of theirs include:
You can view the rest of Intermountain's projects
on their new website
.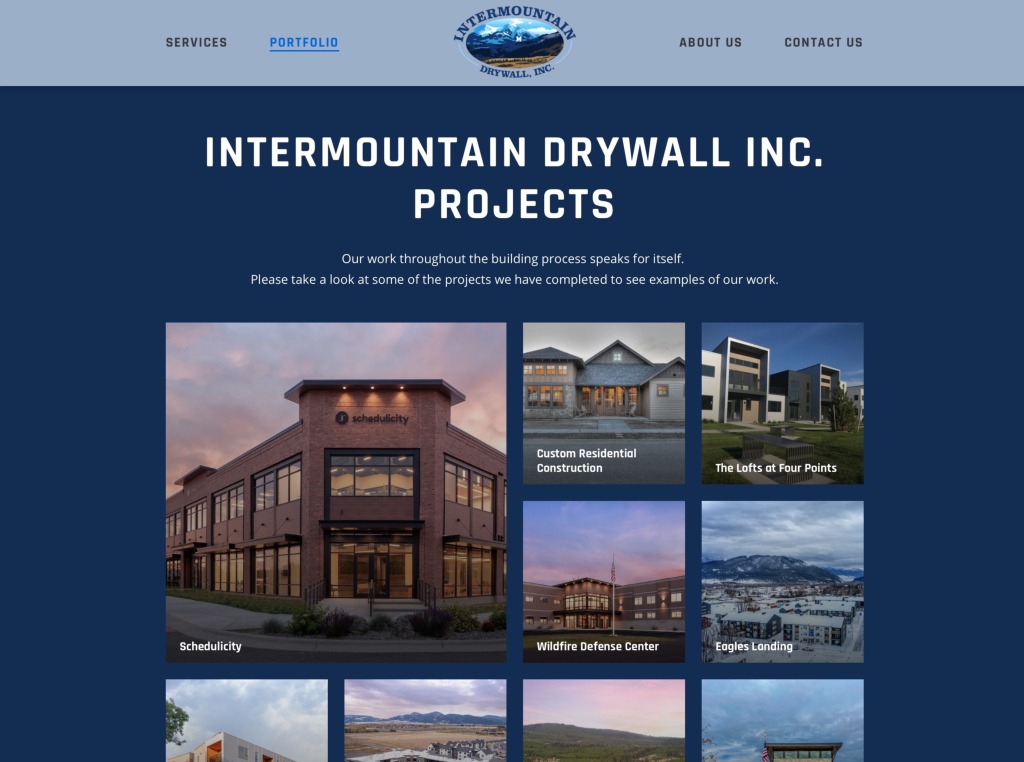 Intermountain Drywall's New Portfolio Page
Very few drywall contractors in the Gallatin Valley have websites of their own and companies that have a site rarely tell a unique or compelling story. The Intermountain Drywall team saw an opportunity to set themselves apart from the competition. The JTech team was excited to help Intermountain Drywall Inc. set itself apart.
How Can Website Design Help You Grow?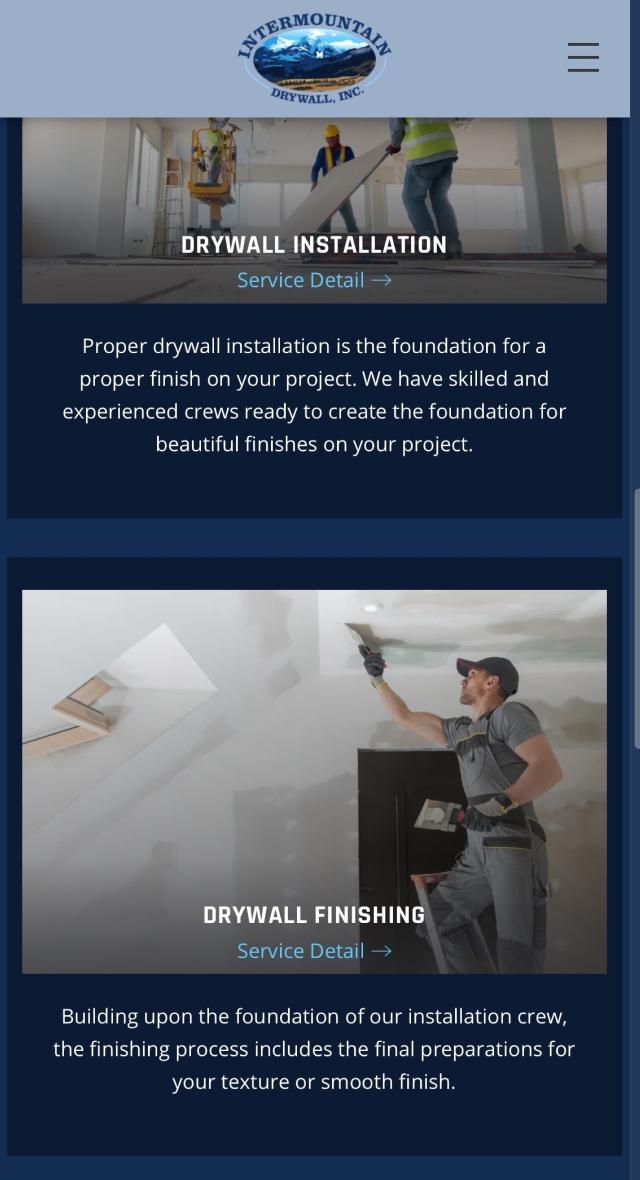 Intermountain Drywall's New Services Page On Mobile—Great for Educating Clients and Search Engine Optimization
Professionalism is central to making a sale—a large part of appearing professional is building out an online presence that inspires confidence in future clients. We focused on building Intermountain Drywall a site that doubled-down on their professional approach. This meant focusing on Intermountain's past work and their team's devotion to their clients.
In practice, this means two things for Intermountain's web page design:
Their services page provides a step-by-step breakdown of their drywall installation process




Their portfolio page features a plethora of past projects



Intermountain Drywall Inc.'s CFO had this to say about our work:
"Intermountain Drywall hired J-Tech for our website design and the final result was extraordinary. Sam was instrumental in assisting with the design and worked diligently to deliver the product exactly as we needed it. He was very attentive and knowledgeable of his craft which made him a pleasure to work with. Both Sam and Felix were patient and accommodating to all of our ideas and worked to find a way to create the site we envisioned. We are very pleased and I would not hesitate to recommend J-Tech for assistance with your website or software needs."

- Russ Moore, C.F.O.
SEO Optimization
A website is also an excellent way for prospective customers to find Intermountain Drywall. The Intermountain Drywall Inc. Team opted for the
website refresh package
, which includes 3 months of managed SEO. Intermountain's 3 months of managed SEO will consist of:
Link building




An SEO optimized suite of metadata



A digital marketing report that Intermountain Drywall Inc. can use moving forward
Each of these SEO services will help strengthen Intermountain Drywall's visibility in search engine results.
Intermountain Drywall is Ready for the Future
We're so excited to help
Intermountain Drywall Inc.
take its next steps forward.
If you're looking to work with web design professionals to build your new site, reach out! We love meeting new, long-term customers.