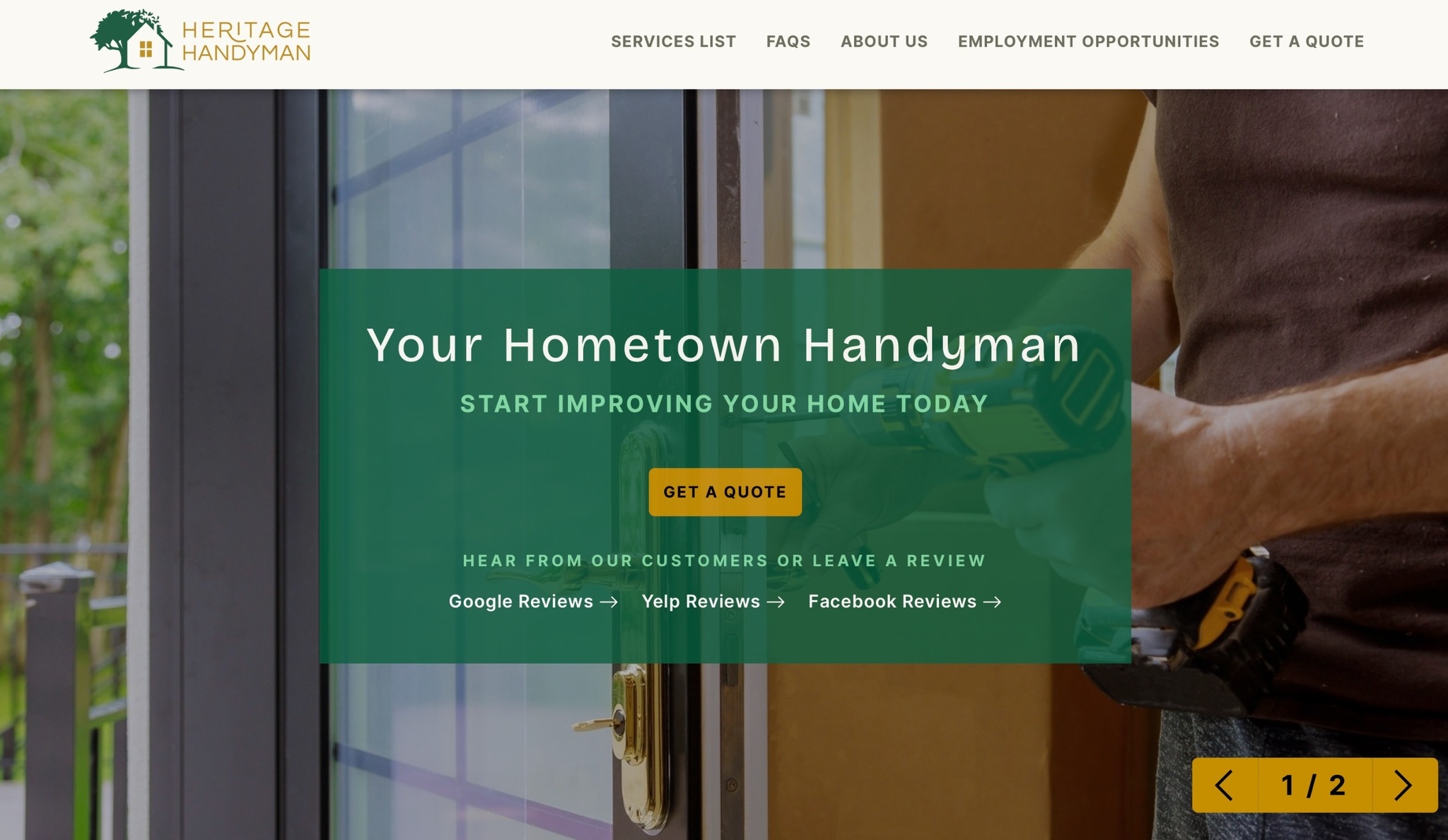 Heritage Handyman's Web Design Helps Them Market to Bozeman
Our website design team recently built Heritage Handyman a new website.
Heritage Handyman
offers Bozeman homeowners and businesses thorough, high-quality repairs and upgrades. They serve their clients with integrity, honesty and timely repairs. They've also recently begun offering repairs and upgrades as a subscription service.
Heritage Handyman recently relocated their business from Helena to Bozeman. Their team booked a website refresh and logo design to make an impact in their new community.
Designing A Logo Worthy of Heritage Handyman's Legacy
Heritage Handyman's new logo needed to do several things. It needed to:
Be simple and distinct
Evoke the feeling of high-quality handyman services at first glance
Look good online and in physical mediums
Heritage Handyman's new logo takes the iconic shape of a home framed by trees. Our
logo design
evokes a feeling of history and home with familiar, modern imagery. This creates a reliable, professional feeling that Heritage Handyman can use to grow.

Heritage Handyman's New Logo is Perfect for Advertising High-Guality Home Upgrades and Repairs
Our logo design team also created a symbol that works well online and in print. Heritage Handyman has even begun branding their company vehicles with their final handyman logo.
A Website Refresh Prepares Heritage Handyman for the Future
Our web design team created a website built for flexibility and performance.
More information means more accurate estimations. So, their new website includes several tools that streamline estimations and hiring.
Our design team created a detailed quote form that allows clients to:
Set an ideal timeframe and budget
Attach pictures of their job

This information—plus name, address, message, etc—provides valuable information. Now, Heritage Handyman can speed up their quotation process for the Bozeman market.


Heritage Handyman's New Quote Form Includes Detailed Budget and Timeframe Sliders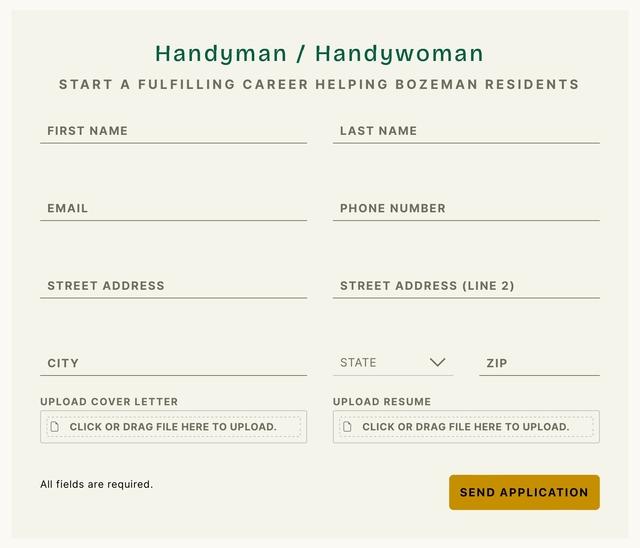 Heritage Handyman's Employment Application Collects Resumes, Cover, Letters, and Other Neccessary Informaiton
Next, our design team created a hiring system native to their website. They can use the hiring bundle to post jobs and store applications for future reference. Their website will also notify the Heritage Handyman team when someone applies.
They can also use their hiring system to drive traffic to any external hiring platform.
Finally, Heritage Handyman has begun offering their services as a subscription. Their new website will help them launch their new service plans immediately.
We're proud to say that our web design team created a professional site that will help Heritage Handyman grow. We're excited to see how Bozeman's community improves with the help of their team.
If you want to master your marketplace with design and digital marketing,
reach out
. We would love to meet another lifelong customer.