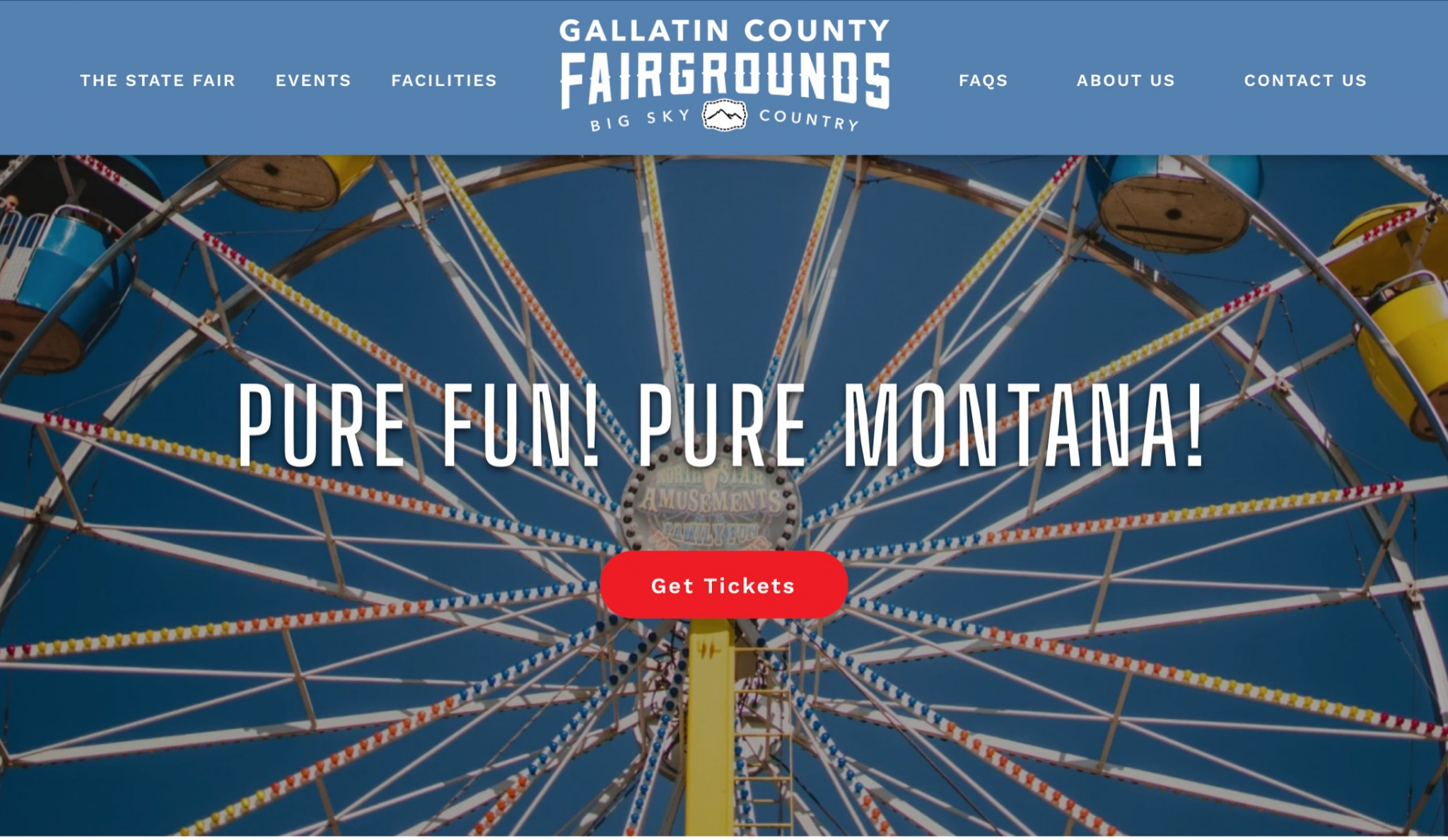 The Gallatin Country Fairgrounds Launches New Website to Promote Their Events, Facilities, and Mission of Community and Fun
Who doesn't love the fun, food, and festivities of a state fair? That is what the Gallatin County Fairgrounds (GCF) has been providing locals and visitors alike since they started back in 1903. Their 78 acres and 26 buildings also offer a variety of events, ranging from rodeos and derbies to festivals and private events, even wedding receptions. To promote and present information for all their events, a custom and flexible website is critical, which is why the team at the Gallatin County Fairgrounds contacted JTech Communications.
The previous GCF's website had become outdated. It was no longer modern by current website standards, and updating the site had become cumbersome, frustrating, and time-consuming. We met with GFC to start our strategic planning process to discuss their goals, branding, and digital needs. JTech's digital marketing team performed an analysis of their industry, competitors, and the search keywords that would most benefit the new site. We then created a detailed wireframe that presented the website structure, specific site pages, database tables, and functionality.
The JTech team then designed and developed a new site for GCF that is eye-catching, highly performant, easy to update, and presents all their events and rental facilities. The homepage has many new enhancements, including a large callout for the State Fair with a countdown clock showing how much time remains before the big event. There is also a prominent section with several callouts for the Fairground's events, providing visitors with a glance at what is upcoming.
Other site pages include a dedicated Events page where users can view all the events, view map locations, and filter them by different categories. The Facilities page displays all the details about the Fairground's buildings, outdoor spaces, rental information, and services. The FAQS page provides answers to commonly asked questions and lists out their service policies. Also, the About Us page provides a detailed and rich history of the Fairgrounds and their mission while the Contact Us page offers an easy form for users to send an inquiry.
The Gallatin County Fairgrounds has been bringing the community together for over a century, providing fun and festivities for all. We were thrilled to develop and launch a new site for them that helps continue their mission and makes it easier to promote their events. If you are ready for a new website or refresh your current site,
reach out to us today
for a free consultation.