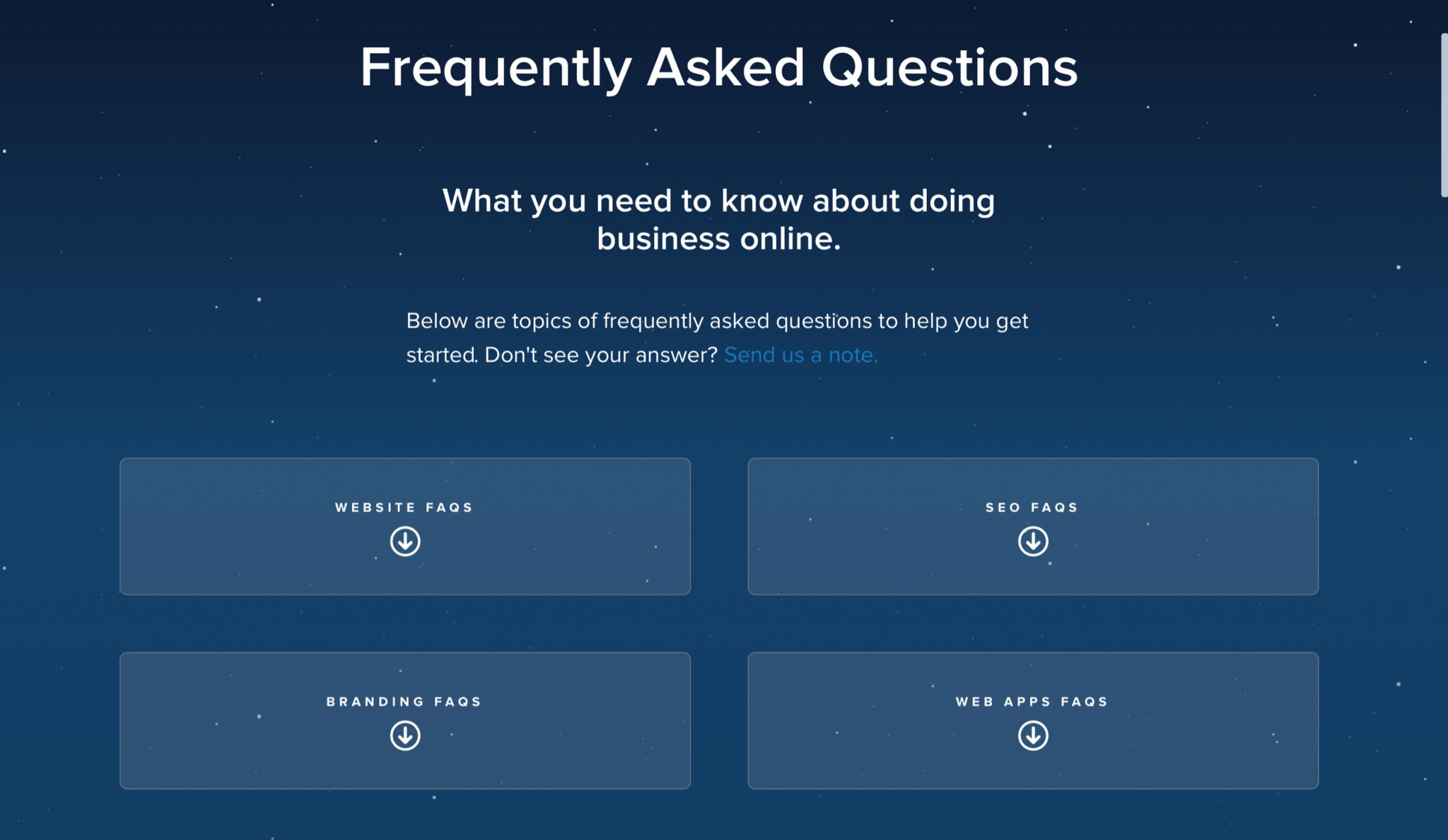 Does Your Website Have an FAQ's Page?
Often there are unanswered questions and topics that require further elaboration that aren't covered on your product and service pages on your website. A well constructed Frequently Asked Questions (FAQ) page can help provide users with readily available answers and keep them engaged on your site. But an FAQ page can do more than simply provide useful answers to common questions; they can save your staff time, create potential for a Google featured snippet, denote authority on a topic, support search rankings through keyword optimization, and show your customers that you listen, and answer.
Save Company Time and Overhead
If you receive repeat questions regarding your organization and offerings from website visitors and existing clients, this may be an indication that your important information regarding your business may not be easily discoverable on your site. Having these answers readily available can free up time for your employees. While your website should be engaging enough to maintain visitor intrigue, providing a quick way to supply answers may keep your potential consumer happy and save them some time. An FAQ section will help you avoid answering the same question over and over again, and will save both you and your visitors time.
Be the Expert in your Industry
As a professional, you know your industry better than most. Showing your expertise and offering insightful information will show your users that you are a qualified option who is aware of their needs.
And, Google may recognize your site as a valuable resource for more than just your target audience when your FAQ is well-written and provides valuable information on topics that people are searching. This may lead you to becoming a Google featured snippet which can benefit you greatly in appearing in search results for your products and services.
Become a Featured Snippet
A well formatted and relevant FAQ page can result in a featured snippet from Google. A featured snippet is a box that appears at the top of search results containing content from a featured site that directly answers the user's query. Featured snippets include a prominently featured link to the source, and they can be very helpful to draw attention to a website.
Obtaining a featured snippet will present your site as an authority, and give you more visibility on the search results page. Data shows that featured snippets can increase traffic by up to
20% to 30%
. Click Through Rates (CTR's) of pages with featured snippets have also been shown to increase by
up to 8%
. Featured snippets can appear for question queries, non-question queries and informational long-tail queries.
How to create your content to present itself as a good choice by Google for a featured snippet:
Design your content to answer the user query better than the competitors.
Choose specific queries you would like to pursue for a featured snippet and focus on making that bit of information succinct, powerful, and helpful.
Target keyword search phrases including:
How to...
Who is...
Why is...
What is...
Provide in-depth answers with less text. Choose meaningful language that conveys deep, purposeful meaning.
Format your content in numbered or bulleted lists if appropriate.
Create high quality, user focused content
Create the best answer available for the specific query you are targeting.
Acquiring, or more appropriately, earning a featured snippet can be difficult, and it may take some time. However, the benefits of being featured can foster a large boost in your search engine rankings
FAQ Best Practices
Some best practices for creating a well-organized FAQ page include:
Add questions you know people are searching for and are asking about your business.

This may seem somewhat obvious, but an FAQ page should be a tool for the website visitor to find an answer to a question that is frequently asked. It shouldn't be a page filled with boasts and pats on the back toward your own website. It should have truly important questions that people are sincerely curious about.
Categorize questions into different topic groups.
Making an FAQ page extremely easy to follow and find an answer can be the difference between helpfulness and frustration.



Answer the questions in an expert tone.
You are the professional, and people are using this resource as a way to get an answer from an expert. You should focus on how you present the answer to your question, and make sure it is the best and most truthful answer a professional can give.



Include an intro to your FAQ sections.
Provide an easy way to contact you if the answer to their question cannot be found on the FAQ page, and briefly describe the point of the FAQ section and how it will help the visitor. Describe why this page is valuable or what the visitor can expect.
Add links to blogs and other related content on your site.
If there is another section of your website that goes more in-depth on a topic, link to it! This helps provide internal links to your website, but more importantly, it gives the user the ability to take a deeper look into the topic. FAQ should be straightforward answers to common questions, but if the user wants to know more, give them the easy option and point them in the right direction.



Add CTAs throughout the page.
Call To Actions should be present in your FAQ page to allow the easy option to purchase or inquire about your products or services. You will notice on our FAQ page that we have included a CTA in every topic section to make sure the user always has the option to move down the marketing funnel.



Integrate keywords into your answers.
By having a section of your website dedicated to sharing your expertise, you are bound to have some keywords in the mix. This page will help Google know more about your services and point relevant search queries to your site. Essentially, an FAQ can act as a catch-all for any keywords that apply to your company without overloading certain bits of content on your site with that keyword. This allows an FAQ page to be a win-win. Both your clients and Google will be happy with this extra information about your company.
JTech's New FAQ's Page
We love FAQ's as a part of a website so much that we recently decided to design and
build a new
FAQ's page
on JTech's website
! Our FAQ page isn't a replacement for content on our other web pages, instead the FAQ's allow us to elaborate on topics in quick,
digestible
pieces of information - you can think of this as bonus content for web visitors.
We believe that everyone can benefit from an FAQ page because they can save staff valuable time from answering commonly asked questions, aid in gaining featured snippets from Google, and the other benefits we have highlighted. Let us know if we can help you architect your own FAQ's page,
today
.