Business Automation
The Power of Automation
Websites can do more than simply talk about doing business — they should do business. Business process automation can save significant time so you can focus on your goals, increase sales, and improve your bottom line. It includes everything from automating tedious workflows to creating customer portals that allow your clients to interact with your brand in useful ways — saving you time and money and improving the service you provide. Move beyond a mere marketing website and put the power of business automation to work for your business today.


Stop wasting time. Automate your business today.
Every Industry Can Benefit From Automation
Read about how five businesses have eliminated pain points and improved their bottom line by using the power of business process automation.
Quote Projects With EaseSpend more time on your business and less time on administrative duties.New customers means more revenue for your business, but the process of quoting customers on a new project can be expensive and time-consuming.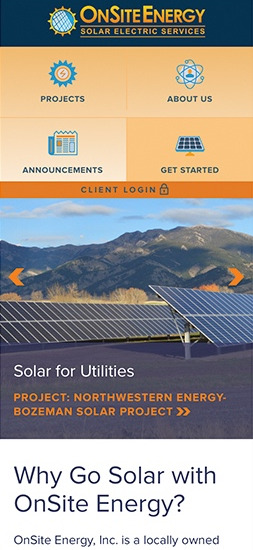 The New Project Questionnaire that JTech helped us add to our site has really helped to smooth out the early steps of the sales process; it is user friendly, more convenient for our customers and has improved our administrative efficiency.

Communications Director
Problem
Gathering the necessary information in order to generate quotes is labor-intensive, using valuable staff time to communicate back-and-forth with prospective clients
Case Study
OnSite Energy is a solar design and installation company based in Southwest Montana who manufactures and installs solar panels for residential and commercial properties. We helped alleviate their pain points by building custom software that quote and onboard new clients into their project workflows.
Solution
Multi-stage questionnaire pertinent to beginning a solar project, including energy usage, roof type, amount of shade in the design area, collection of necessary photos and files from prospect.




Creation of a unique client account that is sent to OnSite staff to review.




OnSite submits project documentation to the client through their account, ensuring that the project runs smoothly from start to finish.



Outcome
OnSite Energy can now quickly gather together the information necessary to quote prospects for their new solar installation, spending dramatically less time emailing and communicating back-and-forth with prospects.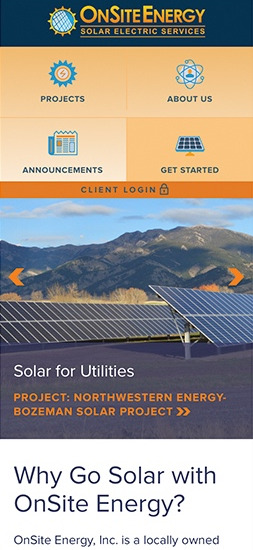 Business Automation FAQs
Q: What is business automation?
A: Custom software can replace tedious or frequently repeated manual tasks, saving your organization time and money.
Read More
Q: How do I know if I need automation?
A: An organization can benefit from business automation if it is spending a lot of time answering phones, manually moving data or making appointments...
Read More
Q: When does business automation produce ROI?
A: Depending on the task, business automation can produce a full return on investment in less than a year.
Read More
Q: What are good examples of automation?
A: Replacing paperwork-heavy tasks for customer onboarding, accounting software integration, inventory management.
Read More
Invest in Innovation
Experience the full potential of the web to realize the full potential of your business. Our team of business automation experts is capable of pinpointing your goals and pain-points to develop a customized automated business solution for your specific needs that is frustration-free and that improves your business operations. With business automation, you, your employees and your customers can access data at anytime from anywhere, allowing your business to run 24/7, worldwide.
Automate Your Business Today